REPORT SCOPE & OVERVIEW:
Image-guided Biopsy Market size was valued at USD 2266.21 million in 2022 and is expected to grow to USD 3386.68 million by 2030 and grow at a CAGR of 5.15% over the forecast period of 2023-2030.
Image-guided biopsy is a crucial medical technology that is utilized in the identification of abnormal cell and tissue growth to determine the presence of underlying malignant behavior. The extent and variety of activities, goods, and services associated with image-guided biopsy methods and technologies are referred to as the image-guided biopsy market's scope. Image-guided biopsy is a minimally invasive process that directs the placement of a biopsy needle or other instrument into a predetermined target location for tissue sampling using imaging techniques including ultrasound, computed tomography (CT), magnetic resonance imaging (MRI), or fluoroscopy.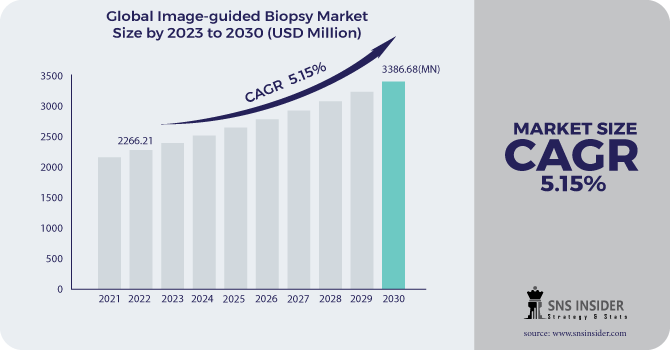 There are several different types of image-guided biopsy techniques available on the market, including fluoroscopy-, MRI-, CT-, and ultrasound-guided treatments. There are specific imaging modalities and procedures for each product of the treatment. Image-guided biopsies can be carried out for a variety of medical purposes, such as cancer diagnosis and staging, evaluation, and monitoring.
The global market for medical treatments that employ imaging technologies to direct and aid in the biopsy process is referred to as the "Image-Guided Biopsy Market." A biopsy is a medical operation in which a sample of tissue or cells is extracted for diagnostic reasons from a particular location of the body. Image-guided biopsies precisely find and target the target area for the biopsy using imaging modalities including ultrasound, magnetic resonance imaging (MRI), computed tomography (CT), or X-ray.
MARKET DYNAMICS
KEY DRIVERS:
Advancements in imaging technologies

Minimally invasive procedures
The increasing prevalence of Cancer incidence is rising worldwide, which is one of the main factors driving the market for image-guided biopsies. Breast, lung, prostate, liver, and kidney cancers are just a few of the many types of cancer that can be diagnosed with image-guided biopsies. The demand for image-guided biopsy techniques is anticipated to expand as cancer prevalence keeps rising.
RESTRAIN:
Risk of infection from using a biopsy needle

Limited Knowledge and Training

Cost Restrictions

Regulatory Obstacles
Limited Knowledge and Training: Image-guided biopsies involve intricate processes and call for specialized training for medical staff. The broad use of these strategies may be hampered by a lack of awareness and training opportunities, particularly in areas with limited resources.
OPPORTUNITY:
Image-guided biopsies are becoming more accurate and effective thanks to ongoing advances in imaging technologies including high-resolution ultrasonography, multiparametric MRI, and cone-beam CT. The spectrum of applications is growing, and image-guided biopsy techniques are being used more frequently as a result of these technical advancements.
Image-guided biopsy methods are less intrusive than conventional surgical biopsies, which results in less discomfort for patients, quicker recoveries, and cheaper healthcare expenditures. Image-guided biopsy procedures are expanding due to the demand for least invasive methods.
CHALLENGES:
Cost factors

Education and experience
Accessibility issues of Image-guided biopsy treatments call for specialized tools and qualified medical personnel. The broad use of image-guided biopsy procedures may be hampered in some areas by a lack of access to these tools, especially in rural or underdeveloped nations.
IMPACT ANALYSIS
IMPACT OF COVID-19
Image-guided biopsies were among the non-urgent medical treatments that were delayed or abandoned in the early stages of the pandemic to give COVID-19 patients priority. There was a considerable drop in the volume of image-guided biopsies carried out at that time.
Because they were concerned about getting sick from the virus, many people avoided going to hospitals and other healthcare institutions. As a result, fewer patients visited for routine examinations and screenings, such as image-guided biopsies.
IMPACT OF RUSSIAN UKRAINE WAR
The ongoing conflict between Russia and Ukraine has unquestionably had a big impact on a variety of areas of both countries. The market for image-guided biopsies is mostly driven by technology breakthroughs, medical advances, and healthcare infrastructure, thus it is unclear how this would directly affect the industry.
Image-guided biopsies are medical procedures in which a biopsy needle is inserted into a specified region to collect tissue samples for diagnosis using imaging techniques including ultrasound, CT scans, MRIs, or X-rays. The market for image-guided biopsies is impacted by several variables, including the frequency of disorders that call for biopsies, developments in imaging technology, the accessibility of qualified medical personnel, and reimbursement regulations.
IMPACT OF ONGOING RECESSION
There are several potential effects on the healthcare sector as a whole during a recession or downturn that could indirectly affect the market for image-guided biopsiesDuring recessions, healthcare spending tends to be constrained because institutions like hospitals and clinics may experience financial difficulties. Image-guided biopsies may be adopted and used less frequently as a result, which could affect capital equipment and medical procedure spending.
Patient Demand Declines During economic downturns, people may experience financial difficulties, lose their health insurance coverage, or put off non-essential medical operations because of cost considerations. This would cause fewer patients to request image-guided biopsies, which would decrease the demand for these treatments as a whole. Healthcare providers could postpone or delay making capital investments in costly, During recessions, one may postpone or delay making large capital purchases of pricey imaging equipment or updating current systems. This might affect consumer spending on imaging tools for image-guided biopsies, reducing the market's expansion.
KEY MARKET SEGMENTS
By Process:
Vacuum Assisted Biopsy

Core Needle

Fine Needle
By Image Guided Technology:
MRI

Ultrasound

Mammography

CT

X-Ray
By End User:
Hospitals And Clinics

Ambulatory Surgical Centers

Research and Academic Institutes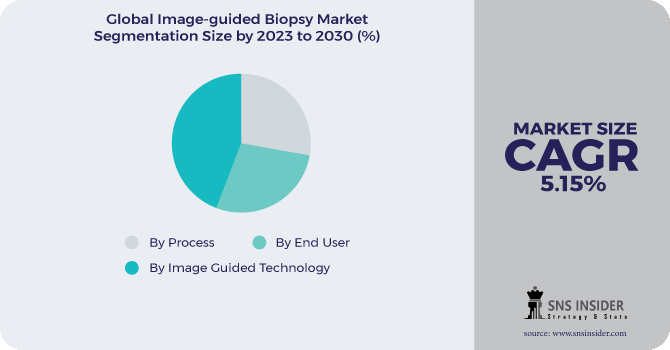 REGIONAL ANALYSIS
North America currently holds a dominant position in the market for biopsy devices. The high demand for biopsy devices in the region is a result of the presence of major industry players in the region, rising per capita healthcare spending, and expanding adoption of new and cutting-edge diagnostic techniques.
Asia-Pacific is predicted to have a considerable increase from 2022 to 2030 because of the region's large senior population, rising cancer rates in nations like Australia, China, and India, as well as the region's improving healthcare infrastructure.
REGIONAL COVERAGE:
North America
Europe
Germany

UK

France

Italy

Spain

The Netherlands

Rest of Europe
Asia-Pacific
Japan

South Korea

China

India

Australia

Rest of Asia-Pacific
The Middle East & Africa
Latin America
Brazil

Argentina

Rest of Latin American
Key players
Ethicon Endo-Surgery, Intact Medical Corporation, Galini SRL, Hologic Inc., Leica Biosystems Nussloch GmbH, C. R. Bard, Inc., Becton and Dickinson Company, Argon Medical Devices, Cook Medical Incorporated, Encapsule Medical Devices LLC. & Other players are listed in the final report.
Hologic Inc-Company Financial Analysis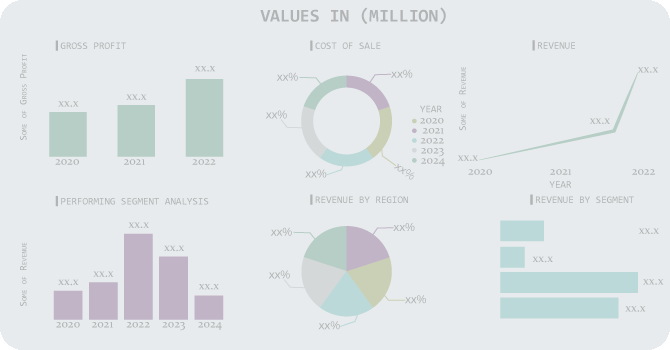 RECENT DEVELOPMENT
Image -Guided biopsy system with CorLumina Imaging Technology get European CE mark approval. This system's goals include enhancing patient happiness, streamlining the biopsy suite process, and increasing biopsy accuracy using real-time imaging.
The Brevera Breast Biopsy System with CorLumina Imaging Technology was introduced by Hologic for commercial use in the US. With real-time imaging, this device aims to increase biopsy accuracy, enhance patient comfort, and speed up the entire biopsy procedure.
Image-guided Biopsy Market Report Scope:
Report Attributes
Details
Market Size in 2022
US$ 2266.21 Mn
Market Size by 2030
US$ 3386.68 Mn
CAGR
CAGR of 5.15% From 2023 to 2030
Base Year
2022
Forecast Period
2023-2030
Historical Data
2020-2021
Report Scope & Coverage
Market Size, Segments Analysis, Competitive Landscape, Regional Analysis, DROC & SWOT Analysis, Forecast Outlook
Key Segments
• By Process (Vacuum, Assisted Biopsy, Core Needle, Fine Needle)
• By Technology (MRI Guided, Ultrasound Guided, Mammography, CT, X-Ray)
• By End User (Hospitals And Clinics, Ambulatory Surgical Centes, Research and Academic Institutes)
Regional Analysis/Coverage
North America (USA, Canada, Mexico), Europe
(Germany, UK, France, Italy, Spain, Netherlands,
Rest of Europe), Asia-Pacific (Japan, South Korea,
China, India, Australia, Rest of Asia-Pacific), The
Middle East & Africa (Israel, UAE, South Africa,
Rest of Middle East & Africa), Latin America (Brazil, Argentina, Rest of Latin America)
Company Profiles
Ethicon Endo-Surgery, Intact Medical Corporation, Galini SRL, Hologic Inc., Leica Biosystems Nussloch GmbH, C. R. Bard, Inc., Becton and Dickinson Company, Argon Medical Devices, Cook Medical Incorporated, Encapsule Medical Devices LLC.
Key Drivers
• Advancements in imaging technologies
• Minimally invasive procedures
Market Opportunities
• Rising cancer incidence