Report Scope & Overview:
Inertial Measurement Unit Market Size was valued at USD 24.60 billion in 2022 and is expected to reach USD 69.68 billion by 2030, and grow at a CAGR of 13.9% over the forecast period 2023-2030.
An inertial measurement unit is an electronic device that uses accelerometers, gyroscopes, and magnetometers to detect velocity, angular rate, direction, and gravitational forces. Inertial measurement units are employed as components of navigation and guidance systems to track a vehicle's position, velocity, and orientation. Navigation and correction, control and stabilisation, measurement and testing, mobile mapping, and unmanned system control all make use of inertial measurement units. The data obtained from inertial measurement units is processed by a computer in order to establish the current position based on velocity and time in an inertial navigation system.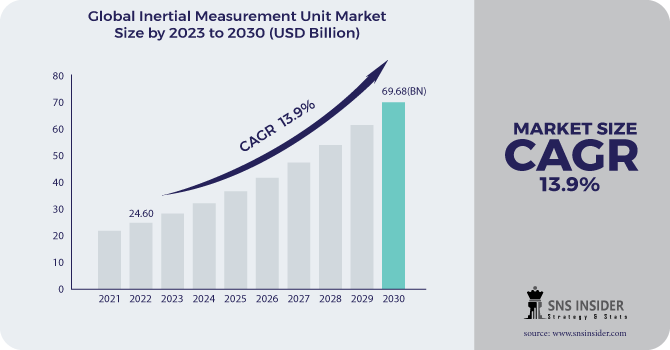 microelectromechanical systems (MEMS) Due to the widespread use of MEMS in unmanned systems, gyro technology is expected to account for the largest CAGR during the review period. MEMS gyroscopes are commonly used to determine angular velocity utilising a sensor vibrating mechanical element. It does not have any spinning parts due to its modest size.
MARKET DYNAMICS:
KEY DRIVERS:
Increased demand for missiles as a result of geopolitical unrest and the changing nature of warfare

Miniaturized components are available at reasonable prices.
RESTRAINTS:
High-end IMUs have operational complications.

Defense budgets of affluent countries fluctuate
OPPORTUNITY:
Improved performance when combined with other systems

MEMS-based IMU technological developments
CHALLENGES:
Time required for system startup

Commercial drone use restrictions
IMPACT OF COVID-19:
Because of the COVID-19 scenario, ongoing research and development in inertial measurement units has been hampered by announced lockdowns and government bans on public gatherings.
The COVID-19 impact has caused a slowing in the economies of various countries, which may hamper government spending in defence projects. Such a reduction in expenditure will have a direct impact on the growth of the inertial measurement unit market.
Travel restrictions and reduced military activity as a result of COVID-19 have also hampered the expansion of the inertial measurement market, as the supply chain of associated spare components has been disrupted.
The global inertial measuring unit market may see significant growth in the coming quarter, as industry output has begun to pick up steam following the difficult phase of COVID-19.
The MEMS category is expected to have the highest CAGR rate for the inertial measurement unit market during the forecast period, based on technology. Because of their low weight and comparably superior accuracy in a small package, these small, lightweight systems offer an advantage over other types of IMUs. In the next years, MEMS-based IMUs are likely to replace FOG IMUs in tactical grade performance applications.
The commercial grade category is expected to develop at the fastest CAGR for the inertial measurement unit market during the forecast period. Consumer and enterprise-grade IMUs are examples of commercial grade IMUs. Consumer-grade IMUs are utilised in low-end applications like phones, tablets, car airbag systems, and so on, whereas enterprise-grade IMUs are employed in small UAVs.
A gyroscope is used to determine the orientation and quantify the angular motion of UMVs, aircraft, UGVs, and UAVs utilising the earth's gravity. An accelerometer is a significant component of an aircraft since it measures non-gravitational acceleration and velocity. Magnetometers are commonly used in conjunction with gyroscopes and accelerometers to improve the accuracy of attitude estimation.
Autonomous vehicles are outfitted with a variety of sensors, including a motion sensor, to collect data on their properties and control movements. In autonomous vehicles, inertial measurement units are used to determine location and orientation. Furthermore, such vehicles are outfitted with a variety of electronic technologies, including backup assistance systems, autonomous braking systems, front collision warning systems, and others. Inertial measuring units are used to regulate the majority of these electronic systems. As a result, increased investments in self-driving cars will contribute to the growth of the worldwide inertial measurement unit market.
MARKET PLAYER
Thales Group, Parker Hannifin Corp, Northrop Grumman Corporation., Sensonor, Safran, GENERAL ELECTRIC, Gladiator Technologies, Honeywell International Inc., Bosch Sensortec GmbH, STMicroelectronics.
MARKET SEGMENTS:
by Grade:
Commercial Grade

Marine Grade

Navigation Grade

Space Grade

Tactical Grade
by Component:
Accelerometers

Gyroscopes

Magnetometers
by Technology:
Fiber Optics Gyro

Mechanical Gyro

Ring Laser Gyro

MEMS

Others
by Application:
Aircraft

Military Armored Vehicles

Missiles

Marine

Unmanned Aerial Vehicles (UAVs)

Unmanned Ground Vehicles (UGVs)

Unmanned Marine Vehicles (UMVs)

Consumer Electronics

Automotive

Survey Equipment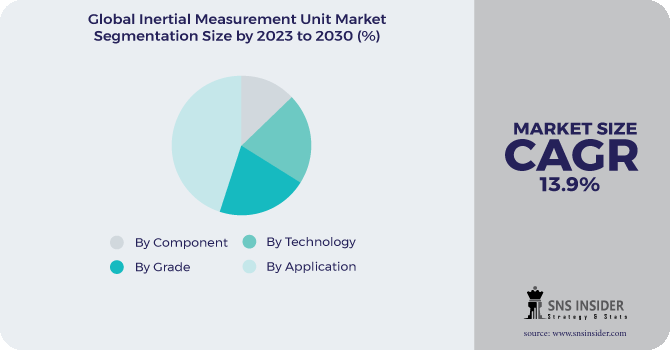 REGIONAL ANALYSIS:
Because of the presence of prominent key players such as Northrop Grumman Corporation, General Electric Company, United Technologies Corporation, and Honeywell International Inc. in the region and their high investments in IMU development, the North American regional market is expected to dominate the global market by holding the largest Market Share during the forecast period. Furthermore, the Asia-Pacific market is expected to grow at a rapid pace throughout the research period. Because of increased demand for new aircraft and rising defence spending in developing countries such as India and China, this area is driving market expansion. Furthermore, the Middle East and Africa's Inertial Measurement Unit Market is expanding as a result of rising defence spending in nations such as Israel, the United Arab Emirates, and Saudi Arabia. Furthermore, the Latin American regional market is booming due to the widespread usage of UAVs for monitoring and controlling illicit migration, drug trafficking, and deforestation.
REGIONAL COVERAGE:
North America

Europe

Germany

UK

France

Italy

Spain

The Netherlands

Rest of Europe

Asia-Pacific

Japan

south Korea

China

India

Australia

Rest of Asia-Pacific

The Middle East & Africa

Latin America

Brazil

Argentina

Rest of Latin America
Inertial Measurement Unit Market Report Scope:
Report Attributes
Details
Market Size in 2022
US$ 24.60 Billion
Market Size by 2030
US$ 69.68 Billion
CAGR
CAGR of 13.9% From 2023 to 2030
Base Year
2022
Forecast Period
2023-2030
Historical Data
2020-2021
Report Scope & Coverage
Market Size, Segments Analysis, Competitive Landscape, Regional Analysis, DROC & SWOT Analysis, Forecast Outlook
Key Segments
• By Grade (Commercial Grade, Marine Grade, Navigation Grade, Space Grade, and Tactical Grade)
• By Component (Accelerometers, Gyroscopes, Magnetometers)
• By Technology (Fiber Optics Gyro, Mechanical Gyro, Ring Laser Gyro, MEMS, and Others)
• By Application (Aircraft, Military Armored Vehicles, Missiles, Marine, Unmanned Aerial Vehicles (UAVs), Unmanned Ground Vehicles (UGVs), Unmanned Marine Vehicles (UMVs), Consumer Electronics, Automotive, and Survey Equipment)
Regional Analysis/Coverage
North America (USA, Canada, Mexico), Europe
(Germany, UK, France, Italy, Spain, Netherlands,
Rest of Europe), Asia-Pacific (Japan, South Korea,
China, India, Australia, Rest of Asia-Pacific), The
Middle East & Africa (Israel, UAE, South Africa,
Rest of Middle East & Africa), Latin America (Brazil, Argentina, Rest of Latin America)
Company Profiles
Thales Group, Parker Hannifin Corp, Northrop Grumman Corporation., Sensonor, Safran, GENERAL ELECTRIC, Gladiator Technologies, Honeywell International Inc., Bosch Sensortec GmbH, STMicroelectronics.
DRIVERS
• Increased demand for missiles as a result of geopolitical unrest and the changing nature of warfare
• Miniaturized components are available at reasonable prices.
RESTRAINTS
• High-end IMUs have operational complications.
• Defense budgets of affluent countries fluctuate