Report Scope & Overview:
The Insect Growth Regulators Market size was valued at USD 1.1 billion in 2022. It is estimated to hit USD 1.87 billion by 2030 and grow at a CAGR of 6.9% over the forecast period of 2023-2030.
With the increasing concern over the harmful effects of traditional insecticides on the environment and human health, the demand for insect growth regulators has soared. Insect growth regulators (IGRs) are chemical compounds that disrupt the normal growth and development of insects, ultimately leading to their demise. These regulators target specific stages of an insect's life cycle, such as egg, larva, or pupa, preventing them from reaching adulthood and reproducing. This targeted approach not only ensures effective pest control but also minimizes the impact on non-target organisms and the environment.
The market for insect growth regulators is driven by several factors. Firstly, the growing awareness among consumers about the adverse effects of conventional insecticides has led to a shift towards more sustainable and eco-friendly alternatives. IGRs offer a viable solution by providing effective pest control without compromising environmental safety. Additionally, the increasing prevalence of insect-borne diseases, such as malaria, dengue fever, and Zika virus, has heightened the need for efficient insect control measures. According to WHO, Vector-borne diseases are responsible for over 17% of all infectious diseases, resulting in more than 700,000 deaths annually. One such disease is malaria, which is a parasitic infection transmitted by Anopheline mosquitoes. It is estimated that there are 219 million cases of malaria worldwide, leading to over 400,000 deaths each year. Another significant vector-borne disease is dengue, which is the most prevalent viral infection transmitted by Aedes mosquitoes. With over 3.9 billion people at risk in more than 129 countries, dengue poses a significant threat. It is estimated that there are 96 million symptomatic cases of dengue each year, resulting in approximately 40,000 deaths. Insect growth regulators play a crucial role in preventing the proliferation of disease-carrying insects, thereby safeguarding public health.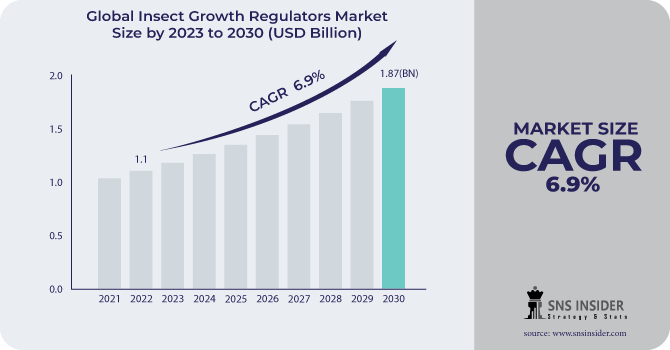 Get PDF Sample Report on Insect Growth Regulators Market - Request Sample Report
Furthermore, the agriculture sector has witnessed a surge in the adoption of insect growth regulators. Farmers are increasingly turning to these products to protect their crops from destructive pests while reducing their reliance on chemical pesticides. This not only ensures a higher yield but also promotes sustainable farming practices. In terms of geographical opportunities, the Asia-Pacific region is expected to grow with the highest CAGR in the insect growth regulators market. This is mainly attributed to the expanding agricultural sector in countries like China and India, coupled with the increasing awareness about sustainable pest control methods.
Market Dynamics
Drivers
Increasing demand for pest control

Growing awareness about environmental sustainability
There are over 1,000 pesticides utilized worldwide to protect food from pest-related damage or destruction. Each pesticide possesses distinct properties and exerts varying toxicological effects. Pesticides are accountable for an estimated 11,000 human fatalities and the poisoning of 385 million individuals annually. As consumers become more conscious of the impact of chemical pesticides on the environment, there is a shift towards eco-friendly alternatives. Insect growth regulators, being less harmful to non-target organisms, are gaining popularity as a sustainable pest control option.
Restrain
Despite the growing demand for eco-friendly pest control solutions, there is still a lack of awareness and understanding about insect growth regulators among consumers. This hinders their widespread adoption and market growth.
The insect growth regulators market is subject to stringent regulations and approvals, which can be time-consuming and costly. The EPA's Office of Pesticide Programs is responsible for overseeing the majority of regulatory matters concerning insect growth regulators (IGRs). Under the Federal Insecticide, Fungicide, and Rodenticide Act (FIFRA), the EPA is granted the power to decide which IGRs are permissible for use in the United States, as well as establish guidelines for their usage. These regulatory hurdles pose a restraint on the market's expansion.
Opportunities
Increasing shift towards integrated pest management practices

Growing adoption of organic farming practices
Challenges
Impact of Russia-Ukraine War:
The Russia-Ukraine war has disrupted the supply chain of insect growth regulators, leading to a shortage in the market. This has resulted in reduced availability of IGRs, causing a strain on the global supply chain. As a consequence, prices have surged, making it difficult for farmers and pest control professionals to access these essential products. The conflict has also impacted the competitive landscape of the insect growth regulators market. With Ukraine's production capabilities hampered, other countries have stepped in to fill the void. Russia, for instance, has increased its production to meet the growing demand. This has led to intensified competition among suppliers, as they strive to capture the market share left vacant by Ukrainian manufacturers. As a result, industry players are facing increased pressure to innovate and differentiate their products to maintain their competitive edge.
Impact of Recession:
The recession has had a profound impact on the IGRs market, leading to a decline in growth and demand. As economic uncertainty prevails, consumers and businesses alike have become more cautious with their spending, resulting in reduced investments in pest control products such as IGRs. This decline in demand has directly affected the revenue and profitability of companies operating in this sector. Furthermore, the recession has also affected the supply chain of IGRs. With reduced consumer spending, retailers have faced difficulties maintaining inventory levels, leading to a decrease in the availability of IGR products. This scarcity has further contributed to the decline in market growth.
Market segmentation
By Product
Chitin synthesis inhibitors

Ecdysone Antagonists

Juvenile hormone analogs and mimics

Ecdysone Agonists
By Form
By Application
Agriculture

Commercial

Residential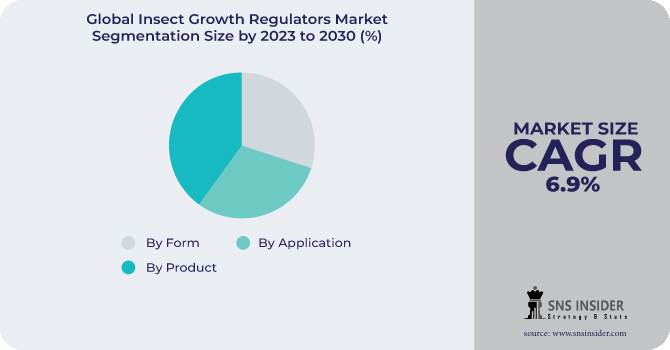 Get Customized Report as per Your Business Requirement - Request For Customized Report
Regional Analysis
North America dominated the Insect Growth Regulators Market with the highest revenue share of about 39.2% in 2022. Stringent regulations and guidelines implemented by North American regulatory bodies have played a crucial role in shaping the market landscape. These regulations ensure the safety and efficacy of insect growth regulators, instilling confidence in consumers and facilitating market growth. Additionally, North America's agricultural sector, characterized by large-scale farming operations, has created a substantial demand for insect growth regulators. This is because various sectors closely tied to agriculture heavily rely on agricultural inputs to enhance their value and contribute to the economy. The region's farmers recognize the importance of effective pest control measures to safeguard their crops and maximize yields. Consequently, they have embraced insect growth regulators as a vital tool in their pest management strategies, driving market growth.
The Asia Pacific region is expected to grow with the highest CAGR of about 7.6% in the Insect Growth Regulators Market during the forecast period of 2023-2030. The Asia Pacific region is anticipated to witness significant growth in the Insect Growth Regulators Market. This growth is owing to the region's expanding population and rising disposable income has led to increased demand for agricultural products. As a result, farmers are increasingly adopting insect growth regulators to protect their crops from pests and enhance their yield. The Asia Pacific region's growth in the Insect Growth Regulators Market is driven by the pressing need to meet the demands of a rapidly expanding population. As people's incomes rise, they have more purchasing power, leading to a higher consumption of agricultural products. Consequently, farmers are increasingly recognizing the importance of protecting their crops from pests and maximizing their yield.
Furthermore, the Asia Pacific region is home to several emerging economies, such as China and India, which are witnessing rapid industrialization and urbanization. These factors have led to a surge in pest-related issues, both in residential and commercial areas. Consequently, there is a growing need for effective insect growth regulators to combat these challenges. Moreover, the region's favorable climatic conditions for insect breeding and reproduction contribute to the high demand for insect growth regulators. The warm and humid climate prevalent in many parts of Asia Pacific provides an ideal environment for pests to thrive. Consequently, farmers and pest control agencies are increasingly relying on insect growth regulators to curb pest populations and prevent crop damage.
REGIONAL COVERAGE:
North America
Europe
Eastern Europe

Poland

Romania

Hungary

Turkey

Rest of Eastern Europe

Western Europe

Germany

France

UK

Italy

Spain

Netherlands

Switzerland

Austria

Rest of Western Europe
Asia Pacific
China

India

Japan

South Korea

Vietnam

Singapore

Australia

Rest of Asia Pacific
Middle East & Africa
Middle East

UAE

Egypt

Saudi Arabia

Qatar

Rest of Middle East

Africa

Nigeria

South Africa

Rest of Africa
Latin America
Brazil

Argentina

Colombia

Rest of Latin America
Key Players
The major key players are Russel IPM Ltd., Bayer CropScience AG, Valent U.S.A Corporation, DOW Chemical Company, Central Gardens, Syngenta AG, Nufarm, ADAMA India Pvt. Ltd., Pets Co., Sumitomo Chemical Company, and other key players mentioned in the final report.
Recent Development:
In March 2023, Bayer CropScience made an exciting announcement about the launch of its groundbreaking IGR called Intrepid. This non-systemic insect growth regulator is highly effective against a wide range of pests, including aphids, mealybugs, and whiteflies.

In Jan 2022, Syngenta Crop Protection AG made a significant move by acquiring two cutting-edge bioinsecticides, NemaTrident® and UniSpore®, from the renowned biocontrol technology developer, Bionema Limited.

In July 2021, Sumitomo Chemical achieved a major milestone when it received regulatory approval in the United States for its innovative plant growth regulator (PGR) called AccedeTM. This PGR contains the active ingredient 1-aminocyclopropane-1-carboxylic acid (ACC).

Insect Growth Regulators Market Report Scope
Report Attributes
Details
Market Size in 2022
US$ 1.1 Bn
Market Size by 2030
US$ 1.87 Bn
CAGR
CAGR of 6.9% From 2023 to 2030
Base Year
2022
Forecast Period
2023-2030
Historical Data
2019-2021
Report Scope & Coverage
Market Size, Segments Analysis, Competitive Landscape, Regional Analysis, DROC & SWOT Analysis, Forecast Outlook
Key Segments
• By Product (Chitin synthesis inhibitors, Ecdysone Antagonists, Juvenile hormone analogs and mimics, and Ecdysone Agonists)
• By Form (Liquid, Aerosol, and Bait)
• By Application (Agriculture, Commercial, and Residential)
Regional Analysis/Coverage
North America (US, Canada, Mexico), Europe (Eastern Europe [Poland, Romania, Hungary, Turkey, Rest of Eastern Europe] Western Europe] Germany, France, UK, Italy, Spain, Netherlands, Switzerland, Austria, Rest of Western Europe]), Asia Pacific (China, India, Japan, South Korea, Vietnam, Singapore, Australia, Rest of Asia Pacific), Middle East & Africa (Middle East [UAE, Egypt, Saudi Arabia, Qatar, Rest of Middle East], Africa [Nigeria, South Africa, Rest of Africa], Latin America (Brazil, Argentina, Colombia Rest of Latin America)
Company Profiles
Russel IPM Ltd., Bayer CropScience AG, Valent U.S.A Corporation, DOW Chemical Company, Central Gardens, Syngenta AG, Nufarm, ADAMA India Pvt. Ltd., Pets Co., Sumitomo Chemical Company
Key Drivers
• Increasing demand for pest control
• Growing awareness about environmental sustainability
Market Restraints
• Limited awareness and understanding