Report Scope & Overview:
The Jojoba Oil Market size was valued at USD 133.5 million in 2022. It is estimated to hit USD 239.87 million by 2030 and grow at a CAGR of 7.6% over the forecast period of 2023-2030.
Jojoba oil, derived from the seeds of the jojoba plant, is renowned for its exceptional properties and wide range of uses. With its natural composition resembling human sebum, jojoba oil has gained popularity in the cosmetics and personal care industry. Additionally, its applications extend to pharmaceuticals, industrial lubricants, and various other sectors. The rising consumer inclination towards natural and organic products, coupled with the expanding awareness of the benefits of jojoba oil, is expected to drive market growth. Additionally, the growing popularity of sustainable practices and the shift towards eco-friendly alternatives will further contribute to the market's expansion.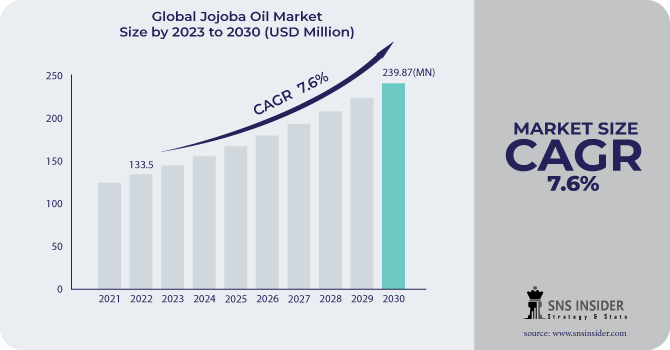 Get E-PDF Sample Report on Jojoba Oil Market - Request Sample Report
The cosmetics & personal care applications segment dominated the jojoba oil market with the highest revenue share of about 74.2% in 2022. This dominance is attributed to the escalating demand for products sourced naturally and organically. The regular utilization of hair care products infused with jojoba oil has proven to be highly effective in combating hair fall, while simultaneously enhancing hair thickness, texture, and overall quality. Furthermore, it serves as a valuable remedy for dry, itchy scalps and split ends. Beyond its hair care benefits, jojoba oil finds extensive usage in various cosmetic formulations, including lipsticks, makeup removers, lip balms, and nail polish. Its versatility and efficacy make it an indispensable ingredient in the creation of these beauty products.
Market Dynamics
Drivers
Increasing consumer awareness about the benefits of jojoba oil.

Rising popularity of jojoba oil as a versatile ingredient in various industries

Growing demand for natural and organic skincare products
In recent years, there has been a notable shift in consumer preferences towards products that are derived from natural sources and free from harmful chemicals. This trend is particularly evident in the skincare industry, where individuals are becoming more conscious of the potential adverse effects of synthetic ingredients on their skin and overall well-being. Unlike many conventional skincare products, jojoba oil is renowned for its natural composition, making it a safe and gentle option for various skin types. It possesses exceptional moisturizing qualities, effectively hydrating the skin without leaving a greasy residue. Additionally, jojoba oil is rich in vitamins and antioxidants, which contribute to its ability to nourish and rejuvenate the skin. As consumers become more educated about the potential risks associated with synthetic skincare ingredients, they are actively seeking natural alternatives. The rise in awareness regarding the benefits of jojoba oil has led to an increased demand for products that contain this versatile ingredient. Consequently, the jojoba oil market is experiencing substantial growth as skincare enthusiasts embrace the natural and organic movement.
Restrain
Fluctuating prices of jojoba oil due to factors like weather conditions and market demand

Lack of standardized regulations and quality control measures in the jojoba oil market

Limited availability of jojoba oil due to its specific cultivation requirements
Jojoba oil, derived from the seeds of the jojoba plant, has gained immense popularity in various industries due to its numerous benefits. However, the cultivation of jojoba plants is not without its limitations. These plants thrive in specific climatic conditions, requiring arid regions with well-drained soil and a moderate temperature range. Consequently, the cultivation of jojoba plants is restricted to certain geographical areas, primarily found in regions such as the southwestern United States, Mexico, and parts of South America. Furthermore, the cultivation of jojoba plants is a time-consuming process. These plants take several years to mature and produce seeds suitable for oil extraction. This slow growth rate further exacerbates the scarcity of jojoba oil in the market.
Opportunities
Expanding applications of jojoba oil in the cosmetics, pharmaceutical, and food industries.

Increasing research and development activities to explore new uses and benefits of jojoba oil.
Challenges
Intense competition from alternative oils and ingredients in the market.

Educating consumers about the unique properties and advantages of jojoba oil.
Impact of Russia-Ukraine War:
The conflict has led to disruptions in the supply chain of jojoba oil, primarily due to the geographical proximity of Ukraine to major jojoba oil-producing regions. The transportation of jojoba oil from these regions to international markets has become increasingly challenging, resulting in delays and increased costs. The war has also impacted the production of jojoba oil. Many jojoba oil producers in Ukraine have been forced to halt or reduce their operations due to the conflict. This has led to a decrease in the overall supply of jojoba oil, further exacerbating the supply chain disruptions.
Impact of Recession:
One of the primary consequences of the recession on the jojoba oil market has been a decrease in consumer demand. As individuals face financial constraints, their purchasing power diminishes, leading to a decline in the consumption of luxury products such as jojoba oil. This reduced demand has resulted in a decrease in sales and revenue for jojoba oil producers and retailers. The recession has also affected the supply side of the jojoba oil market. Due to the economic downturn, many jojoba oil producers have faced financial difficulties, leading to a decrease in production capacity. Additionally, the recession has disrupted supply chains, causing delays in the delivery of raw materials and finished products. These supply-side challenges have further contributed to the decline in the availability of jojoba oil in the market.
Market segmentation
By Grade
By Type
By Sales Channel
By Application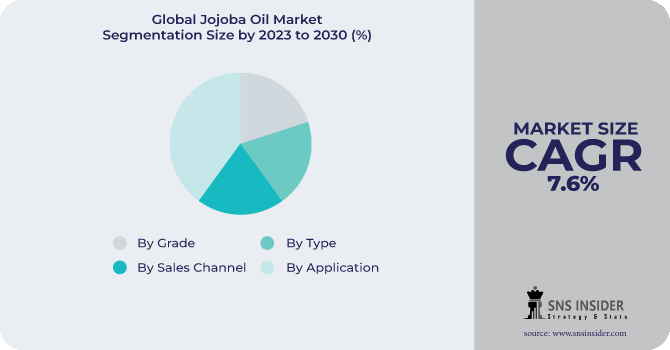 Get Customized Report as Per Your Business Requirement - Request For Customized Report
Regional Analysis
North America dominated the jojoba oil market with the highest revenue share of about 36% in 2022. The region boasts a favorable climate and geographical conditions that are conducive to the cultivation of jojoba plants. This has facilitated the establishment of numerous jojoba oil production facilities, ensuring a steady supply of this valuable commodity. Additionally, North America has witnessed a surge in consumer awareness and demand for natural and organic products, including jojoba oil. The region's population has become increasingly conscious of the benefits offered by jojoba oil in skincare, haircare, and other personal care applications. This heightened awareness has translated into a significant increase in the consumption of jojoba oil, thereby driving its market share to new heights.
Asia Pacific is expected to grow with the highest CAGR of about 7.9% in the jojoba oil market during the forecast period. The Asia Pacific region has the presence of the largest cosmetics and personal care markets worldwide, including South Korea, Japan, India, and China. Among these, the Korean skincare and cosmetics industry stands out as a developed and highly competitive market, characterized by fragmentation. In this dynamic landscape, brands continuously invest in research and development activities to create innovative products. Beauty holds significant cultural importance in South Korea, leading consumers to possess extensive knowledge about cosmetics and maintain exceptionally high standards. Consequently, cosmetics companies face immense pressure to deliver products that are both innovative and of exceptional quality to meet these elevated expectations. The changing lifestyle with increased adoption of cosmetic products in this region drive growth of the jojoba oil market in the coming years.
REGIONAL COVERAGE:
North America
Europe
Eastern Europe

Poland

Romania

Hungary

Turkey

Rest of Eastern Europe

Western Europe

Germany

France

UK

Italy

Spain

Netherlands

Switzerland

Austria

Rest of Western Europe
Asia Pacific
China

India

Japan

South Korea

Vietnam

Singapore

Australia

Rest of Asia Pacific
Middle East & Africa
Middle East

UAE

Egypt

Saudi Arabia

Qatar

Rest of Middle East

Africa

Nigeria

South Africa

Rest of Africa
Latin America
Brazil

Argentina

Colombia

Rest of Latin America
Key Players
The major key players are Ecooil, Purcell Jojoba, ConnOils LLC, Inca Oil SA, JD Jojoba Desert, Jojoba Naturals, Nutrix International LLC, OPW Ingredients GmbH, US Organic Group Corp, Hallstar, and other key players mentioned in the final report.
Ecooil-Company Financial Analysis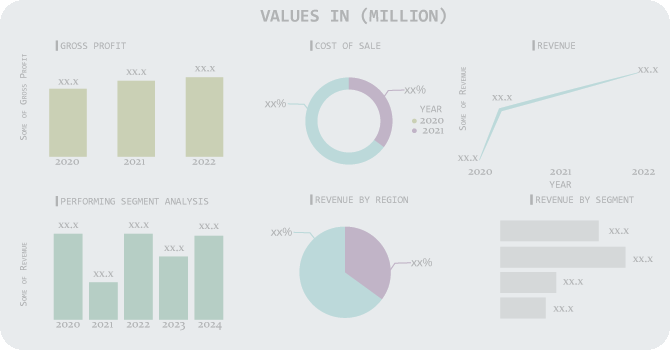 Recent Development:
In September 2023, JD Jojoba Desert's Jojoba Oil was Identified as a Sustainable Alternative to Mineral Oil in Cosmetic Formulations.
Jojoba Oil Market Report Scope
Report Attributes
Details
Market Size in 2022
US$ 133.5 Mn
Market Size by 2030
US$ 239.87 Mn
CAGR
CAGR of 7.6% From 2023 to 2030
Base Year
2022
Forecast Period
2023-2030
Historical Data
2019-2021
Report Scope & Coverage
Market Size, Segments Analysis, Competitive Landscape, Regional Analysis, DROC & SWOT Analysis, Forecast Outlook
Key Segments
• By Grade (Lite Jojoba (Bleached Jojoba) and Winterized)
• By Type (Refined and Cold-Pressed)
• By Sales Channel (B2C and B2B)
• By Application (Cosmetics & Personal Care, Industrial, Pharmaceutical, and Others)
Regional Analysis/Coverage
North America (US, Canada, Mexico), Europe (Eastern Europe [Poland, Romania, Hungary, Turkey, Rest of Eastern Europe] Western Europe] Germany, France, UK, Italy, Spain, Netherlands, Switzerland, Austria, Rest of Western Europe]), Asia Pacific (China, India, Japan, South Korea, Vietnam, Singapore, Australia, Rest of Asia Pacific), Middle East & Africa (Middle East [UAE, Egypt, Saudi Arabia, Qatar, Rest of Middle East], Africa [Nigeria, South Africa, Rest of Africa], Latin America (Brazil, Argentina, Colombia Rest of Latin America)
Company Profiles
Ecooil, Purcell Jojoba, ConnOils LLC, Inca Oil SA, JD Jojoba Desert, Jojoba Naturals, Nutrix International LLC, OPW Ingredients GmbH, US Organic Group Corp, Hallstar
Key Drivers
• Increasing consumer awareness about the benefits of jojoba oil.
• Rising popularity of jojoba oil as a versatile ingredient in various industries
• Growing demand for natural and organic skincare products
Market Restraints
• Fluctuating prices of jojoba oil due to factors like weather conditions and market demand
• Lack of standardized regulations and quality control measures in the jojoba oil market
• Limited availability of jojoba oil due to its specific cultivation requirements