Report Scope & Overview:
The Ketones Market size was valued at USD 23.7 billion in 2022. It is estimated to hit USD 31.21 billion by 2030 and grow at a CAGR of 3.5% over the forecast period of 2023-2030.
In the pharmaceutical sector, ketones play a crucial role in the synthesis of drugs and medications. They are utilized as intermediates in the production of antibiotics, antifungal agents, and anti-inflammatory drugs. The demand for ketones in the pharmaceutical industry is expected to witness substantial growth due to the increasing prevalence of chronic diseases and the need for effective treatments. The cosmetic industry also relies on ketones for their unique properties. Ketones are commonly used as solvents in the formulation of perfumes, nail polish removers, and hair care products. Their ability to dissolve various substances makes them an essential ingredient in many cosmetic formulations.
Get E-PDF Sample Report on Ketones Market - Request Sample Report
Furthermore, the food industry has recognized the potential of ketones as food additives. Ketones are used as flavor enhancers, providing a distinct taste and aroma to various food products. They are also utilized as food preservatives, extending the shelf life of perishable goods. With the rising demand for processed and convenience foods, the ketones market in the food industry is projected to experience substantial growth. The ketones market is driven by increasing consumer awareness regarding health and wellness, technological advancements in production processes, and the growing demand for natural and organic products. Additionally, the rising disposable income of consumers in emerging economies has contributed to the expansion of the ketones market.
Dietary supplements application segment dominated the ketone market with the largest revenue share of about 31% in 2022. This is attributed to the growing consumer awareness regarding personal health. The working population worldwide is focusing on consuming the daily nutrient necessities owing to changing lifestyles and work schedules which drive the growth of this segment.
Market Dynamics
Drivers
Increasing demand for ketones in various industries such as pharmaceuticals, cosmetics, and food and beverages

Advancements in technology leading to the development of innovative ketone products

Growing awareness about the benefits of ketones in terms of weight management and energy production
In recent years, there has been a significant surge in public awareness regarding the potential benefits of incorporating ketones into one's lifestyle. Ketones, which are organic compounds produced by the body during periods of low carbohydrate intake, have been found to play a crucial role in weight management and energy generation. Ketones have gained attention for their ability to aid in weight management. When the body enters a state of ketosis, where it primarily relies on ketones for fuel instead of glucose, it becomes more efficient at burning stored fat. This metabolic shift can lead to enhanced weight loss and improved body composition. Furthermore, the impact of ketones on energy production has also contributed to their growing popularity. This can result in heightened mental clarity, increased endurance, and improved physical performance. Athletes and individuals seeking sustained energy levels throughout the day have recognized the potential of ketones to optimize their performance and productivity. The combination of these factors has sparked a surge in demand for ketone-based products, ranging from dietary supplements to specialized food and beverages.
Restraint
High cost associated with the production and extraction of ketones

Limited availability of raw materials required for the production of ketones
The scarcity of raw materials can be attributed to various factors, such as geographical limitations, environmental concerns, and supply chain disruptions. Geographically, certain regions may lack the necessary resources needed for ketone production, making it difficult to establish a reliable supply chain. Additionally, environmental concerns, such as regulations on the extraction or harvesting of specific raw materials, can further limit their availability.
Opportunities
Expanding applications of ketones in the healthcare sector, particularly in the treatment of neurological disorders

Rising consumer inclination towards natural and organic products, creating a demand for natural ketones
Challenges
Stringent regulations and guidelines imposed by regulatory bodies on the use of ketones

Potential health risks associated with the excessive consumption of ketones, requiring proper education and regulation
Impact of Russia-Ukraine War:
The Russia-Ukraine war has disrupted the supply chain of ketones, leading to a decrease in the availability of raw materials. This has resulted in a shortage of ketones in the market, leading to increased prices and limited availability for consumers. The conflict has also caused a shift in the market dynamics of ketones. With Ukraine facing challenges in production, other countries have stepped in to fill the gap. This has led to an increase in ketone imports from alternative suppliers, such as China and India. As a result, the market has become more competitive, with new players entering the scene and established ones adapting their strategies to accommodate the changing landscape.
Impact of Recession:
One of the primary negative effects on the ketone market has been a decrease in consumer purchasing power. As individuals face financial constraints, their ability to spend on non-essential products such as ketones has diminished. This has resulted in a decline in demand for ketones, leading to reduced sales and profitability for businesses operating in this market. Furthermore, the recession has also affected the supply chain of ketones. With economic uncertainty and reduced demand, manufacturers and suppliers have faced challenges in maintaining their production levels. This has resulted in disruptions in the supply of ketones, leading to potential shortages and increased prices. Additionally, the recession has also impacted the availability of raw materials required for ketone production, further exacerbating the supply chain issues.
Market Segmentation
By Supplement Type
Ketone Salts

Ketone oils

Ketone Esters

Raspberry Ketones
By Form
By Application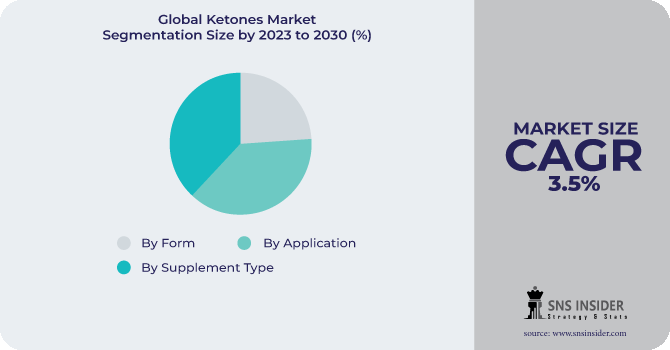 Get Customized Report as Per Your Business Requirement - Request For Customized Report
Regional Analysis
North America dominated the ketone market with the highest revenue share of about 35.8% in 2022. The United States is the major contributing country to this region's growth. The surge in obesity cases across North America has led to a corresponding rise in the popularity of ketone supplements, food, and beverages as weight loss aids. Responding to the soaring demand from consumers, numerous hotels and restaurants in this region have incorporated ketone-based offerings into their menus. These factors collectively propel the expansion of the Ketones Market.
Asia Pacific is expected to grow with the highest CAGR of about 3.9% in the ketone market during the forecast period. This growth is attributed to the increasing demand for natural products like ketones, driven by the expansion of the dietary supplements industry. The rise in obesity and weight-related disorders further contributes to this trend. The surge in dietary supplement sales in the Asia Pacific region can primarily be attributed to the busy schedules and high-stress levels of consumers, which have led to a rise in lifestyle disorders such as obesity, high blood pressure, and diabetes. Recognizing this, several sports nutrition product companies in the region are incorporating nutrients that support cognitive health and enhance overall mental, emotional, and physical well-being. As the demand for sports nutrition continues to grow, the market in the Asia Pacific region is expected to witness significant expansion during the forecast period.
REGIONAL COVERAGE:
North America
Europe
Eastern Europe

Poland

Romania

Hungary

Turkey

Rest of Eastern Europe

Western Europe

Germany

France

UK

Italy

Spain

Netherlands

Switzerland

Austria

Rest of Western Europe
Asia Pacific
China

India

Japan

South Korea

Vietnam

Singapore

Australia

Rest of Asia Pacific
Middle East & Africa
Middle East

UAE

Egypt

Saudi Arabia

Qatar

Rest of Middle East

Africa

Nigeria

South Africa

Rest of Africa
Latin America
Brazil

Argentina

Colombia

Rest of Latin America
Key Players
The major key players are Ketone Aid Inc., Pruvit, Ketologic, Perfect Keto, Caldic B.V., HVMN Inc., Keto & Company, Ancient Nutrition, Genomatica, Compound Solution Inc., Zhou Nutrition, BPI Sports, Boli Naturals, and other key players are mentioned in the final report.
Ketone Aid Inc-Company Financial Analysis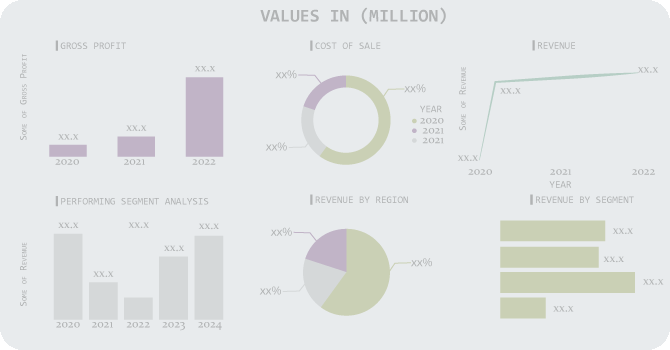 Recent Development:
In Nov 2022, Genomatica made an exciting announcement regarding its venture into the functional foods and beverages market. This development was marked by the introduction of their latest functional ingredient, Avela™ natural (R)-1,3-Butanediol. This innovative and sugar-free ingredient was unveiled at the prestigious SupplySide West 2022 event held in Las Vegas. Avela™ natural offers a convenient and efficient method to elevate beta-hydroxybutyrate (BHB) ketone levels, which serve as the primary energy source produced by the body during ketosis.
Ketones Market Report Scope
Report Attributes
Details
Market Size in 2022
US$ 23.7 Bn
Market Size by 2030
US$ 31.21 Bn
CAGR
CAGR of 3.5% From 2023 to 2030
Base Year
2022
Forecast Period
2023-2030
Historical Data
2019-2021
Report Scope & Coverage
Market Size, Segments Analysis, Competitive Landscape, Regional Analysis, DROC & SWOT Analysis, Forecast Outlook
Key Segments
• By Supplement Type (Ketone Salts, Ketone oils, Ketone Esters, and Raspberry ketones)
• By Form (Solid, Liquid, and Semi-solid)
• By Application (Dietary Supplements, Food & Beverages, Cosmetics & Personal Care, and Others)
Regional Analysis/Coverage
North America (US, Canada, Mexico), Europe (Eastern Europe [Poland, Romania, Hungary, Turkey, Rest of Eastern Europe] Western Europe] Germany, France, UK, Italy, Spain, Netherlands, Switzerland, Austria, Rest of Western Europe]), Asia Pacific (China, India, Japan, South Korea, Vietnam, Singapore, Australia, Rest of Asia Pacific), Middle East & Africa (Middle East [UAE, Egypt, Saudi Arabia, Qatar, Rest of Middle East], Africa [Nigeria, South Africa, Rest of Africa], Latin America (Brazil, Argentina, Colombia Rest of Latin America)
Company Profiles
Ketone Aid Inc., Pruvit, Ketologic, Perfect Keto, Caldic B.V., HVMN Inc., Keto & Company, Ancient Nutrition, Genomatica, Compound Solution Inc., Zhou Nutrition, BPI Sports, Boli Naturals
Key Drivers
• Increasing demand for ketones in various industries such as pharmaceuticals, cosmetics, and food and beverages
• Advancements in technology leading to the development of innovative ketone products
• Growing awareness about the benefits of ketones in terms of weight management and energy production
Market Restraints
• High cost associated with the production and extraction of ketones
• Limited availability of raw materials required for the production of ketones