Report Scope & Overview:
Low Code Development Platform Market size was valued at USD 17.98 billion in 2022 and is expected to grow to USD 164.9 billion by 2030 and grow at a CAGR of 31.92 % over the forecast period of 2023-2030.
A low-code development platform is a software development environment that allows users to create applications with minimal hand-coding. It provides a visual interface and pre-built components or modules that can be assembled to create functional applications. Low-code platforms typically provide a visual development interface that allows users to drag and drop components, define logic, and design user interfaces without writing extensive code. This visual approach makes application development more accessible to non-technical users and speeds up the development process. Low-code platforms abstract away much of the complex coding work by providing pre-built modules or components that can be configured and connected together. This reduces the need for manual coding, making application development faster and less error-prone. Low-code platforms empower citizen developers, who are non-professional developers with limited coding skills, to create applications. These platforms offer a user-friendly environment that allows business users to build custom applications to solve specific business problems without relying solely on IT departments.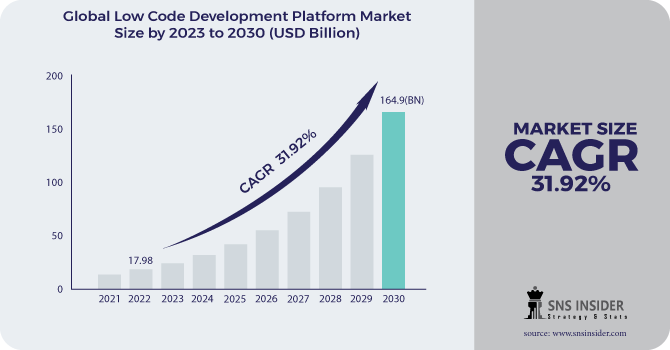 To get more inforemation on Low Code Development Platform Market - Request Sample Report
low-code development platforms accelerate the application development process, empower citizen developers, and enable faster innovation by combining visual development interfaces with pre-built components and integration capabilities. They are particularly useful for building business applications, internal tools, and prototypes in a more efficient and collaborative manner.
Market Dynamics
Drivers
The rising emphasis on improving company operations hastens corporate digital transformation. All businesses, regardless of industry, are providing digital tools to their employees and staff. Businesses use digital transformation to provide better services and boost revenue through simpler labor procedures. According to Dell's Digital Transformation Index, in 2020, 8 out of 10 enterprises will have advanced their digital transformation.
However, in order to transition to digital platforms, businesses and their employees must have extensive technological knowledge. According to the Mendix Digital Disconnect survey, up to 61% of stakeholders claimed that they only execute 50% of the offered IT solutions. Furthermore, qualified individuals with proper knowledge and expertise are difficult to locate and keep. Bitkom, for example, had 55,000 open posts in 2018 due to a lack of IT specialization among candidates. Platforms for low-code development have emerged as key instruments for digital transformation. It reduces resource costs by delegating more authority to the development team. As a result, the platform's development is likely to be fueled by the rising need to address the urgent business model requirements of digital transformation.
Restrains
Low-code technology has several advantages that contribute to the growth of the low-code development platform industry. However, the platform is missing several factors that are predicted to stymie industry expansion. One of the market's issues is that not all low-code-based tools and platforms interface with every program. As a result, it is critical for the developer and designer to account for the restricted integration capability while building the product in order to avoid future problems. Similarly, one of the platform's major limitations is its lack of flexibility and freedom. Only a few providers provide the possibility of bespoke apps geared to business models. As a result, limited options for customizing apps and integration with modern software hamper market growth.
Opportunities
The IT industry is undergoing a rapid digital revolution.

Rising need for robust solutions to maximize process visibility and control
Challenges
Impact Of covid-19
Significant Push for Digitalization in the Face of Pandemic to Accelerate Market Growth
Volatility and instability in the low code development platform industry have resulted from temporary and permanent firm closures as a result of the pandemic demand for remote software development tools globally. Countries are ready to combat the new COVID-19 epidemic, with many public and commercial organizations introducing work-from-home policies throughout their business divisions. The surge of digital transformation activities is expected to drive demand for the platform, which aids in workflow optimization and accelerates automation projects.
The platform has emerged as a game changer since it allows for the creation and delivery of full applications in a shorter time frame. Because of the epidemic, businesses now need to automate operations and prioritize transformation activities. It has resulted in a pressing demand for innovative Internet apps and services in both the corporate and governmental sectors. According to the Mendix Technology BV 2021 research, 64% of IT professionals stated that low-code development is their preferred workaround. Furthermore, low-code solutions are becoming increasingly important in corporate operations due to their capacity to accelerate project development at a reduced cost.
Impact of the Russia-Ukraine War
The ongoing conflict between Russia and Ukraine has had a significant impact on various industries, including the low-code development platform market. This market has been growing rapidly in recent years, with many businesses adopting low-code platforms to streamline their development processes and reduce costs.
Many companies have been forced to delay or cancel their plans to adopt these platforms due to the uncertain economic climate. The war has also led to a shortage of skilled developers in the region, making it more difficult for companies to find the talent they need to implement low-code platforms effectively. This has resulted in increased competition for developers and higher costs for businesses.
The low code development platform market is expected to continue growing in the coming years, as businesses seek to improve their development processes and stay competitive in the global market. However, it is important for companies to be aware of the potential impact of the Russia-Ukraine war on this market and to plan accordingly. By staying informed and adapting to changing circumstances, businesses can continue to thrive in the face of adversity.
Impact of the Recession
The low-code development platform market has been significantly affected by the recent recession. This downturn has caused a decrease in demand for low-code development platforms, as businesses have been forced to cut back on their IT budgets. However, this has also created an opportunity for low-code development platform providers to offer cost-effective solutions to businesses that are looking to streamline their operations. the low-code development platform market is expected to continue to grow in the coming years. This is due to the increasing demand for digital transformation and the need for businesses to quickly adapt to changing market conditions. Low-code development platforms offer a faster and more efficient way to develop and deploy applications, which is essential in today's fast-paced business environment. low-code development platform providers must continue to innovate and offer new features and capabilities. This includes providing support for emerging technologies such as artificial intelligence and machine learning, as well as improving the user experience and making it easier for businesses to integrate their existing systems with low-code development platforms.
In conclusion, while the recession has had a significant impact on the low-code development platform market, there are still opportunities for growth and innovation. By offering cost-effective solutions and staying ahead of emerging trends, low-code development platform providers can continue to thrive in this dynamic and ever-changing market.
Key Market Segmentation
The Low Code Development Platform Market is segmented into five types on the basis of By Component, By Deployment, By Solution Type, By End-user, and By Industry.
By Component
By Deployment
By Solution Type
Endpoint Protection Platform

Endpoint Detection and Response
By End-user
By Industry
BFSI

IT and Telecommunications,

Retail,

Healthcare

Government & Public Sector

Transportation

Others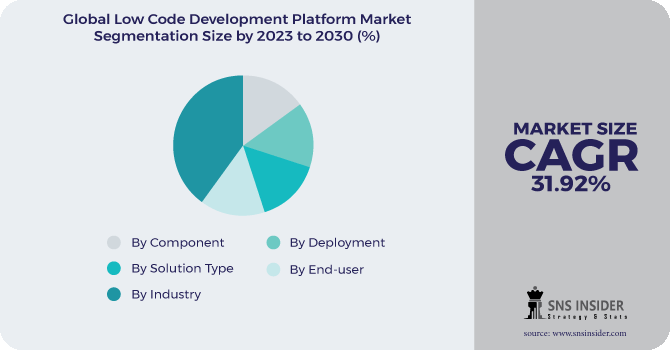 Need any customization research on Low Code Development Platform Market - Enquiry Now
Regional Analysis
Because it is an early user of digital and intelligent technologies, North America is likely to dominate the revenue share over the projection period. The United States will obtain the most market share in the area. The growing number of small and medium-sized businesses in the country, as well as their digital expenditures, will drive platform demand.
During the predicted period, Asia Pacific is expected to increase at an astounding rate. According to the 2020 Asia Pacific Software Survey, more than half of the region's top executives are confident in deploying the minimal code platform throughout their organizations. IT developers in China are being urged to use low-code platforms for more effective workflow processes. According to the Mendix Survey, 8.7% of IT professionals approve of the platform. Because of the current Atmanirbhar Bharat program, India is predicted to expand significantly.
REGIONAL COVERAGE:
North America
Europe
Germany

UK

France

Italy

Spain

The Netherlands

Rest of Europe
Asia-Pacific
Japan

South Korea

China

India

Australia

Rest of Asia-Pacific
The Middle East & Africa
Latin America
Brazil

Argentina

Rest of Latin America
Recent development
Salesforce.com, Inc. developed a Salesforce Platform with low code development tools in June 2021 to empower people without technical abilities. Because of the rapid transition towards digitization, the organization is concentrating on the development platform.
Appian Corporation introduced a new edition of their low-code automation platform, as well as data and a code-free approach to business data, in May 2021. For developers, the new edition includes AI-powered Intelligent Document Processing.
Key Players:
The major players in the market are Broadcom, CrowdStrike, Check Point Software Technologies Ltd., Comodo Security Solutions, Inc., AO Kaspersky Lab, SentinelOne, Trend Micro Incorporated, McAfee, LLC, Microsoft Corporation, Cisco Systems Inc., FireEye, Inc., CurrentWare, Cybereason, Inc., Druva Inc., Fidelis Cybersecurity, Forcepoint LLC, and others in final report.
Low Code Development Platform Market Report Scope:
Report Attributes
Details
Market Size in 2022
US$ 17.98 Bn
Market Size by 2030
US$ 164.9 Bn
CAGR
CAGR of 31.92% From 2023 to 2030
Base Year
2022
Forecast Period
2023-2030
Historical Data
2020-2021
Report Scope & Coverage
Market Size, Segments Analysis, Competitive Landscape, Regional Analysis, DROC & SWOT Analysis, Forecast Outlook
Key Segments
• By Component (Platform, Services)
• By Enterprise Size (SMEs, Large Enterprise), By Deployment, (On-premises, Cloud)
• By Industry (BFSI, Healthcare, Education, IT and Telecommunication, Media and Entertainment, Manufacturing, Government, Retail, Others)
Regional Analysis/Coverage
North America (USA, Canada, Mexico), Europe
(Germany, UK, France, Italy, Spain, Netherlands,
Rest of Europe), Asia-Pacific (Japan, South Korea,
China, India, Australia, Rest of Asia-Pacific), The
Middle East & Africa (Israel, UAE, South Africa,
Rest of Middle East & Africa), Latin America (Brazil, Argentina, Rest of Latin America)
Company Profiles
CrowdStrike, Check Point Software Technologies Ltd., Comodo Security Solutions, Inc., AO Kaspersky Lab, SentinelOne, Trend Micro Incorporated, McAfee, LLC, Microsoft Corporation, Cisco Systems Inc., FireEye, Inc., CurrentWare, Cybereason, Inc., Druva Inc., Fidelis Cybersecurity, Forcepoint LLC, and others in final report.
Key Drivers
• Expanding Digital Transformation to Fuel Market Growth
Market Opportunities
• The IT industry is undergoing a rapid digital revolution.
• Rising need for robust solutions to maximize process visibility and control