Report Scope & Overview:
The Magnetic Sensor Market size was valued at USD 4.7 billion in 2022. It is estimated to hit USD 8.4 billion by 2030 and grow at a CAGR of 7.5% over the forecast period of 2023-2030.
Magnetic sensors are devices that detect and measure magnetic fields, enabling the detection of various phenomena such as position, proximity, and rotation. These sensors play a crucial role in numerous industries, including automotive, consumer electronics, aerospace, and healthcare. One of the key drivers of the magnetic sensor market is the increasing demand for these sensors in the automotive industry. With the rise of electric vehicles and autonomous driving technologies, the need for accurate and reliable position and speed sensing has become paramount. Magnetic sensors provide the necessary precision and durability required for these applications, making them an essential component in modern vehicles.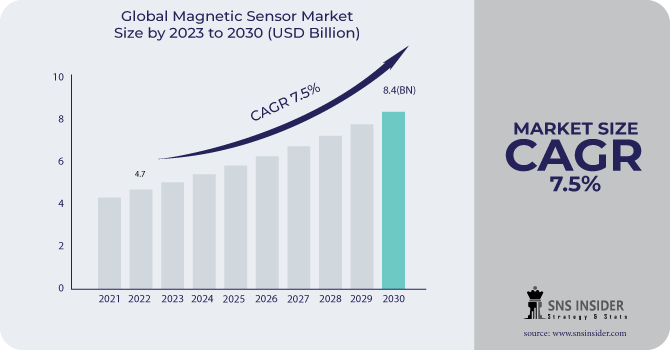 Get E-PDF Sample Report on Magnetic Sensor Market - Request Sample Report
Another significant factor driving the growth of the magnetic sensor market is the expanding consumer electronics industry. In 2022, the consumer electronic industry was valued at USD 987 billion across the world. With the proliferation of smartphones, tablets, and wearable devices, the demand for compact and efficient sensors has skyrocketed. Magnetic sensors are used in these devices for various purposes, such as compass functionality, gaming applications, and gesture recognition. The miniaturization of these sensors has allowed for their integration into smaller and more sophisticated electronic devices, further fueling market growth. Furthermore, the aerospace and defense industry are also major contributors to the magnetic sensor market. These industries rely on magnetic sensors for navigation, guidance, and control systems. The ability of these sensors to operate in extreme conditions, such as high temperatures and strong electromagnetic fields, makes them indispensable in aerospace applications.
In the healthcare industry, magnetic sensors are utilized in medical imaging devices, such as magnetic resonance imaging (MRI) machines. These sensors enable the precise detection and measurement of magnetic fields generated by the human body, providing valuable diagnostic information to healthcare professionals.
To meet the growing demand for magnetic sensors, manufacturers are constantly innovating and developing new technologies. For instance, the emergence of magneto-resistive sensors, which offer higher sensitivity and lower power consumption, has revolutionized the market.
Market Dynamics
Drivers
The consumer electronics market comprises several submarkets that attract a significant number of customers. Some of the most sought-after products in this market include smartphones, tablets, televisions (TVs), personal computers (PCs), and wearables such as smartwatches and fitness trackers. In 2023, the global smartphone user count is nearly 7 billion, accounting for approximately 86% of the world's population. When considering both smart and feature phones, the total number of individuals owning these devices reaches almost 7.5 billion, representing a staggering 91% of the world's population. This increasing demand for consumer electronics drives the demand for efficient and compact magnetic sensors.
Restrain
Opportunities
The healthcare industry has witnessed a significant rise in the utilization of magnetic sensors. These sensors, which are capable of detecting and measuring magnetic fields, have proven to be invaluable in various medical applications. They are extensively used in medical imaging devices such as magnetic resonance imaging (MRI) machines, where they play a crucial role in generating detailed images of internal body structures. Additionally, magnetic sensors are employed in implantable medical devices, such as pacemakers and defibrillators, to ensure accurate and reliable functioning.
Challenges
Impact of Russia-Ukraine War:
The war has led to disruptions in the supply chain of magnetic sensors. Many manufacturers in the region have been forced to halt or reduce production due to the conflict, resulting in a shortage of these essential components. This scarcity has not only affected local industries but has also had a ripple effect on global supply chains, leading to increased prices and delayed deliveries. The conflict has also resulted in a decline in demand for magnetic sensors. With the economic instability and uncertainty prevailing in the region, industries have become cautious about investing in new projects or expanding their operations. This cautious approach has led to a decrease in demand for magnetic sensors, further impacting the market.
Impact of Recession:
During economic downturns, businesses and consumers tend to reduce their spending, resulting in decreased investments in various sectors, including technology. As a result, the demand for magnetic sensors, which are widely used in industries such as automotive, consumer electronics, and industrial automation, experiences a significant decline. The recession-induced challenges faced by the magnetic sensor industry are multifaceted. Firstly, reduced demand leads to excess inventory, which can result in financial losses for manufacturers. Secondly, the decline in consumer spending affects the profitability of businesses operating in the magnetic sensor market. Additionally, the reduced investments in research and development during recessions hinder innovation and technological advancements in the industry.
Market Segmentation
By Type
Magneto resistive Sensor

Anisotropic Magnetoresistance (AMR)

Tunnel Magnetoresistance (TMR)

Giant Magnetoresistance (GMR)

Hall Effect Sensor

Squid Sensor

Fluxgate Sensor
By Range
<1 Micro Gauss

1 Micro Gauss-10 Gauss

>10 Gauss
By Application
By End-use Industry
Consumer Electronics

Transportation

BFSI

Aerospace & Defense

Automotive

Healthcare

Industrial

Others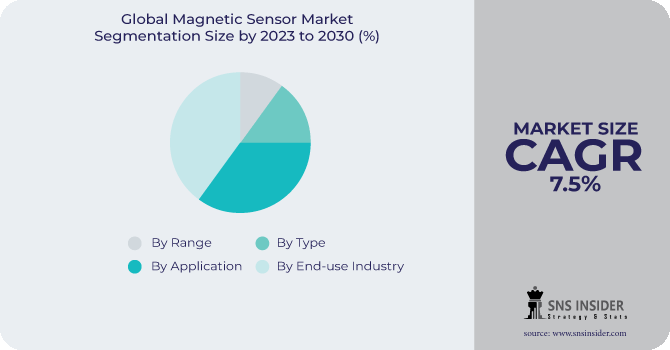 Get Customized Report as Per Your Business Requirement - Request For Customized Report
Regional Analysis
The Asia-Pacific region dominated the Magnetic Sensor market in 2022. The Asia-Pacific region has witnessed a surge in the adoption of automation and robotics in industries such as automotive, consumer electronics, and healthcare. Magnetic sensors play a crucial role in these sectors by enabling precise positioning, speed detection, and proximity sensing. As a result, the demand for magnetic sensors has soared, propelling the region to the forefront of the market.
Europe is expected to hold a significant share of the magnetic sensor market. Europe's automotive sector, in particular, presents a significant opportunity for sensor manufacturers, as the demand for advanced driver assistance systems (ADAS) and electric vehicles continues to rise. According to the European Automobile Manufacturers' Association, the automotive sector holds the distinction of being the European Union's primary investor in research and development (R&D), contributing to a remarkable 31% of the total expenditure. Notably, the EU's investment in automotive R&D has witnessed a growth of 0.5%, reaching an impressive annual sum of $64.87 billion. Furthermore, Europe has emerged as the global leader in patent applications for autonomous vehicles, with a substantial share of 33.3% of all such filings". This immense R&D growth drives the market for magnetic sensors in the automotive industry.
REGIONAL COVERAGE:
North America
Europe
Eastern Europe

Poland

Romania

Hungary

Turkey

Rest of Eastern Europe

Western Europe

Germany

France

UK

Italy

Spain

Netherlands

Switzerland

Austria

Rest of Western Europe
Asia Pacific
China

India

Japan

South Korea

Vietnam

Singapore

Australia

Rest of Asia Pacific
Middle East & Africa
Middle East

UAE

Egypt

Saudi Arabia

Qatar

Rest of Middle East

Africa

Nigeria

South Africa

Rest of Africa
Latin America
Brazil

Argentina

Colombia

Rest of Latin America
Key Players
The major key players are NXP Semiconductors, ST Microelectronics., Allegro Microsystems, Honeywell International, TE Connectivity, Texas Instruments, Asahi Kasei Baumer Ltd., TDK Corporation, Analog Devices, Schneider Electric, Infineon Technologies AG, and other key players mentioned in the final report.
NXP Semiconductors-Company Financial Analysis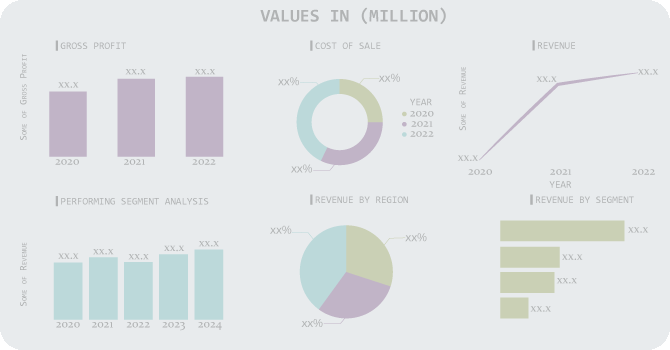 Recent Development:
In April 2023, TDK invested in doubling the production capacity for TMR magnetic sensors.

In Nov 2022, Allegro MicroSystems, Inc. announced the development of a PCB-Less 3D Magnetic Sensor for Vehicle Safety and ADAS Applications.
Magnetic Sensor Market Report Scope:
Report Attributes
Details
Market Size in 2022
US$ 4.7 Bn
Market Size by 2030
US$ 8.4 Bn
CAGR
CAGR of 7.5% From 2023 to 2030
Base Year
2022
Forecast Period
2023-2030
Historical Data
2020-2021
Report Scope & Coverage
Market Size, Segments Analysis, Competitive Landscape, Regional Analysis, DROC & SWOT Analysis, Forecast Outlook
Key Segments
• By Type (Magneto resistive Sensor, Hall Effect Sensor, Squid Sensor, and Fluxgate Sensor)
• By Range (<1>10 Gauss)
• By Application (Navigation & Electronic Compass, Position Sensing, Speed Sensing, Proximity Detection, Flow Rate Sensing, and Others)
• By End-Use Industry (Consumer Electronics, Transportation, BFSI, Aerospace & Defense, Automotive, Healthcare, Industrial, Others)
Regional Analysis/Coverage
North America (US, Canada, Mexico), Europe (Eastern Europe [Poland, Romania, Hungary, Turkey, Rest of Eastern Europe] Western Europe] Germany, France, UK, Italy, Spain, Netherlands, Switzerland, Austria, Rest of Western Europe]). Asia Pacific (China, India, Japan, South Korea, Vietnam, Singapore, Australia, Rest of Asia Pacific), Middle East & Africa (Middle East [UAE, Egypt, Saudi Arabia, Qatar, Rest of Middle East], Africa [Nigeria, South Africa, Rest of Africa], Latin America (Brazil, Argentina, Colombia Rest of Latin America)
Company Profiles
NXP Semiconductors, ST Microelectronics., Allegro Microsystems, Honeywell International, TE Connectivity, Texas Instruments, Asahi Kasei Baumer Ltd., TDK Corporation, Analog Devices, Schneider Electric, Infineon Technologies AG
Key Drivers
• Increasing demand for consumer electronics
• Surge in the adoption of magnetic sensors by the automotive industry
Market Restraints
• Presence of alternative technologies, such as optical sensors and capacitive sensors