REPORT SCOPE & OVERVIEW:
The Medical Electronics Market size was valued at USD 7.13 billion in 2022 and is expected to reach at USD 11.80 billion in 2030, grow at a CAGR of 6.5% over the forecast period of 2023-2030.
The market for medical electronics has expanded significantly in recent years and is predicted to do so going forward. The ageing population, rising chronic illness rates, By Medical Procedure improvements, and a growing emphasis on personalised treatment are all contributing factors to this rise. The market may be divided into groups based on region, product type, application, and Medical Procedure. Typical product categories include implanted devices like pacemakers and neurostimulators, monitoring devices like ECG monitors, blood pressure monitors, and glucose monitors, imaging systems like X-ray machines, MRI scanners, and ultrasound systems, and others. Medical electronics are used in a variety of healthcare settings, such as clinics, hospitals, at-home care, diagnostic centres, and research facilities. In terms of patient monitoring, diagnosis, treatment, and rehabilitation, these technologies are essential. Rapid technical improvements are a defining feature of the medical electronics business. Wireless connectivity, device miniaturisation, AI and ML integration, telemedicine solutions, wearable By Medical Procedure, and digital health platforms are examples of innovations. These developments have boosted healthcare delivery, permitted remote monitoring, increased patient comfort, and made data analysis easier. To protect patient safety and device efficacy, the medical electronics sector is subject to strict regulations. Medical electronic device approval and commercialization are regulated by regulatory agencies including the European Medicines Agency (EMA) and the U.S. Food and Drug Administration (FDA).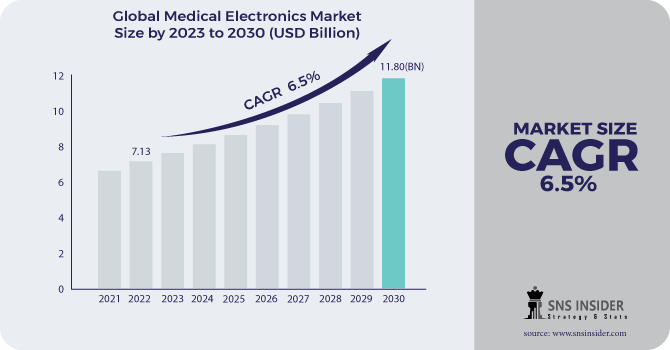 To get more information on Medical Electronic Market - Request Sample Report
IMPACT OF COVID-19:
Medical electronics are in greater demand now than they have ever been before thanks to the epidemic. Products like ventilators, patient monitoring systems, remote monitoring tools, and telemedicine solutions fall under this category. These innovations were essential for maintaining and keeping track of COVID-19 patients, allowing for remote consultations, and lowering the danger of infection spread. During the pandemic, plant closures, travel restrictions, and a scarcity of raw materials caused problems in the worldwide supply chain for the medical electronics sector. Delays in production and delivery had an effect on the accessibility of medical electronic devices and equipment. Intensified R&D: The epidemic brought to light the value of medical electronics in tackling healthcare issues. Increased funding for research and development of cutting-edge medical electronic devices and By Medical Procedure resulted from this. In response to the pandemic, businesses and research organizations concentrated on creating fresh approaches to improve patient monitoring, diagnoses, and treatment.
MARKET DYNAMICS
DRIVERS:
Rapid technological breakthroughs, such as wearable By Medical Procedure, miniaturisation, AI and ML integration, and wireless connection, are propelling the medical electronics market's expansion. These developments enhance the capacity for patient care, diagnosis, treatment, and research. The demand for medical electronics devices is being driven by the global increase in the prevalence of chronic diseases and the ageing population. These tools support providing individualised treatment, controlling chronic illnesses, and enhancing patient outcomes. The COVID-19 epidemic has hastened the implementation of remote monitoring and telehealth systems, increasing the need for these services. The market is expanding as a result of rising demand for medical electronics products that enable telemedicine, virtual consultations, and remote patient monitoring.
RESTRAIN:
Creating and marketing medical electronics products can be expensive in terms of both research and development and regulatory compliance. Smaller businesses and startups may find it difficult to compete due to these expenses, which might stunt market expansion. To guarantee patient safety and gadget efficacy, the medical electronics sector is subject to stringent regulations. Regulation compliance can be time- and money-consuming, which slows down product development and market launch.
OPPORTUNITY:
Medical electronics producers have prospects as a result of the growing emphasis on personalised medicine. Advanced diagnostics, genetic testing, and targeted medicines are necessary for personalised medicine, and medical electronics devices and By Medical Procedure can make these processes easier. The market for medical electronics has a lot of room to expand in developing nations like Asia-Pacific and Latin America. These regions provide prospects for market development due to their developing healthcare infrastructure, rising disposable incomes, and increased knowledge of healthcare By Medical Procedure.
CHALLENGES:
Interoperability problems

Healthcare System Fragmentation
Medical electronics equipment produces and store sensitive patient data, which raises questions regarding data privacy and security. The medical electronics sector faces increasing issues in securing data and preventing unauthorised access to patient information. It might be difficult to integrate medical electronics products from many manufacturers while maintaining smooth data transfer and interoperability. To solve this difficulty and make it possible for devices and systems to be seamlessly integrated, standardisation initiatives and interoperability standards are required. The adoption of medical electronics solutions may be hampered by the healthcare systems fragmentation, which includes various stakeholders and inconsistent laws. It is still difficult to achieve interoperability and standardisation across various healthcare contexts and legal frameworks.
IMPACT OF RUSSIAN UKRAINE WAR
Global supply chain for medical electronics products may be disrupted as a result of the war and geopolitical tensions between Russia and Ukraine. These setbacks could cause delays in production and distribution by affecting the availability of parts, raw materials, and completed goods. The conflict may cause economic uncertainty in the area, which might have an impact on the general business climate. Reduced investments in the healthcare industry, including the procurement of medical electronics devices and By Medical Procedure, might be brought on by economic instability. The conflict's geopolitical tensions and uncertainty may cause market turbulence. Investor caution might increase, which would have an effect on the financial health of manufacturers of medical electronics. Costs associated with imported medical electronics devices might also be impacted by currency exchange rate volatility. The violence may put a strain on the healthcare systems in the impacted areas, which would cause funds to be diverted to emergency and trauma treatment. As a result, the adoption and use of medical electronics By Medical Procedure may temporarily slow down.
IMPACT OF ONGOING RECESSION
As governments, people, and organisations struggle with finances during a recession, healthcare budgets and expenditures may be cut. This may cause expenditures in healthcare infrastructure, such as the purchase of medical electronics devices, to be delayed. Healthcare providers may postpone buying medical electronics equipment due to financial restrictions and economic uncertainties. Medical electronics equipment demand may be impacted by postponed or reduced capital expenditures for enhancing or expanding healthcare facilities. The medical electronics sector may experience heightened pricing pressure during a recession. The profit margins of medical electronics producers may be impacted by negotiations for lower pricing or the pursuit of less expensive alternatives by healthcare providers. Startups and smaller enterprises in the medical electronics industry may find it difficult to obtain finance for product development or research and development during economic downturns. During economic downturns, investors could become more risk-averse, which might impede market innovation and growth.
KEY MARKET SEGMENTS
By Component
By End-User
Equipment for imaging and diagnosis

Instruments for patient monitoring

Importable medical equipment

RGM and ventilators
By Application
By Medical Procedure
Non-invasive

minimally invasive

invasive
Need any customization research on Medical Electronic Market - Enquiry Now
REGIONAL COVERAGE:
North America
Europe
Germany

UK

France

Italy

Spain

The Netherlands

Rest of Europe
Asia-Pacific
Japan

South Korea

China

India

Australia

Rest of Asia-Pacific
The Middle East & Africa
Latin America
Brazil

Argentina

Rest of Latin American
REGIONAL ANALYSIS
North America
Medical electronics have a sizable market in North America, which is fuelled by the region's sophisticated healthcare system, high healthcare spending, and commitment to technological advancement. With a developed healthcare system and a sizable market for medical electronics products, the United States contributes significantly to the industry. The prevalence of chronic illnesses is rising, the population is ageing, there is a desire for cutting-edge diagnostics and treatment alternatives, and favourable reimbursement policies are all major market growth drivers in North America.
Europe
Europe with its advanced healthcare systems, strong healthcare standards, and backing from the government for innovative healthcare, Europe is another significant market for medical electronics. Major market participants with an emphasis on research and development, cutting-edge medical By Medical Procedure, and high-quality patient care include Germany, the United Kingdom, France, and Italy. The adoption of digital health solutions, expanding elderly population, and rising healthcare spending are some of the factors fuelling market expansion in Europe.
KEY PLAYERS:
The major Players are Renesas Electronics Corporation, Siemens AG, Semiconductor Corporation, GE Healthcare, Freescale Semiconductor Inc., Texas Instruments Incorporated, STMicroelectronics N.V., Philips Healthcare Pvt. Ltd., Tekscan Inc.., NXP Semiconductors N.V. and others.
Renesas Electronics Corporation​​​​​​​-Company Financial Analysis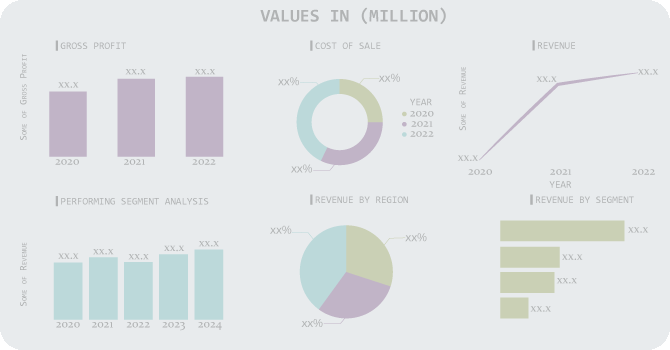 ​​​​​​​
RECENT DEVELOPMENTS
Texas Instruments:
Released a new line of ferrite-bead-compensated, low-noise DC/DC switching regulators. The company's regulators decrease noise while saving electricity and board space.
ST Microelectronics:
Announced the acquisition of majority stake in Swedish SiC wafer manufacture Norstel AB (Norstel). ST will acquire 55% of Norstel share capital, will an option to acquire the remaining 45% subject to certain conditions.
Medical Electronics Market Report Scope:
Report Attributes
Details
Market Size in 2022
US$ 7.13 Bn
Market Size by 2030
US$ 11.80 Bn
CAGR
CAGR of 6.5% From 2023 to 2030
Base Year
2022
Forecast Period
2023-2030
Historical Data
2020-2021
Report Scope & Coverage
Market Size, Segments Analysis, Competitive Landscape, Regional Analysis, DROC & SWOT Analysis, Forecast Outlook
Key Segments
• By Components (Sensor's batteries display MPUs/MCUs, Storage chips)
• By End-User (Equipment for imaging and diagnosis, Instruments for patient monitoring, Importable medical equipment, RGM and ventilators)
• By Application (Diagnostic imaging, Clinical diagnosis, therapeutic interventions, and patient flow measurement, Cardiology others)
• By Medical Procedure (Non-invasive, minimally invasive, invasive)
Regional Analysis/Coverage
North America (USA, Canada, Mexico), Europe
(Germany, UK, France, Italy, Spain, Netherlands,
Rest of Europe), Asia-Pacific (Japan, South Korea,
China, India, Australia, Rest of Asia-Pacific), The
Middle East & Africa (Israel, UAE, South Africa,
Rest of Middle East & Africa), Latin America (Brazil, Argentina, Rest of Latin America)
Company Profiles
Renesas Electronics Corporation, Siemens AG, Semiconductor Corporation, GE Healthcare, Freescale Semiconductor Inc., Texas Instruments Incorporated, STMicroelectronics N.V., Philips Healthcare Pvt. Ltd., Tekscan Inc.., NXP Semiconductors N.V.
Key Drivers
• Rapid technological.
• Chronic Diseases and the Ageing Population.
Market Opportunities
• Growing Demand for Personalized Medicine
• Emerging Markets