REPORT SCOPE & OVERVIEW
The Insulated Gate Bipolar Transistor (IGBT) Market size was valued at USD 5.95 Billion in 2022 and is expected to grow to USD 12.57 Billion by 2030 and grow at a CAGR Of 9.8% over the forecast period of 2023-2030.
A voltage-controlled power electronic device is an insulated gate bipolar transistor module. Due to its high efficiency and quick switching, the insulated gate bipolar transistor, often known as IGBT, is a power electronic semiconductor device that is frequently used in switches, phase control, and pulse modulation. The electronic semiconductor helps to reduce power supply congestion, resulting in a smooth delivery of electricity. They are frequently used in high-voltage applications needing lower conduction losses due to their increased switching frequency. The automobile, rail, energy & electricity, and consumer electronics industries are all experiencing increased demand for it. The market's leading players are firmly committed to growing their companies through cutting-edge new applications.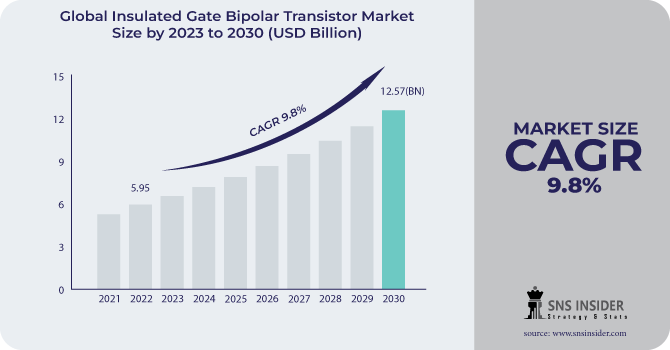 To get more information on Insulated Gate Bipolar Transistor Market - Request Free Sample Report
MARKET DYNAMICS
KEY DRIVERS:
The effects of global warming and escalating climate change are raising awareness of the need for energy resources

Electric vehicle demand is soaring, driving the market's expansion.
IGBTs are a crucial part of electric vehicles. The essential components of each power converter are power semiconductor devices and modules. Insulated-gate bipolar transistor modules are often utilized for mid to high-power applications, such as electric car inverters, due to their high voltage and current capabilities. For example, In May 2019, Audi stated that it would be using Hitachi's EV inverter for its first batch of electric vehicles. A power module and an integrated next-generation insulated-gate bipolar transistor are features of this inverter. The combination will produce an output with a high-power density, maximizing motor performance. Thus, as electric car use increases, insulated gate bipolar transistor demand will increase.
RESTRAIN:
An insulated gate bipolar transistor's gate control latch-up is prone to breaking, which would result in device failure. The ambient temperature rises and the turnoff time lengthens with a modest decrease in latching current density. The gate no longer has any influence over the drain current as the transistor enters the latch-up. The only method to disable the IGBT, in this case, might be to compel the current to commutate. The bipolar transistor is likely to be ruined if latch-up is not stopped right away because of the significant power dissipation. This is anticipated to limit market potential.
OPPORTUNITY:
Devices of customer electronics.

Increasing Applications in a Variety of Markets to Support High Voltage Market Share
The market has been segmented into low voltage, medium voltage, and high voltage based on voltage. During the forecast period, c is anticipated to obtain the most share. large voltage insulated gate bipolar transistors are used in industry because they have a large current-carrying capacity, voltage-controlled gates, and other features. Applications for high voltage are expanding in a number of industries, including automotive, aviation, unmanned aerial vehicles, and industrial. The predicted period is expected to see strong growth for medium voltage. Demand for medium voltage is anticipated to be driven by the growing need for 1700 V–2500 V transistors across manufacturing industries for automation operations.
CHALLENGES:
Because it allows for the seamless operation of electric vehicles, its demand in the automotive sector is primarily expanding the automobiles are steadily supplying the grid with power. Insulated gate bipolar transistors and FWD chips are packaged into the module with several devices, an isolation layer, and other components for reliability, increasing power, and extending lifetime. Protection components. These modules can operate in challenging conditions that may include chemical contamination, high temperatures, mechanical vibration, humidity, and shock.
IMPACT OF COVID-19
The entire semiconductor industry was severely disrupted by the coronavirus pandemic. The global supply chain disruption brought on by closed international borders has had a significant impact on semiconductor product manufacture. According to the Accenture Plc analysis, the semiconductor industry's annual revenue growth was expected to reach 12.5%, but owing to pandemic issues, it actually only increased by 9% in 2020. Similarly to this, the supply of components has severely hampered the production of insulated gate bipolar transistors. Additionally, the insulated gate bipolar transistor is being badly impacted by the permission of 50% of the entire workforce output capability. So, in contrast to earlier projections, the market's growth rate in 2020 was modest.
IMPACT OF RUSSIAN UKRAINE WAR
The war between Russia and Ukraine could make problems with the semiconductor supply chain and the chip market worse. The business during the past two years due to scarcity. The supply of particular raw materials needed in the production of semiconductors, such as neon and palladium, is the area of most immediate concern. While the consequences of inflation and indirect supply-chain effects seem to be controllable in the short term, the possibility of effects over the long term has not yet been identified and will depend on how things develop.
Impacts on semiconductor output in the short term are anticipated to be moderate. However, chipmakers and consumers will be impacted by the war's implications on raw material pricing, supply-chain restrictions, and general uncertainty. Companies should be ready for more serious supply-chain effects if the war persists, though.
It is urged that businesses reassess all of their business continuity plans, look for other suppliers of neon and palladium, and employ advance pricing to guard against price changes on other essential materials.
KEY MARKET SEGMENTS
By Type
Discrete IGBT

IGBT Module
By Power Rating
High Power

Medium Power

Low Power
By Application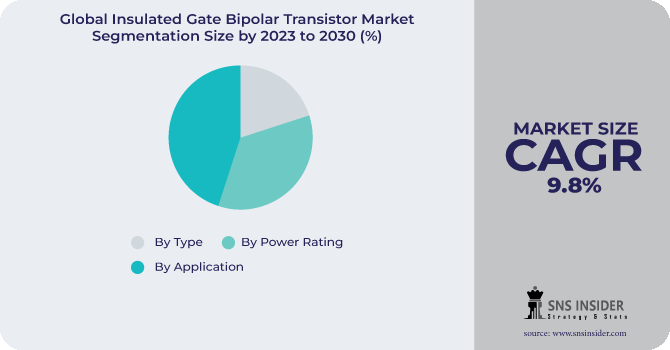 Need any customization research on Insulated Gate Bipolar Transistor Market - Enquiry Now
REGIONAL ANALYSIS
The Asia-Pacific region is anticipated to experience the highest growth during the projection period of 2021 to 2028. Due to the region's explosive growth in the green energy industry, Europe currently controls the majority of the insulated gate bipolar transistor (IGBT) market. Because of the advancement in technology in China and Japan.
China is the biggest user of semiconductors in Asia-Pacific and the world, mostly because of the magnitude of its domestic electronics industry. The nation produces and exports more consumer electronics than any other nation in the globe. As a result, it is one of the market's most important segments since a variety of electronic devices employ MOSFETs and IGBTs.
As awareness and use of renewable resources increase, Cen is seeing a lot of potential. It is widely recommended in North America for energy savings due to its low power consumption. In a similar vein, Europe is anticipated to increase its revenue share to second place behind Asia Pacific. The first region to use an insulated gate is Europe.
REGIONAL COVERAGE:
North America
Europe
Germany

UK

France

Italy

Spain

The Netherlands

Rest of Europe
Asia-Pacific
Japan

South Korea

China

India

Australia

Rest of Asia-Pacific
The Middle East & Africa
Latin America
Brazil

Argentina

Rest of Latin American
KEY PLAYERS
The major players are Renesas Electronics Corp., Infineon Technologies AG, ABB Group, STMicroelectronics N.V., NXP Semiconductors N.V, IXYS Corporation, Semikron International GmbH, Toshiba Corporation, Mitsubishi Electric Corp., Fuji Electric Co. Ltd., and other players are listed in the final report.
RECENT DEVELOPMENT
Infineon Technologies AG introduced its 650 V Cool SiC Hybrid IGBT line in February 2021. The cutting-edge transistor has a blocking voltage of 650 V. Benefits of technology like Schottky barrier Cool SiC diodes and 650 V TRENCHSTOP 5 IGBT are offered by the hybrid family of IGBTs.

In order to accurately simulate and anticipate power loss and noise from electromagnetic interference (EMI), Toshiba Corporation created a small model in Insulated Gate Bipolar Transistors and Injection Enhanced Gate Transistors (IEGT). This model will speed up the simulation and cut the error rate by 95%.
Insulated Gate Bipolar Transistor Market Report Scope:
Report Attributes
Details
Market Size in 2022
US$ 5.95 Bn
Market Size by 2030
US$ 12.57 Bn
CAGR
CAGR of 9.8 % From 2023 to 2030
Base Year
2022
Forecast Period
2023-2030
Historical Data
2020-2021
Report Scope & Coverage
Market Size, Segments Analysis, Competitive Landscape, Regional Analysis, DROC & SWOT Analysis, Forecast Outlook
Key Segments
• By Type (Discrete IGBT, IGBT Module)
• By Power Rating (High Power, Medium Power, Low Power)
• By Application (Energy & Power, Consumer Electronics, Inverter & UPS, Electric Vehicle, Industrial System, Others (Medical Devices & Traction))
Regional Analysis/Coverage
North America (USA, Canada, Mexico), Europe
(Germany, UK, France, Italy, Spain, Netherlands,
Rest of Europe), Asia-Pacific (Japan, South Korea,
China, India, Australia, Rest of Asia-Pacific), The
Middle East & Africa (Israel, UAE, South Africa,
Rest of Middle East & Africa), Latin America (Brazil, Argentina, Rest of Latin America)
Company Profiles
Renesas Electronics Corp., Infineon Technologies AG, ABB Group, STMicroelectronics N.V., NXP Semiconductors N.V, IXYS Corporation, Semikron International GmbH, Toshiba Corporation, Mitsubishi Electric Corp., Fuji Electric Co. Ltd.
Key Drivers
• The effects of global warming and escalating climate change are raising awareness of the need for energy resources
• Electric vehicle demand is soaring, driving the market's expansion.
Market Opportunities
• Devices of customer electronics.
• Increasing Applications in a Variety of Markets to Support High Voltage Market Share