REPORT SCOPE & OVERVIEW
The Microencapsulation Market size was USD 11.9 billion in 2022 and is expected to Reach USD 25.88 billion by 2030 and grow at a CAGR of 10.2 % over the forecast period of 2023-2030.
Spray drying involves spraying a core material solution or suspension into a hot gas stream, causing the solvent to evaporate and leaving behind a solid core covered with a thin layer of the coating material. The emulsion polymerization method entails blending a liquid emulsion of the core material with a monomer and a polymerization initiator. The monomer subsequently polymerizes, resulting in the formation of a coating surrounding the core substance.
Based on application market is segmented as Pharmaceuticals, Personal care, Industrial, etc. Microencapsulation in pharmaceuticals can protect medicines from degradation, control drug release, and target drugs to specific tissues or cells. Personal care items, such as sunscreens, cosmetics, and hair care products, can benefit from microencapsulation to improve their efficacy and safety. It can also be utilized to add functionality to personal care items, such as fragrance and active ingredient release control. Microencapsulation has a wide range of industrial uses, including the manufacture of paints, coatings, and adhesives. It can also be used to make agricultural items like fertilizers and pesticides.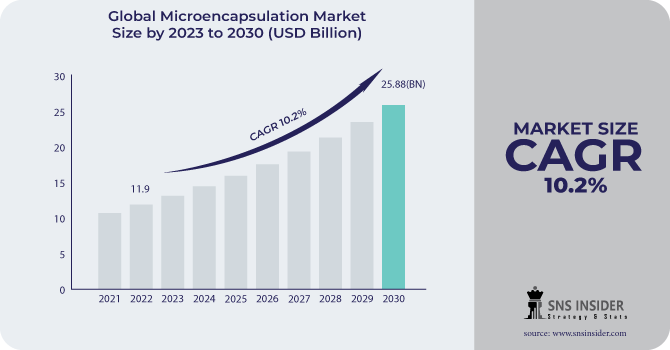 MARKET DYNAMICS
KEY DRIVERS
With the rise in demand for functional-fortified foods and pharmaceuticals, microencapsulation products are becoming more popular. Microencapsulation allows vitamins, essential oils, flavor, minerals, and other additives to be integrated into food products to improve functional characteristics. Active substances such as proteins, biomolecules, and genetic molecules are microencapsulated in the pharmaceutical sector to address market demand for value-added products, in addition to pharmaceuticals.
RESTRAIN
Microencapsulation is the covering of a core material with a protective shell. Several compounds, such as medications, flavors, colors, or nutrients, can be used as the core ingredient. Polymers, proteins, and lipids are some of the components that can be used to make the shell. The cost of basic raw materials is a significant component of the cost of microencapsulation. If the cost of fundamental raw materials rises, microencapsulation may become more expensive. Furthermore, competition for fundamental raw supplies can result in shortages. When a certain raw resource is in short supply, it can become difficult to get. This can disturb the microencapsulation process and cause manufacturing delays.
OPPORTUNITY
Rising use in various end-user industries

Development of Advanced technologies that may penetrate specific markets
The advancement of improved microencapsulation technologies is expanding the applications of microencapsulated products in specialized markets. New technologies, for example, are being developed to encapsulate active substances for delivery to specific tissues or cells. This opens the door to new applications for microencapsulated medicines in the treatment of cancer and other disorders. Furthermore, new technologies for encapsulating tastes and perfumes for controlled release are being explored. This is expanding the use of microencapsulated goods in the food, beverage, and personal care industries.
CHALLENGES
The stability of the core and shell materials is critical to the success of microencapsulation. The core substance may decay or seep out of the shell if it is not stable. If the shell material is not stable, it can degrade and allow the core material to be exposed. The environment in which microencapsulated items are stored and used varies. The atmosphere, for example, can be humid or dry, hot or cold, acidic or alkaline. Variations in the atmosphere can have an impact on the stability of the core and shell materials. If the core or shell material is unstable in a specific atmosphere, it can decay or leach out of the shell. This may have an impact on the microencapsulated product's quality.
IMPACT ANALYSIS
IMPACT OF RUSSIAN UKRAINE WAR
The war between Russia and Ukraine has had a substantial influence on the microencapsulation sector. Several important firms, including 3M, BASF SE, DSM, Evonik, Watson Inc., MicroCaps, and others, have functioning plants in both Russia and Ukraine. The battle has disrupted supply systems, resulting in shortages of raw materials and components. It has also resulted in increasing expenses, as manufacturers pass on growing energy and transportation costs to their customers. As a result, some corporations have delayed or canceled investments in microencapsulation technologies. As a result of these factors, the microencapsulation market is likely to grow more slowly in the short term. However, the market's long-term growth prospects remain promising, as microencapsulation is a versatile technology with numerous applications.
IMPACT OF ONGOING RECESSION
The recession will continue to have an impact on the microencapsulation market. Consumers may not cut on spending but production may delay which could reduce demand for microencapsulated products. During a recession, governments may enact restrictions to stimulate the economy. These laws could have an impact on the microencapsulation market in a variety of ways, such as increasing production costs or making it more difficult to secure permits. Despite potential limitations, the microencapsulation market is likely to increase over time. This is because microencapsulation provides numerous advantages, such as improved product stability, controlled release of active substances, and enhanced sensory qualities.
KEY MARKET SEGMENTS
By Technology
By Coating Material
By Application
Household

Agrochemical

Pharmaceutical

Healthcare products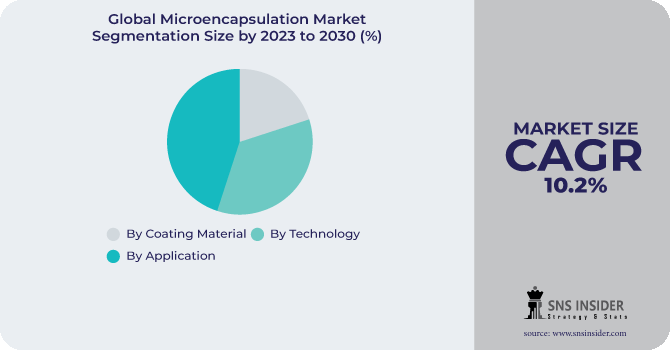 REGIONAL ANALYSIS
North America dominated the market and accounted for a 37.5 % share of global revenue in 2022. The region is the largest producer of pharmaceutical products with the presence of major players including Pfizer, Johnson & Johnson, and Merck &Co. and is involved in the development of novel drug delivery systems, which has a major impact on driving demand for microencapsulation.
The growing usage of microencapsulation technology in the food and beverage industries for tastes, perfumes, colorants, and the production of functional foods is driving demand in the country. The key players are actively engaged in R&D to create novel coating materials that are compliant with North American laws, which is expected to supplement the demand for microencapsulation over the projected period.
Europe is an emerging market for microencapsulation, followed by Asia Pacific. This is due to the use of the microencapsulation market in the textile industry in Western Europe. The presence of major microencapsulation players in the region, such as Evonik, Balchem Corporation, and Watson Inc., is also contributing to the growth of the market.
The Asia Pacific market for microencapsulation is expected to grow at a CAGR of 11.4% during the projected period. Favorable government policies to encourage FDI in the pharmaceutical industry in both India and China have played an important role in expanding the Asia Pacific healthcare industry in recent years. Furthermore, increased R&D spending for new medication development and increasing innovation in novel drug delivery technologies in South Korea and Japan are likely to play a key role in promoting pharmaceutical sector growth and thereby fueling the microencapsulation market.
REGIONAL COVERAGE
North America
Europe
Eastern Europe

Poland

Romania

Hungary

Turkey

Rest of Eastern Europe

Western Europe

Germany

France

UK

Italy

Spain

Netherlands

Switzerland

Austria

Rest of Western Europe
Asia Pacific
China

India

Japan

South Korea

Vietnam

Singapore

Australia

Rest of Asia Pacific
Middle East & Africa
Middle East

UAE

Egypt

Saudi Arabia

Qatar

Rest of the Middle East

Africa

Nigeria

South Africa

Rest of Africa
Latin America
Brazil

Argentina

Colombia

Rest of Latin America
KEY PLAYERS
Capsulae, Reed Pacific Pty Ltd, 3M, BASF SE, AVEKA Group, Microtek Laboratories, Inc, GAT Microencapsulation GmbH, Evonik Industries AG, Inno Bio Limited, Ronald T. Dodge Co., Bayer AG, Dow and other key players are mentioned in the final report.
RECENT DEVELOPMENTS
In 2023, Omnitechnik Mikroverkapselung GmbH has been bought by Surtec International GmbH. The acquisition deal also includes the purchase of shares in the shared ventures Precote USA L.L.C. by a subsidiary Surtec Inc. Surtec is managed by Freudenberg Chemical.
In 2022, Reed Pacific introduced Potenza Argan Oil, a new cosmetic usage microcapsule. Even at high concentrations, this oil can be easily added to water-based recipes without harming the end product's stability. Encapsulation significantly improves the shelf life and efficiency of argon oil.
In 2021, Milliken purchased Encapsys, a business specializing in microencapsulation, which is the process of building a shell around a particle.
Microencapsulation Market Report Scope:
Report Attributes
Details
Market Size in 2022
US$ 11.9 Billion
Market Size by 2030
US$ 25.88 Billion
CAGR
CAGR of 10.2 % From 2023 to 2030
Base Year
2022
Forecast Period
2023-2030
Historical Data
2019-2021
Report Scope & Coverage
Market Size, Segments Analysis, Competitive Landscape, Regional Analysis, DROC & SWOT Analysis, Forecast Outlook
Key Segments
• By Technology (Emulsion, Spray, Dripping)
• By Coating Material (Carbohydrates)
• By Application (Household, Personal care, Agrochemical, Pharmaceutical & Healthcare products)
Regional Analysis/Coverage
North America (US, Canada, Mexico), Europe (Eastern Europe [Poland, Romania, Hungary, Turkey, Rest of Eastern Europe] Western Europe] Germany, France, UK, Italy, Spain, Netherlands, Switzerland, Austria, Rest of Western Europe]), Asia Pacific (China, India, Japan, South Korea, Vietnam, Singapore, Australia, Rest of Asia Pacific), Middle East & Africa (Middle East [UAE, Egypt, Saudi Arabia, Qatar, Rest of Middle East], Africa [Nigeria, South Africa, Rest of Africa], Latin America (Brazil, Argentina, Colombia Rest of Latin America)
Company Profiles
Capsulae, Reed Pacific Pty Ltd, 3M, BASF SE, AVEKA Group, Microtek Laboratories, Inc, GAT Microencapsulation GmbH, Evonik Industries AG, Inno Bio Limited, Ronald T. Dodge Co., Bayer AG, Dow
Key Drivers
• Growing demand for fortified foods with health benefits
Market Challenges
• The stability of the microencapsulation substances under different weather conditions