Report Scope & Overview:
Nano Fertilizer Market size was valued at USD 3.1 billion in 2022. It is estimated to hit USD 9.2 billion by 2030 and grow at a CAGR of 14.5% over the forecast period of 2023-2030.
The growth of the nano fertilizer market is driven by the increasing demand for sustainable agricultural practices and the need to maximize crop yields. These advanced fertilizers offer several advantages over conventional counterparts, including improved nutrient efficiency, reduced environmental impact, and enhanced plant growth. In particular, when it comes to corn yield, conventional K fertilizer resulted in an increase of approximately 16.7%. However, nano fertilizers containing K led to a yield increase ranging from 9.5% to 24.5%. The extent of this increase depended on the dosage of nano-formulated K applied. Multiple studies have consistently shown that the use of nano fertilizers can lead to an average increase in crop yield of around 10% to 30%. Taking into account this data, it can be estimated that nano fertilizers could potentially contribute an additional $133.2 per hectare (ha) from corn, $66.0 from wheat, and $86.4 from soybeans to the overall revenues.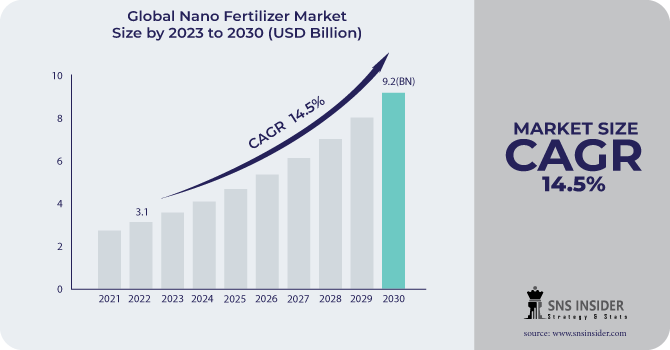 To get more information on Nano Fertilizer Market - Request Sample Report
By adopting nano fertilizers, farmers can not only enhance their crop yields but also optimize their resource utilization. The improved nutrient efficiency of these fertilizers ensures that plants receive the necessary nutrients in a more targeted and effective manner. This not only benefits the plants but also minimizes the environmental impact by reducing the amount of excess nutrients that can potentially leach into the soil and water systems. Furthermore, the enhanced plant growth resulting from nano fertilizer usage can have a significant positive impact on agricultural productivity. With higher crop yields, farmers can generate greater revenues and contribute to meeting the ever-growing global demand for food.
Moreover, nano fertilizers can be tailored to specific crop requirements, ensuring optimal nutrient delivery and minimizing wastage. As a result, farmers are increasingly adopting these innovative solutions to optimize their farming operations and achieve higher yields. As the global population continues to rise, the demand for food is expected to increase exponentially. This surge in demand necessitates the adoption of sustainable agricultural practices that can meet the growing food requirements without depleting natural resources. Nano fertilizers offer a viable solution to this challenge by providing.
Market Dynamics
Drivers
The growing global population and the need to enhance crop productivity have led to a surge in demand for sustainable agricultural practices. Nano fertilizers offer a promising solution by improving nutrient absorption, reducing environmental impact, and enhancing crop yields. This rising demand for sustainable agriculture acts as a significant driver for the nano fertilizer market.
The continuous advancements in nanotechnology have paved the way for innovative solutions in various industries, including agriculture. Nano fertilizers, with their nano-sized particles, provide better nutrient delivery and increased efficiency compared to traditional fertilizers. The ongoing research and development in nanotechnology contribute to the growth of the nano fertilizer market.
Governments worldwide are recognizing the potential of nano fertilizers in addressing food security and environmental concerns. As a result, they are implementing supportive policies, providing subsidies, and encouraging the adoption of nano fertilizers. This governmental support acts as a driving force for the nano fertilizer market, fostering its growth and market penetration.
Restrain
The production of nano fertilizers involves complex manufacturing processes and the use of advanced technologies, resulting in higher production costs compared to conventional fertilizers. These elevated costs pose a significant restraint for the widespread adoption of nano fertilizers, particularly in developing economies with limited financial resources.
Opportunities
Traditional fertilizers often suffer from leaching and volatilization, leading to wastage and environmental pollution. Nano fertilizers, on the other hand, can be designed to release nutrients gradually and precisely, ensuring their efficient uptake by plants. This not only maximizes the effectiveness of fertilization but also minimizes the negative ecological consequences associated with excessive nutrient runoff.
Challenges
Impact of Russia-Ukraine War:
The price of fertilizer, which is one of the largest expenses for farmers, reached record highs in 2022 following Russia's invasion of Ukraine in February. As the world's leading exporter of fertilizer, Russia's actions worsened an already strained global supply situation that had begun in 2020 due to worker shortages and factory closures caused by the COVID-19 pandemic. These were the first of several disruptions that led to instability in the fertilizer market. According to the World Bank, global fertilizer prices had already increased by 30% by early 2022, following an 80% surge in 2021. Consequently, this war has had a significant impact on the nano fertilizers market.
Impact of Recession:
The recession has undoubtedly posed numerous challenges for the nano fertilizers market. One of the primary consequences has been a decline in consumer purchasing power. As individuals and businesses face financial constraints, the demand for nano fertilizers has decreased significantly. This decline in demand has resulted in reduced sales and revenue for companies operating in this market. Furthermore, the recession has also affected the supply chain of nano fertilizers. With economic uncertainty, suppliers have become cautious, leading to a decrease in the availability of raw materials required for the production of these fertilizers. This scarcity has further impacted the market, causing disruptions in the manufacturing process and hindering the overall growth of the industry.
Market segmentation
By Raw Material
Nitrogen

Carbon

Zinc

Silver

Others
By Mode of Application
By Application
Cereals & Grains

Fruits & Vegetables

Oilseeds & Pulses

Others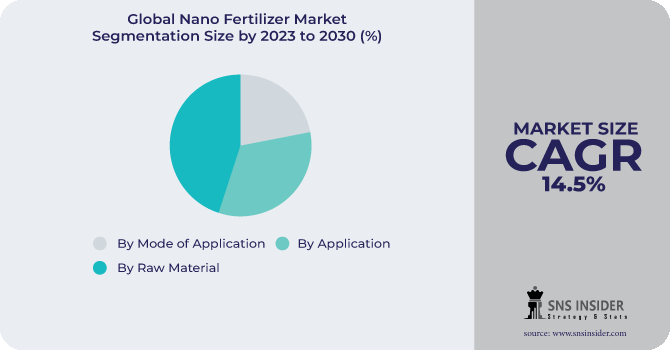 Get Customized Report as per Your Business Requirement - Request For Customized Report
Regional Analysis
North America dominated the Nano Fertilizer Market with a revenue share of about 36.1% in 2022. One of the key reasons behind North America's success in the Nano Fertilizer Market is its robust research and development (R&D) infrastructure. Furthermore, North America's strong agricultural sector has played a pivotal role in driving the demand for nano fertilizers. According to the United States Department of Agriculture (USDA), the agriculture, food, and related industries made a significant contribution of approximately $1.264 trillion to the country's gross domestic product (GDP) in 2021, accounting for a 5.4 percent share. Out of this substantial sum, the output generated by America's farms alone amounted to $164.7 billion, which represents roughly 0.7 percent of the entire U.S. GDP. Moreover, the region is home to technologically advanced farming practices and a large number of commercial farms. These farms have recognized the potential of nano fertilizers in enhancing crop yields and improving overall agricultural productivity. As a result, they have readily adopted these innovative fertilizers, further fueling the market growth. Moreover, North America's favorable regulatory environment has also played a significant role in the market's growth. The region has implemented stringent regulations to ensure the safety and efficacy of nano fertilizers. This has instilled confidence among farmers and consumers, leading to increased acceptance and demand for these products.
The Asia-Pacific region is projected to experience the highest CAGR in the Nano Fertilizer Market during the forecast period. The Asia-Pacific region boasts a significant agricultural sector, with a large population dependent on farming for their livelihoods. As a result, there is a growing demand for innovative and sustainable agricultural practices to enhance crop productivity and ensure food security. Nano fertilizers, with their unique properties and ability to improve nutrient absorption and plant growth, have emerged as a promising solution to address these challenges. The region is witnessing rapid urbanization and industrialization, leading to increased pollution and environmental degradation. This has necessitated the adoption of eco-friendly and efficient agricultural practices to mitigate the negative impact on soil health and water resources. Nano fertilizers, with their targeted delivery systems and reduced environmental footprint, offer a viable solution to address these concerns.
In India, Union Minister for Chemicals and Fertilizers has taken various steps under Prime Minister Narendra Modi's Atma Nirbhar Bharat vision, which aims to promote indigenous industries. As a result, all fertilizer companies are being converted to gas-based technology. The Union Minister highlighted the government's efforts to encourage the production of organic and Nano fertilizers within the country. These fertilizers are not only 25 to 30 percent cheaper but also provide a yield increase of 18 to 35 percent, while simultaneously maintaining the health of the soil. Shri Gowda mentioned that 12,000 farmers and agriculture universities across the nation have received a free distribution of Nano fertilizers, resulting in positive feedback.
REGIONAL COVERAGE:
North America
Europe
Eastern Europe

Poland

Romania

Hungary

Turkey

Rest of Eastern Europe

Western Europe

Germany

France

UK

Italy

Spain

Netherlands

Switzerland

Austria

Rest of Western Europe
Asia Pacific
China

India

Japan

South Korea

Vietnam

Singapore

Australia

Rest of Asia Pacific
Middle East & Africa
Middle East

UAE

Egypt

Saudi Arabia

Qatar

Rest of Middle East

Africa

Nigeria

South Africa

Rest of Africa
Latin America
Brazil

Argentina

Colombia

Rest of Latin America
Key Players
The major key players are JU Agri Sciences Pvt. Ltd., Indian Farmers Fertiliser Co. Ltd., Lazuriton Nano Biotechnology Co. Ltd., Geolife Group, s.r.o., Shan Maw Myae Trading Co. Ltd., Fanavar Nano-Pazhoohesh Markazi Company, Tropical Agrosystem India (P) Ltd., and other key players mentioned in the final report.
Nano Fertilizer Market Report Scope:
Report Attributes
Details
Market Size in 2022
US$ 3.1 Bn
Market Size by 2030
US$ 9.2 Bn
CAGR
CAGR of 14.5% From 2023 to 2030
Base Year
2022
Forecast Period
2023-2030
Historical Data
2019-2021
Report Scope & Coverage
Market Size, Segments Analysis, Competitive Landscape, Regional Analysis, DROC & SWOT Analysis, Forecast Outlook
Key Segments

• By Raw Material (Nitrogen, Carbon, Zinc, Silver, and Others)

• By Mode of Application (Spray or Foliar, Soaking Method, and Soil Method of Application)

• By Application (Cereals & Grains, Fruits & Vegetables, Oilseeds & Pulses, and Others)

Regional Analysis/Coverage
North America (US, Canada, Mexico), Europe (Eastern Europe [Poland, Romania, Hungary, Turkey, Rest of Eastern Europe] Western Europe] Germany, France, UK, Italy, Spain, Netherlands, Switzerland, Austria, Rest of Western Europe]), Asia Pacific (China, India, Japan, South Korea, Vietnam, Singapore, Australia, Rest of Asia Pacific), Middle East & Africa (Middle East [UAE, Egypt, Saudi Arabia, Qatar, Rest of Middle East], Africa [Nigeria, South Africa, Rest of Africa], Latin America (Brazil, Argentina, Colombia Rest of Latin America)
Company Profiles
JU Agri Sciences Pvt. Ltd., Indian Farmers Fertiliser Co. Ltd., Lazuriton Nano Biotechnology Co. Ltd., Geolife Group, s.r.o., Shan Maw Myae Trading Co. Ltd., Fanavar Nano-Pazhoohesh Markazi Company, Tropical Agrosystem India (P) Ltd.
Key Drivers
• Increasing demand for sustainable agriculture
• Advancements in nanotechnology
• Government support and initiatives
Market Restraints
• High production costs associated with the nano-fertilizers