Report Scope & Overview:
The Plant Growth Regulators Market size was valued at USD 3.1 billion in 2022. It is estimated to hit USD 5.57 billion by 2030 and grow at a CAGR of 7.6% over the forecast period of 2023-2030.
Plant growth regulators, also known as plant hormones or phytohormones, are naturally occurring or synthetic substances that regulate various physiological processes in plants. These regulators can influence plant growth, flowering, fruiting, and even stress responses. They are widely used in agriculture, horticulture, and landscaping to manipulate plant growth and achieve desired outcomes.
The demand for plant growth regulators is driven by the increasing need for sustainable agricultural practices and the growing global population. With limited arable land and resources, farmers are constantly seeking ways to maximize crop production while minimizing environmental impact. Plant growth regulators offer a viable solution by promoting efficient nutrient uptake, enhancing root development, and improving resistance to pests and diseases. In terms of application, the plant growth regulators market caters to various sectors such as agriculture, horticulture, and landscaping. In agriculture, these regulators are used to increase crop yield, improve crop quality, and enhance stress tolerance. In horticulture, they are employed to control plant height, promote flowering, and regulate fruit ripening. In landscaping, plant growth regulators help maintain the desired shape and size of ornamental plants.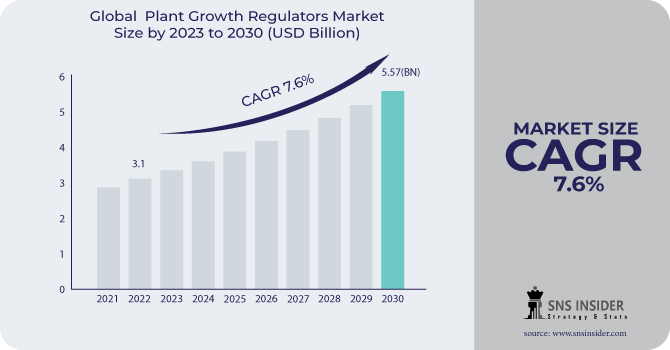 Cytokinin dominated the plant growth regulator market with a revenue share of about 40.2% in 2022. One key factor contributing to cytokinin's dominance is its versatility. This plant growth regulator can be applied to a wide range of crops, including fruits, vegetables, and grains, making it a valuable tool for farmers and horticulturists alike. Its effectiveness in promoting flowering and fruit set has been particularly noteworthy, leading to increased yields and improved quality of produce. Furthermore, cytokinin's compatibility with other plant growth regulators and agrochemicals has further solidified its position in the market. This compatibility allows for synergistic effects, enabling farmers to optimize their crop management strategies and achieve even better results. The ability to combine cytokinin with other growth regulators, such as auxins or gibberellins, offers a comprehensive approach to plant growth regulation, addressing multiple aspects simultaneously.
Market Dynamics
Drivers
Rising global population and the subsequent need for food security

Growing awareness among farmers about the benefits of plant growth regulators

Increasing demand for high-quality crops
The increasing demand for high-quality crops serves as the primary driving factor behind the utilization of plant growth regulators. In recent years, there has been a significant surge in the global demand for crops that meet stringent quality standards. Consumers are increasingly seeking produce that is not only visually appealing but also possesses enhanced nutritional value. As a result, farmers and agricultural professionals are faced with the challenge of meeting these evolving expectations. These regulators are substances that are naturally present in plants, controlling various physiological processes such as growth, development, and response to environmental stimuli. By understanding and manipulating these regulators, farmers can optimize crop production and enhance the quality of their yields. The application of plant growth regulators allows farmers to achieve desirable traits in their crops, such as increased yield, improved uniformity, enhanced color, and extended shelf life. For instance, by carefully managing the levels of auxins, a type of plant hormone, farmers can promote root development, leading to stronger and healthier plants. Similarly, the controlled use of gibberellins can stimulate cell elongation, resulting in taller and more robust crops.
Restrain
High cost associated with plant growth regulators

Extended period of time required to approve new products
One of the key challenges faced by the growth regulator industry is the lengthy approval process for new products. This process involves rigorous testing, evaluation, and compliance with various regulations and standards. As a result, the time taken to gain approval for a new growth regulator can be significantly prolonged. This delay in approval can hinder the growth and development of the plant industry. Farmers and growers eagerly await the introduction of innovative growth regulators that can enhance crop yield, improve quality, and combat pests and diseases. However, the extended approval period prevents them from accessing these beneficial products in a timely manner.
Opportunities
Increasing adoption of precision agriculture techniques

Expanding organic farming sector and the rising trend of sustainable agriculture
Challenges
Stringent regulations imposed by various governments regarding the use of these regulators

Presence of low-quality and counterfeit products in the market
Impact of Russia-Ukraine War:
The Russia-Ukraine war has disrupted the supply chains of plant growth regulators, leading to a shortage in the market. Both countries play a crucial role in the production and distribution of these products, and the conflict has hindered their ability to meet demand. As a result, prices have increased, and consumers are facing difficulties in accessing these essential agricultural inputs. The conflict has also negatively impacted agricultural productivity in the region. The ongoing conflict has inflicted severe devastation upon Ukrainian agriculture, particularly in the eastern regions that have borne the brunt of the fighting. A staggering $6.5 billion worth of agricultural infrastructure has been reduced to ruins, leaving farmers grappling with the ruins of their once-thriving operations. Moreover, the war has dealt a crippling blow to the capacity of Ukrainian farmers to cultivate and transport their crops. The incessant violence and disruption have severely hampered their ability to sow and harvest, resulting in diminished yields and a significant decline in agricultural output.
The repercussions of this conflict extend far beyond the immediate destruction, as it has imposed an additional burden of $36 billion on the agricultural sector. These costs manifest in the form of lost production and logistics expenses, which have increased due to the continuing agricultural exports amidst the chaos of war. With the disruption of supply chains, farmers are struggling to obtain the necessary plant growth regulators to enhance crop yields. This has resulted in decreased agricultural output, affecting both local and international markets. The scarcity of these regulators has also led to a decline in the quality of crops, further exacerbating the situation.
Impact of Recession:
The recession has presented significant challenges for the PGR industry. Reduced consumer spending, declining agricultural investments, and disrupted supply chains have all contributed to a decline in market growth. Farmers, facing financial constraints, have been compelled to reduce their expenditure on PGR products, impacting the overall demand. Additionally, the uncertainty surrounding the recession has led to a cautious approach among industry players, resulting in delayed product launches and reduced research and development activities.
Market segmentation
By Type
Cytokinin

Gibberellins

Auxins

Ethylene

Others
By Crop Type
Cereals & Grains

Fruits & Vegetables

Oilseeds & Pulses

Turf & Ornamentals

Others
By Formulation
By Function
Plant Growth Promoters

Plant Growth Inhibitors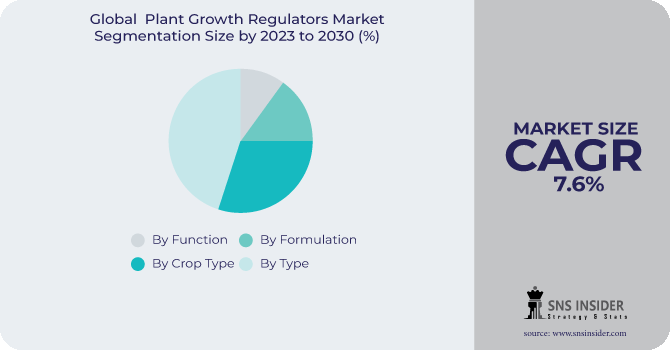 Regional Analysis
Asia Pacific region dominated the Plant Growth Regulators Market in 2022 and it is projected to grow with a CAGR of about 7.9% during the forecast period. This growth is mainly attributed to the presence of vast agricultural land, with countries like China, India, and Japan leading the way in agricultural production. According to the Food and Agriculture Organization (FAO), Asia holds the largest portion of agricultural land worldwide, encompassing 1.6 global hectares (gha) or 34%. Among Asian nations, China boasts the largest agricultural land extent, covering approximately 500 million hectares (Mha). Meanwhile, India takes the lead in terms of cropland area, with nearly 170 Mha under cultivation. Notably, both India and China stand out as the countries with the largest irrigated cropland area, each boasting around 70 Mha. These nations have recognized the importance of plant growth regulators in enhancing crop yield and quality, leading to a surge in their adoption. Furthermore, the Asia Pacific region has witnessed rapid industrialization and urbanization, resulting in a growing demand for food products. To meet this demand, farmers and agriculturalists have turned to plant growth regulators as a means to optimize crop production and ensure a steady supply of food. This increased awareness and adoption of plant growth regulators have propelled the region to the forefront of the market.
The United States in North America is expected to grow with a significant CAGR in the Plant Growth Regulators Market during the forecast period of 2023-2030. The US government has implemented policies that encourage innovation and investment in the agricultural industry, fostering the development and adoption of plant growth regulators. Furthermore, the United States is home to several major players in the plant growth regulators industry. These companies have made substantial investments in research and development, allowing them to introduce cutting-edge products and technologies to the market. The US's strong intellectual property rights protection and well-established distribution networks have also contributed to its dominance in this sector. Another crucial aspect contributing to the US's success is its focus on sustainable agriculture practices. The country has been at the forefront of promoting environmentally friendly farming methods, including the use of plant growth regulators. These regulators enable farmers to reduce their reliance on harmful chemical inputs, minimize environmental impact, and optimize resource utilization.
REGIONAL COVERAGE:
North America
Europe
Eastern Europe

Poland

Romania

Hungary

Turkey

Rest of Eastern Europe

Western Europe

Germany

France

UK

Italy

Spain

Netherlands

Switzerland

Austria

Rest of Western Europe
Asia Pacific
China

India

Japan

South Korea

Vietnam

Singapore

Australia

Rest of Asia Pacific
Middle East & Africa
Middle East

UAE

Egypt

Saudi Arabia

Qatar

Rest of Middle East

Africa

Nigeria

South Africa

Rest of Africa
Latin America
Brazil

Argentina

Colombia

Rest of Latin America
Key Players
The major key players are Bayer AG, BASF SE, DuPont, DSM, Nestle, Biosynth Carbosynth, Syngenta AG, Nufarm Ltd., Corteva, Inc., UPL Limited, Tata Chemicals Ltd., Sumitomo Chemical Co. Ltd., FMC Corporation, Sichuan Guoguang Agrochemical Co., Ltd, Dextra Laboratories, and other key players mentioned in the final report.
Recent Development:
In March 2023, Nufarm Americas Inc. made an exciting announcement regarding the EPA registration of Anuew™ EZ Plant Growth Regulator. This innovative liquid formulation of their proven PGR offers golf course superintendents greater flexibility and ease of use, while also providing the benefits of labor savings and improved turf quality.

In March 2023, Corteva Agriscience revealed that their gene editing technology, designed to enhance the protection of elite corn hybrids, is progressing through their R&D pipeline.

In May 2022, BASF shared news of their acquisition of Horta Srl, an Italian company specializing in digital solutions for agriculture.

In May 2022, Nufarm Americas Inc. celebrated the completion of their new Pentia production facility. This facility, which came to fruition after the acquisition of Pentia Plant Regulator from BASF in 2021, is now fully operational and producing the cotton growth regulator for the current season and beyond.

In Feb 2022, FMC Corporation introduced Focus® SC, a groundbreaking plant growth regulator. This product is specifically designed to promote fruit elongation and size in grapes and other fruits.

In Jan 2020, BASF unveiled Attraxor®, a new plant growth regulator (PGR), at BTME in Harrogate.
Plant Growth Regulators Market Report Scope:
Report Attributes
Details
Market Size in 2022
US$ 3.1 Bn
Market Size by 2030
US$ 5.57 Bn
CAGR
CAGR of 7.6 % From 2023 to 2030
Base Year
2022
Forecast Period
2023-2030
Historical Data
2019-2021
Report Scope & Coverage
Market Size, Segments Analysis, Competitive Landscape, Regional Analysis, DROC & SWOT Analysis, Forecast Outlook
Key Segments
• By Type (Cytokinin, Gibberellins, Auxins, Ethylene, and Others)
• By Crop Type (Cereals & Grains, Fruits & Vegetables, Oilseeds & Pulses, Turf & Ornamentals, and Others)
• By Formulation (Water-Dispersible & Water-Soluble Granules, Solutions, and Wettable Powders)
• By Function (Plant Growth Promoters and Plant Growth Inhibitors)
Regional Analysis/Coverage
North America (US, Canada, Mexico), Europe (Eastern Europe [Poland, Romania, Hungary, Turkey, Rest of Eastern Europe] Western Europe] Germany, France, UK, Italy, Spain, Netherlands, Switzerland, Austria, Rest of Western Europe]), Asia Pacific (China, India, Japan, South Korea, Vietnam, Singapore, Australia, Rest of Asia Pacific), Middle East & Africa (Middle East [UAE, Egypt, Saudi Arabia, Qatar, Rest of Middle East], Africa [Nigeria, South Africa, Rest of Africa], Latin America (Brazil, Argentina, Colombia Rest of Latin America)
Company Profiles
Bayer AG, BASF SE, DuPont, DSM, Nestle, Biosynth Carbosynth, Syngenta AG, Nufarm Ltd., Corteva, Inc., UPL Limited, Tata Chemicals Ltd., Sumitomo Chemical Co. Ltd., FMC Corporation, Sichuan Guoguang Agrochemical Co., Ltd, Dextra Laboratories
Key Drivers
• Rising global population and the subsequent need for food security
• Growing awareness among farmers about the benefits of plant growth regulators
• Increasing demand for high-quality crops
Market Challenges
• Stringent regulations imposed by various governments regarding the use of these regulators
• Presence of low-quality and counterfeit products in the market