Report Scope & Overview:
The Reclaimed Rubber Market size was valued at USD 1.21 billion in 2022. It is estimated to hit USD 2.81 billion by 2030 and grow at a CAGR of 11.1% over the forecast period of 2023-2030.
The Reclaimed Rubber Market has witnessed substantial growth due to the increasing demand for eco-friendly products and the rising awareness about the adverse environmental impacts of rubber waste. The growth of the reclaimed rubber market is driven growing emphasis on sustainable practices and the need to reduce carbon footprint has propelled the demand for reclaimed rubber. Additionally, the rising costs of raw materials, such as natural rubber, have further boosted the market growth. Reclaimed rubber offers a cost-effective solution without compromising on quality, making it an attractive option for various industries.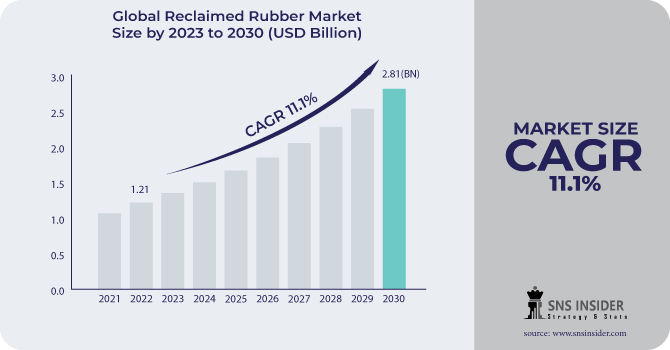 Get E-PDF Sample Report on Reclaimed Rubber Market - Request Sample Report
Asia Pacific holds a significant share of the reclaimed rubber market, owing to the presence of major rubber-producing countries like India, China, and Thailand. The region's rapid industrialization and increasing demand for sustainable products have contributed to its dominance in the market. North America and Europe also exhibit substantial growth potential due to the stringent regulations regarding waste management and the adoption of eco-friendly practices.
The Automotive and aircraft Tires subsegment dominated the Reclaimed Rubber Market with a revenue share of more than 50% in 2022 due to the rapid expansion of the international logistics industry and the gradual relaxation of travel restrictions at both regional and national levels. In order to mitigate the substantial costs associated with purchasing new tires, many aviation companies have opted for contractual agreements with tire manufacturing companies. Consequently, retreading has emerged as a prevalent practice for aircraft tires, given their exorbitant price tags.
Market Dynamics
Drivers
Scarcity of Natural Rubber Resources for the Automotive Industry

Stringent government regulations promoting the use of reclaimed rubber
The lack of degradability in conventional virgin rubber has led to the emergence of a significant global concern: end-of-life tire recycling. To address this issue, various regions including the European Union, Asia Pacific, the Middle East, and North American countries have initiated programs to encourage tire recycling. The aim is to produce reclaimed rubber from tire waste, serving as a viable alternative to conventional rubber. One notable example is the California Tire Recycling Management Fund, which was established under the California Recycling Tire Act of 1989. This fund supports tire recycling initiatives and the utilization of recycled tire rubber products.
Restraint
Limited availability of raw materials for reclaimed rubber production

High initial investment required for setting up reclaimed rubber manufacturing units

Limitations on the importation of tire waste scrap
Opportunities
Rising adoption of reclaimed rubber in various industries, such as automotive, construction, and footwear

Potential for cost savings and reduced carbon footprint through the use of reclaimed rubber
Challenges
Competition from synthetic rubber manufacturers

Difficulty in maintaining consistent quality and supply of reclaimed rubber

Limited market penetration in developing regions due to low awareness and infrastructure constraints
Impact of Russia-Ukraine War:
The rubber industry has been severely impacted by the ongoing Russia-Ukraine war, resulting in disrupted raw material supplies and soaring prices. Russia plays a crucial role as one of the major suppliers to the global rubber industry, with its polybutadiene (BR) and isobutene-isoprene rubber (IIR) suppliers holding significant market shares. In 2021, Russian companies provided approximately 550,000 tons of carbon black and 240,000 tons of synthetic rubber to the European Union.
The Russia-Ukraine war has added further strain to an already struggling global economy, grappling with the effects of the pandemic, disrupted supply chains, volatile raw material prices, and global inflation. This impact has been particularly felt in the automotive, tire manufacturing, and rubber product sectors. Companies across the United States, the European Union, and the rest of the world have united to undermine the Russian economy in response to the invasion. Given that Russia is the world's third-largest oil producer and synthetic rubber heavily relies on crude oil as a key raw material, the prices of synthetic rubber have skyrocketed in tandem with crude oil prices. Carbon black, along with many other raw materials used in tire and rubber product manufacturing, has experienced surging demand, escalating prices, and constrained supply throughout the European Union, exacerbated by Russia's attack on Ukraine. Prior to the invasion, Russia, Ukraine, and Belarus accounted for approximately 54% of Europe's total carbon black capacity. However, due to war-ravaged transportation routes and import bans on raw materials from Russian companies, supplies from these three countries have been severely disrupted. As it stands, the supply of carbon black to the European Union has been almost entirely cut off from these sources.
Impact of Recession:
The recession caused the decline in overall economic activity have resulted in reduced demand for rubber-based products, affecting the demand for reclaimed rubber as well. This has led to a decrease in production and sales volumes, causing financial strain on manufacturers and suppliers. Furthermore, the recession has also affected the availability of raw materials for the production of reclaimed rubber. As industries scale back their operations, the supply of waste rubber materials has decreased, leading to a shortage in the market. This scarcity has further exacerbated the challenges faced by manufacturers, as they struggle to maintain their production levels.
Market Segmentation
By Product
By Application
By End-use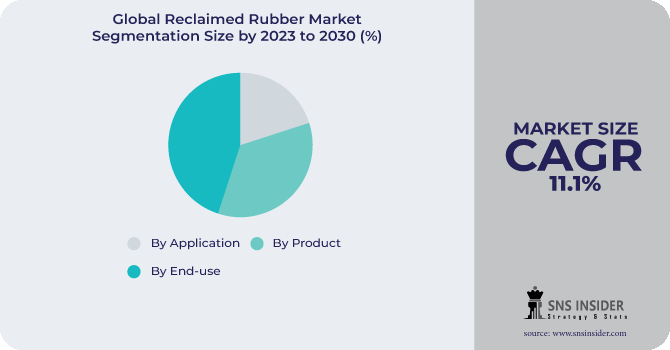 Get Customized Report as Per Your Business Requirement - Request For Customized Report
Regional Analysis
North America holds the largest share of the global reclaimed rubber market and is projected to experience a Compound Annual Growth Rate of 11.5% during the forecast period. This region is also the leading importer of rubber tires and a significant importer of rubber overall, driven by the high demand from the automotive, aviation, construction, and electrical sectors. North America's automotive industry is particularly influenced by the rising popularity of electric vehicles and the establishment of manufacturing bases by global automobile manufacturers in Mexico. These factors are expected to boost the market for rubber tires and have a direct impact on the growth of the reclaimed rubber industry.
Furthermore, the global market is driven by the introduction of new products by various industry players. For example, in January 2020, the Goodyear Tire & Rubber Corporation, an American tire manufacturer, partnered with Rubber-Cal, a producer of rubber flooring and mats, to launch a new range of rubber flooring and mats. The ReUz rubber flooring rolls and tiles are made from used Goodyear tires, requiring less energy during production and offering the flexibility to be easily colored. As a result, these floors have appealing textures that are suitable for use in fitness facilities. With the increasing interest of consumers in physical fitness, the demand for rubber floor mats is predicted to rise, directly influencing the expansion of the reclaimed rubber market.
Europe is projected to experience a Compound Annual Growth Rate (CAGR) of 11.7% throughout the forecast period. The reclaimed rubber market in Europe is anticipated to witness significant growth due to various initiatives, including the BlackCycle project implemented in the region. The BlackCycle project, which commenced in May 2020 and is supported by the European Union's Horizon 2020 program, aims to establish and optimize a complete value chain for reclaimed rubber production. This involves transforming end-of-life tire waste into secondary raw materials (SRM) to manufacture a new range of tires for trucks and passenger vehicles. These tires will be made available for commercial sale in both European and international markets.
REGIONAL COVERAGE:
North America
Europe
Eastern Europe

Poland

Romania

Hungary

Turkey

Rest of Eastern Europe

Western Europe

Germany

France

UK

Italy

Spain

Netherlands

Switzerland

Austria

Rest of Western Europe
Asia Pacific
China

India

Japan

South Korea

Vietnam

Singapore

Australia

Rest of Asia Pacific
Middle East & Africa
Middle East

UAE

Egypt

Saudi Arabia

Qatar

Rest of Middle East

Africa

Nigeria

South Africa

Rest of Africa
Latin America
Brazil

Argentina

Colombia

Rest of Latin America
Key Players
The major key players are Rolex Reclaim Pvt. Ltd., Fishfa Rubbers Ltd., GRP Ltd., J. Allcock & Sons Ltd., Swani Rubber Industries, HUXAR, Minar Reclamation Pvt. Ltd., SRI Impex Pvt. Ltd., Star Polymers Inc., SNR Reclamations Pvt. Ltd., High Tech Reclaim Pvt. Ltd., Balaji Rubber Industries (P) Ltd., Tianyu (Shandong) Rubber & Plastic Products Co. Ltd., Ecore International and other key players are mentioned in the final report.
Rolex Reclaim Pvt. Ltd-Company Financial Analysis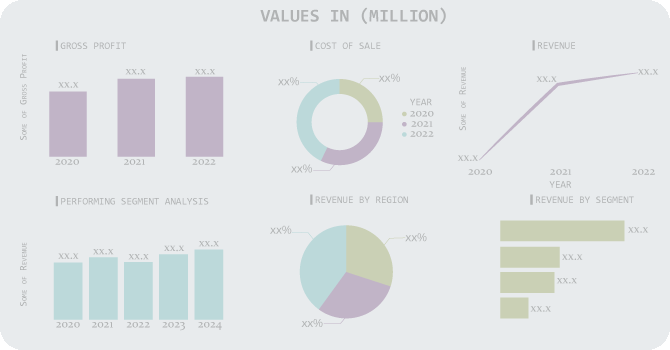 Recent Development:
In April 2023- Ecore International, the largest recycler of reclaimed tire rubber in North America, made a significant move by acquiring 360 Tire Recycling Group, a leading tire recycling management company. This strategic alliance not only solidifies Ecore's position in tire collection and buffings but also streamlines the procurement of raw materials for its innovative flooring and surfacing products.

In September 2022- Ecore International, a rubber recycling company headquartered in Lancaster, Pennsylvania, unveiled its ambitious plan to invest a staggering USD 25.5 million in establishing a manufacturing and recycling facility in Ozark, Alabama. This facility will be dedicated to producing top-quality flooring and surfacing products using reclaimed rubber sourced from used vehicle tires.
Reclaimed Rubber Market Report Scope
Report Attributes
Details
Market Size in 2022
US$ 1.21 Bn
Market Size by 2030
US$ 2.81 Bn
CAGR
CAGR of 11.1% From 2023 to 2030
Base Year
2022
Forecast Period
2023-2030
Historical Data
2019-2021
Report Scope & Coverage
Market Size, Segments Analysis, Competitive Landscape, Regional Analysis, DROC & SWOT Analysis, Forecast Outlook
Key Segments
• By Product (Whole Tire Reclaim Rubber, EPDM Reclaimed Rubber, Butyl Reclaim Rubber, and Others)
• By Application (Tire and Non-Tire)
• By End-use (Automotive & Aircraft Tires, Belts & Hoses, Retreading, Molded Rubber Goods, Footwear, and Others)
Regional Analysis/Coverage
North America (US, Canada, Mexico), Europe (Eastern Europe [Poland, Romania, Hungary, Turkey, Rest of Eastern Europe] Western Europe] Germany, France, UK, Italy, Spain, Netherlands, Switzerland, Austria, Rest of Western Europe]), Asia Pacific (China, India, Japan, South Korea, Vietnam, Singapore, Australia, Rest of Asia Pacific), Middle East & Africa (Middle East [UAE, Egypt, Saudi Arabia, Qatar, Rest of Middle East], Africa [Nigeria, South Africa, Rest of Africa], Latin America (Brazil, Argentina, Colombia Rest of Latin America)
Company Profiles
Rolex Reclaim Pvt. Ltd., Fishfa Rubbers Ltd., GRP Ltd., J. Allcock & Sons Ltd., Swani Rubber Industries, HUXAR, Minar Reclamation Pvt. Ltd., SRI Impex Pvt. Ltd., Star Polymers Inc., SNR Reclamations Pvt. Ltd., High Tech Reclaim Pvt. Ltd., Balaji Rubber Industries (P) Ltd., Tianyu (Shandong) Rubber & Plastic Products Co. Ltd., Ecore International
Key Drivers
• Scarcity of Natural Rubber Resources for the Automotive Sector
• Stringent government regulations promoting the use of reclaimed rubber
Market Restraints
• Limited availability of raw materials for reclaimed rubber production
• High initial investment required for setting up reclaimed rubber manufacturing units
• Limitations on the importation of tire waste scrap