REPORT SCOPE & OVERVIEW
The Serum-free Media Market size was estimated USD 1.5 billion in 2022 and is expected to reach USD 4.0 billion by 2030 at a CAGR of 13.1% during the forecast period of 2023-2030.
Serum-free media are cell culture formulations that do not contain serum-derived components. Without the use of serum, these media contain vital nutrients, growth factors, and other substances required for cell growth and proliferation. This media provides a controlled and defined environment for cells to thrive, allowing them to multiply. Particularly important in biopharmaceutical production, stem cell research, and regenerative medicine.
The rising focus on the development of cell-based therapeutics is accelerating the market growth. Increasing FDA approvals, clinical trials and strategic initiatives such as collaborations by the major market players are boosting the market growth. For instance, in March September 2022, Capstan Therapeutics, Inc. launched with USD 165.0 million in funding to build upon the fundamental understandings of well-known authorities in mRNA and cell treatment. The business intends to use the funds to further the therapeutic promise of cell-based medicines by enabling precision in vivo cell engineering to help patients with a numerous disease.
MARKET DYNAMICS
DRIVERS
The current need for pain treatment devices is strong due to arthritic pain, joint pain, knee pain, and other conditions. Additionally, rise in the incidence and prevalence of arthritis and joint illnesses drives the demand for pain treatment devices. According to the CDC, one out of every 30 persons in the United States suffers from pain issues, which is the eighth largest risk factor for disability and premature mortality. Medication and lifestyle adjustments are both effective and cost-efficient, but the overall rate of pain alleviation control is unsatisfactory. Serum-free media is utilized in a variety of suspension and adherent cultures to generate immune cells such as IL-2, IL-4, cytotoxic lymphocytes (CTLs), and monocytes, which are employed in the manufacturing of various vaccines. As a result, rising demand for recombinant proteins in chronic diseases such as cancer is expected to grow the global serum-free media market.
RESTRAIN
The global serum-free media market restraints the growth due to the affordability. This technique gives exact information with speedy findings, making it popular among researchers and medical specialists in both developed and developing countries. However, serum-free media technology is more expensive than other cell culture technologies. Investment in pharmaceutical and biopharmaceutical businesses for R&D to cure chronic and infectious diseases is fast expanding in industrialized regions such as North America and Europe. This enables many companies to utilize high-end serum-free media technology.
OPPORTUNITY
When compared to serum media, which is known as undefined media, the stated character of serum-free media typically aids the purifying Type. In place of serum, a recognized composition of serum-free media, frequently adding extra components for cell development, shortens the operation and promotes cell growth. However, the protein level is substantially lower in serum-free media, making downstream Typeing easier than in serum media. It reduces contamination of subsequent Typeing and simplifies the cell environment in a serum-free media.
CHALLENGES
IMPACT OF RUSSIAN UKRAINE WAR
The on-going conflict between Russia and Ukraine has had a negative impact on the pharmaceutical industry, which has seen a drop in trade of at least 50%. This is due to the fact that many pharmaceutical manufacturers who sell their products in Russia have reported that they have not been paid for their products. Even though the U.S., U.K., Europe, and Canada put sanctions on Russia, they did not cover medicines and medical equipment. However, seven Russian banks are no longer able to use the SWIFT international payment system. This made it hard for the EU to send medical devices to Russia. This had an affect on the export of pharmaceutical products to Russia from the United States, the United Kingdom, Europe, and Canada. And the Serum-free media market have been impacted.
IMPACT OF ONGOING RECESSION
Inflation is likely to rise further in many nations due to supply-demand imbalances and policy support during the pandemic. Financial conditions have also tightened significantly, putting pressure on a number of biopharmaceuticals emerging market and developing nations through rising borrowing costs and the possibility of capital outflows.
KEY SEGMENTS
By Product
CHO Media

HEK 293 Media

BHK Medium

Vero Medium

Stem Cell Medium

Other Serum-free Media
In 2022, CHO Media segment is expected to held the highest market share of 31.1% during the forecast period. CHO medium is an essential component of the CHO cell line maintenance techniques used in the research and marketing of a variety of biotherapeutics. Because commercially available CHO media are chemically defined and animal component-free, their uses in the biopharmaceutical industry are expanding. Furthermore, the market is likely to increase significantly in the near future due to the rising use of CHO cell lines in toxicity screening and recombinant antibody technologies.
By Type
Liquid Media

Semi-solid & Solid Media
In 2022, Liquid Media segment is expected to held the highest market share of 62.8% during the forecast period. The key drivers driving the expansion include the increasing number of manufacturers of biosimilars and biologics, as well as the shift from pre-mixed powders to liquid media to minimize rapid growth of mycobacteria. Liquid media also eliminates the requirement for mixing containers, scales, and the installation of a Water for Injections (WFI) circuit required to mix powder media. Because of these benefits, the use of liquid media is increasing.
By Application
Biopharmaceutical Production

Monoclonal Antibodies
Vaccines Production
Other Therapeutic Proteins

Tissue Engineering & Regenerative Medicine
In 2022, the biopharmaceutical production segment is expected to dominate the market growth of 73.6% during the forecast period. The biosimilars market is poised for rapid expansion. This increase is mostly due to the anticipated launch of multiple mAb biosimilars in the future years when patents on important medications such as trastuzumab (Herceptin from Roche), infliximab (Remicade from J&J), and adalimumab (Humira from Abbott) expire. Furthermore, opportunities for biosimilar monoclonal antibodies are being created by the expansion of controlled regulatory Typees for biosimilars in developing markets. The availability of an approval pathway in the United States has created new chances for biosimilar makers to penetrate significant markets globally.
By End User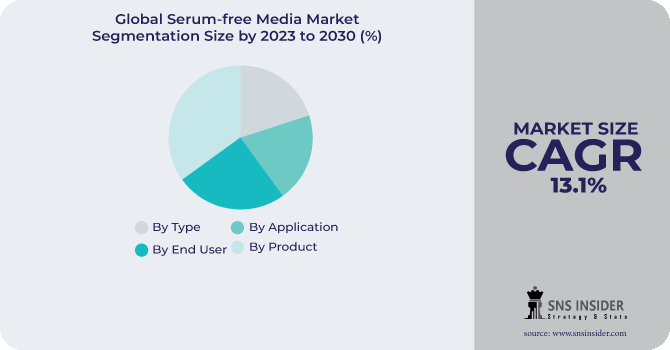 In 2022, Pharmaceutical and Biotechnology Companies segment is expected to dominate the market growth of 57.6% during the forecast period owing to the serum-free medium is one of the primary drivers for the bio production Type, it can have a substantial impact on viability and cell proliferation, as well as improve protein quality and production. Furthermore, the biopharmaceutical business is experiencing considerable growth not just as a result of the release of novel therapies, but also as a result of the development of biosimilars or generics.
REGIONAL ANALYSES
North America held a significant market share growing with a CAGR of 38.1% in 2022 due to the presence of a well-established R&D infrastructure and a favorable regulatory landscape, which is continuously evolving to accommodate ongoing research advancements in this industry. Government and industry leaders are increasing their investments in the pharmaceutical and biotechnology industries. For example, in November 2022, FUJIFILM Holdings Corporation announced the opening of a serum-free media manufacturing facility in Research Triangle Park (RTP), North Carolina, with a USD 188.1 million investment.
Asia-Pacific is witness to expand fastest CAGR rate of 15.7% during the forecast period due to the rising demand for innovative therapies in the region. Furthermore, the high prevalence of chronic diseases, as well as the COVID-19, have resulted in an increase in R&D activities for the development of innovative medicines and vaccines, resulting in a strong need for serum-free media solutions.
REGIONAL COVERAGE
North America
Europe
Eastern Europe

Poland

Romania

Hungary

Turkey

Rest of Eastern Europe

Western Europe

Germany

France

UK

Italy

Spain

Netherlands

Switzerland

Austria

Rest of Western Europe
Asia Pacific
China

India

Japan

South Korea

Vietnam

Singapore

Australia

Rest of Asia Pacific
Middle East & Africa
Middle East

UAE

Egypt

Saudi Arabia

Qatar

Rest of Middle East

Africa

Nigeria

South Africa

Rest of Africa
Latin America
Brazil

Argentina

Colombia

Rest of Latin America
Key Players
The major key players are Thermo Fisher Scientific Inc., Sartorius AG, Merck KgaA, Lonza Group AG, Danaher, FUJIFILM Holdings Corporation, MP Bio medicals, Corning Incorporated, PAN-Biotech, Biochrom AG, R&D Systems, Inc., and Others.
RECENT DEVELOPMENT
Merck KGaA, In August 2022, Merck KGaA purchased Biochrom AG, a producer and distributor of cell culture media and buffer solutions. This strategic acquisition aided Merck Millipore's Type solutions business unit in strengthening and driving revenue growth.
Thermo Fisher Scientific, in January 2021, for cell therapy producers using allogeneic Typees, Thermo Fisher Scientific created a unique medium for growing and expanding human T cells.
Serum-free Media Market Report Scope:
Report Attributes
Details
Market Size in 2022
US$ 1.5 Billion
Market Size by 2030
US$ 4.0 Billion
CAGR
CAGR of 13.1 % From 2023 to 2030
Base Year
2022
Forecast Period
2023-2030
Historical Data
2019-2021
Report Scope & Coverage
Market Size, Segments Analysis, Competitive Landscape, Regional Analysis, DROC & SWOT Analysis, Forecast Outlook
Key Segments
• By Product (CHO Media, HEK 293 Media, BHK Medium, Vero Medium, Stem Cell Medium, Other Serum-free Media)
• By Type (Liquid Media, Semi-solid & Solid Media)
• By Application (Biopharmaceutical Production, Tissue Engineering & Regenerative Medicine)
• By End User (Pharmaceutical & Biotechnology Companies, Research & Academic Institutes, Other End-users)
Regional Analysis/Coverage
North America (US, Canada, Mexico), Europe (Eastern Europe [Poland, Romania, Hungary, Turkey, Rest of Eastern Europe] Western Europe] Germany, France, UK, Italy, Spain, Netherlands, Switzerland, Austria, Rest of Western Europe]), Asia Pacific (China, India, Japan, South Korea, Vietnam, Singapore, Australia, Rest of Asia Pacific), Middle East & Africa (Middle East [UAE, Egypt, Saudi Arabia, Qatar, Rest of Middle East], Africa [Nigeria, South Africa, Rest of Africa], Latin America (Brazil, Argentina, Colombia Rest of Latin America)
Company Profiles
Thermo Fisher Scientific Inc., Sartorius AG, Merck KgaA, Lonza Group AG, Danaher, FUJIFILM Holdings Corporation, MP Bio medicals, Corning Incorporated, PAN-Biotech, Biochrom AG, R&D Systems, Inc.
Key Drivers
• Rising Demand for Various Recombinant Proteins
Market Opportunity
• Easier downstream Type with lower contamination risk