Report Scope & Overview:
The Smart Building Market size was valued at USD 87.92 billion in 2022 and is expected to grow to USD 577.97 billion by 2030 and grow at a CAGR of 26.54 % over the forecast period of 2023-2030.
A smart building is a modern structure that utilizes IoT and automated technology to control various building services, including heating, ventilation, air conditioning, lighting, security, and other systems. By collecting and handling data through sensors, actuators, and microchips, smart buildings can efficiently manage tasks and services for organizations and households alike. These innovative infrastructure solutions offer numerous benefits to building owners, operators, and facility managers. They can improve asset reliability and performance, reduce energy consumption, optimize space utilization, and minimize the environmental impact of buildings. Smart structures are the future of environmentally friendly and effective infrastructure. By leveraging cutting-edge technology, they can enhance the functionality and performance of buildings while reducing their environmental footprint.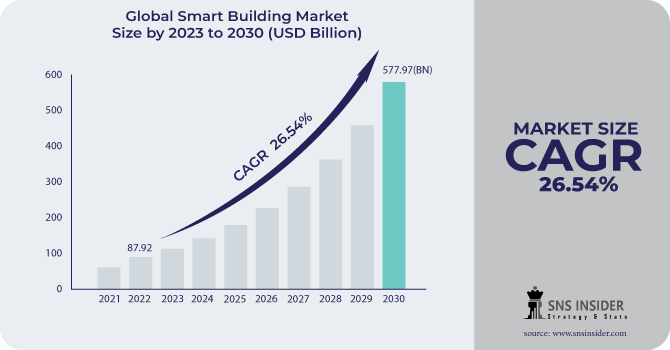 To get more information on Smart Building Market - Request Sample Report
Market Dynamics
Drivers
Buildings are the largest energy users. Energy-efficient buildings are now required across the world to help decrease greenhouse gas emissions. Building management systems are critical for optimizing energy use and lowering energy expenditures. Smart building technologies provide valuable information on energy use throughout the whole building infrastructure. They aid in the monitoring and management of HVAC and other systems. Building analytics contributes to lower total building maintenance costs by detecting difficulties in the operation of various equipment and assisting in the early identification of problems. The rising cost and use of energy present an opportunity to integrate new technologies and systems that generate clean, optimized, automated energy, hence propelling the smart building industry.
Restrains
Growing cyber-attacks are a key obstacle to market expansion. Every building system and gadget is linked via intelligent technology. When hacked, it may occasionally disclose private and personal information. According to the Kaspersky analysis, four out of every ten linked buildings are vulnerable to cyber-attacks. This elevated danger of cyber-attack is projected to stifle future market growth. As a result, operational contingency measures must be put in place to protect related structures against such attacks.
Opportunities
With the advent of 5G technology, new and strong intelligent building capabilities are enhanced. It is critical in the expansion of IoT-enabled devices since it provides efficient real-time operating and analytical capabilities. A massive amount of data is created by IoT-enabled devices in smart buildings; nevertheless, 5G technology enables the rapid construction of data transit, interpretation, and economically efficient actions. 5G improves the user/occupant experience while also enabling numerous additional innovative and valuable Building Internet of Things (BIoT) and AI-enabled advancements.
Challenges
Impact of the Russia-Ukraine War
The conflict between Russia and Ukraine has had a significant impact on the smart building market. This sector has experienced a range of challenges and opportunities as a result of the conflict. the significant impact of war has been on the supply chain of smart building technologies. Many of the components used in these systems are manufactured in Russia, and the conflict has disrupted the production and transportation of these materials. This has led to delays in the delivery of smart building products and increased costs for manufacturers. the political instability in the region has made it difficult for companies to do business in Ukraine and Russia. This has resulted in a decrease in investment in the smart building market in these countries, as well as a decrease in demand for smart building technologies.
The conflict has also created opportunities for the smart building market. As the conflict has forced many businesses to relocate or expand their operations, there has been an increased demand for smart building technologies that can help improve energy efficiency and reduce costs. the conflict has highlighted the importance of smart building technologies in ensuring the safety and security of buildings and their occupants. As a result, there has been an increased interest in smart building technologies that can help monitor and control access to buildings, as well as detect and respond to potential security threats.
Impact Of Recession
The impact of a recession on the smart building market can be significant, as economic downturns generally result in reduced investment and spending across various industries. Here are some potential effects of a recession on the smart building market Reduced construction and retrofitting projects During a recession, construction activities tend to slow down, and companies may delay or cancel building projects. This can directly impact the demand for smart building technologies, as new constructions and retrofitting projects often incorporate these solutions. With fewer building projects, the market for smart building technologies may experience a decline. During a recession, companies and individuals may delay or scale back on implementing smart building solutions due to limited budgets and a focus on more immediate needs. 5% reduction in spending due to the recession. During an economic downturn, customer priorities may shift towards cost reduction and operational efficiency. Smart building technologies can help achieve these objectives by optimizing energy consumption, improving resource management, and enhancing occupant comfort. However, customers may become more cautious with their investments and prioritize technologies with more immediate and direct cost-saving benefits.
In a recessionary environment, some businesses may struggle financially, leading to mergers, acquisitions, or closures. This consolidation can result in market contraction, with fewer players in the smart building industry. Smaller or less-established companies may face increased challenges in securing funding and maintaining operations, potentially leading to a reduction in innovation and competition within the market.
Key Market Segmentation
The Smart Building Market is segmented into three types on the basis of By solution, By service, and By Building Type.
By Solution
Safety & Security Management

Energy Management

Building Infrastructure Management

Others
By Service
Consulting

Implementation

Support & Maintenance
By Building Type
Residential

Commercial

Industrial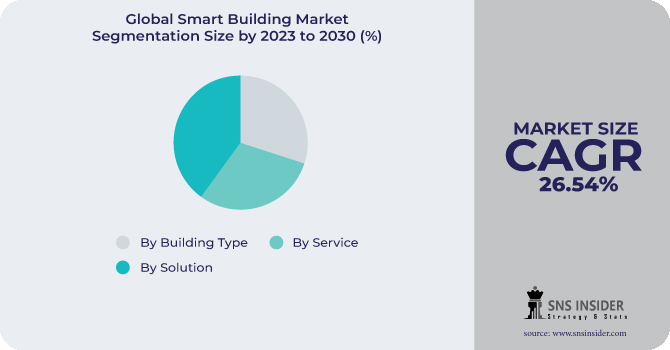 Need any Customization Research on Smart Building Market - Enquiry Now
Regional Analysis
During the projected period, North America is likely to dominate the regional revenue share. Leading enterprises in the region are leaning towards intelligent building solutions to improve workplace operations. Because of increased expenditures on green building technologies, the United States dominated the region's share. projected to increase the region's demand for energy-efficient smart infrastructure.
After North America, Europe will have a considerable market share. The European Union's rising emphasis on implementing efficient energy-saving technologies in residential and commercial buildings is expected to drive the smart building market share. Organizations in Europe are focusing on employee well-being by adopting the WELL Building Standard certification. As a result, market prospects are expected to grow as the number of smart office buildings increases.
During the projection period, Asia Pacific is predicted to develop rapidly. Growing smart city initiatives are expected to drive up demand for intelligent buildings in the region. Furthermore, the expanding population in China and India is likely to boost urban space management technologies. Increasing government attempts to construct smart commercial locations, retail malls, and communities to cut energy use.
In the regional analysis study of the regions of North America, Europe, Asia Pacific middle east, and Africa.
REGIONAL COVERAGE:
North America
Europe
Germany

UK

France

Italy

Spain

The Netherlands

Rest of Europe
Asia-Pacific
Japan

South Korea

China

India

Australia

Rest of Asia-Pacific
The Middle East & Africa
Latin America
Brazil

Argentina

Rest of Latin America
Key Players:
The major players are Schneider Electric SE, Siemens, BOSCH, Emerson Electric Co., Hitachi, Ltd., Honeywell International Inc., Telit, INTEL Corp., Cisco Systems Inc., Endeavor Business Media, Johnson Controls, ABB Ltd., KMC Controls, LG Electronics, Legrand., Sierra Wireless., Softdel System, Spacewell, and others in the final report.
Recent development
Endeavour Business Media introduced intelligent building technologies in June 2021 to incorporate intelligent solutions for commercial and new buildings. Its innovative discoveries provide assistance for energy efficiency, communication systems, intelligent systems, health, and safety.
Honeywell International Inc. introduced a cloud-based Forge Energy Optimization, an autonomous sustainability solution to monitor energy use, in February 2020. The building solution seeks to minimize energy consumption, cut carbon footprints, and save double-digit amounts of energy, among other things.
Smart Building Market Report Scope:
Report Attributes
Details
Market Size in 2022
US$ 87.92 Bn
Market Size by 2030
US$ 577.97 Bn
CAGR
CAGR of 26.54% From 2023 to 2030
Base Year
2022
Forecast Period
2023-2030
Historical Data
2020-2021
Report Scope & Coverage
Market Size, Segments Analysis, Competitive Landscape, Regional Analysis, DROC & SWOT Analysis, Forecast Outlook
Key Segments
• By Solution (Safety & Security Management, Energy Management, Building Infrastructure Management, Others)
• By Service (Consulting, Implementation, Support & Maintenance)
• By Building Type (Residential, Commercial, Industrial)
Regional Analysis/Coverage
North America (USA, Canada, Mexico), Europe
(Germany, UK, France, Italy, Spain, Netherlands,
Rest of Europe), Asia-Pacific (Japan, South Korea,
China, India, Australia, Rest of Asia-Pacific), The
Middle East & Africa (Israel, UAE, South Africa,
Rest of Middle East & Africa), Latin America (Brazil, Argentina, Rest of Latin America)
Company Profiles
Schneider Electric SE, Siemens, BOSCH, Emerson Electric Co., Hitachi, Ltd., Honeywell International Inc., Telit, INTEL Corp., Cisco Systems Inc., Endeavor Business Media, Johnson Controls, ABB Ltd., KMC Controls, LG Electronics, Legrand., Sierra Wireless., Softdel System, Spacewell, and others in the final report.
Key Drivers
• Rising need for energy-saving solutions
Market Opportunities
• The advent of 5G technologies