Report Scope & Overview:
Solid State Battery Market size was valued at USD 78.47 million in 2022 and is expected to expand at a compound annual growth rate (CAGR) of 33% from 2023 to 2030 and it will reach USD 768.27 Million in 2030.
The growing demand for strong regional batteries between the end-of-life sectors and the increase in research and development activities focused on selling battery costs is expected to further market growth in the forecast period. Increased adoption of electronic gadgets, increased use of battery-saving systems, and increased exports of electric vehicle are among the key drivers of the industry. These batteries offer higher power density, lower combustion, and higher electrochemical stability compared to conventional batteries, thus increasing their commercial market value.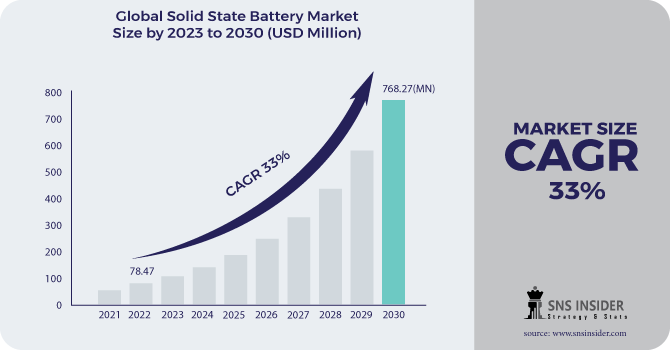 To Get More Information on Solid State Battery Market - Request Sample Report
A lithium-ion battery is combined of a cathode, anode, separator and electrolyte. Lithium-ion battery used in smartphones, power tools and EVs uses a liquid electrolyte solution. On the other hand, a solid battery uses a solid electrolyte, not a liquid. Looking at the picture above, the Li-ion battery, used commercially, has a separator that keeps cathode and anode separate, and a liquid electrolyte solution. On the other hand, a solid state battery uses a solid electrolyte, not a liquid electrolyte solution, and the solid electrolyte plays the role of a separator as well.
What worries users most about lithium-ion battery safety. The current Li-ion battery is at risk of battery damage such as inflammation caused by temperature changes or leakage caused by external forces as it uses a liquid electrolyte solution. Therefore, we need tools or components that can improve security.
However, a solid state battery with a strong electrolyte exhibits improved stability with a strong structure and increased safety as it retains its shape even if the electrolyte is damaged.
MARKET DYNAMICS:
KEY DRIVERS
Solid batteries have a higher capacity, stronger structure, better stability, and safer compared to lithium-ion batteries, which have fewer limitations such as low ionic conductivity, high performance, and high overall cost. These limitations can be addressed by introducing different solid state electrolytes (SSEs) made up of different materials. Solid polymer and inorganic electrolytes are excellent for solid-state batteries as a whole, but have limitations such as low ionic performance and poor mechanical properties, achieved by the discovery of Composite Solid Electrolytes (CSEs) containing active inorganic additives or idle and polymer matrix. Companies such as Robert Bosch (DE), Planar Energy Devices (US), QuantumScape (US), and Toyota Motor (JP) are working to develop durable batteries with enhanced features. The efforts taken by these players to introduce advanced solid-state batteries are expected to lead to their increased acquisition in various industries used by end users.
RESTRAINTS
The construction of durable batteries requires significant investment in research and development activities, as well as the establishment of production facilities. It requires the introduction of sophisticated equipment, as well as the installation of state-of-the-art technology to produce sturdy batteries. In a solid state battery, it is difficult to design a stable, chemically stable electrolyte, and is still a good ion condenser between electrodes. It is more expensive to make compared to lithium-ion batteries and tends to crack due to the stiffness of the electrolytes when they stretch and shrink during use. Currently, a solid cell costs about eight times as much as a liquid Li-ion battery. Manufacturers may need to set different production lines to construct durable batteries as the technology used in developing these batteries is different from that of conventional batteries. In addition, the equipment and technology used for the development of sturdy batteries is costly and, as a result, requires significant investment. This serves as a barrier, especially for newcomers to the solid state battery market.
OPPORTUNITIES
One of the most important growth opportunities in a solid state battery market is the use of these batteries in electric vehicles. The global demand for electric vehicles is growing steadily due to the implementation of supportive policies in countries such as the US, UK, Germany, China, and Japan, which promote the adoption of electric vehicles. In addition, the adoption of electric vehicles in countries including the US, UK, Germany among others also helps them to reduce reliance on imported oil and reduce greenhouse gas emissions in the transport sector. There is significant growth in the global sales of small electric vehicles every year. China, the US, the UK, Germany, France, and Japan are a few key countries in the rise in sales of electric vehicles. The growing adoption of electric-powered vehicles serves as a driving force in the development of solid state batteries.
CHALLANGES
Solid batteries are often more expensive than conventional ones. The process of manufacturing these batteries requires sophisticated equipment. The cost of manufacturing the cells used in these batteries is also high. The cost of materials used in the development of these batteries is an important parameter during selection. Battery manufacturers find it difficult to obtain high-performance electrodes at low cost. Therefore, the high cost of materials used in the development of solid state batteries increases their total cost. Therefore, the integration of these batteries into consumer electronics, wearables, etc., does not work. However, manufacturers are trying to come up with new, innovative ways to overcome cost barriers by conducting more in-depth research on this. Nickel is an important battery component as it saves a lot of energy and reduces the need for cobalt, which is very expensive. A few battery manufacturers and researchers are focusing on reducing costs by re-inventing nickel metal cathodes.
By Application
The consumer and mobile electronics segment has taken the largest market share of more than 33.6% by 2020 due to the high demand for portable power supplies in various segments of end use. Rapid urban sprawl and rising cost of choice are expected to result in higher purchases of electronic goods including smartphones, laptops, media players, gaming consoles, and more. This practice is expected to encourage partial growth during the forecast period.
By Capacity
A portion of less than 20 mAh is expected to register a very fast CAGR of more than 42% at the time of forecasting. Batteries that fall under this category are mainly small film batteries that meet the scope of the application including cosmetics and medical components, wireless sensors, packaging, and more. Limited internal space, compact size, and usability for all low water discharge devices that do not require a large amount of battery capacity are some of the key factors that strengthen the battery capacity of less than 20 mAh capacity.
More than 500 mAh consumed a market share of 19.6% in 2022 due to drastically increased use of solid state batteries in the electric car market. Government policies that favor clean energy transactions drive the current need for the sector. In addition, the growing demand for battery-saving systems in all commercial and industrial sectors is expected to drive partial growth.
The electric car segment is expected to occupy a leading position in the market, in terms of revenue, by 2030 due to the growth of exports of clean energy vehicles to the world's largest economy. Technological advances in batteries and the existence of favorable regulatory policies that promote the adoption of electric vehicles are expected to boost segment growth.
The textile and medical equipment segment has played a major role in the market and is expected to prove outstanding growth during the forecast period. The growing demand for small energy storage equipment and consumables is expected to favor partial growth. In addition, the introduction of medical technology is likely to increase the penetration rate of wearable batteries.
IMPACT OF COVID-19
The presence of a Covid-19 outbreak generates the growth of the solid state battery market. The outbreak of the Covid-19 epidemic has led to the closure or partial closure of factories, warehouses, businesses and institutions around the world. This is augmented by the introduction of other door-to-door methods, which include strong community reduction practices, limited mobility, and limited access to public places, restaurants, theme parks, theaters and supermarkets. Globally, many industries have seen disruptions in supply chain operations and utility-related services. Consumer consumption of consumers and companies, door-to-door methods, and disruption of supply chain have also contributed to the growth of a stable battery market. The market is seeing a decline due to the closure of many SMEs, disruptions, closures, and other problems arising from the Covid-19 epidemic. The epidemic has forced governments around the world to shift their focus from spending to health care. Demand from end users has also declined sharply between 2020 and 2021.
.
Market Segmentation:
By Type
Thin Film

Portable

Single-cell Battery

Multi-cell Battery
By Application
Consumer Electronics

Electric Vehicles

Wearable Devices

Medical Devices

Packaging

Wireless Sensors

Others
By Rechargeability
Primary Battery

Secondary Battery
By Capacity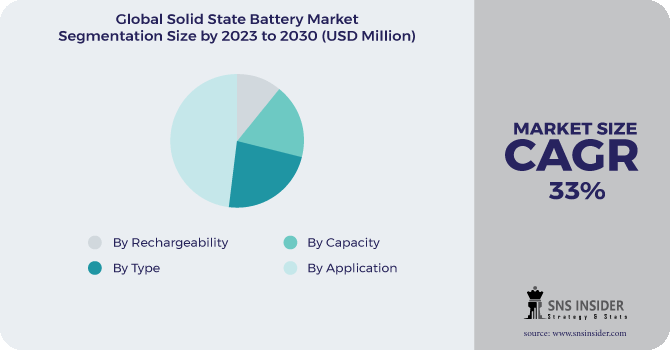 Need any Customization as Per Your Business Requirement on Solid State Battery Market - Enquiry Now
REGIONAL ANALYSIS
Asia Pacific has emerged as the largest market, accounting for 51.2% of the world's strongest battery market by 2020. . In addition, population growth in China and India in line with approved government policies aimed at reducing carbon emissions in cars and promoting the use of electric vehicles is expected to increase production in the region in the forecast period.
Europe has taken its second largest market share by 2020 and is expected to maintain its market position during the forecast period. The growth may be due to the strong implementation of favorable regulatory policies regarding the distribution of battery-powered systems and electric vehicles throughout the region. In addition, European Commission funding aimed at battery-based R&D projects is expected to further boost regional market growth.
North America, led by the U.S., Mexico, and Canada, accounted for about 20.69% of the world's strongest battery market by 2020. North American solid state battery market.
REGIONAL COVEREGE:
North America

Europe

Germany

UK

France

Italy

Spain

The Netherlands

Rest of Europe

Asia-Pacific

Japan

south Korea

China

India

Australia

Rest of Asia-Pacific

The Middle East & Africa

Latin America

Brazil

Argentina

Rest of Latin America
KEY PLAYERS:
The major key players of global solid state battery market are Dyson, Imec, Brightvolt Incorporation, Front Edge Technology Inc, Excellatron Solid State LLC, Hitachi Zosen Corporation, Solid Power Inc, Ilika, Cymbet, Robert Bosch, Toyota, Motor , Solid Power, Cymbet Corporation, Prieto Battery Inc, and other players.
Brightvolt Incorporation-Company Financial Analysis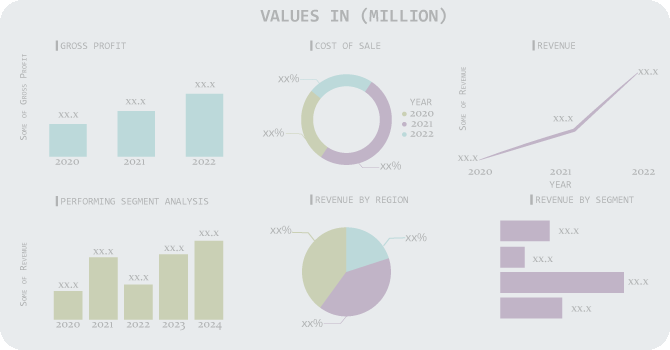 Solid State Battery Market Report Scope:
Report Attributes
Details
Market Size in 2022
US$ 78.47 Million
Market Size by 2030
US$ 768.27 Million
CAGR
CAGR of 33% From 2023 to 2030
Base Year
2022
Forecast Period
2023-2030
Historical Data
2020-2021
Report Scope & Coverage
Market Size, Segments Analysis, Competitive Landscape, Regional Analysis, DROC & SWOT Analysis, Forecast Outlook
Key Segments
• by Type (Central Inverter, Micro Inverter, String Inverter, Power Optimizers)
• by Application ( Industrial, Residential, Commercial, Utilities)
• by system (On-grid, Off-grid)
Regional Analysis/Coverage
North America (USA, Canada, Mexico), Europe
(Germany, UK, France, Italy, Spain, Netherlands,
Rest of Europe), Asia-Pacific (Japan, South Korea,
China, India, Australia, Rest of Asia-Pacific), The
Middle East & Africa (Israel, UAE, South Africa,
Rest of Middle East & Africa), Latin America (Brazil, Argentina, Rest of Latin America)
Company Profiles
Dyson, Imec, Brightvolt Incorporation, Front Edge Technology Inc, Excellatron Solid State LLC, Hitachi Zosen Corporation, Solid Power Inc, Ilika, Cymbet, Robert Bosch, Toyota, Motor , Solid Power, Cymbet Corporation, Prieto Battery Inc, and other players.
Key Drivers
• low ionic conductivity, high performance, and high overall cost
RESTRAINTS
• construction of durable batteries requires significant investment in research