Report Scope & Overview:
Special Mission Aircraft Market Size was valued at US$ 16 billion in 2022, expected to reach USD 23.28 billion by 2030, and grow at a CAGR of 4.8% over the forecast period 2023-2030.
The special purpose aircraft have capabilities in numerous areas, including antisubmarine warfare, maritime patrol, and airborne early warning and control. With piracy becoming a serious worry, another key application for Special Mission Aircraft is maritime patrol. With fast rising technology and a competitive environment in the area, the demand for qualified and trained individuals is increasing, yet interest and enrollment are decreasing. This is a constraint on market expansion, but it is also a challenge. Over the forecast period, the worldwide special purpose aircraft market is expected to rise significantly. Rising geopolitical tensions in and throughout the world, extensive drug trafficking, and high-seas piracy are factors driving market expansion. Cross-border conflicts caused by internal insurgencies in the country, as well as aid provided to task forces deployed, increase the market.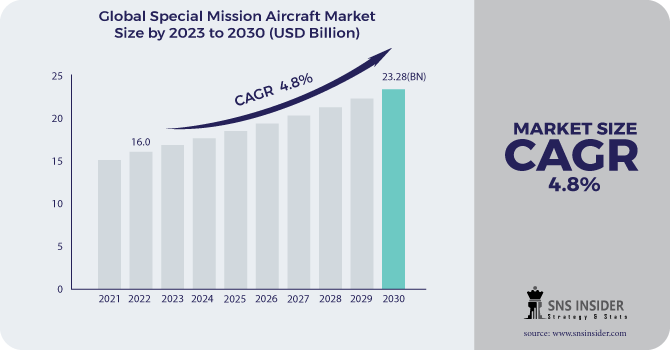 MARKET DYNAMICS:
KEY DRIVERS:
There is a growing demand for air-to-air refueling to facilitate overseas deployment.

The number of military bases in the Asia Pacific is increasing.
RESTRAINTS:
Strict regulatory requirements for the manufacture of special mission airplane components

increasing requirement to curb illegal activities piracy, drug trafficking, & terrorism, rising adoption of technology
OPPORTUNITIES:
Sensor technology advancements are fuelling demand for unmanned aerial vehicles.

They are also used in missions for tracking, monitoring, and destructing targets using enhanced technologies.
CHALLENGES:
UAV's must have a continuous and uninterrupted power source.

Drones that rely on lithium-ion batteries for power have durability difficulties.
THE IMPACT OF COVID-19
Many industries around the world have had a negative impact over the past 18 months. This is due to the severe disruption experienced by their production and supply chain operations due to various closure of security measures, as well as other restrictions imposed by the ruling authorities around the world. The same applies to the global market of Special Mission Aircraft. In addition, consumer demand is also declining as people are more willing to cut unnecessary costs from their budgets as the general economic situation of many people is severely affected by these developments. The aforementioned developments are expected to put a strain on the International Mission Aircraft market revenue during the forecast period. However, as the ruling authorities begin to lift these forced doors, the global Special Mission Aircraft market is expected to recover accordingly.
The market is segmented by application into ISR, command and control, combat support, transportation, and search and rescue. The Global Special Mission Aircraft Market Intelligence, Surveillance, and Reconnaissance (ISR) segment is expected to be the largest and fastest-growing during the forecast period due to key factors such as increased defence sector adoption of ISR activities in several battlefield functions and rising government initiatives to improve ISR globally.
One of the primary market drivers is the increasing necessity of such aircraft in giving real-time data during a critical emergency. Signal Intelligence special mission aircraft offer critical tactical and strategic intelligence for onboard and ground real-time and off-line analysis. Electronic Intelligence and Communications Intelligence sensors, as well as several aerial operator positions, compose the integrated SIGINT system. The system looks for, intercepts, measures, locates, analyses, categorises, and monitors communications and radar broadcasts. A real-time picture of the situation is built, and real-time reports are sent to field commanders and intelligence organisations. A fighter jet is a military plane designed for air-to-air combat with other planes. Multiple countries, notably the United States, China, and India, are considering innovative ways to modernize its airborne defence capabilities, including the acquisition of several special mission aircraft. The growth in territorial disputes throughout the world, as well as the rising use of asymmetric warfare strategies by various forces, has resulted in an increase in demand for combat UAVs. These unmanned aerial vehicles are employed for intelligence gathering, surveillance, and information transmission. They are also utilised in operations that use modern technologies to monitor, track, and destroy targets. Over the last decade, weaponized UAVs have been frequently utilised to combat terrorism. Aside from the military, UAVs are fast being embraced in a variety of commercial and civil uses, including agriculture, real estate, mining, photography, oil and gas, product delivery, monitoring greenhouse gas emissions, and wildlife research and preservation.
MARKET SEGMENTATION:
by Platform
Military Aviation

Commercial Aviation

Unmanned Aerial Vehicle
by Component
Sensors

Communication Suite

Protection Suite

Others
by End-User
Defence

Commercial & Civil

Space
by Point of Sale
by Application
Intelligence, Surveillance, & Reconnaissance

Command and Control

Combat Support

Emergency Services

Transportation

Air /Rocket Launch

Scientific Research and Geological Surveys

Other Applications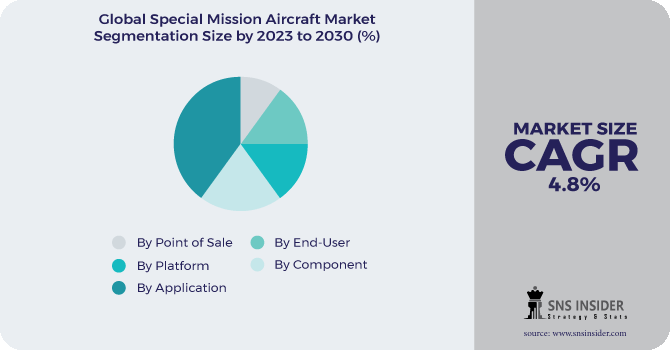 REGIONAL ANALYSIS:
North America dominates the market by region, with Asia Pacific a close second due to its characteristic of bilateral trade agreements with adjacent countries, interchange of commodities, and nurturing commitments. Special mission aircraft refers to aircraft that supplement the role of combat aircraft in military operations and does not refer to marine aircraft as the sole carriers in this sector.
The market is expected to rise throughout the forecast period as a result of an increase in global investments by Foreign Institutions. Aircraft suppliers, aircraft manufacturers, and aircraft pilot training organisations, technological support providers and software/hardware services and solution providers, regulatory bodies, consultancies, armed forces, naval forces, air force, and defence forces are the primary market stakeholders.
REGIONAL COVERAGE:
North America

Europe

Germany

UK

France

Italy

Spain

The Netherlands

Rest of Europe

Asia-Pacific

Japan

south Korea

China

India

Australia

Rest of Asia-Pacific

The Middle East & Africa

Latin America

Brazil

Argentina

Rest of Latin America
KEY PLAYERS
Boeing Company, The, Bombardier Aerospace, Belfast, Lockheed Martin Corporation, Northrop Grumman Corporation, SAAB AB, Dassault Aviation SA, Textron Inc., and other players.
Bombardier Aerospace​​​​​​​-Company Financial Analysis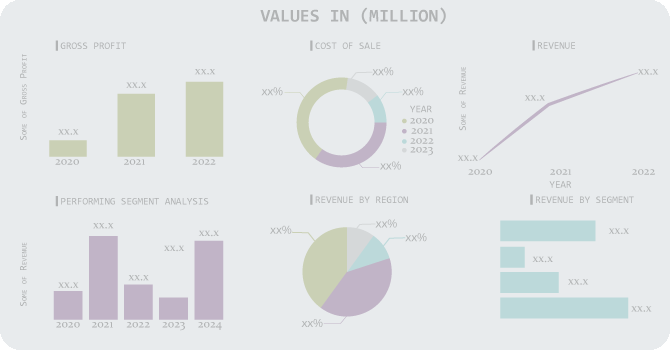 ​​​​​​​
Special Mission Aircraft Market Report Scope:
Report Attributes
Details
Market Size in 2022
US$ 16 Billion
Market Size by 2030
US$ 23.28 Billion
CAGR
CAGR of 4.8% From 2023 to 2030
Base Year
2022
Forecast Period
2023-2030
Historical Data
2020-2021
Report Scope & Coverage
Market Size, Segments Analysis, Competitive Landscape, Regional Analysis, DROC & SWOT Analysis, Forecast Outlook
Key Segments
• By Platform (Military Aviation, Commercial Aviation, Unmanned Aerial Vehicle)
• By Component (Sensors, Communication Suite, Protection Suite, Others)
• By End-User (Defence, Commercial & Civil, Space)
• By Point of Sale (OEM, Aftermarket)
• By Application (Intelligence, Surveillance, & Reconnaissance, Command and Control, Combat Support, Emergency Services, Transportation, Air /Rocket Launch, Scientific Research and Geological Surveys, Other Applications)
Regional Analysis/Coverage
North America (USA, Canada, Mexico), Europe
(Germany, UK, France, Italy, Spain, Netherlands,
Rest of Europe), Asia-Pacific (Japan, South Korea,
China, India, Australia, Rest of Asia-Pacific), The
Middle East & Africa (Israel, UAE, South Africa,
Rest of Middle East & Africa), Latin America (Brazil, Argentina, Rest of Latin America)
Company Profiles
Boeing Company, The, Bombardier Aerospace, Belfast, Lockheed Martin Corporation, Northrop Grumman Corporation, SAAB AB, Dassault Aviation SA, Textron Inc., and other players.
DRIVERS
• There is a growing demand for air-to-air refueling to facilitate overseas deployment.
• The number of military bases in the Asia Pacific is increasing.
RESTRAINTS
• Strict regulatory requirements for the manufacture of special mission airplane components
• increasing requirement to curb illegal activities piracy, drug trafficking, & terrorism, rising adoption of technology