Report Scope & Overview:
The Urinary Incontinence Treatment Devices Market Size was valued at USD 2.44 billion in 2022 and is expected to reach USD 4.46 million by 2030, and grow at a CAGR of 7.8% over the forecast period 2023-2030.
Urinary Incontinence (UI) is an illness that causes involuntary urination. When the person is unaware of it, it is also known as urine leaking. The various types of UI are Stress incontinence (leakage of urine due to pressure on the bladder caused by sneezing, coughing, etc. ), Uncontrollable compulsion incontinence (strong urge to urinate that results in unconscious loss of urine), Overflow incontinence (constant dripping of urine due to bladder that does not completely empty or bladder incontinence), and Mixed incontinence (constant dripping of urine due to bladder that does not completely empty or bladder (patient suffering from more than one type of urinary incontinence). Depending on the type of incontinence, doctors may offer different treatments.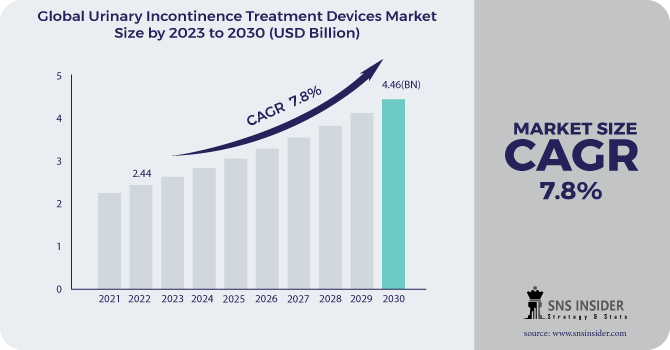 To get more information on Urinary Incontinence Treatment Devices Market - Request Sample Report
Urinary incontinence is described as an uncontrollable, involuntary flow of pee caused mostly by a loss of bladder control. Pregnancy, diabetes, delivery, menopause, and spinal or pelvic surgery are all examples of conditions that can induce urinary incontinence. Urinary incontinence market growth is being driven by a rise in the frequency of medical conditions related to incontinence, as well as a growing older population. The market for urine incontinence treatment devices is predicted to grow as the number of diabetics having urinary difficulties rises. Furthermore, the rising prevalence of Parkinson's disease, new technologies in urinary incontinence, and the government's aggressive efforts to raise urine incontinence awareness are all driving the market two obstacles that may hamper market expansion is a lack of awareness of urinary urgency symptoms and post-surgery infections.
MARKET DYNAMICS
DRIVERS
Introduction to new urinary catheters

Surgical treatment of Urinary incontinence
RESTRAINTS
Increase in treatment rate

Limited factors

Shifting to other therapy
OPPORTUNITIES
Low penetration of (UI)

Underdeveloped market
CHALLENGES
Lack of knowledge

Lowcost items
IMPACT OF COVID-19
The actual effect of the COVID-19 pandemic on key participants in the urinary incontinence business remained unfavorable. COVID-19 has caused widespread disruption in healthcare processes around the world. Numerous sectors, including several sub-domains of healthcare, have been forced to close their offices temporarily due to the disease. Several types of outpatient testing and treatments will be significantly reduced by 2020, with surgical treatments for female urine incontinence, infertility, kidney stones, and bladder stones seeing the most reductions.
MARKET ESTIMATION
By Product: The global urinary incontinence device market is currently dominated by vaginal slings, and this trend is projected to continue during the forecast period. Because of the significant priority for the use of biomaterials in the surgical treatment of incontinence, traditional vaginal slings account for a large portion of the vaginal slings market. Traditional vaginal sling advancements help to eliminate the post-operative difficulties connected with vaginal sling operations, and numerous prominent players are producing traditional vaginal slings employing sophisticated synthetic fabrics to satisfy the needs of patients.
By Category: The largest revenue was generated by the internal urinary incontinence device sector, and this trend is expected to continue throughout the projected period. This is due to a greater focus on the development of vaginal slings, as well as a rising demand for internal urethral devices.
By Incontinence: The global urinary incontinence devices market is dominated by the stress urinary incontinence (SUI) segment. This is due to the significant prevalence of stress urinary incontinence among women around the world. According to epidemiological studies on stress urinary incontinence in women, roughly 55% of women with urinary incontinence experience tension incontinence symptoms.
By End User: Urinary incontinence most typically affects women, and the frequency is high among hospitalized older individuals, therefore the hospital segment led the global market and is expected to continue this trend during the forecast period. As a result, the hospital market has seen the highest adoption of urinary incontinence equipment, owing to the vast patient pool suffering from chronic diseases or pregnancy.
KEY MARKET SEGMENTS:
By Product
Conventional Vaginal slings

Advanced Vaginal Slings

Vaginal Slings

Electrical Stimulation Devices

Foley Catheters

Artificial Urinary Sphincters

Other Devices
By Incontinence Type
Stress urinary incontinence

Functional urinary incontinence

Urge urinary incontinence

Overflow urinary incontinence
By Category
Internal Urinary Incontinence Devices

External Urinary Incontinence Devices
By End User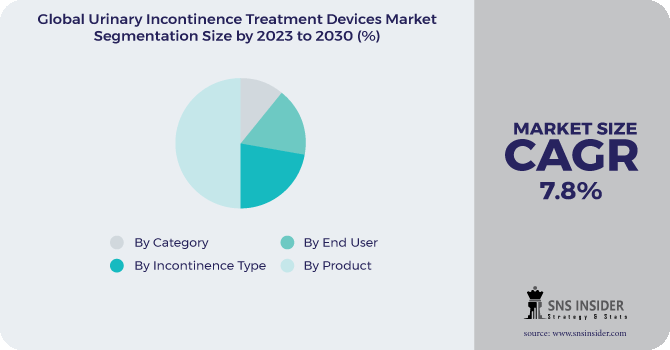 Need any customization research on Urinary Incontinence Treatment Devices Market - Enquiry Now
REGIONAL ANALYSIS
North America, Europe, Asia-Pacific, Latin America, and the Caribbean are the regions involved. North America dominated the market, with the greatest share, and this dominance is predicted to continue during the forecast period. The Asia-Pacific region, on the other hand, showed the most growth. In the United States, Japan, and China, the urinary catheter market accounts for the majority of the overall market value. Urinary incontinence is more common as people get older in all places. In this regard, the aging population, together with longer life expectancies, will raise the market for urinary incontinence treatments in the future.
Concomitant illnesses, medicines, neuro-urine disorders, and other factors can all contribute to urinary incontinence in the elderly. The European market for urinary incontinence slings accounted for a significant bulk of the total market value. On the urinary incontinence sling market, both female and male urine incontinence slings are accessible. Slings for female urine incontinence are further divided into types. As individuals become more aware of the dangers of female urinary incontinence slings, this market is dwindling.
REGIONAL COVERAGE
North America
Europe
Germany

UK

France

Italy

Spain

The Netherlands

Rest of Europe
Asia-Pacific
Japan

South Korea

China

India

Australia

Rest of Asia-Pacific
The Middle East & Africa
Rest of Middle East & Africa
Latin America

Brazil

Argentina

Rest of Latin America
KEY PLAYERS:
The ajor Players are Boston Scientific Corporation, Promdon Group, Medtronic plc, Ethicon US, LLC. (Johnson & Johnson), C. R. Bard, Inc. (Becton, Dickinson and Company), Coloplast Group, and other players.
Urinary Incontinence Treatment Devices Market Report Scope:
Report Attributes
Details
Market Size in 2022
US$ 2.44 Billion
Market Size by 2030
US$ 4.46 Billion
CAGR
CAGR of 7.8% From 2023 to 2030
Base Year
2022
Forecast Period
2023-2030
Historical Data
2020-2021
Report Scope & Coverage
Market Size, Segments Analysis, Competitive Landscape, Regional Analysis, DROC & SWOT Analysis, Forecast Outlook
Key Segments
• By Product (Conventional Vaginal slings, Urinary Catheters, Advanced Vaginal Slings, Other Catheters, Vaginal Slings, Electrical Stimulation Devices, Foley Catheters, Artificial Urinary Sphincters, Other Devices)
• By Incontinence Type (Stress urinary incontinence, Functional urinary incontinence, Urge urinary incontinence, Overflow urinary incontinence)
• By Category (Internal Urinary Incontinence Devices, External Urinary Incontinence Devices)
• By End User (Clinics, Hospitals)
Regional Analysis/Coverage
North America (USA, Canada, Mexico), Europe
(Germany, UK, France, Italy, Spain, Netherlands,
Rest of Europe), Asia-Pacific (Japan, South Korea,
China, India, Australia, Rest of Asia-Pacific), The
Middle East & Africa (Israel, UAE, South Africa,
Rest of Middle East & Africa), Latin America (Brazil, Argentina, Rest of Latin America)
Company Profiles
Boston Scientific Corporation, Promdon Group, Medtronic plc, Ethicon US, LLC. (Johnson & Johnson), C. R. Bard, Inc. (Becton, Dickinson and Company), Coloplast Group, and other players.
DRIVERS
• Introduction to new urinary catheters
• Surgical treatment of Urinary incontinencey
RESTRAINTS
• Increase in treatment rate
• Limited factors
• Shifting to other therapy