REPORT SCOPE & OVERVIEW
The Viral Vectors and Plasmid DNA Manufacturing Market size was estimated USD 4.4 billion in 2022 and is expected to reach USD 19.4 billion by 2030 at a CAGR of 20.4% during the forecast period of 2023-2030.
A vector is a type of gene delivery device that is used to insert a transgene into a cell so that it can be reproduced and/or expressed. The vector is a DNA molecule with a transgene insert and a longer sequence that serves as the vector's pillar. The primary tasks of the vector in transmitting genetic information to another cell are the isolation, multiplication, or expression of the insert in the target cell.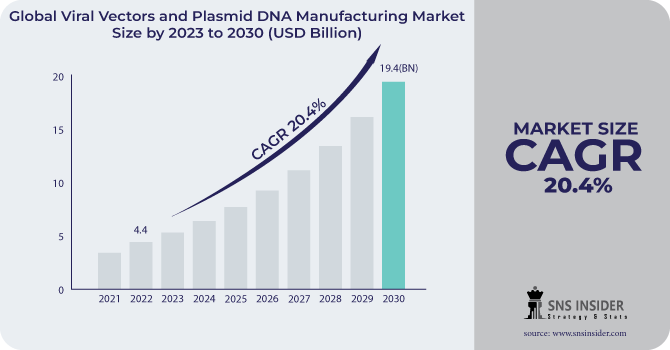 MARKET DYNAMICS
DRIVERS
In gene therapy, viral vectors have been shown to be useful agents for delivering therapeutic genes to target cells. The efficiency of viral vectors can be affected by a variety of parameters, including the type of virus utilized, the target cell type, the dosage and route of administration, and the patient's immunological response. Currently, viral vectors are the most successful ways of gene delivery, particularly for in vivo gene transfers. Viruses have a natural affinity for certain cell types and are thus utilized in therapeutic techniques. Viral vectors can be adjusted to suit the End User and so prove useful for cell targeting and entry.
RESTRAIN
Over 1,000 cell and gene therapies are currently being tested in clinical trials globally. In the United States alone, there are over 710 experimental cell and gene therapies in clinical development. However, manufacturing facilities have lagged behind. It is expected that hundreds of facilities would be required to manufacture the therapies currently in clinical development. The majority of viral vectors are manufactured utilizing adherent manufacturing, which is costly to operate; a vial of 21 million cells can cost between USD 20,000 and USD 30,000 to produce. The cost of manufacturing a gene therapy can range from USD 500,000 and USD 1.2 million, not including R&D, clinical trial costs, or the price of constructing the commercial infrastructure required to provide access to patients.
OPPORTUNITY
Manufacturers should investigate the use of digital tools to address further operational difficulties in Vector Typeion. Advanced analytics-based models, for example, can assist optimize production by proactively identifying and resolving potential yield concerns. Manufacturers can reduce the time it takes to resolve deviations by employing an analytics-driven recommendation engine based on historical deviation and root-cause data.
CHALLENGES
Several safety concerns have been raised about viral vectors used in cell and gene therapy production. These include inflammation, random insertions that alter normal genes, proto-oncogene activation, and insertional mutagenesis. Because various factors (viral and non-viral) are related with the risk of viral vector-mediated insertional mutagenesis, a one-size-fits-all approach to minimizing genotoxicity cannot be used. Current genotoxicity testing methodologies rely heavily on detecting DNA effects (damage or mutation) after a shortexposure period and expression period for mutation. However, when discussing vector-mediated insertional mutagenesis, these are of limited benefit because it takes weeks, months, or even years to appear in patients.
IMPACT OF RUSSIAN UKRAINE WAR
The most visible impact on healthcare and people in Ukraine is damage to medical facilities. Data on the impact of the war on the Ukrainian health system is constantly changing, making it difficult to determine the entire extent of the impact on health facilities. Prior to the war, Ukraine had a lower availability of oncology treatment centers and physicians, but according to Ukrainian Minister of Health Victor Liashko, there were "1000 damaged medical facilities, 121 were demolished, and 301 of these are being renovated, but it's partial renovation" due to Russian attacks in October 2022.
IMPACT OF ONGOING RECESSION
The prospective improvements in vaccine technology as a result of the identification of the genetic sequence of SARS-CoV-2, as well as the expanding global efforts to bring potential vaccines and medicines to the market for emergency use, have provided a little ray of hope in the midst of this awful catastrophe. Using recombinant technology, genetic engineering, and other vaccine research technologies, several fascinating vaccine candidates have been generated. During the recent decade, a significant portion of the vaccine development process has shifted toward the use of viral vector-based vaccinations. Such vaccines induce a stronger immunological response than other authorized vaccine candidates, which require a booster dose to give adequate immune protection. Because of their higher yield, cGMP-friendly manufacturing techniques, safety, efficacy, and reasonable shipping and storage procedures, non-replicating adenoviral vectors are attractive vaccine carriers for infectious illnesses. As of April 2022, the WHO had approved a total of ten vaccinations for COVID-19 (33 vaccines approved by at least one country), three of which are adenoviral vector-based vaccines. This review provides a developmental summary of all adenoviral vector-based vaccines that have been granted emergency use authorization (EUA) or are in various stages of development for COVID-19 treatment.
KEY SEGMENTS
By Vector Type
In 2022, the Adeno-Associated Virus (AAV) segment is expected to held the highest market share of 18.3% during the forecast period due to the advancement of ophthalmic and orthopedic gene therapy treatments with enhanced efficacy and efficiency. Recently, the use of AAV has increased significantly across numerous therapeutic domains, resulting in a large increase in adoption rate over the predicted period. Proven non-pathogenicity records are one of the primary factors pushing their use, and these variables are fueling the segment market expansion.
By Disease
Cancer

Genetic Disorders

Infectious Diseases

Others
By Workflow
Upstream Manufacturing

Vector Amplification & Expansion

Vector Recovery/Harvesting

Downstream Manufacturing
In 2022, The downstream manufacturing segment is expected to held the highest market share of 67.2% during the forecast period due to the highly complex techniques used for polishing and purifying clinical grade final Vector Types. Furthermore, as viral vectors become more widely used as treatments, there is a greater need for downstream production optimization. Small-scale virus preparation methods sometimes incorporate difficult-to-scale-up and sophisticated procedures. As a result, numerous scalable commercial Workflows are being researched and developed to ensure viral quantity while improving quality, and these reasons are driving sector market growth.
By Application
Antisense & RNAi Therapy

Gene Therapy

Cell Therapy

Vaccinology

Research End Users
In 2022, the Vaccinology segment is expected to dominate the market growth of 22.1% during the forecast period due to the extensive usage of viral vectors in vaccine development due to their efficiency-related benefits. Positives include the potential to elicit a wide immunological response, as well as the safety profiles and convenience of manufacture. Furthermore, the EMA has allowed the use of AAV in clinical trials since it may express episomal genes without integrating into the host genome. Efforts to design and refine vaccination regimens would also drive the development of novel vaccines.
By End User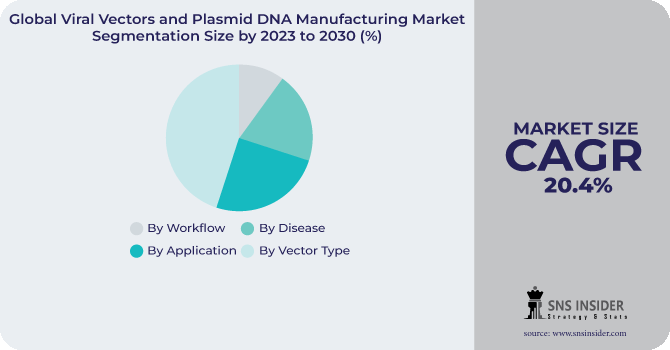 In 2022, Research Institutes segment is expected to dominate the market growth of 58.1% during the forecast period owing to the increased demand for vectors for research, as well as the growing involvement of scientific communities in gene and cell therapy research, is predicted to drive up demand for viral vectors. Furthermore, research organizations, pharmaceutical, and biopharmaceutical companies are the primary end-users in the viral vectors and plasmid DNA manufacturing market, contributing to a growth in the launch of advanced medications and an increase in the number of gene therapy-based R&D projects. One of these firms, Abeona Therapeutics, is exploring AAV9-based gene therapies for CLN1 and CLN3 illnesses. As a result, it will boost market expansion.
REGIONAL ANALYSES
North America held a significant market share growing with a CAGR of 45% in 2022 due to the presence of a significant number of centers and institutes working in advanced therapy research and development. Federal investments in the region's cell therapy research base are expected to boost the market's growth in North America.
Asia-Pacific is witness to expand fastest CAGR rate during the forecast period. This can be attributed to rising pharmaceutical R&D investment, the growing tendency of outsourcing drug development services, the expansion of life sciences research, and the expansion of government initiatives for healthcare research.
REGIONAL COVERAGE
North America
Europe
Eastern Europe

Poland

Romania

Hungary

Turkey

Rest of Eastern Europe

Western Europe

Germany

France

UK

Italy

Spain

Netherlands

Switzerland

Austria

Rest of Western Europe
Asia Pacific
China

India

Japan

South Korea

Vietnam

Singapore

Australia

Rest of Asia Pacific
Middle East & Africa
Middle East

UAE

Egypt

Saudi Arabia

Qatar

Rest of Middle East

Africa

Nigeria

South Africa

Rest of Africa
Latin America
Brazil

Argentina

Colombia

Rest of Latin America
Key Players
The major key players are Merck KGaA, Lonza, FUJIFILM Diosynth Biotechnologies, Thermo Fisher Scientific, Cobra Biologics, Catalent Inc., Wuxi Biologics, Takara Bio Inc., Waisman Biomanufacturing, Genezen laboratories, Batavia Biosciences, Miltenyi Biotec GmbH, SIRION Biotech GmbH, and Others.
Thermo Fisher Scientific-Company Financial Analysis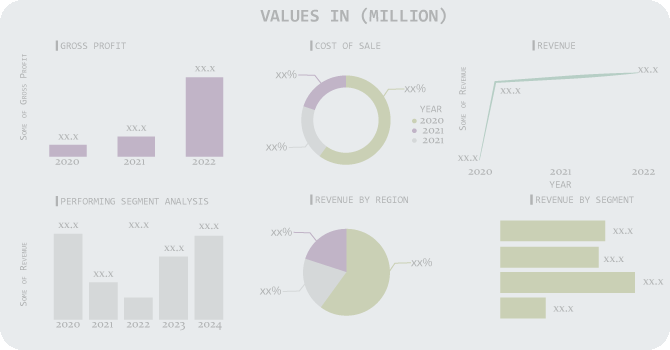 RECENT DEVELOPMENT
Thermo Fischer Scientific, Inc., in November 2022, Thermo Fischer Scientific, Inc. introduced the Gibco CTS AAV-MAX Helper-Free AAV Vector Typeion System, a novel all-in-one instrument designed to fulfill clinical and commercial objectives for the inexpensive and scalable production of adeno-associated virus (AAV)-based gene therapies.
MERCK KGaA, in August 2022, The VirusExpress 293 Adeno-Associated Virus (AAV) Vector Typeion Platform from MERCK KGaA provides a complete viral vector manufacturing solution, including AAV and Lentiviral vectors.
Catalent Inc., in May 2022, Catalent Inc. launched the UpTempo Virtuoso Workflow platform for the development and production of adeno-associated viral (AAV) vectors.
Viral Vectors and Plasmid DNA Manufacturing Market Report Scope:
Report Attributes
Details
Market Size in 2022
US$ 4.4 Billion
Market Size by 2030
US$ 19.4 Billion
CAGR
CAGR of 20.4% From 2023 to 2030
Base Year
2022
Forecast Period
2023-2030
Historical Data
2019-2021
Report Scope & Coverage
Market Size, Segments Analysis, Competitive Landscape, Regional Analysis, DROC & SWOT Analysis, Forecast Outlook
Key Segments
• By Vector Type (Adenovirus, Retrovirus, Adeno-Associated Virus, Lentivirus, Plasmids, Others)
• By Disease (Cancer, Genetic Disorders, Infectious Diseases, Others)
• By Workflow (Upstream Manufacturing, Downstream Manufacturing)
• By Application (Antisense & RNAi Therapy, Gene Therapy, Cell Therapy, Vaccinology, Research End Users)
• By End User (Pharmaceutical and Biopharmaceutical Companies, Research Institutes)
Regional Analysis/Coverage
North America (US, Canada, Mexico), Europe (Eastern Europe [Poland, Romania, Hungary, Turkey, Rest of Eastern Europe] Western Europe] Germany, France, UK, Italy, Spain, Netherlands, Switzerland, Austria, Rest of Western Europe]), Asia Pacific (China, India, Japan, South Korea, Vietnam, Singapore, Australia, Rest of Asia Pacific), Middle East & Africa (Middle East [UAE, Egypt, Saudi Arabia, Qatar, Rest of Middle East], Africa [Nigeria, South Africa, Rest of Africa], Latin America (Brazil, Argentina, Colombia Rest of Latin America)
Company Profiles
Merck KGaA, Lonza, FUJIFILM Diosynth Biotechnologies, Thermo Fisher Scientific, Cobra Biologics, Catalent Inc., Wuxi Biologics, Takara Bio Inc., Waisman Biomanufacturing, Genezen laboratories, Batavia Biosciences, Miltenyi Biotec GmbH, SIRION Biotech GmbH
Key Drivers
• Effectiveness of viral vectors
Market Challenges
• Risks of Mutagenesis and other unfavorable results