Report Scope & Overview :
The Precision Diagnostics Market size was valued at USD 67.81 billion in 2022 and is expected to reach at USD 172.75 billion by 2030 and grow at a CAGR of 12.4% over the forecast period of 2023-2030
The use of cutting-edge medical technologies and techniques to precisely identify a range of illnesses and ailments is referred to as precision diagnostics. It includes a variety of diagnostic instruments, such as molecular diagnostics, genetic testing, imaging methods, and laboratory tests. Precision diagnostics objective is to give medical practitioners precise and in-depth knowledge about a patient's health status, empowering them to make correct diagnoses and create individualised treatment programmes. Precision diagnostics can pinpoint certain biomarkers, genetic mutations, or molecular signatures linked to particular diseases or ailments by using sophisticated testing techniques. The development of precision diagnostics has transformed healthcare by enabling earlier disease identification, more focused treatments, and better patient outcomes. It is essential in a number of disciplines, including cancer, infectious disorders, and cardiovascular.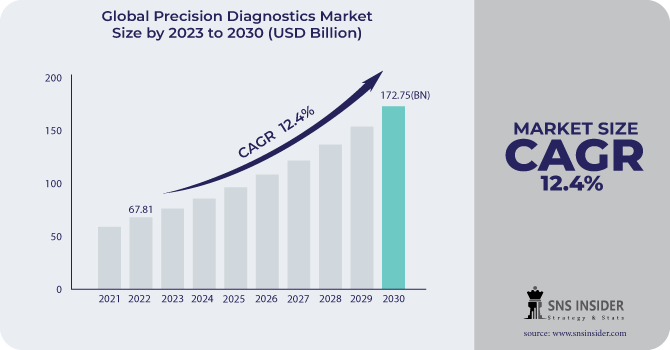 To get more information on Precision Diagnostics Market - Request Sample Report
With the use of machine learning and artificial intelligence (AI), the field of precision diagnostics is still developing. These tools can help with sophisticated data analysis, increase diagnostic precision, and forecast patient outcomes based on unique traits.
Although precision diagnostics has a lot of potential, it is frequently combined with clinical judgement and other diagnostic techniques to produce a thorough diagnosis and treatment strategy. To provide individualised patient care, healthcare personnel are essential in interpreting and putting to use the data generated by precision diagnostic technologies.
Market Dynamics
Drivers :
To improve patient outcomes and lower healthcare costs, there is an increasing focus on disease early detection and prevention. With the help of precision diagnostics, diseases can be detected early on, even before symptoms appear, allowing for prompt intervention and preventative actions.
Restrain :
Certain patient populations or healthcare systems with low resources may find it more difficult to obtain certain precision diagnostic tests and technologies due to their cost. Precision diagnostics may not be widely used due to the expensive cost of tools, reagents, and data analysis, particularly in places with limited resources.
Opportunity
The development of focused therapeutics and precision medicine are strongly related to precision diagnostics. Precision diagnostics aids in choosing the best therapy options and tracking treatment response by locating particular molecular targets or genetic changes linked to diseases.
Challenge
Because precision diagnostics is an area that is continually growing, healthcare practitioners must get ongoing education and training to stay abreast of new developments and industry best practises. For supporting informed decision-making and promoting the implementation of precision diagnostics, it is essential to increase knowledge among healthcare professionals, patients, and the general public about the advantages and restrictions of this technology.
Impact of Russia Ukraine War
Healthcare infrastructure, such as hospitals, laboratories, and diagnostic centres, may sustain damage or be completely destroyed in places where the violence is present. Precision diagnostic services may become significantly less accessible and available as a result. For precision diagnostics, specialised tools, reagents, and skilled personnel are frequently needed. Access to such resources may be restricted in conflict-affected areas as a result of supply chain interruptions, unstable economies, or infrastructural damage. This may make it more difficult for these places to adopt and use modern diagnostic tools.
Impact of Recession
Healthcare spending may decline during a recession as a result of financial hardships experienced by both individuals and governments. As a result, funding for healthcare systems may be cut, which could affect expenditures on precision diagnostics-related equipment, technology, and research. The adoption and development of new diagnostic techniques may be slowed by a lack of funding.
Individuals frequently experience job loss and financial difficulties during recessions. A decrease in health insurance coverage or higher out-of-pocket expenses for diagnostic tests may result from this. Due to these obstacles, some people may experience delayed or missing diagnoses when attempting to use precision diagnostic services.
Key Market Segmentation:
By Type
Genetic Tests

Esoteric Tests

Others
By Application
Oncology

Cardiovascular

Immunology

Others
By End User
Hospitals

Clinical Laboratories

Homecare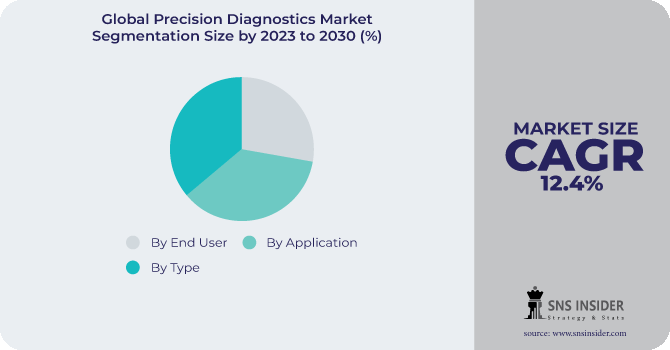 Need any customization research on Precision Diagnostics Market - Enquiry Now
Regional Analysis:
North America region will be the most dominant region for this particular market. With a strong healthcare infrastructure and large investments in R&D, North America, and notably the United States, have been at the forefront of precision diagnostics. The region has a well-established regulatory framework for diagnostics, including the CLIA rules governing laboratory testing and the FDA's supervision of diagnostic procedures. Precision diagnostics are increasingly being advanced by academic and research organisations, private businesses, and fields including genomics, molecular diagnostics, and imaging.
Europe will be the region with the second largest share because of the Precision diagnostics adoption in European countries has advanced significantly as a result of improvements in genomics, molecular testing, and imaging technologies. The European Union includes programmes like the European Reference Networks (ERNs) that encourage teamwork and knowledge exchange in the identification of uncommon and complicated diseases. Precision diagnostic services are easier to get in a number of European countries thanks to well-established healthcare systems with universal healthcare coverage.
Recent Development:
Quest Diagnostics: The completion of Haystack Oncology acquisition the objective of this acquisition was to add Sensitive MRD Liquid Biopsy Technology.
QIAGEN : The company has been selected for the variant interpretation in oncology genome sequencing by Danish National Genome Centre (DNGC).
Swiss Precision Diagnostics: The official announcement from Lantheus and Point Biopharma regarding the approval which they received from FDA for Lu-PNT2002 which will be used for the treatment of Metastatic Castration Resistant Prostate Cancer.
Key Players
The major key players are Quest diagnostics, QIAGEN, Swiss Precision Diagnostics, Koninklijke Philips N.V, Lantheus Medical Imaging, Bluebird Bio and other players
Precision Diagnostics Market Report Scope:
Report Attributes
Details
Market Size in 2022
US$ 67.81 Bn
Market Size by 2030
US$ 172.75 Bn
CAGR
CAGR of 12.4% From 2023 to 2030
Base Year
2022
Forecast Period
2023-2030
Historical Data
2020-2021
Report Scope & Coverage
Market Size, Segments Analysis, Competitive Landscape, Regional Analysis, DROC & SWOT Analysis, Forecast Outlook
Key Segments
• By Type (Genetic Tests, Esoteric Tests, Others)
• By Application (Oncology, Cardiovascular, Immunology, Others)
• By End User (Hospitals, Clinical Laboratories, Homecare)
Regional Analysis/Coverage
North America (USA, Canada, Mexico), Europe
(Germany, UK, France, Italy, Spain, Netherlands,
Rest of Europe), Asia-Pacific (Japan, South Korea,
China, India, Australia, Rest of Asia-Pacific), The
Middle East & Africa (Israel, UAE, South Africa,
Rest of Middle East & Africa), Latin America (Brazil, Argentina, Rest of Latin America)
Company Profiles
Quest diagnostics, QIAGEN, Swiss Precision Diagnostics, Koninklijke Philips N.V, Lantheus Medical Imaging, Bluebird Bio and others
Key Drivers
• Demand for Early Detection and Prevention is Growing.
Market Opportunities
• Therapeutic Advancements