Report Scope & Overview:
Wi-Fi 6 Market size was valued at USD 5.6 billion in 2022 and is expected to grow to USD 43.46 billion by 2030 and grow at a CAGR of 29.2% over the forecast period of 2023-2030.
The number of internet users has increased due to expanded telecommunications services and growing smartphone penetration users, which encourages the creation and uptake of networking technologies like Wi-Fi 6. In terms of value, WLAN infrastructure devices held the biggest market share in 2022, accounting for about 40.8%. It is ascribed to the surge in interest in chipsets needed to build the upcoming generation of routers, gateways, repeaters, and extenders. It is anticipated that the global deployment of WiFi 6 access points and routers would increase due to a significant rise in the demand for increased bandwidth capacity among enterprise customers. In addition, it is predicted that a strong emphasis on enhancing client services and experiences through boosting network bandwidth capacity will accelerate the adoption of next-generation WLAN infrastructure. The need for 6 and GE chipsets in these WLAN devices is therefore projected to rise.
In terms of value, the commercial segment held the highest proportion in 2022 with more than 38.0%. By 2030, it is anticipated that the demand from businesses and corporations would exceed 2 billion units. The strong growth is linked to the corporate offices' rising demand for better wireless connectivity. These days, office workers collaborate with clients and coworkers via video conferencing, learn through video streaming, and host a variety of cloud applications. This necessitates high-speed internet access, which increases the demand for 6 and GE routers as well as wif-6 compatible end users' devices like laptops. As a result, over the course of the projected period, it is anticipated that demand for chipsets will rise.
KEY DRIVERS:
The increased use of bandwidth-intensive applications like video streaming, online gaming, and cloud-based services is driving the demand for faster and more dependable wireless connections. This demand is met by Wi-Fi 6's increased data transfer rates, decreased latency, and increased network capacity. These characteristics make Wi-Fi 6 the best option for users looking for
RESTRAIN:
Organizations using Wi-Fi 6, a cutting-edge wireless networking technology (also known as 802.11ax), must deal with contention loss and co-channel interference, two important variables that affect network performance and efficiency. Data collisions and subsequent retransmissions caused by competing devices for access to the same channel cause contention loss, which increases latency and lowers overall network throughput. Additionally, when several access points use the same channel nearby, co-channel interference develops, causing overlapping signals and performance loss. This interference can be especially harmful to network efficiency in busy or congested places.
OPPORTUNITY:
• Growing Number of Internet and Device Users
The demand for effective Wi-Fi networks is continuously rising as a result of the increasing number of internet users and connected devices globally. These issues have been resolved by Wi-Fi 6 technology, which offers effective networks and makes it simple to connect a variety of devices with different bandwidth requirements to Wi-Fi. The Wi-Fi 6 Devices Market is expanding as a result of elements including increased data speeds, superior performance in settings with lots of connected devices, and increased power economy.
CHALLENGES:
Orthogonal Frequency Division Multiple Access (OFDMA), Multi-User Multiple Input Multiple Output (MU-MIMO), and Target Wake Time (TWT) are new features that come with Wi-Fi 6. These developments encourage the usage of Wi-Fi 6 devices by improving user experiences, enhancing network efficiency, and increasing throughput.
IMPACT ANALYSIS
IMPACT OF RUSSIAN UKRAINE WAR
Russia invaded Ukraine, sparking months of conflict. Numerous families were compelled to relocate in order to protect themselves, and thousands of people perished. Expectedly, the West strongly condemned Russia's actions in Ukraine, and many nations imposed punishing sanctions on Moscow. More than 2,700 restrictions have been imposed on Russia, freezing almost $300 billion in its gold and foreign money reserves. When they were progressively trying to get past the pandemic misery, one of the primary effects of the war was a slowing in the speed of economic growth. Global supply chains were significantly impacted by the disruption of two important trade routes, Russia and Ukraine, as well as the sanctions that were subsequently imposed on Russia by several economies. The Indian economy, however, demonstrated extraordinary resistance to such outside forces and grew by 13.5% in the first quarter of the fiscal year 2022–23 (April–June 2022). The GDP growth rate for the following quarter, or July to September 2022, was 6.3%.
IMPACT OF ONGOING RECESSION
List of every effect related to Wi-Fi in order to calculate the incremental surplus resulting from its adoption. Additionally, we evaluate the direct contribution of technology and applications that rely on Wi-Fi, like Wi-Fi service providers, to national GDP in order to supplement the idea of economic surplus. We follow Greenstein et al. (2010) and earlier research literature assessing the economic gains of new items by including the GDP contribution measurement. In addition to concentrating on consumer and producer surplus, Wi-Fi-enabled new economic growth is also taken into account. We strictly take into account the revenues that are added "above and beyond" what would have happened had the Wi-Fi spectrum been licensed when the After calculating Wi-Fi's contribution to GDP, it is possible to determine the effect on job creation both inside the telecommunications sector and in terms of spillover effects throughout the rest of the economy.
MARKET SEGMENTATION
By Offering
Wireless Access Points

Mesh Routers

Home Gateways

Wireless Controllers

System on Chip

Other Hardware
Consulting

Deployment & Integration

Support & Maintenance
By Location Type
By Vertical
Retail and Ecommerce

Government and Public Sector

Manufacturing

Media and Entertainment

Healthcare and Life Sciences

Transportation and Logistics

Travel and Hospitality

Education

Residential

Other Verticals
By Application
Immersive Technologies

HD Video Streaming and Video Streaming

Smart Home Devices

loT and Industry 4.0

Telemedicine

Public Wi-Fi and Dense Environments

Other Applications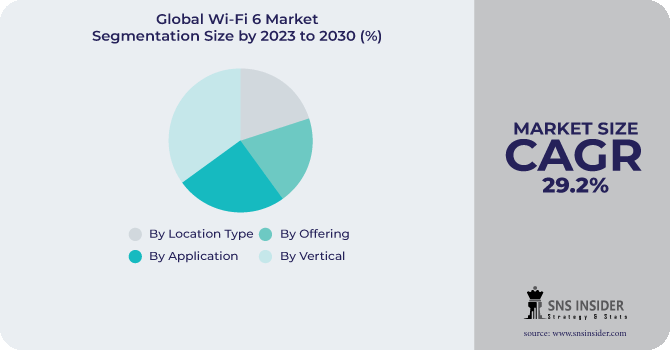 REGIONAL ANALYSIS
Over the projection period, the Asia Pacific market is anticipated to generate the most revenue. The fast industrialization of the region's developing nations and the quick uptake of Industry 4.0 technology by different industry verticals are fueling the market's expansion in terms of revenue. Also projected to boost demand for Wi-Fi 6 technologies is the growing number of start-ups and manufacturers offering Wi-Fi 6 hardware, software, and solutions. Chinese wireless businesses are creating Wi-Fi 6 router chips and 2x2 MIMO architecture router ICs with an eye toward the 3Gbps market, such Zunpai Communication Technology (Nanjing) Co., Ltd. Similar to this, the Indian government has started the PM-WANI public Wi-Fi initiative, which aims to increase broadband connectivity by installing Wi-Fi access points at public places.
In 2022, Asia Pacific had the highest volume share of over 40.6%. This is due, among other things, to the significant increase in investments made in the creation of devices with GE chipsets and wifi 6 capabilities. The Asia Pacific market is anticipated to expand significantly between 2022 and 2030 thanks to the presence of substantial wifi 6 and GE chipset manufacturing facilities in important nations like China, Japan, South Korea, and Singapore.
On the other hand, Americans' preference for high-definition online and cloud gaming is expanding. Additionally, the U.S. is emerging as an early adopter of infrastructure for autonomous vehicles and smart transportation. Between 2022 and 2030, these innovations are anticipated to increase demand in the United States for wii 6 and 6E chipset components.
REGIONAL COVERAGE:
North America
Europe
Eastern Europe

Poland

Romania

Hungary

Turkey

Rest of Eastern Europe

Western Europe

Germany

France

UK

Italy

Spain

Netherlands

Switzerland

Austria

Rest of Western Europe
Asia Pacific
China

India

Japan

South Korea

Vietnam

Singapore

Australia

Rest of Asia Pacific
Middle East & Africa
Middle East

UAE

Egypt

Saudi Arabia

Qatar

Rest of Middle East

Africa

Nigeria

South Africa

Rest of Africa
Latin America
Brazil

Argentina

Colombia

Rest of Latin America
KEY PLAYERS
The major players in the Wi-Fi 6 market are Cisco Systems Inc. (US), Qualcomm Technologies Inc. (US), Broadcom Inc (US), Intel Corporation (US), Huawei technologies (China), NETGEAR Inc (US), Juniper Networks Inc (US), Extreme Networks Inc. (US) Ubiquiti Inc. (US), Fortinet Inc. (US), Aruba Networks (US), NXP Semiconductors (Netherlands), AT&T (US), D-Link Corporation (Taiwan), and other players are listed in a final report.
RECENT DEVELOPMENT
Across order to provide Al-driven wired and wireless access solutions across its stores, garages, and offices, Halford teamed with Juniper Networks in April 2023.

To incorporate the Automated Frequency Coordination (AFC) technology into its wireless 6 GHz-capable access points, Cisco and Federated Wireless teamed up in February 2023.

Skyworks and Broadcom teamed up in December 2022 to provide Wi-Fi 6/6E device power efficiency.
Wi-Fi 6 Market Report Scope:
Report Attributes
Details

Market Size in 2022

US$ 5.6 billion

Market Size by 2030

US$ 43.46 billion

CAGR

CAGR of 29.2% From 2023 to 2030

Base Year

2022

Forecast Period

2023-2030

Historical Data

2019-2021

Report Scope & Coverage

Market Size, Segments Analysis, Competitive Landscape, Regional Analysis, DROC & SWOT Analysis, Forecast Outlook

Key Segments

By Offering (Hardware, Solutions, Services), By Location Type (Indoor, Outdoor), By Vertical (Retail and Ecommerce, Government and Public Sector, Manufacturing, Media and Entertainment, Healthcare and Life Sciences, Transportation and Logistics, Travel and Hospitality, Education, Residential, Other Verticals), By Application (Immersive Technologies, HD Video Streaming and Video Streaming, Smart Home Devices, loT and Industry 4.0, Telemedicine, Public Wi-Fi and Dense Environments, Other Applications)

Regional Analysis/Coverage

North America (US, Canada, Mexico), Europe (Eastern Europe [Poland, Romania, Hungary, Turkey, Rest of Eastern Europe] Western Europe] Germany, France, UK, Italy, Spain, Netherlands, Switzerland, Austria, Rest of Western Europe]), Asia Pacific (China, India, Japan, South Korea, Vietnam, Singapore, Australia, Rest of Asia Pacific), Middle East & Africa (Middle East [UAE, Egypt, Saudi Arabia, Qatar, Rest of Middle East], Africa [Nigeria, South Africa, Rest of Africa], Latin America (Brazil, Argentina, Colombia Rest of Latin America)

Company Profiles

Cisco Systems Inc. (US), Qualcomm Technologies Inc. (US), Broadcom Inc (US), Intel Corporation (US), Huawei technologies (China), NETGEAR Inc (US), Juniper Networks Inc (US), Extreme Networks Inc. (US) Ubiquiti Inc. (US), Fortinet Inc. (US), Aruba Networks (US), NXP Semiconductors (Netherlands), AT&T (US), D-Link Corporation (Taiwan),

Market Opportunities

• Growing Number of Internet and Device Users

•Remote employment and home-based work

Market challenges

•Wi-Fi technological advancements

•Incompatibility