Report Scope & Overview:
The Powertrain Sensor Market was valued at USD 20.92 billion in 2022 and is projected to reach USD 26.29 billion by 2030, growing at a compound annual growth rate (CAGR) of 2.9% during the forecast period from 2023 to 2030.
The powertrain sensor market is driven by the increasing demand for advanced automotive technologies. With the rising focus on reducing emissions and improving fuel economy, automakers are increasingly incorporating sophisticated powertrain sensor systems into their vehicles. This trend is expected to continue, as stricter government regulations and environmental concerns push for more sustainable transportation solutions. One of the key factors driving the growth of the powertrain sensor market is the increasing adoption of electric and hybrid vehicles. These vehicles rely heavily on powertrain sensors to monitor battery performance, motor speed, and other critical parameters. As the demand for electric and hybrid vehicles continues to rise, the powertrain sensor market is expected to experience substantial growth.
To get more information on Powertrain Sensor Market - Request Free Sample Report
These sensors can withstand harsh operating conditions, such as high temperatures and vibrations, ensuring their durability and longevity. Additionally, the integration of artificial intelligence and machine learning algorithms into powertrain sensor systems has further enhanced their performance and functionality. In terms of geographical presence, the powertrain sensor market is witnessing significant growth in regions such as North America, Europe, and Asia Pacific. These regions are home to major automotive manufacturers and have a strong focus on technological advancements. Moreover, the increasing disposable income and changing consumer preferences in emerging economies are driving the demand for vehicles equipped with advanced powertrain sensor systems.
The powertrain sensor is a crucial component in modern vehicles. It plays a pivotal role in monitoring and controlling various aspects of the powertrain system. One of the primary functions of the powertrain sensor is to provide feedback to the engine control unit (ECU). The ECU uses this information to make real-time adjustments to the engine's fuel injection, ignition timing, and other critical parameters. This feedback loop allows the powertrain system to adapt to changing conditions and deliver the desired power output while minimizing fuel consumption and emissions. In addition to its role in engine management, the powertrain sensor also assists in controlling the transmission. It provides vital input to the transmission control module (TCM), enabling it to optimize gear shifts based on factors like vehicle speed, load, and driver input. This ensures smooth and efficient gear changes, enhancing both performance and fuel economy. Furthermore, the powertrain sensor aids in the proper functioning of the drivetrain. It monitors the rotational speed of the wheels and relays this information to the traction control system (TCS) and anti-lock braking system (ABS). By continuously monitoring wheel speed, the powertrain sensor helps these systems maintain traction and prevent wheel lock-up during acceleration or braking, enhancing safety and stability.
Market Dynamics
Drivers
Growing demand for electric vehicles (EVs)

Stringent regulation about CO2 emissions imposed by the government
Governments worldwide are implementing stringent emission regulations to reduce carbon emissions and promote sustainable transportation. Compliance with these regulations necessitates the use of advanced powertrain sensors to monitor and control emissions effectively. This factor is expected to drive the demand for powertrain sensors in the automotive industry.
Restrain
Opportunities
The integration of ADAS in modern vehicles has become a standard feature, driving the demand for powertrain sensors. These sensors play a vital role in ensuring the safety and efficiency of ADAS functionalities, such as adaptive cruise control and lane-keeping assist.
Challenges
Impact of Russia-Ukraine War:
The war has disrupted supply chains, making it difficult for Powertrain Sensor manufacturers to source necessary components and materials. This has led to delays in production and increased costs, ultimately affecting the profitability of companies operating in this sector. The conflict has created an uncertain investment climate, deterring potential investors from entering the Powertrain Sensor market. The risk associated with investing in a region affected by war and political instability has led to a decrease in foreign direct investment, limiting the growth potential of the industry.
Impact of Recession:
The recession affected the Powertrain Sensor market, leading to a decline in demand and sales. As businesses and consumers faced financial constraints, the automotive industry experienced a sharp decline in production and sales. This, in turn, affected the demand for Powertrain Sensors, as they are a crucial component in the automotive sector. Furthermore, the recession forced many companies to cut costs and reduce their investments in research and development. This had a direct impact on the innovation and advancement of Powertrain Sensors, hindering their ability to meet evolving market demands. As a result, the market witnessed a slowdown in technological advancements and product enhancements during this period.
Key Market segmentation
By Sensor Type for EV
Current Sensor

Temperature Sensor

Position Sensor

Voltage Sensor

Other Sensors
By Sensor Type for ICE Vehicle
Temperature Sensor

Pressure Sensor

Speed Sensor

Other
By Propulsion Type
By Powertrain Subsystem
Drivetrain

Engine

Exhaust
By Vehicle Type
Heavy-Duty Vehicle

Light-Duty Vehicle
By Electric Vehicle Type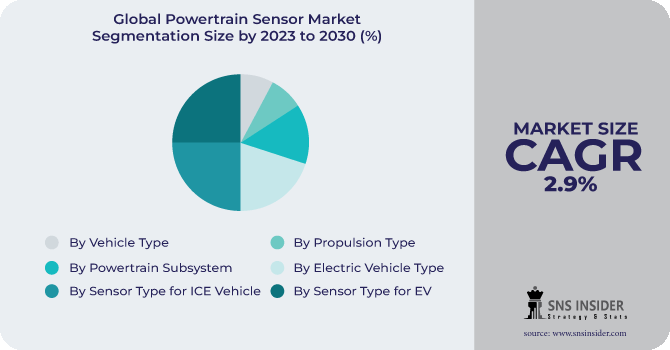 Need any customization research on Powertrain Sensor Market - Enquiry Now
Regional Analysis
Asia Pacific is the leading region in the Powertrain Sensor Market and is expected to be the dominating region during the forecast period of 2023-2030. Firstly, the region's increasing population and rising disposable incomes have led to an increased demand for automobiles. Toyota Motor Corporation, a renowned Japanese automotive giant, has secured second position in global car manufacturing based on market capitalization in 2022. Meanwhile, China is the largest automobile market globally, excelling in both demand and supply. In 2022, the number of automobile registrations in China soared to approximately 25.26 million units, marking an impressive increase of around 11%. On the other hand, Hyundai Motor Company, a prominent player in the South Korean automobile industry, stands as the largest vehicle manufacturer in its home country. As a result, the automotive industry in countries like China, India, and Japan has experienced substantial growth, creating a fertile ground for the Powertrain Sensor Market to flourish. Furthermore, the Asia Pacific region is witnessing a shift towards cleaner and more fuel-efficient vehicles. Governments in countries like China and India have implemented stringent emission regulations, compelling automakers to adopt advanced powertrain technologies. This transition necessitates the integration of sophisticated sensors in vehicles to monitor and optimize engine performance, fuel efficiency, and emissions. Consequently, the demand for powertrain sensors has surged in the region.
The Powertrain Sensor Market in Europe is expected to grow with a significant CAGR during the forecast period. This growth is attributed to several factors, including advancements in technology, increasing demand for fuel-efficient vehicles, and stringent government regulations pertaining to vehicle emissions. The rising consumer preference for electric and hybrid vehicles is expected to further propel the demand for powertrain sensors in Europe. As the automotive industry shifts towards sustainable mobility solutions, the need for accurate and reliable sensors becomes paramount to ensure the optimal performance and efficiency of these eco-friendly vehicles. Additionally, stringent emission standards set by regulatory bodies in Europe, such as the European Union's Euro standards, have necessitated the integration of advanced sensors in powertrain systems. These sensors enable real-time monitoring and control of exhaust emissions, ensuring compliance with the prescribed limits and minimizing environmental impact. Furthermore, the increasing adoption of connected and autonomous vehicles in Europe is anticipated to drive the demand for powertrain sensors. These sensors enable seamless communication between various vehicle components, facilitating efficient power management and enhancing overall vehicle performance.
REGIONAL COVERAGE:
North America
Europe
Eastern Europe

Poland

Romania

Hungary

Turkey

Rest of Eastern Europe

Western Europe

Germany

France

UK

Italy

Spain

Netherlands

Switzerland

Austria

Rest of Western Europe
Asia Pacific
China

India

Japan

South Korea

Vietnam

Singapore

Australia

Rest of Asia Pacific
Middle East & Africa
Middle East

UAE

Egypt

Saudi Arabia

Qatar

Rest of Middle East

Africa

Nigeria

South Africa

Rest of Africa
Latin America
Brazil

Argentina

Colombia

Rest of Latin America
Key Players
The major key players are Continental AG, Denso Corporation, Robert Bosch GmbH, Mitsubishi Electric Automotive America Inc., HELLA GmbH, Infineon Technologies AG, TE Connectivity., Allegro MicroSystems, Aptiv, NXP Semiconductors, and other key players mentioned in the final report.
Recent Development:
In May 2023, Denso Corporation a prominent mobility supplier, and United Semiconductor Japan Co., Ltd., a subsidiary of the global semiconductor foundry United Microelectronics Corporation, joined forces in a partnership. The aim of this collaboration is to manufacture insulated gate bipolar transistors* (IGBT), which are now being mass-produced at USJC's 300mm fab.
In Nov 2022, Infineon Technologies AG announced the addition of the new XENSIV™ TLE4971 family to its current sensor portfolio for automotive applications.
Powertrain Sensor Market Report Scope:
Report Attributes
Details
Market Size in 2022
US$ 20.92 Bn
Market Size by 2030
US$ 26.29 Bn
CAGR
CAGR of 2.9% From 2023 to 2030
Base Year
2022
Forecast Period
2023-2030
Historical Data
2020-2021
Report Scope & Coverage
Market Size, Segments Analysis, Competitive Landscape, Regional Analysis, DROC & SWOT Analysis, Forecast Outlook
Key Segments
• By Sensor Type for EV (Current Sensor, Temperature Sensor, Position Sensor, Voltage Sensor, and Other Sensors)
• By Sensor Type for ICE Vehicle (Temperature Sensor, Pressure Sensor, Position Sensor, Speed Sensor, Other)
• By Propulsion Type (EV and ICE)
• By Powertrain Subsystem (Drivetrain, Engine, and Exhaust)
• By Vehicle Type (Heavy-Duty Vehicle and Light-Duty Vehicle)
• By Electric Vehicle Type (BEV, HEV, PHEV, and FCEV)
Regional Analysis/Coverage
North America (US, Canada, Mexico), Europe (Eastern Europe [Poland, Romania, Hungary, Turkey, Rest of Eastern Europe] Western Europe] Germany, France, UK, Italy, Spain, Netherlands, Switzerland, Austria, Rest of Western Europe]). Asia Pacific (China, India, Japan, South Korea, Vietnam, Singapore, Australia, Rest of Asia Pacific), Middle East & Africa (Middle East [UAE, Egypt, Saudi Arabia, Qatar, Rest of Middle East], Africa [Nigeria, South Africa, Rest of Africa], Latin America (Brazil, Argentina, Colombia Rest of Latin America)
Company Profiles
Continental AG, Denso Corporation, Robert Bosch GmbH, Mitsubishi Electric Automotive America Inc., HELLA GmbH, Infineon Technologies AG, TE Connectivity., Allegro MicroSystems, Aptiv, NXP Semiconductors
Key Drivers
• Growing demand for electric vehicles (EVs)
• Stringent regulation about CO2 emissions imposed by the government
Market Restraints
• High cost associated with advanced powertrain sensors