Workspace as a Service (WaaS) Market size was valued at USD 7.43 billion in 2022. It is expected to hit USD 25.24 billion by 2030 and grow at a CAGR of 16.52% over the forecast period of 2023-2030.
The global workspace as a service market is experiencing significant growth due to several key factors. Firstly, there is a growing adoption of Bring Your Own Device (BYOD) policies across various industries. This trend allows employees to use their personal devices for work purposes, increasing flexibility and productivity. there is a surging demand for affordable desktop virtualization solutions. This technology enables users to access their desktops and applications from any device, reducing the need for expensive hardware upgrades.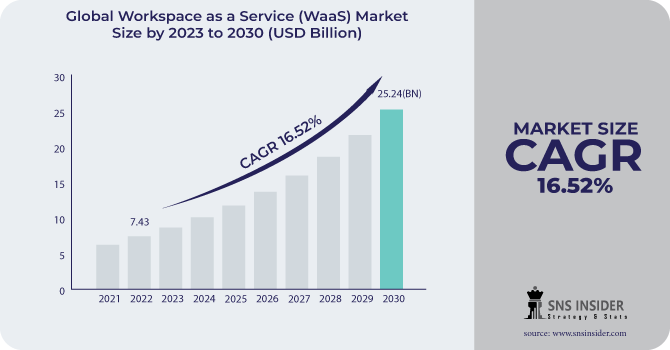 The increasing digitization in industries such as banking, financial services and insurance (BFSI), retail, manufacturing, healthcare, and education is also driving the growth of the workspace as a service market. These industries are embracing digital transformation, and WaaS systems provide the necessary infrastructure to support this transition. the market expansion is fueled by the rising demand for cost-effective virtual desktop virtualization and automation solutions. Businesses can log in many users to a virtual server using WaaS systems, which also offer efficient resource provisioning, load balancing, and network management capabilities.
Technological improvements, such as the integration of linked devices with the Internet of Things (IoT) and cloud computing platforms, are expected to further fuel the expansion of the overall market. These advancements enhance the capabilities of WaaS systems and enable organizations to leverage the benefits of a connected and scalable workspace. Additionally, businesses are using digital business channels more frequently to provide mobile employees with scalable workplace solutions. This approach improves overall operational efficiency and allows for seamless collaboration and communication. Intensive research and development activities, along with considerable advancements in information technology (IT) infrastructure, are expected to boost the market during the analysis period. These efforts contribute to the continuous improvement and innovation of WaaS systems, making them more efficient and secure.
Market Dynamics
Drivers
This trend has become increasingly popular due to its ease of deployment, scalability, and quick availability. Additionally, there is a rising need for affordable virtual desktop virtualization. Major corporations, including Intel, SAP, and Blackstone, have recognized the benefits of BYOD and have started investing in these efforts. For instance, SAP has effectively utilized BYOD to increase employee flexibility while decreasing capital expenditures (CAPEX). The company has developed a unique mobile platform that comes pre-loaded with critical applications, enabling employees to work from anywhere as long as they have their mobile devices. Enterprises with multiple users registered on the same virtual Windows server can greatly benefit from WaaS solutions. By outsourcing resource provisioning, load balancing, and network difficulties to WaaS providers, organizations can reduce the additional maintenance tasks and expenses associated with virtual desktop environments. Consequently, WaaS has emerged as a cost-effective option that fulfills organizations' desktop virtualization needs.
Restrains
The global market for workspace as a service (WaaS) is poised for tremendous growth, but there are significant hurdles that must be overcome. One of the most pressing challenges is network performance and bandwidth issues. These obstacles can create difficulties for users attempting to access their workspace from remote locations. While the WaaS provider may have access to high-speed internet at their office, the user's home internet connection may not possess the same capacity to handle large amounts of data. Consequently, this can result in a subpar user experience and is projected to impede the expansion of the global workspace as a service market during the analysis period.
Opportunities
Technological improvements, such as the integration of linked devices with the Internet of Things (IoT) and cloud computing platforms, are expected to further fuel the expansion of the overall market.
Challenges
Impact of the Russia-Ukraine
Ukraine plays a significant role in the global technology supply chain, with many tech companies sourcing components and talent from the country. The war could disrupt these supply chains, potentially leading to delays and increased costs for WaaS providers. This, in turn, may affect pricing and service quality for customers.
During times of conflict, there is often an increase in cyberattacks and espionage activities. WaaS providers, which handle sensitive corporate data and applications, may need to invest more in cybersecurity measures to protect their clients. This increased focus on security can both increase costs and reassure potential customers. The COVID-19 pandemic accelerated the adoption of remote work and the demand for WaaS solutions. If the conflict leads to an increase in remote work or the need for business continuity planning, WaaS providers might benefit from increased demand for their services. Currency exchange rates can be highly volatile during geopolitical conflicts. WaaS providers that operate internationally may face challenges related to currency fluctuations, which can impact their pricing and profitability. The uncertainty created by the war could affect investment and funding for WaaS startups and companies seeking expansion capital. Investors may become more risk-averse, leading to a slowdown in funding rounds.
Impact of Recession
During a recession, businesses often tighten their budgets, including IT budgets. This can lead to a decreased willingness to invest in new technologies like WaaS. Companies may delay or scale back their plans to adopt WaaS solutions due to financial constraints. On the flip side, WaaS can become more attractive during a recession because it offers a cost-effective alternative to traditional IT infrastructure. Businesses looking to cut costs may turn to WaaS as a way to reduce capital expenditures on hardware and software. Businesses experiencing uncertain economic conditions may seek more flexible IT solutions. WaaS offers scalability, allowing companies to easily adjust the number of users and resources based on their changing needs, which can be especially beneficial during periods of uncertainty. As businesses rely more on cloud-based services like WaaS, cybersecurity becomes a critical concern. Companies may prioritize investments in security measures to protect their data and networks, even during a recession, which can benefit WaaS providers with strong security features. Businesses facing financial difficulties may need to reevaluate their subscription services, potentially leading to higher customer churn rates for WaaS providers. Customer retention strategies become crucial in such scenarios. During a recession, businesses may prioritize cost savings and efficiency over innovation and feature-rich solutions. WaaS providers that can demonstrate clear cost savings and value propositions may fare better.
Key Market Segmentation
By Component
By Organizational Size
By Deployment Mode
Public Cloud

Private Cloud

Hybrid Cloud
By Industry Vertical
BFSI

IT and Telecom

Retail

Healthcare

Manufacturing

Government

Travel and Hospitality

Education

Others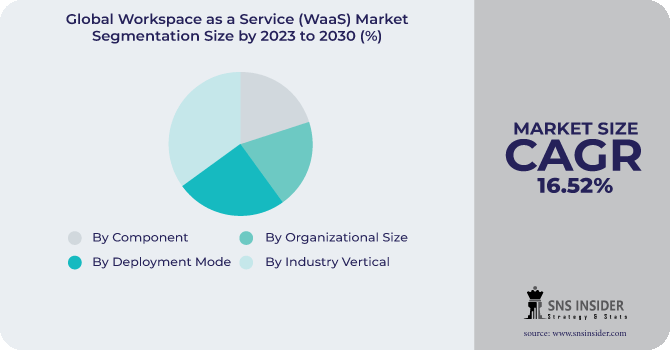 The Telecom and IT segment emerged as the market leader, capturing an impressive 65% market share. This sector is poised for remarkable growth, with the highest projected compound annual growth rate (CAGR) throughout the forecast period. The widespread adoption of Bring Your Own Device (BYOD) and cloud computing has been instrumental in driving the telecom and IT sector's success. Notably, the Telecom and IT industry has been a trailblazer in embracing Workspace as a Service (WaaS). The report encompasses enterprises engaged in consulting and providing IT-based goods and services within the IT sector. Consequently, a significant portion of their manufacturing assets are intangible, encompassing a diverse array of businesses.
Regional Analysis
North America is currently experiencing a significant increase in the adoption rates of the Bring Your Own Device (BYOD) trend. This can be attributed to the growing need for securing enterprise data and finding cost-efficient ways to manage IT deployment in the region. As a result, the North American Workspace as a Service (WaaS) Market is being driven forward. The economic development in North America is expected to lead to an expansion of enterprises across the region. This presents a great opportunity for vendors in the market to capitalize on the growing trend of adopting WaaS and the subsequent enterprise growth. One of the key advantages of WaaS models is the ability to provide remote access, allowing employees to remain productive even in the face of technological challenges. With WaaS, users have the flexibility to switch to a different device if they encounter technical issues, without losing any valuable time waiting for repairs. This is made possible by the option to log on to their desktop from any device, ensuring uninterrupted workflow.
The rising prevalence of SMEs in the Asia Pacific region has created a pressing need for effective workplace solutions. As these enterprises continue to proliferate, the demand for WaaS solutions is expected to soar. By providing a comprehensive suite of services, WaaS solutions offer SMEs the flexibility and scalability required to adapt to their evolving business needs. This, in turn, enables them to optimize their operations and enhance productivity. Furthermore, the Asia Pacific region has witnessed an unprecedented adoption of mobile devices, with a substantial portion of the population relying on smartphones and tablets for their daily activities. However, this surge in mobile usage also brings forth concerns regarding system security. To address these apprehensions, businesses are increasingly turning to WaaS solutions, which offer robust security measures to safeguard sensitive data and protect against cyber threats.
REGIONAL COVERAGE:
North America
Europe
Eastern Europe

Poland

Romania

Hungary

Turkey

Rest of Eastern Europe

Western Europe

Germany

France

UK

Italy

Spain

Netherlands

Switzerland

Austria

Rest of Western Europe
Asia Pacific
China

India

Japan

South Korea

Vietnam

Singapore

Australia

Rest of Asia Pacific
Middle East & Africa
Middle East

UAE

Egypt

Saudi Arabia

Qatar

Rest of Middle East

Africa

Nigeria

South Africa

Rest of Africa
Latin America
Brazil

Argentina

Colombia

Rest of Latin America
Key Players:
The major players are Evolve IP, LLC, Tech Mahindra Limited, Citrix Systems Inc., Dell Inc., Google LLC, Microsoft, Colt Technology Services Group, VMware Inc., Amazon Web Services Inc., Unisys Corporation, Dizzion, Inc., and others in the final report.
Tech Mahindra Limited-Company Financial Analysis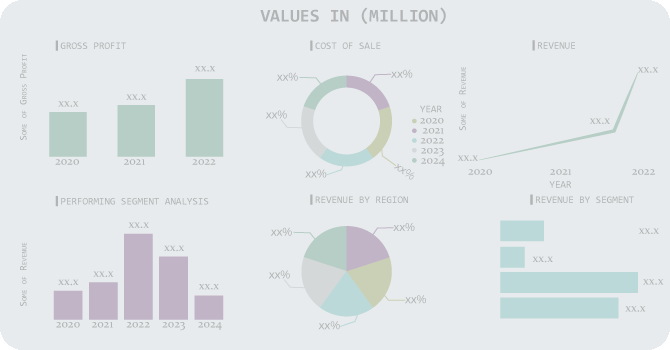 Recent development
In November 2020, Tech Mahindra launched WORKSPACE NXT, an updated version of next-generation integrated digital workplace solutions for organizations worldwide. This innovative digital solution brings together industry leaders Intel Corporation, Dell Technologies, and VMware to provide a personalized and secure remote working experience.
Microsoft and Citrix Systems, Inc. joined up in April 2022 to aid organizations in transitioning to hybrid work more quickly and easily. Citrix Desktop as a Service's inclusion in Azure Marketplace has made it simpler than ever for businesses to buy the industry leader's product and use it to swiftly create the secure, high-performing workspaces that distributed workers require.
The launch of HP Anyware, a secure remote access solution designed to provide staff members secure access to digital workspaces from any device, was announced by Teradici and HP in April 2022. This introduction comes at a time when businesses are becoming more conscious of the security risks posed by remote work and the challenges associated with providing secure remote access.
Workspace as a Service (WaaS) Market Report Scope
Report Attributes
Details
Market Size in 2022
US$ 7.73 Bn
Market Size by 2030
US$ 25.24 Bn
CAGR
CAGR of 16.52 % From 2023 to 2030
Base Year
2022
Forecast Period
2023-2030
Historical Data
2019-2021
Report Scope & Coverage
Market Size, Segments Analysis, Competitive Landscape, Regional Analysis, DROC & SWOT Analysis, Forecast Outlook
Key Segments
• By Component (Solution, Services)
• By Organizational Size (Large Enterprises, Small and Medium Enterprises)
• By Deployment Mode (Public Cloud, Private Cloud, Hybrid Cloud)
• By Industry Vertical (BFSI, IT and Telecom, Retail, Healthcare, Manufacturing, Government, Travel and Hospitality, Education, Others)
Regional Analysis/Coverage
North America (US, Canada, Mexico), Europe (Eastern Europe [Poland, Romania, Hungary, Turkey, Rest of Eastern Europe] Western Europe] Germany, France, UK, Italy, Spain, Netherlands, Switzerland, Austria, Rest of Western Europe]), Asia Pacific (China, India, Japan, South Korea, Vietnam, Singapore, Australia, Rest of Asia Pacific), Middle East & Africa (Middle East [UAE, Egypt, Saudi Arabia, Qatar, Rest of Middle East], Africa [Nigeria, South Africa, Rest of Africa], Latin America (Brazil, Argentina, Colombia Rest of Latin America)
Company Profiles
Evolve IP, LLC, Tech Mahindra Limited, Citrix Systems Inc., Dell Inc., Google LLC, Microsoft, Colt Technology Services Group, VMware Inc., Amazon Web Services Inc., Unisys Corporation, Dizzion, Inc.
Key Drivers
• The increasing adoption of Bring Your Own Device (BYOD) across various industries is driving the global Workspace as a Service (WaaS) market.
Market Restraints
• Issues with Network Performance and Bandwidth