Report Scope & Overview:
The 3D Motion Capture System Market size was valued at USD 183 million in 2022. It is estimated to hit USD 472.89 million by 2030 and grow at a CAGR of 12.6% over the forecast period of 2023-2030.
The 3D Motion Capture System Market encompasses a range of technologies and solutions that enable the capture and analysis of human motion in three dimensions. With the increasing demand for realistic and immersive experiences in various sectors such as entertainment, sports, healthcare, and gaming, the 3D motion capture system market is poised for substantial growth. One of the key drivers of this market is the rising adoption of motion capture technology in the entertainment industry. In 2022, the global 3D Animation market is projected to reach a staggering value of over 390 billion U.S. dollars, marking a significant increase of 5% compared to the previous year's 373 billion dollars. This upward trend is expected to persist throughout the decade, with estimations indicating a remarkable surge to surpass 588 billion dollars by 2030. The ability to accurately capture and replicate human motion has revolutionized the way movies, video games, and virtual reality experiences are created. This technology allows for the creation of lifelike characters and animations, enhancing the overall visual appeal and realism of these mediums.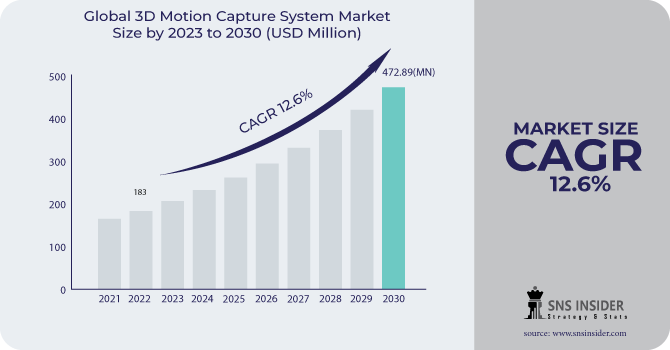 Get E-PDF Sample Report on 3D Motion Capture System Market - Request Sample Report
Furthermore, the healthcare industry has also recognized the potential of 3D motion capture systems in improving patient care and rehabilitation. These systems enable healthcare professionals to accurately track and analyze the movement patterns of patients, aiding in the diagnosis and treatment of various conditions. Additionally, the use of motion capture technology in sports training and performance analysis has become increasingly prevalent, as it allows athletes to fine-tune their techniques and optimize their performance.
In terms of technology, the 3D motion capture system market offers a variety of solutions, including optical, inertial, and magnetic systems. Optical systems, which utilize cameras and markers to track motion, are the most widely used due to their high accuracy and reliability. Inertial systems, on the other hand, rely on sensors and accelerometers to capture motion, making them more suitable for portable and wireless applications. Magnetic systems utilize magnetic fields to track motion and are often used in environments where line-of-sight tracking is not feasible.
One of the key advantages of the 3D Motion Capture System is its versatility. Whether it's capturing the fluid movements of a professional athlete, animating lifelike characters for a blockbuster film, or aiding in the rehabilitation of patients, this system adapts to various applications seamlessly. Its ability to capture motion in a non-invasive manner makes it an ideal tool for research, training, and performance enhancement.
Moreover, the 3D Motion Capture System offers a user-friendly interface that simplifies the data collection and analysis process. The intuitive software allows users to visualize and manipulate the captured motion data effortlessly. This enables researchers, animators, and healthcare professionals to gain valuable insights quickly and efficiently.
Market Dynamics
Drivers
Rising popularity of virtual and augmented reality applications

Advancements in sensor technology

Growing popularity of science-fiction movies by youth

Growing demand for realistic and immersive gaming experiences
The increasing demand for immersive and realistic gaming experiences serves as the primary driving force behind the growth of the 3D motion capture system market. This technology allows gamers to engage in a more lifelike and captivating virtual environment, enhancing their overall gaming experience.
Restrain
High cost associated with implementing motion capture technology

Complexity of integrating motion capture systems with existing workflows and infrastructure
Opportunities
Increasing application of motion capture technology in the healthcare sector

Expanding adoption of motion capture systems in the film and entertainment industry
Challenges
While 3D motion capture systems have come a long way in terms of precision, there is still room for improvement. The challenge lies in capturing subtle movements and gestures accurately, especially in complex scenarios.
Impact of Russia-Ukraine War:
The Russia-Ukraine war has presented numerous challenges for the 3D motion capture system market. Firstly, the economic sanctions imposed on Russia have limited its ability to import and export goods, affecting the supply chain of these systems. This has led to increased costs and delays in production, ultimately impacting the availability of these products in the market. Furthermore, the political tensions between Russia and Ukraine have created an atmosphere of mistrust and instability. This has made it difficult for businesses to establish and maintain partnerships, hindering the growth and expansion of the 3D motion capture system market in the region.
Impact of Recession:
One of the significant impacts has been a decrease in consumer spending, as individuals and businesses prioritize essential expenses over non-essential investments. Consequently, the demand for motion capture systems has experienced a decline, affecting the overall market revenue. Moreover, the recession has also led to a reduction in research and development budgets across industries. This has resulted in a slowdown in innovation and the introduction of new motion capture technologies. Companies have been compelled to focus on cost-cutting measures, limiting their ability to invest in research and development activities.
Market segmentation
By Systems
Optical Systems

Passive Marker

Active Marker

Markerless

Underwater

Non-optical Systems

Mechanical Systems

Inertial Systems

Electromagnetic Systems
By Component
Software

Plug-in Software

Packaged Software

Hardware

Cameras

Communication Devices

Sensors

Accessories

Services
By Application
Engineering & Design

Media & Entertainment

Biomedical Research

Industrial

Education

Others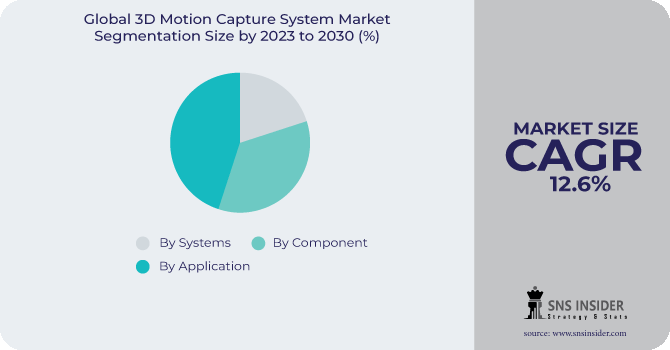 Get Customized Report as Per Your Business Requirement - Request For Customized Report
Regional Analysis
North America dominated the 3D Motion Capture System Market and is expected to grow significantly during the forecast period of 2023-2030. North America boasts a robust technological infrastructure, which has played a pivotal role in the growth of the 3D motion capture system market.
Furthermore, North America's strong presence in the entertainment and gaming sectors has significantly contributed to its dominance in the 3D motion capture system market. The region is renowned for its thriving film and animation industry, with Hollywood serving as a global hub for movie production. The demand for realistic and immersive experiences in movies, video games, and virtual reality applications has propelled the adoption of 3D motion capture systems. North American companies have capitalized on this demand by providing high-quality solutions that enable accurate and lifelike motion capture, enhancing the overall user experience.
Europe is the second-largest region in terms of market share for the 3D Motion Capture System Market. Europe has a thriving entertainment and gaming industry, which heavily relies on motion capture technology for the creation of realistic and immersive experiences. The demand for high-quality animation, virtual reality, and augmented reality content has been steadily increasing, driving the need for advanced motion capture systems.
Additionally, Europe has a rich history in the field of biomechanics and sports science. The region is home to numerous renowned research institutions and universities that have made significant contributions to the understanding and application of motion capture technology in various fields, including sports performance analysis, rehabilitation, and healthcare. This expertise has further fueled the demand for 3D motion capture systems in Europe, as industries across the board seek to leverage the benefits of this technology.
REGIONAL COVERAGE:
North America
Europe
Eastern Europe

Poland

Romania

Hungary

Turkey

Rest of Eastern Europe

Western Europe

Germany

France

UK

Italy

Spain

Netherlands

Switzerland

Austria

Rest of Western Europe
Asia Pacific
China

India

Japan

South Korea

Vietnam

Singapore

Australia

Rest of Asia Pacific
Middle East & Africa
Middle East

UAE

Egypt

Saudi Arabia

Qatar

Rest of Middle East

Africa

Nigeria

South Africa

Rest of Africa
Latin America
Brazil

Argentina

Colombia

Rest of Latin America
Key Players
The major key players are OptiTrack, Noitom Ltd., Vicon Motion Systems, Northern Digital Inc., Simi Reality Motion Systems GmbH, Xsens Technologies B.V., Phasespace Inc., Qualisys AB, Animazoo UK Ltd., Phoenix Technologies, and other key players mentioned in the final report.
Noitom Ltd-Company Financial Analysis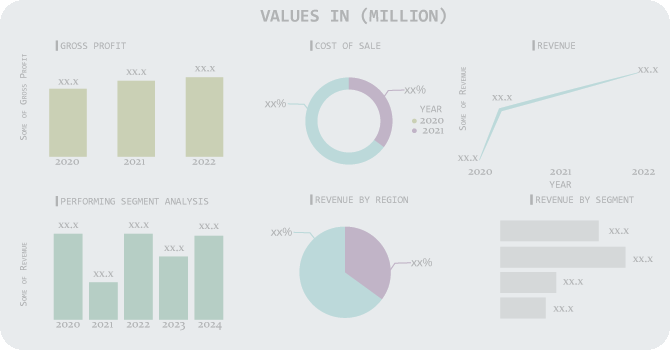 3D Motion Capture System Market Report Scope:
Report Attributes
Details
Market Size in 2022
US$ 183 Bn
Market Size by 2030
US$ 472.89 Bn
CAGR
CAGR of 12.6 % From 2023 to 2030
Base Year
2022
Forecast Period
2023-2030
Historical Data
2020-2021
Report Scope & Coverage
Market Size, Segments Analysis, Competitive Landscape, Regional Analysis, DROC & SWOT Analysis, Forecast Outlook
Key Segments
• By Systems (Optical Systems and Non-optical Systems)
• By Component (Software, Hardware, and Services)
• By Application (Engineering & Design, Media & Entertainment, Biomedical Research, Industrial, Education, and Others)
Regional Analysis/Coverage
North America (US, Canada, Mexico), Europe (Eastern Europe [Poland, Romania, Hungary, Turkey, Rest of Eastern Europe] Western Europe] Germany, France, UK, Italy, Spain, Netherlands, Switzerland, Austria, Rest of Western Europe]). Asia Pacific (China, India, Japan, South Korea, Vietnam, Singapore, Australia, Rest of Asia Pacific), Middle East & Africa (Middle East [UAE, Egypt, Saudi Arabia, Qatar, Rest of Middle East], Africa [Nigeria, South Africa, Rest of Africa], Latin America (Brazil, Argentina, Colombia Rest of Latin America)
Company Profiles
OptiTrack, Noitom Ltd., Vicon Motion Systems, Northern Digital Inc., Simi Reality Motion Systems GmbH, Xsens Technologies B.V., Phasespace Inc., Qualisys AB, Animazoo UK Ltd., Phoenix Technologies
Key Drivers
• Rising popularity of virtual and augmented reality applications
• Advancements in sensor technology
• Growing popularity of science-fiction movies by youth
• Growing demand for realistic and immersive gaming experiences
Market Restraints
• High cost associated with implementing motion capture technology
• Complexity of integrating motion capture systems with existing workflows and infrastructure