Report Scope & Overview:
The 3D Printed Brain Model Market Size was valued at USD 32.82 million in 2022 and is expected to reach USD 109.11 million by 2030, and grow at a CAGR of 16.2% over the forecast period 2023-2030.
The demand for 3D printed brain models is expected to increase in the coming years as people demand more personalised treatment. Furthermore, the scarcity of experienced specialists and a difficult technological design are projected to stymie wide industry growth. Significant technological developments in neurological materials and technology have led to the realisation of a 3D printed brain model over the estimated period.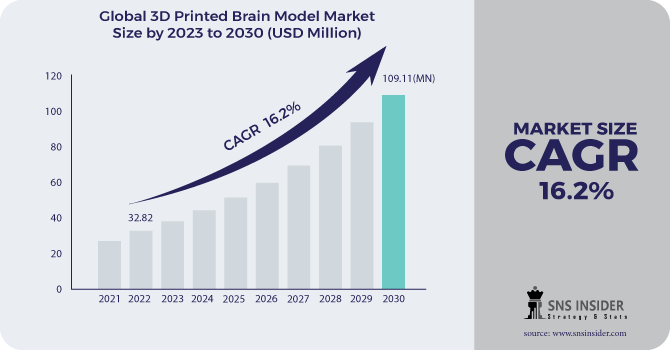 To get more information on 3D Printed Brain Model Market - Request Sample Report
A 3D Printed Brain Model is a 3D printing technology in which a computer model is fed into the printer, which generates a layer of filament. Stereolithography, colour jet printing, and MultiJet printing are examples. Throughout the forecast period, rising technical breakthroughs in neurological instruments and techniques have led to the use of 3D Printed Brain Model. For example, according to fee.org, technology improvement in neurological instruments and procedures such as the human genome project, AbioCor artificial heart, 3D printing, and gene editing will accelerate fast by 2022. The market for 3D printed Brain models is growing due to increased demand for teaching and learning purposes.
Additionally, as the desire for personalised healthcare grows, the usage and demand for 3D Printed Brain Models is expected to develop during the projected period. However, the market's complicated structure and need for skilled specialists will limit its expansion over the projection period.
MARKET DYNAMICS
DRIVERS
RESTRAINTS
OPPORTUNITIES
A breakthrough tool for modelling accurate brain surface architecture

the growing demand for individualised healthcare
CHALLENGES
IMPACT OF COVID-19
In 2020, the COVID-19 outbreak impacted the 3D Printing sector, causing delays in neurological surgery as well as a loss of financial resources for health institutions. Following the pandemic, although, 3D-printed brain models, which have been employed by operators and trained fellows for pre-surgical preparations in order to perform treatments quickly and accurately, are projected to see a boom.
Digital innovation, such as updated 3D printing brain model technology, also contributes to the preservation of medical institutions that prioritise patient care. "Custom-designed, patient-specific surgical devices are now available, and they're altering the landscape of cranioplasty and the human-machine interaction," says the Base and Endoscopic Microdissection Laboratory at the Pacific Neuroscience Institute. Aside from surgical training, disease modelling is also necessary.
A 3D printed model could be used to train present and future medics on how to manage difficult skull-based issues such invasive malignant brain tumours.
By Technology
With a revenue share of more than 28% in 2021, the Fused Deposition Modelling (FDM) or Fused Filament Fabrication (FFF) technology segment led the market. Over the anticipated period, it is expected to increase at a steady CAGR. This technique can aid in the creation of 3D models that are sturdy, stable, and long-lasting. Models generated with this technology are simple to make, office-friendly, and offer a wide range of material options. It is also extremely stable and cost-effective. This technology can be used to create a complicated brain structure.
Stereolithography (SLA), ColorJet Printing (CJP), MultiJet/PolyJet Printing, and others are examples of additional technologies. Selective Laser Sintering (SLS), binder jetting, and digital light synthesis are among the other technology segments. According to an AFMG poll, around 42 percent of respondents identified FDM as the most revenue-generating technology in 2022.
By Material Type
In 2021, the plastic materials category dominated the market with a sales share of over 44%. Over the anticipated period, the segment is expected to increase at a steady CAGR. The feasibility, biodegradability, compatibility with a wide range of 3D printed technologies, and efficiency afforded by plastic materials, as well as the availability of numerous sophisticated thermoplastics, are the primary driving drivers for this industry.
The market is divided into three categories: polymer, plastic, and others. Metals, ceramics, and calcium phosphate salts (HA), glass, aluminium oxides, and titanium are among the other materials. Following plastic materials, the polymer market is predicted to increase significantly during the forecast period, owing to the advantages of product creation and the material's adaptability.
KEY MARKET SEGMENTATION:
By Technology Type
MultiJet/PolyJet Printing

Stereolithography (SLA)

Fused Deposition Modeling (FDM)

ColorJet Printing

Others
By Materials Type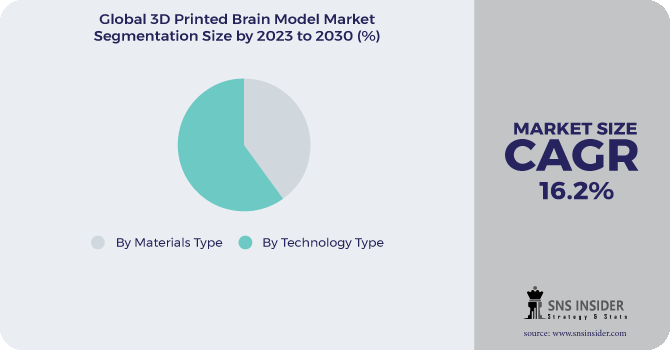 Need any customization research on 3D Printed Brain Model Market - Enquiry Now
REGIONAL ANALYSIS
North America dominated the market in 2021, accounting for more than 36% of total revenue, and will continue to grow at a stable CAGR from 2022 through 2028. The region's market expansion is expected to be aided by rising demand for personalised healthcare and the incidence of neurological illnesses. In comparison to any other region, the United States embraces new technologies and breakthroughs faster. The existence of large-scale established market participants, as well as a favourable reimbursement process, is expected to aid the industry's expansion. CELLINK, for example, became a publicly traded firm in April 2021 and began selling its shares on Nasdaq Stockholm, which is expected to boost market investment.
Over the figure period, Asia Pacific is supposed to have the most elevated CAGR. The influx of many players, the need for technical developments, the rise in unmet needs linked to neurological illnesses and treatment, and the presence of growing nations like China and Japan are the primary drivers of this market. For example, MedPrin, a Chinese business, developed the ReDura 3D printed membrane.
REGIONAL COVERAGE:
North America

Europe

Germany

UK

France

Italy

Spain

The Netherlands

Rest of Europe

Asia-Pacific

Japan

South Korea

China

India

Australia

Rest of Asia-Pacific

The Middle East & Africa

Latin America

Brazil

Argentina

Rest of Latin America
KEY PLAYERS:
Some of the major key players are: Form labs, 3D Systems, Rokit Healthcare Inc., Voxel jet, Med Prin, and other players.
Rokit Healthcare Inc-Company Financial Analysis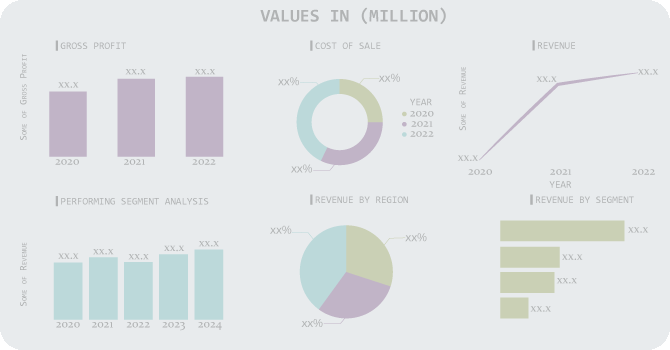 3D Printed Brain Model Market Report Scope:
Report Attributes
Details
Market Size in 2022
US$ 32.82 Million
Market Size by 2030
US$ 109.11 Million
CAGR
CAGR of 16.2% From 2023 to 2030
Base Year
2022
Forecast Period
2023-2030
Historical Data
2020-2021
Report Scope & Coverage
Market Size, Segments Analysis, Competitive Landscape, Regional Analysis, DROC & SWOT Analysis, Forecast Outlook
Key Segments
• By Technology Type (MultiJet/PolyJet Printing, Stereolithography, Fused Deposition Modeling, ColorJet Printing, Others)
• By Materials Type (Plastics, Polymer, Others)
Regional Analysis/Coverage
North America (USA, Canada, Mexico), Europe
(Germany, UK, France, Italy, Spain, Netherlands,
Rest of Europe), Asia-Pacific (Japan, South Korea,
China, India, Australia, Rest of Asia-Pacific), The
Middle East & Africa (Israel, UAE, South Africa,
Rest of Middle East & Africa), Latin America (Brazil, Argentina, Rest of Latin America)
Company Profiles
Form labs, 3D Systems, Rokit Healthcare Inc., Voxel jet, Med Prin, and other players.
DRIVERS
• Improvements in neurological instruments and processes that allow for more personalised therapy
RESTRAINTS
• Required high end hardware and software