Report Scope & Overview:
The 3D Sensor Market size was valued at USD 3.47 billion in 2022. It is estimated to hit USD 24.84 billion by 2030 and grow at a CAGR of 27.9% over the forecast period of 2023-2030.
A 3D sensor is a device that captures and measures the physical dimensions and characteristics of objects in three-dimensional space. It utilizes advanced technology to detect and analyze the depth, shape, and movement of objects, providing accurate and detailed information. The primary function of a 3D sensor is to capture data by emitting signals, such as laser beams or infrared light, and then receiving and interpreting the reflected signals. This process allows the sensor to create a digital representation of the object, enabling precise measurements and analysis. One of the key applications of 3D sensors is in the field of computer vision, where they play a crucial role in various industries. For instance, in manufacturing, 3D sensors are used for quality control, ensuring that products meet specific dimensional requirements. They can also be employed in robotics, enabling machines to perceive and interact with their environment more effectively. Moreover, 3D sensors find applications in augmented reality and virtual reality technologies. By accurately capturing the depth and movement of objects, they enhance the immersive experience for users, allowing them to interact with virtual elements in a more natural and realistic manner.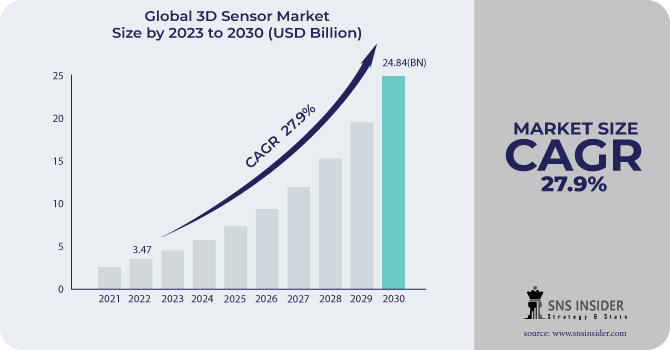 To get more information on 3D Sensor Market - Request Sample Report
One of the key drivers of the 3D sensor market is the increasing adoption of 3D sensing technology in smartphones. With the introduction of facial recognition systems, gesture control, and augmented reality features, smartphone manufacturers are incorporating 3D sensors to enhance user experiences. This trend has not only revolutionized the smartphone industry but has also opened up new opportunities for 3D sensor manufacturers. Furthermore, the automotive industry is another major contributor to the growth of the 3D sensor market. With the rise of autonomous vehicles, the demand for advanced sensing technologies has surged. 3D sensors play a crucial role in enabling these vehicles to perceive their surroundings accurately, ensuring safe and efficient navigation. In addition to smartphones and automotive applications, the healthcare sector is also embracing 3D sensor technology. From medical imaging to surgical robotics, 3D sensors are revolutionizing the way healthcare professionals diagnose and treat patients. The ability to capture precise depth information allows for more accurate and efficient medical procedures.
As the 3D sensor market continues to expand, several challenges need to be addressed. These include the high cost of 3D sensors, limited compatibility with existing systems, and concerns regarding data privacy and security. However, with ongoing research and development, these challenges are expected to be overcome, further fueling the growth of the market.
Market Dynamics
Drivers
Increasing demand for 3D sensing technology in various applications

Rising adoption of 3D sensors in consumer electronics

Growing need for enhanced security systems and surveillance solutions
In today's world, where security threats are becoming more sophisticated, traditional security systems are no longer sufficient. As a result, there is a pressing requirement for innovative technologies that can provide comprehensive surveillance and ensure the safety of individuals and assets. 3D Sensors play a crucial role in meeting this demand.
Restrain
High cost associated with the development and implementation of 3D sensor technology

Complexity of integrating 3D sensors into existing systems
Opportunities
Increasing adoption of 3D sensors in autonomous vehicles and robotics

Emergence of 3D sensing in biometrics and facial recognition applications

Surge in demand for 3D sensors in medical imaging and diagnostics
In recent years, there has been a remarkable increase in the utilization of 3D sensors within the field of medical imaging and diagnostics. One of the primary reasons behind this surge in demand is the unparalleled precision and efficiency that 3D sensors bring to medical imaging. Traditional imaging techniques often fall short of capturing the intricate details of complex anatomical structures. However, with the advent of 3D sensors, medical practitioners can now obtain high-resolution images that enable them to identify abnormalities with greater accuracy. This enhanced level of precision not only improves diagnostic capabilities but also facilitates more targeted and effective treatment plans. Moreover, the growing demand for non-invasive medical procedures has further fueled the need for 3D sensors in medical imaging and diagnostics.
Challenges
Limited range and accuracy of current 3D sensor technologies

Compatibility and integration of 3D sensors with existing systems
Many industries already have established infrastructure and equipment that may not be compatible with the latest 3D sensor technologies. This creates a barrier to adoption and necessitates additional investments in upgrading or replacing existing systems.
Impact of Russia-Ukraine War:
In order to effectively prepare for the conflict, the Ukrainian military has implemented virtual reality (VR) training systems. These advanced systems simulate combat scenarios, enabling soldiers to hone their tactical skills and familiarize themselves with crucial procedures. By providing a safe and controlled environment, this type of training equips soldiers with invaluable experience before they are deployed to the front lines. In June 2022, Utilizing the revolutionary holographic technology developed by ARHT Media, Zelensky, Ukraine's Prime Minister delivered a mesmerizing 3D holographic broadcast to an audience of 200,000 esteemed tech entrepreneurs, investors, and corporate leaders. This extraordinary feat took place across seven major European tech events, leaving a lasting impression on all who witnessed it. This has increased the demand for 3D sensors in the aerospace and defense sector.
However, one of the major challenges faced by the 3D sensor market is the disruption of supply chains. Ukraine, being a significant player in the global electronics manufacturing industry, has been severely affected by the war. This has led to a decrease in the production and availability of 3D sensors, causing a shortage in the market.
Impact of Recession:
The demand for 3D sensors has experienced a notable decline due to reduced consumer spending and business investments. As companies tighten their budgets, the adoption of new technologies, including 3D sensors, has been delayed or even canceled altogether. Furthermore, the recession has caused a decrease in research and development (R&D) investments within the industry. This has hindered the market's growth potential and slowed down the introduction of advanced sensor solutions. Additionally, the recession has led to a shift in consumer preferences and priorities. With limited disposable income, individuals are more inclined to prioritize essential purchases over discretionary ones. As a result, the demand for consumer electronics, such as smartphones and gaming consoles, which heavily rely on 3D sensors, has been negatively impacted.
Market segmentation
By Connectivity
Wireless Network Connectivity

Wired Network Connectivity
By Type
Image Sensor

Accelerometer Sensor

Acoustic Sensor

Position Sensor

Others
By Technology
Structured Light

Time of Flight

Ultrasound

Stereoscopic Vision

Others
By End-use Industry
Consumer Electronics

Healthcare

Aerospace & Defense

Automotive

Entertainment

Security & surveillance

Others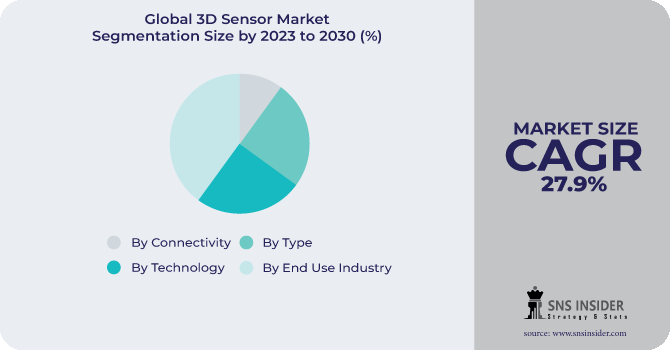 Need any customization research on 3D Sensor Market - Enquiry Now
Regional Analysis
Asia Pacific is expected to grow with the highest CAGR during the forecast period in the 3D Sensor Market. The Asia Pacific region, comprising countries such as China, Japan, India, and South Korea, is anticipated to witness significant growth in the 3D Sensor Market. The Asia Pacific region has witnessed rapid industrialization and urbanization in recent years. This has led to an increased demand for advanced technologies across various sectors, including automotive, consumer electronics, healthcare, and gaming. 3D sensors, with their ability to capture depth and motion, have found extensive applications in these industries, driving market growth. Moreover, the region boasts a large consumer base with a growing disposable income. This has resulted in increased adoption of smartphones, gaming consoles, and other consumer electronic devices that incorporate 3D sensor technology. The demand for immersive gaming experiences, augmented reality (AR), and virtual reality (VR) applications has further fueled the growth of the 3D Sensor Market in the Asia Pacific.
Furthermore, governments in the region have been actively promoting the adoption of advanced technologies to enhance various sectors, such as manufacturing, healthcare, and transportation. Initiatives like "Made in China 2025" and "Digital India" have created a conducive environment for the growth of the 3D Sensor Market by encouraging the integration of these sensors into various industries. Additionally, the presence of major players in the 3D Sensor Market, such as Sony Corporation, Samsung Electronics, and Panasonic Corporation, in the Asia Pacific region has further contributed to its growth. These companies have been investing in research and development activities to introduce innovative 3D sensor solutions, catering to the evolving demands of the market.
North America is likely to lead the 3D Sensor Market owing to the increasing demand for 3D sensors in various sectors, including automotive, healthcare, consumer electronics, and gaming, further propelling North America's dominance in the market. These industries are increasingly incorporating 3D sensor technology to enhance user experiences, improve safety measures, and enable advanced functionalities in their products and services.
REGIONAL COVERAGE:
North America
Europe
Eastern Europe

Poland

Romania

Hungary

Turkey

Rest of Eastern Europe

Western Europe

Germany

France

UK

Italy

Spain

Netherlands

Switzerland

Austria

Rest of Western Europe
Asia Pacific
China

India

Japan

South Korea

Vietnam

Singapore

Australia

Rest of Asia Pacific
Middle East & Africa
Middle East

UAE

Egypt

Saudi Arabia

Qatar

Rest of Middle East

Africa

Nigeria

South Africa

Rest of Africa
Latin America
Brazil

Argentina

Colombia

Rest of Latin America
Key Players
The major key players are Sony Corporation, Infineon Technologies AG, Cognex Corporation, Intel Corporation, Microchip Technology Inc., OmniVision Technologies, Finisar Corporation, Texas Instruments, STMicroelectronics, LMI Technologies, Microchip Technologies, Microsoft Corporation, and other key players mentioned in the final report.
Infineon Technologies AG-Company Financial Analysis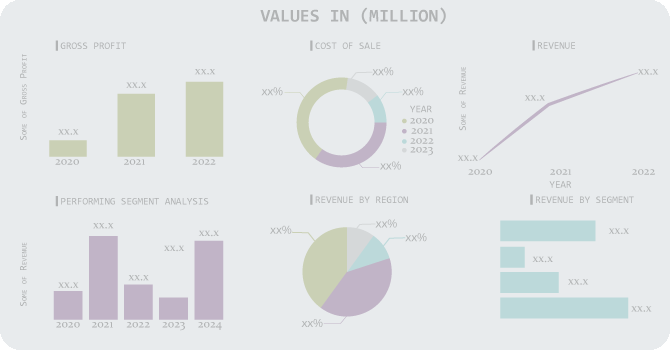 ​​​​​​​
Recent Development:
In May 2022, 3D depth-sensing technology for Magic Leap 2 is developed by Infineon and pmdtechnologies.

In Mar 2022, STMicroelectronics made an exciting announcement about their latest innovation: a new family of high-resolution Time-of-Flight sensors.
3D Sensor Market Report Scope:
Report Attributes
Details
Market Size in 2022
US$ 3.47 Bn
Market Size by 2030
US$ 24.84 Bn
CAGR
CAGR of 27.9 % From 2023 to 2030
Base Year
2022
Forecast Period
2023-2030
Historical Data
2020-2021
Report Scope & Coverage
Market Size, Segments Analysis, Competitive Landscape, Regional Analysis, DROC & SWOT Analysis, Forecast Outlook
Key Segments
• By Connectivity (Wireless Network Connectivity and Wired Network Connectivity)
• By Type (Image Sensor, Accelerometer Sensor, Acoustic Sensor, Position Sensor, and Others)
• By Technology (Structured Light, Time of Flight, Ultrasound, Stereoscopic Vision, and Others)
• By End-use Industry (Consumer Electronics, Industrial Robotics, Healthcare, Aerospace & Defense, Automotive, Entertainment, Security & surveillance, and Others)
Regional Analysis/Coverage
North America (US, Canada, Mexico), Europe (Eastern Europe [Poland, Romania, Hungary, Turkey, Rest of Eastern Europe] Western Europe] Germany, France, UK, Italy, Spain, Netherlands, Switzerland, Austria, Rest of Western Europe]). Asia Pacific (China, India, Japan, South Korea, Vietnam, Singapore, Australia, Rest of Asia Pacific), Middle East & Africa (Middle East [UAE, Egypt, Saudi Arabia, Qatar, Rest of Middle East], Africa [Nigeria, South Africa, Rest of Africa], Latin America (Brazil, Argentina, Colombia Rest of Latin America)
Company Profiles
Sony Corporation, Infineon Technologies AG, Cognex Corporation, Intel Corporation, Microchip Technology Inc., OmniVision Technologies, Finisar Corporation, Texas Instruments, STMicroelectronics, LMI Technologies, Microchip Technologies, Microsoft Corporation
Key Drivers
• Increasing demand for 3D sensing technology in various applications
• Rising adoption of 3D sensors in consumer electronics
• Growing need for enhanced security systems and surveillance solutions
Market Restraints
• High cost associated with the development and implementation of 3D sensor technology
• Complexity of integrating 3D sensors into existing systems