REPORT SCOPE & OVERVIEW
The Agriculture 4.0 Market is one of the upcoming major developments in the industry is known as "agriculture 4.0," which includes a growing emphasis on the adoption of precision agriculture, the Internet of Things, Artificial Intelligence (Al), and big data to improve farming efficiency. Precision farming and actions in the agricultural sector that are based on exact and accurate analysis of data and information that are gathered using cutting-edge instruments and technology are referred to as part of agriculture 4.0. Systems used in agriculture 4.0 include those that use solar energy, drones, robotics, vertical farms, artificial intelligence, and more. Farmers and businesses have been able to improve yields, save costs connected with farming, minimise crop damage, and use fertilisers, water, and fuels more efficiently by integrating digital technology into farming practises. This is anticipated to produce cost-effective solutions.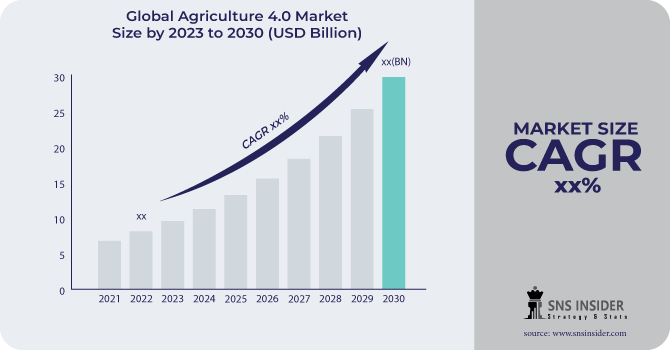 Market for Agriculture 4.0 is used to describe the incorporation of digital technology like large data, LoT, Al, and Robotics in agriculture will boost productivity and efficiency while cutting expenses.
To get more information on Agriculture 4.0 Market - Request Sample Report
MARKET DYNAMICS
KEY DRIVERS:
Growing applications of drones and robots to grow and harvest crops, identify and remove weeds, and distribute agrochemicals are some major factors anticipated to contribute to the market's revenue growth in the coming years. Other important factors include the rapid advancements in sustainable intensification, precision agriculture, and smart farming.
Other variables that are anticipated include the development of revolutionary gene editing techniques to increase crop output, generate disease-resistant crops, produce lab-grown meat, and the growing trend of vertical farming agriculture revolution to 4.0 speed.
RESTRAIN:
Resources are scarce, and adoption of cutting-edge technologies is minimal. Additionally, physical dangers and dangers related to connected infrastructure, including hardware failure and the requirement for ongoing maintenance can hinder the accessibility and widespread adoption of farm 4.0 technologies. Furthermore, quick adoption of in terms of security, IOT is introducing substantial holes and attack surfaces. potential cyber-attacks on different smart Agriculture systems have the potential to seriously compromise the cyber-physical environment's security and result in serious interruptions to related enterprises. Increasing number of potential threats to physical and cybersecurity and the quick advancement of ICT have additionally
OPPORTUNITY:
The development of cutting-edge technologies is leading to a wide range of notable applications, including crop health monitoring, crop productivity analysis, soil nutrition management, rainfall monitoring, and pest infestation monitoring, which is opening up numerous opportunities for farmers, consumers, and other stakeholders to increase crop yield and quality. The development of decision support tools, remote monitoring and fertilisation systems, and automated irrigation systems as a result of increased research and development efforts is assisting businesses in reducing costs and maximising employee productivity. Further drawing significant financing and investments, these cutting-edge technologies have the potential to increase food production while minimising environmental harm, which is anticipated to further support market revenue growth.
CHALLENGES:
Accessibility and high labor cost

Implementing and maintaining the different technologies
Implementing and maintaining the different technologies involved in Agriculture 4.0 might be complicated due of technology. Sensors, drones, satellite images, robots, artificial intelligence, and data analytics are just a few examples of the technologies that farmers need to comprehend and adjust to. This necessitates learning new abilities and knowledge, which can be difficult, particularly for farmers who are older or less technologically savvy. Small-scale farmers with low financial resources may not be able to embrace cutting-edge agricultural technologies because of their high cost. Agriculture 4.0 practises may not be widely adopted because of the initial investment required for infrastructure, software, and hardware.
IMPACT ANALYSIS
IMPACT OF RUSSIAN UKRAINE WAR
Exports from Ukraine have stopped, crop yields in the future are uncertain, and the price of agricultural commodities globally has risen, endangering the lives of millions. Furthermore, by reducing the availability of humanitarian aid to prevent and treat acute malnutrition, price rises and trade disruptions may increase the proportion of people who are underweight, from a pre-war baseline of 276 million people suffering from acute hunger, the number of people experiencing acute hunger will increase by an additional 47 million. This suggests that by 2022, up to 323 million people could experience extreme food insecurity. According to estimates every percentage point increase in food costs causes 10 million people to fall into extreme poverty. If the price of food stays this high for a year, global poverty may increase by nearly 100 million people.
IMPACT OF COVID-19
The Covid-19 epidemic had a moderate effect on the Global Agriculture 4.0 Market last year. When the manufacturing units temporarily shut down due to the implementation of lockdown, the market initially noticed a decelerating effect, which in turn caused a significantly decreased production of agriculture. Technology based equipment and the demand from consumers, the pandemic's lockdown and supply chain disruptions highlighted the importance of local suppliers, boosting the resilience of smaller farms. On the other hand, after limits were lifted and investments in agro-bot start-ups because of the labor crisis, the use of agriculture 4.0 software tools and technology-based equipment like remote sensors increased.
The environmental advantages brought about by travel limitations and the closing of manufacturing facilities increased demand for sustainable sources, forcing producers to change traditional agricultural practises. However, after seeing the pandemic's current status and its impact on the market thus far, it is projected that the demand for Agriculture 4.0 would increase tremendously and result in profitability for the industry titans in the near future.
MARKET SEGMENTATION
KEY MARKET SEGMENTS
By Technology
Sensors

loT

Al

Blockchain

Robotics
By Application
Milking Livestock

Agrochemical Distribution

Remote Monitoring

Vertical Farming

Genetically Modified Crops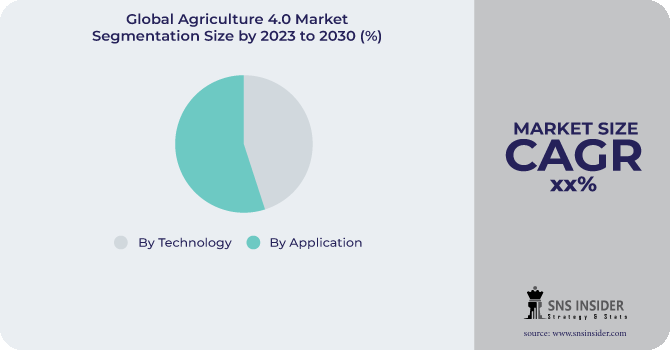 Need any customization research on Agriculture 4.0 Market - Enquiry Now
REGIONAL ANALYSIS
North America is anticipated to have the greatest revenue share in the global market. This is due to the availability of reliable infrastructure for connectivity, rising investments in smart agriculture technologies, the ongoing increase in global food demand, and the growing desire for high crop production and quality. The availability of high-end loT-enabled devices, favourable policies, and expanding efforts by governments in the region to develop the agricultural sector are factors driving North America market revenue. These tools make it simple to gain useful and actionable insights to increase farm productivity.
Asia Pacific is predicted to have strong revenue CAGR growth throughout the projection period. Increasing investments to speed up research on the integration of loT and Al into farming activities, increasing adoption of precision agriculture and smart agriculture techniques, and rising awareness and acceptance of cutting-edge digital tools and technologies are additional factors propelling the Asia-Pacific market revenue growth.
REGIONAL COVERAGE:
North America
Europe
Eastern Europe

Poland

Romania

Hungary

Turkey

Rest of Eastern Europe

Western Europe

Germany

France

UK

Italy

Spain

Netherlands

Switzerland

Austria

Rest of Western Europe
Asia Pacific
China

India

Japan

South Korea

Vietnam

Singapore

Australia

Rest of Asia Pacific
Middle East & Africa
Middle East

UAE

Egypt

Saudi Arabia

Qatar

Rest of Middle East

Africa

Nigeria

South Africa

Rest of Africa
Latin America
Brazil

Argentina

Colombia

Rest of Latin America
KEY PLAYERS
The Major Players are Mothive, Cropx, Arable, AgriData, Agrowatcher, PrecisionHawk, AgriBot, Saga Robotics, Robotics Plus, Phytech, Ceres Imaging and other players are listed in a final report.
Agrowatcher​​​​-Company Financial Analysis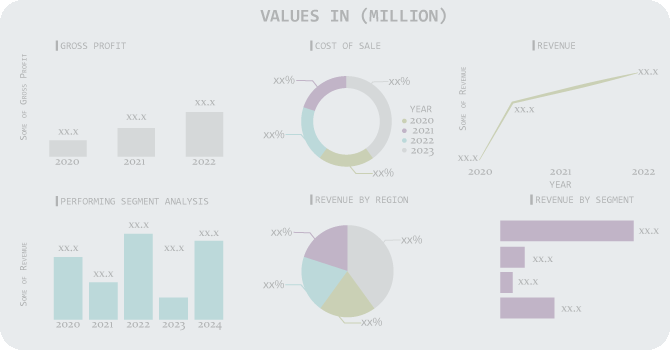 RECENT DEVELOPMENT
In order to implement advanced 5G smart farming solutions across the agricultural sites in Al Ain, United Arab Emirates (UAE), Ericsson signed a Memorandum of Understanding (MoU) with Emirates Integrated Telecommunications Company (EITC) (du) and Pure Harvest Smart Farms in October 2021. This was done to support the UAE Sustainability Agenda and to enable access to adequate and affordable food, a healthy ecosystem, sustainable economic growth, and increased resource efficiency.

The Boston Cambridge MIT ecosystem's top fintech business, EST Global, Inc., which aims to invest in fintech solutions, and Rhiti Group formed a strategic partnership in February 2022. The new project will strive to integrate numerous initiatives seamlessly to establish a decentralized rural ecosystem to address significant difficulties encountered by farmers at any stage of production.
Agriculture 4.0 Market Report Scope:
Report Attributes
Details
Base Year
2022
Forecast Period
2023-2030
Historical Data
2020-2021
Report Scope & Coverage
Market Size, Segments Analysis, Competitive Landscape, Regional Analysis, DROC & SWOT Analysis, Forecast Outlook
Key Segments
• By Technology (Sensors, loT, Big Data, 2 Al, Cloud Computing, Blockchain, Robotics)
• By Application (Picking Crops, Milking Livestock, Agrochemical Distribution, Remote Monitoring, Vertical Farming, Genetically Modified Crops)
Regional Analysis/Coverage
North America (US, Canada, Mexico), Europe (Eastern Europe [Poland, Romania, Hungary, Turkey, Rest of Eastern Europe] Western Europe] Germany, France, UK, Italy, Spain, Netherlands, Switzerland, Austria, Rest of Western Europe]), Asia Pacific (China, India, Japan, South Korea, Vietnam, Singapore, Australia, Rest of Asia Pacific), Middle East & Africa (Middle East [UAE, Egypt, Saudi Arabia, Qatar, Rest of Middle East], Africa [Nigeria, South Africa, Rest of Africa]), Latin America (Brazil, Argentina, Colombia Rest of Latin America)
Company Profiles
Mothive, Cropx, Arable, AgriData, Agrowatcher, PrecisionHawk, AgriBot, Saga Robotics, Robotics Plus, Phytech, Ceres Imaging and other players are listed in a final report.
Key Drivers
• Increasing use of artificial intelligence to streamline planning decision.
• Growing applications of drones and robots to grow and harvest crops
Market Opportunities
• Possibilities for Market Participants in Global Agriculture 4.0