Report Scope & Overview:
The AI Sensor Market size was valued at USD 2900 million in 2022. It is estimated to hit USD 49307.94 million by 2030 and grow at a CAGR of 42.5% over the forecast period of 2023-2030.
The AI Sensor is a technology that combines artificial intelligence and sensor capabilities. This innovative device is designed to gather and process data from its surroundings, enabling it to make intelligent decisions and perform tasks with remarkable accuracy. The AI Sensor utilizes advanced algorithms and machine learning techniques to analyze the data it collects. By continuously learning and adapting, it becomes increasingly proficient at recognizing patterns, detecting anomalies, and predicting outcomes. This allows it to provide valuable insights and assist in a wide range of applications.
One of the key advantages of the AI Sensor is its ability to operate in real-time. It can swiftly process vast amounts of information, making it ideal for time-sensitive tasks and critical decision-making processes. Whether it's monitoring environmental conditions, analyzing complex data sets, or enhancing security systems, the AI Sensor excels in delivering rapid and reliable results. Moreover, the AI Sensor is designed with versatility in mind. It can be seamlessly integrated into various devices and systems, making it adaptable to different industries and applications. From healthcare and manufacturing to transportation and smart cities, the AI Sensor has the potential to revolutionize numerous sectors by providing valuable insights and automating processes. In addition to its technical capabilities, the AI Sensor prioritizes data privacy and security. It adheres to stringent protocols to ensure the confidentiality and integrity of the information it handles. This commitment to safeguarding sensitive data makes it a trusted solution for organizations and individuals alike.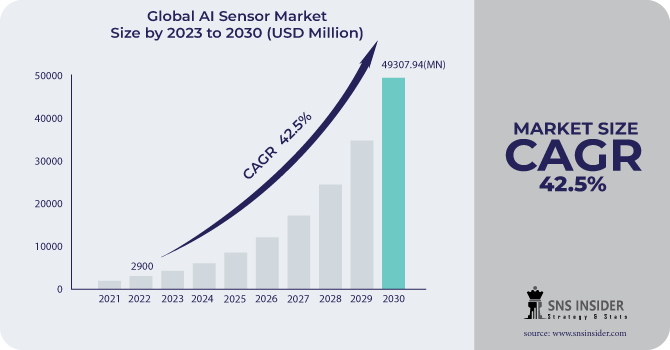 To get more information on AI Sensor Market - Request Free Sample Report
The AI sensor market is experiencing significant growth due to the increasing adoption of artificial intelligence (AI) technology across various industries. One of the key drivers of the AI sensor market is the rising demand for autonomous vehicles. AI sensors are essential components in self-driving cars, as they enable these vehicles to perceive their surroundings and make informed decisions. These sensors can detect obstacles, pedestrians, and other vehicles, ensuring the safety and efficiency of autonomous vehicles. Moreover, the healthcare industry is also witnessing a surge in the adoption of AI sensors. These sensors are used in medical devices to monitor patients' vital signs, detect abnormalities, and provide real-time data to healthcare professionals. AI sensors have the potential to revolutionize healthcare by enabling early detection of diseases, improving patient outcomes, and reducing healthcare costs. In addition to automotive and healthcare, AI sensors are finding applications in various other sectors, including manufacturing, agriculture, and retail. In manufacturing, AI sensors are used to monitor equipment performance, detect faults, and optimize production processes. In agriculture, these sensors help farmers monitor soil conditions, crop health, and irrigation needs, leading to increased productivity and sustainability. In retail, AI sensors are used to track customer behavior, optimize store layouts, and personalize shopping experiences.
Market Dynamics
Drivers
Growing need for automation and the integration of AI in smart devices

Rising focus on developing smart cities and the Internet of Things (IoT)

Growing demand for advanced technologies from various industries
AI sensors offer enhanced capabilities, such as real-time data analysis, predictive maintenance, and improved decision-making. These features have made AI sensors indispensable in sectors like healthcare, automotive, manufacturing, and agriculture, among others. The growing adoption of AI sensors in these industries is fueling the market's expansion.
Restrain
Opportunities
Rising investment in R&D activities

Increasing demand for AI sensors in emerging technologies
As AI continues to advance, the need for sophisticated sensors capable of gathering accurate data has become essential. One of the key drivers behind the rising demand for AI sensors is the rapid growth of autonomous vehicles. With the advent of self-driving cars, AI sensors are essential for ensuring the safety and efficiency of these vehicles. These sensors enable autonomous vehicles to detect and respond to their environment, including identifying obstacles, pedestrians, and other vehicles. As the autonomous vehicle industry continues to expand, the demand for AI sensors is expected to increase.
Another significant factor contributing to the demand for AI sensors is the increasing adoption of smart home technology. Smart homes are equipped with various AI-powered devices that enhance convenience, security, and energy efficiency. AI sensors are crucial in enabling these devices to interact with their environment intelligently. For instance, sensors can detect motion, temperature, and light levels, allowing smart home systems to adjust settings accordingly. As the smart home market continues to grow, the demand for AI sensors will undoubtedly follow suit.
Challenges
Impact of Russia-Ukraine War:
This ongoing conflict gives a positive outlook to the AI sensor technology which further propels the growth of the AI sensor market. This war has showcased the most advanced use of technology in warfare that humanity has ever witnessed. One notable aspect is the unprecedented utilization of space. Elon Musk's Starlink, a satellite internet constellation operated by SpaceX, has provided support to Ukraine. This assistance enabled Ukraine to employ its drones to target Russian forward positions. Mykhailo Fedorov, Ukraine's Minister of Digital Transformation, describes this as a "technology war." The conflict has expedited the deployment of fully autonomous drones and other weapon systems on the battlefield. AI plays a crucial role in systems that combine target and object recognition with satellite imagery. AI is also used in Geospatial intelligence, which is utilized to analyze satellite images and geolocate and analyze open-source data, including social media photos from geopolitically sensitive areas. Moreover, the Russia-Ukraine war marks the first instance of widespread use of AI-enhanced facial recognition software in a conflict. In March 2022, Ukraine's defense ministry began the use of U.S. company Clearview AI's facial recognition software. This technology enables Ukraine to identify deceased soldiers and uncover Russian assailants, contributing to the fight against misinformation. The Russia-Ukraine conflict not only highlights the advancements in AI sensor technology but also underscores the profound impact of technology on modern warfare.
Impact of Recession:
The possibility of an economic recession has been a major concern since the beginning of 2023. The global economy is on the edge of deflation and uncertainty, indicating a potential economic downturn. GDP growth has slowed from 6.1% in 2021 to 2.8% in 2023. As the global economy faces the threat of a recession, businesses are turning to technological advancements.
Artificial Intelligence (AI) is poised to play a crucial role in reducing costs, optimizing expenses, and providing companies with the agility and adaptability needed in a rapidly changing economic environment. By automating manual operations, AI can minimize human error and increase efficiency. For instance, an AI chatbot can provide round-the-clock customer service at a fraction of the cost. However, the true value of AI lies in its ability to offer unparalleled predictive models during times of economic uncertainty. Whether it's real-time demand forecasting or inventory management, AI empowers businesses to make more informed decisions based on detailed data, enabling proactive action rather than reactive responses.
David Raissipour, the Chief Technology, and Product Officer at cybersecurity service company Mimecast, predicts that a 2023 recession could push organizations to rely on technology more than ever before, resulting in a rapid expansion of the AI landscape. This positive outlook for AI during ongoing recessions is expected to drive the market for AI sensors.
Market segmentation
By Sensor Type
Optical

Pressure

Position

Temperature

Ultrasonic

Navigation

Motion

Others
By Type
Neural Networks

Inductive Learning

Case-Based Reasoning

Ambient-Intelligence
By Technology
By Application
Consumer Electronics

Automotive

Aerospace & Defense

Manufacturing

Robotics

Smart Home Automation

Healthcare

Others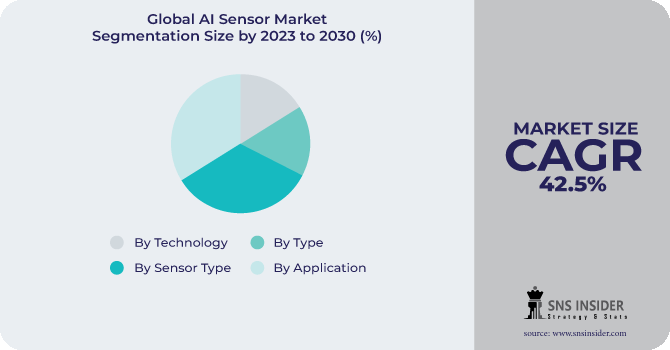 Need any customization research on AI Sensor Market - Enquiry Now
Regional Analysis
Asia Pacific region is the dominating region and is expected to grow at the highest pace during the forecast period of 2023-2030. With an increasing number of potential consumers, this region offers a significant customer base for AI sensor manufacturers. The increasing adoption of smart devices and the growing demand for automation further amplify the need for AI sensors in this region. Moreover, the Asia Pacific region boasts a thriving technological landscape. Countries like China, Japan, and South Korea have emerged as global leaders in innovation and technology. These nations have heavily invested in research and development, fostering an environment conducive to the growth of AI sensor technologies. The presence of numerous tech giants and startups in this region further fuels the development and adoption of AI sensors. Governments in countries like China and Singapore have implemented strategic plans to accelerate the adoption of artificial intelligence and related technologies. These initiatives include funding research projects, providing tax incentives, and creating regulatory frameworks that encourage the integration of AI sensors into various industries.
Furthermore, the Asia Pacific region's strong manufacturing capabilities contribute to its dominance in the AI sensor market. This region is renowned for its efficient and cost-effective production processes, making it an attractive destination for sensor manufacturers. The availability of skilled labor and advanced manufacturing infrastructure further enhances the region's competitive advantage. In addition, the Asia Pacific region's diverse range of industries plays a crucial role in driving the demand for AI sensors. From automotive and healthcare to manufacturing and retail, various sectors in this region are increasingly adopting AI technologies to enhance efficiency and productivity. This widespread adoption across industries creates a substantial market for AI sensors, further solidifying the region's dominance.
REGIONAL COVERAGE:
North America
Europe
Eastern Europe

Poland

Romania

Hungary

Turkey

Rest of Eastern Europe

Western Europe

Germany

France

UK

Italy

Spain

Netherlands

Switzerland

Austria

Rest of Western Europe
Asia Pacific
China

India

Japan

South Korea

Vietnam

Singapore

Australia

Rest of Asia Pacific
Middle East & Africa
Middle East

UAE

Egypt

Saudi Arabia

Qatar

Rest of Middle East

Africa

Nigeria

South Africa

Rest of Africa
Latin America
Brazil

Argentina

Colombia

Rest of Latin America
Key Players
The major key players are BAE Systems, ACI Worldwide, Baidu, Inc., Oracle Corporation, LexisNexis Risk Solutions, Robert Bosch GmbH, Sensirion AG, Sensata Technologies, Inc., Sony Corporation, Teledyne Technologies Incorporated, SAS Institute, Silicon Sensing Systems Limited, and other key players mentioned in the final report.
Recent Development:
In May 2023, SAS made a significant contribution of $1 billion towards the development of AI-powered industry solutions.

Teledyne announced the availability of its latest Sapera™ Vision Software Edition in March 2023. Teledyne DALSA's Sapera Vision Software offers a comprehensive range of image acquisition, control, image processing, and artificial intelligence capabilities, empowering the design, development, and deployment of advanced machine vision applications.

In Sept 2022, BAE Systems planned to launch its first-ever multi-sensor satellite cluster. This revolutionary satellite cluster, scheduled for deployment in 2024, is specifically designed to cater to the needs of government and military operations.
AI Sensor Market Report Scope:
Report Attributes
Details
Market Size in 2022
US$ 2900 Mn
Market Size by 2030
US$ 49307.94 Mn
CAGR
CAGR of 42.5% From 2023 to 2030
Base Year
2022
Forecast Period
2023-2030
Historical Data
2020-2021
Report Scope & Coverage
Market Size, Segments Analysis, Competitive Landscape, Regional Analysis, DROC & SWOT Analysis, Forecast Outlook
Key Segments
• By Sensor Type (Optical, Pressure, Position, Temperature, Ultrasonic, Navigation, Motion, and Others)
• By Type (Neural Networks, Inductive Learning, Case-Based Reasoning, and Ambient-Intelligence)
• By Technology (Machine Learning, Natural Language Processing, Computer Vision, and Context-aware Computing)
• By Application (Consumer Electronics, Automotive, Aerospace & Defense, Manufacturing, Robotics, Smart Home Automation, Healthcare, and Others)
Regional Analysis/Coverage
North America (US, Canada, Mexico), Europe (Eastern Europe [Poland, Romania, Hungary, Turkey, Rest of Eastern Europe] Western Europe] Germany, France, UK, Italy, Spain, Netherlands, Switzerland, Austria, Rest of Western Europe]). Asia Pacific (China, India, Japan, South Korea, Vietnam, Singapore, Australia, Rest of Asia Pacific), Middle East & Africa (Middle East [UAE, Egypt, Saudi Arabia, Qatar, Rest of Middle East], Africa [Nigeria, South Africa, Rest of Africa], Latin America (Brazil, Argentina, Colombia Rest of Latin America)
Company Profiles
BAE Systems, ACI Worldwide, Baidu, Inc., Oracle Corporation, LexisNexis Risk Solutions, Robert Bosch GmbH, Sensirion AG, Sensata Technologies, Inc., Sony Corporation, Teledyne Technologies Incorporated, SAS Institute, Silicon Sensing Systems Limited
Key Drivers
• Growing need for automation and the integration of AI in smart devices
• Rising focus on developing smart cities and the Internet of Things (IoT)
• Growing demand for advanced technologies from various industries
Market Restraints
• High cost associated with AI sensor technology