Report Scope & Overview:
The AI Training Dataset Market was valued at USD 1.78 billion in 2022 and is expected to increase to USD 8.27 billion by 2030, expanding at a CAGR of 21.18% between 2023 and 2030.
The market for AI training datasets is witnessing significant growth and is expected to continue expanding in the coming years. AI training datasets play a crucial role in the development and training of artificial intelligence systems. These datasets provide the necessary information and examples for AI models to learn and improve their performance. The demand for AI training datasets is driven by the increasing adoption of AI technologies across various industries. Companies are leveraging AI to enhance their operations, improve customer experiences, and gain a competitive edge. However, the effectiveness of AI models heavily relies on the quality and diversity of the training datasets used. To meet this growing demand, numerous companies are entering the AI training dataset market. These companies specialize in curating, annotating, and delivering high-quality datasets that cater to specific AI applications. They ensure that the datasets are comprehensive, accurate, and representative of real-world scenarios. The AI training dataset market is witnessing a shift towards more specialized and domain-specific datasets. This trend is driven by the need for AI models to be trained on data that is relevant to their specific applications. For instance, autonomous vehicles require datasets that include various driving scenarios, while healthcare AI models need datasets that encompass a wide range of medical conditions and treatments. the AI training dataset market is experiencing rapid growth due to the increasing adoption of AI technologies. Companies are recognizing the importance of high-quality datasets in training AI models effectively. As the market evolves, we can expect to see more specialized datasets and innovative platforms that facilitate the creation and access to these datasets.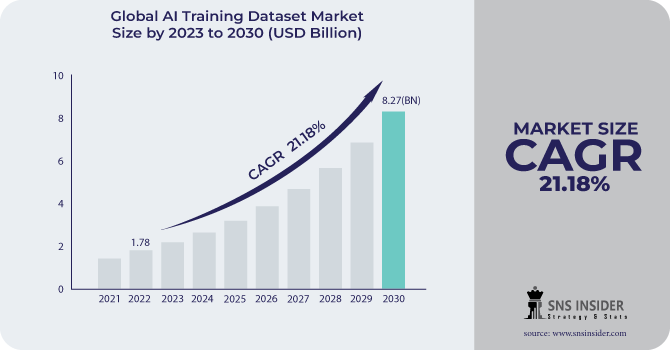 To get more information on AI Training Dataset Market - Request Free Sample Report
Market Dynamics
Drivers
As AI technology advances, new applications emerge, necessitating the development of new classes of training datasets.

Data quality is becoming increasingly vital.

Machine learning is growing more popular.

There is an increasing need for AI applications, which has led to a growing demand for training datasets of high quality.
AI datasets are fast rising as a result of a variety of causes, including advances in data-gathering technologies, the demand for data-driven decision-making, the expansion of AI applications, open data efforts, and the advent of cloud computing. Researchers, corporations, and the general public all have access to large volumes of data because to open data initiatives. These initiatives are propelling the rise of AI datasets by supplying academics and businesses with high-quality data for training AI models.
Restrains
Data security and privacy - As AI applications rely more and more on substantial personal data, these challenges may have an impact on the availability of data for training datasets.

Inadequate diversity of datasets
The quality of the training data used to develop AI models has a substantial influence on their performance. If the training datasets are not sufficiently varied, artificial intelligence models may fail to effectively represent reality and may even be biased.
Opportunities
As AI becomes more popular, the demand for high-quality training data rises.

AI applications may require diverse forms of data, such as speech or picture data.

Increasing demand for annotated data.
Challenges
Producing high-quality training datasets may be costly and time-consuming.

The shortage of skilled personnel in this industry may have an influence on the availability and quality of training data.
The Russia-Ukraine war
The conflict may disrupt data collection efforts in the affected regions. Data sources from Ukraine, in particular, may become limited or biased due to the ongoing conflict, making it challenging to obtain diverse and representative datasets from these areas. This could affect the availability and quality of training data used in AI models. During times of conflict, information, and media can be subject to manipulation, misinformation, or propaganda. This can introduce biases and inaccuracies into datasets collected from the region. It becomes crucial to carefully curate and label training data to ensure it is free from propaganda or skewed narratives, which could be a challenging task. In regions affected by war, population displacement and societal changes can occur. This can lead to shifts in demographics, cultural practices, and languages spoken. AI training datasets need to reflect these changes to ensure models can accurately understand and cater to the affected populations. Adjustments may be required in terms of language, dialects, cultural references, and other relevant factors. The conflict can raise concerns about the use of AI in warfare and military applications. The potential involvement of AI technologies in surveillance, cyber warfare, or autonomous weapons can trigger debates around ethical AI practices. This may lead to increased scrutiny and regulations on AI training datasets to mitigate potential risks and ensure the responsible use of AI technologies.
Impact of Recessions
During a recession, companies often tighten their budgets and reduce their overall spending. This could lead to a decrease in investment in AI projects, including the acquisition of training datasets. Companies may prioritize cost-cutting measures and delay or cancel AI initiatives, impacting the demand for training datasets. In an effort to streamline operations and reduce costs during a recession, companies may increasingly turn to automation and AI technologies. This could lead to an increased demand for AI training datasets to improve and train existing models or develop new ones. As businesses seek to enhance efficiency and productivity, the need for high-quality training data may grow. During a recession, companies often negotiate harder for lower prices and seek cost-effective solutions. This could result in increased price sensitivity in the AI training dataset market. Dataset providers may need to adjust their pricing strategies or offer more competitive rates to attract customers. Lower prices may benefit companies looking to acquire training datasets but could pose challenges for dataset providers. Economic downturns can prompt shifts in industry priorities. Some sectors may experience significant declines, while others may remain relatively stable or even grow. The demand for AI training datasets may fluctuate accordingly, with industries that continue to invest in AI, such as healthcare or finance, driving the market. Dataset providers may need to adapt and target industries that demonstrate resilience or potential growth during a recession.
Key Market Segmentation
By Type
By End User
IT and Telecom

BFSI

Automotive

Healthcare

Government and Defense

Retail

Others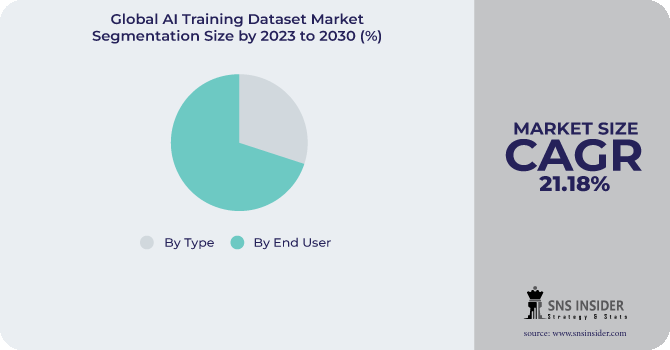 Need any customization research on AI Training Dataset Market - Enquiry Now
Regional Analysis
In 2022, North America will have a market share of 37.2%. North American vendors are concentrating on the release of fresh datasets in order to speed up the adoption of artificial intelligence technologies in developing areas in North America. Waymo LLC, a subsidiary of Google LLC, for example, published a new dataset for driverless vehicles in September 2020. This dataset contains sensor data taken from video sensors and LiDAR under a variety of driving scenarios, including bicycles, pedestrians, signs, and others. Such innovations are pushing the market use of datasets, hence serving to a large portion of the market.
The rate of adoption of new technologies is increasing as commercial organizations in India plan to alter their operations. Several significant businesses are also concentrating on extending their footprint in the Asia Pacific. For example, in July 2020, Microsoft published the Interior Location Dataset to gather information such as the geomagnetic field, interior signature of Wi-Fi, and so on in buildings in Chinese cities. These datasets are intended to aid in the study and development of navigation, indoor environments, and localization. Along with Microsoft, a number of other major competitors are extending their presence in this market. These variables are expected to increase dataset utilization in the region, resulting in a significant growth rate throughout the forecast period.
REGIONAL COVERAGE:
North America
Europe
Eastern Europe

Poland

Romania

Hungary

Turkey

Rest of Eastern Europe

Western Europe

Germany

France

UK

Italy

Spain

Netherlands

Switzerland

Austria

Rest of Western Europe
Asia Pacific
China

India

Japan

South Korea

Vietnam

Singapore

Australia

Rest of Asia Pacific
Middle East & Africa
Middle East

UAE

Egypt

Saudi Arabia

Qatar

Rest of Middle East

Africa

Nigeria

South Africa

Rest of Africa
Latin America
Brazil

Argentina

Colombia
Rest of Latin America
Key Players:
The major players in the market are Amazon Web Services Inc., SCALE AI, INC., Deep Vision Data, Cogito Tech LLC., Google LLC, Lionbridge Technologies, Inc, Alegion, Microsoft Corporation, Samasource Inc., APPEN LIMITED, and others.
Recent Developments:
Amazon Web Services Inc. released new capabilities to its cloud platform in June 2022 to make it easier for programmers to develop code and create training datasets for their AI-based projects.
Hugging Face, an open-source natural language processing (NLP) technology supplier, and Amazon formed a partnership in July 2021. The collaboration's purpose was to make it easier for businesses to adopt cutting-edge machine learning models and to provide advanced NLP capabilities faster. Following this agreement, Hugging Face's suggested cloud provider for providing services to its clients would be Amazon Web Services.
AI Training Dataset Market Report Scope:
Report Attributes
Details
Market Size in 2022
US$ 1.78 Bn
Market Size by 2030
US$ 8.27 Bn
CAGR
CAGR of 21.18 % From 2023 to 2030
Base Year
2022
Forecast Period
2023-2030
Historical Data
2020-2021
Report Scope & Coverage
Market Size, Segments Analysis, Competitive Landscape, Regional Analysis, DROC & SWOT Analysis, Forecast Outlook
Key Segments
• By Type (Text, Audio, Image/Video)
• By End User (IT and Telecom, BFSI, Automotive, Healthcare, Government and Defense, Retail, Others)
Regional Analysis/Coverage
North America (US, Canada, Mexico), Europe (Eastern Europe [Poland, Romania, Hungary, Turkey, Rest of Eastern Europe] Western Europe] Germany, France, UK, Italy, Spain, Netherlands, Switzerland, Austria, Rest of Western Europe]). Asia Pacific (China, India, Japan, South Korea, Vietnam, Singapore, Australia, Rest of Asia Pacific), Middle East & Africa (Middle East [UAE, Egypt, Saudi Arabia, Qatar, Rest of Middle East], Africa [Nigeria, South Africa, Rest of Africa], Latin America (Brazil, Argentina, Colombia Rest of Latin America)
Company Profiles
Amazon Web Services Inc., SCALE AI, INC., Deep Vision Data, Cogito Tech LLC., Google LLC, Lionbridge Technologies, Inc, Alegion, Microsoft Corporation, Samasource Inc., APPEN LIMITED
Key Drivers
• Data quality is becoming increasingly vital.
• Machine learning is growing more popular.
Market Restraints
• Data security and privacy - As AI applications rely more and more on substantial personal data, these challenges may have an impact on the availability of data for training datasets.
• Inadequate diversity of datasets