REPORT SCOPE & OVERVIEW
The Airway Disease Treatment Market size was estimated USD 1997.2 million in 2022 and is expected to reach USD 3041.9 million by 2030 at a CAGR of 5.4% during the forecast period of 2023-2030.
Airway disease is a type of lung illness marked by airway blockage. Chronic obstructive lung disorders, cystic fibrosis bronchiectsis, asthma, and bronchitis all include reversible obstructive components. Smooth muscle contraction causes blockage of smaller bronchi and big bronchioles. Exhaling becomes difficult due to the compressed airways in the lungs. Cough, dyspnea, fever, episodic wheezing, purulent sputum, and trouble breathing are the most common symptoms.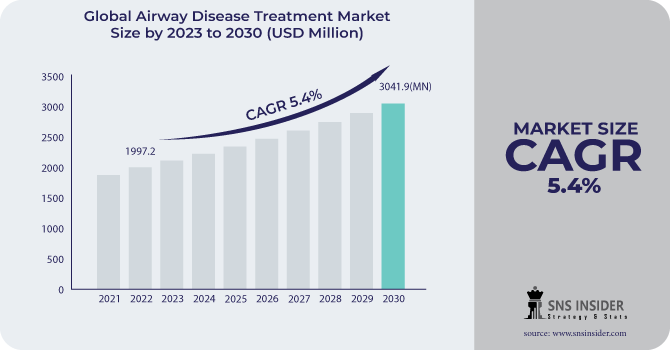 Pharmaceutical companies are introducing novel therapies for lung airway illnesses, such as biologics, combination therapy, and targeted drugs. These breakthroughs provide patients with specific disease subtypes and unmet medical needs with better treatment options. Also, manufacturers of inhalation devices have been focusing on technology developments to improve drug delivery efficiency and patient convenience. To improve drug adherence and disease monitoring, smart inhalers, connected devices, and digital platforms are being integrated into inhalation therapy.
MARKET DYNAMICS
DRIVERS
The expansion of the airway disease treatment market is expected to accelerate due to an increase in the number of patients who are successfully treated with combination therapy but did not react to bronchodilators or corticosteroid therapies. Furthermore, as the symptoms and quality of life of patients with chronic obstructive pulmonary disease can be treated more successfully with combination therapy than with monotherapy, the use of airway disease treatment is increasing. Combination therapy has also gained traction as a result of recent regulatory approvals and an increase in the treatment's success rate for COPD, which has aided the entire market. Furthermore, one of the essential aspects influencing airway disease treatment market developments is the development of cutting-edge therapies for asthma by prominent market competitors. Furthermore, one of the essential elements influencing airway disease treatment market trends and predictions is the development of cutting-edge therapies for asthma by prominent market competitors.
LABA-ICS, LAMA-ICS, triple treatment, and other related agents are among the pharmaceuticals used in COPD combination therapy. Combination therapy is becoming more popular due to its improved efficacy over utilizing a bronchodilator and a corticosteroid separately, driving rising demand for airway disease treatment.
RESTRAIN
The cost of treating lung airway disease, including medications, hospitalizations, and diagnostic procedures, can be significant for patients. Access to affordable treatment options is a challenge, especially in developing countries.
OPPORTUNITY
Because of the increasing frequency of respiratory ailments, increased accessibility to high-quality healthcare facilities, and the expansion of the pharmaceutical sector, developing countries are opening up enormous potential in the market for the treatment of respiratory disorders globally. Because of the rapid adoption of new technology and a boom in innovation, the market for airway disease treatment has several potential opportunities.
CHALLENGES
Despite the increased prevalence of pulmonary airway illnesses, awareness of these conditions and treatment choices remains low in many developing countries. Inadequate healthcare infrastructure and limited access to quality care make successful illness management difficult.
IMPACT OF RUSSIAN UKRAINE WAR
The war added new challenges to that process but did not halt it, "All injured citizens start receiving rehabilitation assistance in the hospital immediately after surgical or other interventions, with the involvement of multidisciplinary teams,", emphasizing the enormous complexity of amputations and reiterating the importance of assistive technology, which WHO supplies to the country in partnership with ATscale, the global partnership for assistive technology. "The restoration of Ukraine is primarily the restoration and development of human capital.
IMPACT OF ONGOING RECESSION
Following the COVID-19 epidemic, economic uncertainty is increasing. Concerns about growing energy prices and geopolitical instability are causing significant uncertainty in the global economy. Forecasts indicate that the current economic slump will likely continue in 2023. The COVID-19 pandemic strained supply chains in the pharmaceutical industry, emphasizing the significance of stable supplies of active pharmaceutical ingredients, the basic materials required to create completed treatments.
KEY SEGMENTS
By Type
By Treatment
Bronchodilators

Corticosteroids

Cytotoxic Drugs

Oxygen Therapy

Antibiotics

Others
By End User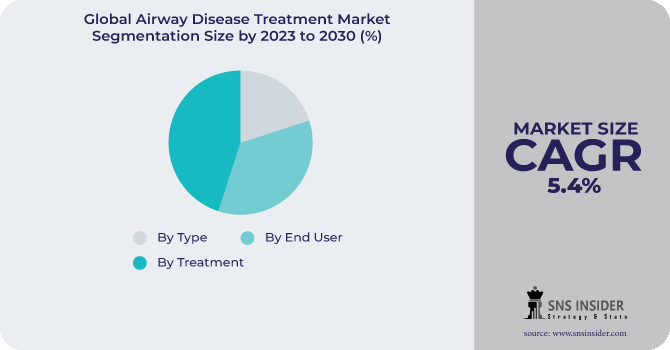 REGIONAL ANALYSES
North America held a significant market share of 38.3% in 2022. North America's dominance can be linked to the increased incidence of respiratory disorders, the popularity of portable gadgets, and the growing need for in-home medical equipment and services. According to the American Lung Association, COPD is the third greatest cause of death in the United States. Furthermore, a growing need for innovative and creative goods in medical institutions, diagnostic labs, and outpatient ambulatory surgery centers will fuel market growth in the region.
Europe is witness to expand fastest market share of 22.7% during the forecast due to a well-established healthcare system and a growth in the frequency of chronic obstructive pulmonary disease drive the region's market, with asthma being the most common concern among youngsters. A variety of technical developments in respiratory diagnostic testing, such as the usage of artificial intelligence and the Internet of things (loT), have prepared the way for the market's rise.
REGIONAL COVERAGE
North America
Europe
Eastern Europe

Poland

Romania

Hungary

Turkey

Rest of Eastern Europe

Western Europe

Germany

France

UK

Italy

Spain

Netherlands

Switzerland

Austria

Rest of Western Europe
Asia Pacific
China

India

Japan

South Korea

Vietnam

Singapore

Australia

Rest of Asia Pacific
Middle East & Africa
Middle East

UAE

Egypt

Saudi Arabia

Qatar

Rest of Middle East

Africa

Nigeria

South Africa

Rest of Africa
Latin America
Brazil

Argentina

Colombia

Rest of Latin America
Key Players
The major key players are Holaira, Inc., VIDA Diagnostics, Boehringer Ingelheim International GmBH, AstraZeneca, Teva Pharmaceuticals, GlaxoSmithKline, Novartis, Pfizer Inc., Sun Pharmaceutical Industries Ltd., Zydus Group, Abbvie Inc., Merck & Co Inc., and Others.
AstraZeneca-Company Financial Analysis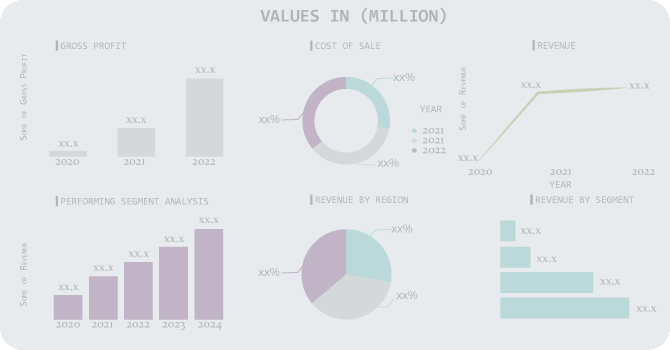 RECENT DEVELOPMENT
In January 2022, AstraZeneca sold the distribution rights to Tudorza, also known as Eklira, and Duaklir to the Swiss pharmaceutical business Covis Pharma Group in January 2022 for US$ 270 million.

The first patient was enrolled in a phase 4 research comparing Yupelri (revefenacin) to Spiriva (tiotropium) for improving lung health in individuals with severe chronic obstructive pulmonary disease (COPD) in January 2022. The safety of these two approved once-daily COPD maintenance medications would also be evaluated. Yupelri is a bronchodilator that relaxes and expands the airways in the lungs, making it easier to breathe. It is accessible as a nebulizer-inhalable solution.