REPORT SCOPE & OVERVIEW
In 2022, the market size of allergic conjunctivitis was USD 2.65 billion and is expected to reach USD 4.10 billion by 2030 and grow at a compound annual growth rate of 5.6 % between 2023 and 2030.
The allergic conjunctivitis market is a segment of the healthcare industry aimed at combating the widespread disease of allergic conjunctivitis. This common eye condition involves conjunctivitis from allergen exposure, leading to symptoms such as redness, itching, and excessive tearing. The market revolves around providing effective treatments to alleviate these troublesome manifestations. It includes a wide range of products, including prescription and over-the-counter antihistamine eye drops, mast cell stabilizers, and corticosteroid eye drops for more severe cases. The focus of the market goes beyond symptom relief to raise awareness of the disease, educate patients on how to avoid allergens, and promote good eye care practices. On a global scale, market dynamics vary based on regional allergen prevalence and seasonal factors. Pharmaceutical companies engage in research and development to innovate new eye drop formulations and delivery methods, thereby improving user convenience and therapeutic efficacy. The competitive landscape involves established brands competing on factors such as brand recognition, safety, effectiveness, and affordability. Regulatory factors play a central role, ensuring that treatments meet stringent safety standards and undergo extensive testing before reaching consumers.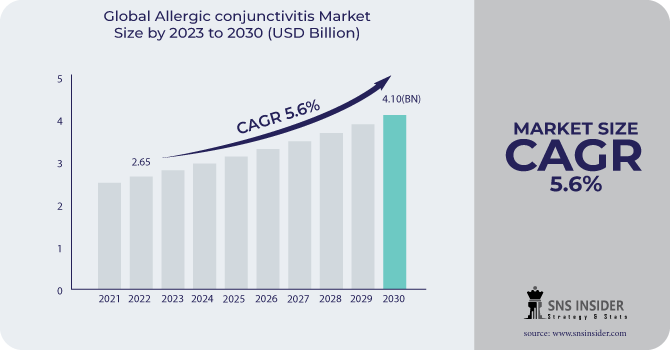 Challenges in the allergic conjunctivitis market include accurate diagnosis to distinguish this condition from other eye diseases, patient adherence to treatment regimens, potential adverse drug effects, and occurrence of adverse events. resistance in some cases. Despite these challenges, the market continues to grow thanks to the collaboration between research institutions, pharmaceutical companies and healthcare professionals. Clinical trials and studies help expand treatment options and refine existing therapies. In summary, the allergic conjunctivitis market is dedicated to improving the quality of life for people with allergic conjunctivitis by offering a wide range of treatments, educational resources and innovative solutions. designed to control symptoms and relieve pain.
MARKET DYNAMICS
KEY DRIVERS:
Increased environmental pollution, changing lifestyles and urbanization contribute to the increased incidence of allergic diseases, including allergic conjunctivitis. As more and more people experience allergic reactions, the need for effective treatment increases.
RESTRAIN:
Despite efforts to raise awareness, some people may still lack knowledge about allergic conjunctivitis, leading to delayed diagnosis and treatment behaviour.
OPPORTUNITY:
Continuous research and development offers the opportunity to innovate new and improved treatments, including new drug formulations, drug delivery systems, and combination therapies, thereby improving treatment efficacy and patient satisfaction.
Patient engagement, adherence and overall results can be enhanced by digital platforms offering personalised treatments plans, monitoring of symptoms and reminders to patients about treatment.
CHALLENGES
This may lead to delayed diagnosis, inappropriate treatment use, and poor symptom management.
IMPACT OF RUSSIAN UKRAINE WAR
The Russia-Ukrainian War is expected to have a significant impact on the allergic conjunctivitis market. Russia and Ukraine are two of the world's leading manufacturers of eye drops that are the mainstay of treatment for allergic conjunctivitis. The war disrupted production and exports from these countries, leading to shortages and soaring prices of eye drops. Patients are turning to less effective treatment options, such as over-the-counter medications, due to the high cost of eye drops. Insurers are tightening return policies on eye drops, making them more expensive for patients to buy. The eye drop supply chain was disrupted, making it more difficult for manufacturers to get the ingredients they needed to make eye drops.
Russia's invasion of Ukraine has resulted in great human suffering and thus the most extensive economic boycott of a belligerent nation in contemporary history. The results will have far-reaching implications for biotech and pharmaceutical companies, as well as the medical discoveries they promote. Before the conflict, Ukraine had a significant presence in the research services industry, supporting both startups and large pharmaceutical companies. Ukraine has participated in hundreds of clinical trials each year, according to the US Food and Drug Administration Clinical Trials Database. Most importantly, Ukraine is a major provider of pharmacochemical services, such as synthesis and optimization of physiologically active drug molecules, commercially available reagents, including drug building blocks and library chemicals. Due to certain database, the price of conjunctivitis drugs has increased by 10-12%, which can still lead to 4-5% growth in this market.
IMPACT OF ONGOING RECESSION
The ongoing economic downturn has a negative impact on the allergic conjunctivitis market. The market is expected to shrink by 2.7% in 2023 compared to 2022. As people tighten their belts during a recession, they are less likely to spend money on non-essential health items, such as treatments for allergic conjunctivitis. The unemployed are less likely to have health insurance, which can make it impossible for them to pay for treatment for allergic conjunctivitis. The economic downturn also reduces access to healthcare, as hospitals and clinics cut their services. This can make it difficult for people with allergic conjunctivitis to get the treatment they need.
A recession, defined as two consecutive quarters of negative GDP growth, can be harmful to everyone's health, as recessions are strongly associated with low health care utilization and worse health outcomes. The World Health Organization surveyed the impact of recessions on pharmaceutical spending, sales and prices in 88 countries between 2021 and 2022. The organization found that economic downturns have an impact. Mixed effects on drug sales, with the largest declines occurring in high-income countries. and Europe, especially in the Baltic countries. Due to all these databases, the conjunctivitis treatment market can drop by as much as 2-3%.
KEY MARKET SEGMENTS
By Drug Class
By Disease Type
By Distribution Channel
REGIONAL ANALYSIS
North America is dominating the market and will continue to dominate the market over the forecast period. This is due to the awareness about ocular allergies and spread of disease in this region.
Europe is the second largest market due to rising patient in this region. Pharmaceutical companies continue to innovate in terms of eye drop formulations, enhancing ease of use and effectiveness. Regulatory bodies ensure products meet strict safety criteria before reaching consumers. As with North America, the competitive landscape features established brands and a growing emphasis on patient education regarding allergies and proper eye care.
In the Asia Pacific region, the Allergic Conjunctivitis Market is expanding with the highest growth rate due to rapid urbanization, increased pollution levels, and changing lifestyles leading to heightened allergy incidence. Emerging economies are witnessing rising healthcare investments, promoting awareness, diagnosis, and treatment options for allergic conjunctivitis. Local and multinational pharmaceutical companies are tapping into this potential, offering a range of eye drop solutions.
REGIONAL COVERAGE:
North America
Europe
Eastern Europe

Poland

Romania

Hungary

Turkey

Rest of Eastern Europe

Western Europe

Germany

France

UK

Italy

Spain

Netherlands

Switzerland

Austria

Rest of Western Europe
Asia Pacific
China

India

Japan

South Korea

Vietnam

Singapore

Australia

Rest of Asia Pacific
Middle East & Africa
Middle East

UAE

Egypt

Saudi Arabia

Qatar

Rest of Middle East

Africa

Nigeria

South Africa

Rest of Africa
Latin America
Brazil

Argentina

Colombia

Rest of Latin America
Key players
Some major key players in the Allergic Conjunctivitis Market Allergan, Alcon, Novartis AG, Sun Pharmaceutical Industries Ltd, Eton Pharmaceutical, Eyevance Pharmaceuticals LLC, Santen Pharmaceutical Co, Ltd, Ocular Therapeutix Inc, Bausch & Lomb Incorporated, Pfizer Inc and other players.
Alcon​​​​​​​-Company Financial Analysis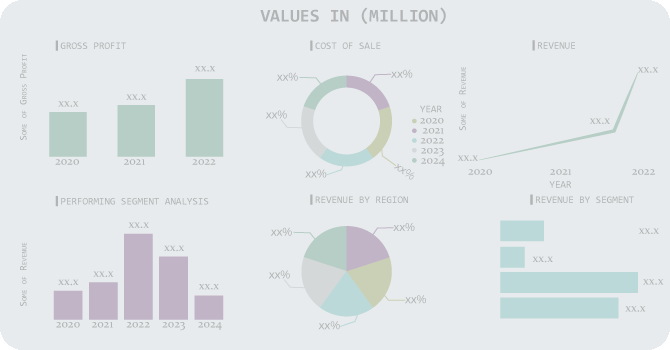 ​​​​​​​
RECENT DEVELOPMENT
Aldeyra Therapeutics, Based on topline data from the phase 3 INVIGORATE-2 study, treatment with reproxalap 0.25% ophthalmic solution led to statistically significant improvement in patients with allergic conjunctivitis.

Ocular Therapeux, Inc., a biopharmaceutical company focused on formulating, developing, and commercializing innovative therapies for eye diseases and conditions announced a licensing and regulatory agreement. partnered with AffaMed Therapeutics to develop and commercialize DEXTENZA and OTX-TIC in Mainland China, Korea and ASEAN markets. resources and innovative solutions to manage symptoms and provide relief.
Allergic Conjunctivitis Market Report Scope:
Report Attributes
Details
Market Size in 2022
US$ 2.65 Bn
Market Size by 2030
US$ 4.10 Bn
CAGR
CAGR of 5.6 % From 2023 to 2030
Base Year
2022
Forecast Period
2023-2030
Historical Data
2020-2021
Report Scope & Coverage
Market Size, Segments Analysis, Competitive Landscape, Regional Analysis, DROC & SWOT Analysis, Forecast Outlook
Key Segments
• by Drug Class (Corticosteroids, Antihistamines & Mast Cell Stabilizers, Others)
• by Disease Type (Mild, Severe)
• by Distribution Channel (Hospital Pharmacies, Online Pharmacies, Drug Stores & Retail Pharmacies)
Regional Analysis/Coverage
North America (US, Canada, Mexico), Europe (Eastern Europe [Poland, Romania, Hungary, Turkey, Rest of Eastern Europe] Western Europe] Germany, France, UK, Italy, Spain, Netherlands, Switzerland, Austria, Rest of Western Europe]). Asia Pacific (China, India, Japan, South Korea, Vietnam, Singapore, Australia, Rest of Asia Pacific), Middle East & Africa (Middle East [UAE, Egypt, Saudi Arabia, Qatar, Rest of Middle East], Africa [Nigeria, South Africa, Rest of Africa], Latin America (Brazil, Argentina, Colombia Rest of Latin America)
Company Profiles
Allergan, Alcon, Novartis AG, Sun Pharmaceutical Industries Ltd, Eton Pharmaceutical, Eyevance Pharmaceuticals LLC, Santen Pharmaceutical Co, Ltd, Ocular Therapeutix Inc, Bausch & Lomb Incorporated, Pfizer Inc
Key Drivers
• Increasing Prevalence of Allergies
• Innovation in Treatment Formulations encourages patients and healthcare providers to adopt newer treatments.
Market Restraints
• Lack of awareness about the allergic conjunctivitis