Report Scope & Overview:
Automotive Engineering Services Outsourcing Market size was valued at USD 71.44 Bn in 2022 and is expected to reach USD 333.23 Bn by 2030, and grow at a CAGR of 21.23% over the forecast period 2023-2030.
Automotive engineering, like aerospace engineering and naval architecture, is a branch of engineering that combines elements of mechanical, electrical, electronic, software, and safety engineering as they apply to the design, manufacture, and operation of motorcycles, automobiles, trucks, as well as their respective engineering subsystems. It also includes vehicle customization. It also includes the manufacturing domain, which deals with the manufacture and assembly of car parts. Automotive engineering is a research-intensive subject that uses mathematical models and formulae directly.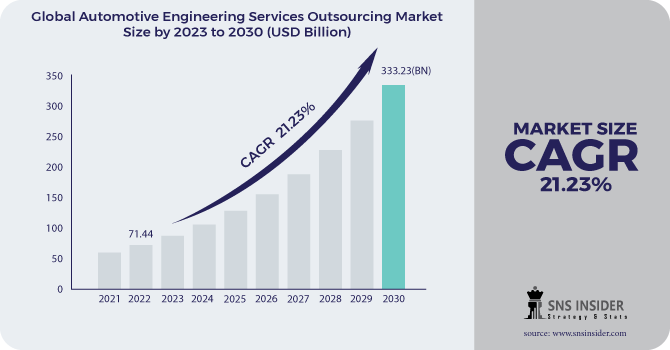 Outsourcing helps with a range of competencies, including creating car parts, collaborating with a company's supply chain, and generating aftermarket support for engineering. Information technology may also help to make product development processes more efficient and cost-effective. Outsourcing automotive engineering services entails responsibilities such as designing, prototyping, system integration, testing, and much more.
MARKET DYNAMICS:
KEY DRIVERS:
Demand for innovative networking solutions is increasing.

Adoption of electric vehicles (EVs) and shared mobility for a better environment.

Luxury car demand.
RESTRAINTS:
OPPORTUNITY:
Standardization of safety features.

Rise of autonomous vehicles.

Demand for outsourcing.

Implementation of stringent emission norms & environmental regulations.
CHALLENGES:
High-risk investments

Threats to security
IMPACT OF COVID-19:
The COVID-19 epidemic was labelled a worldwide pandemic by WHO after spreading to numerous nations and multiplying the number of patients in a matter of weeks. The COVID-19 epidemic has had a negative impact on numerous economies throughout the world. Combat tactics such as total lockdown and quarantine to combat COVID-19 have had a significant negative impact on various businesses throughout the world, including the automobile industry. The impact of the coronavirus outbreak on the car industry has evolved from a supply shock to a worldwide demand shock. The uncertainty surrounding the length of the lockdown and supply chain disruptions has made it much more difficult for industry stakeholders to forecast the automobile sector's revival.
MARKET ESTIMATION:
In 2021, the powertrain and after treatment category had the highest revenue share of the automotive ESO market. This is due to the electrification of powertrains as a replacement for internal combustion engines fueled by petroleum and gasoline, which can reduce the environmental effect of carbon emissions. OEM investments in powertrain technology are expected to have a beneficial influence on the growth of the powertrain and after treatment industry. Furthermore, because to its capacity to perceive and recognize its surroundings and provide safe mobility, the adoption of autonomous driving/ADAS is predicted to expand significantly throughout the projection period. ADAS is made up of a variety of sensors, including as lidar, GPS, radar, inertial measurement units, and others, which give enhanced sensory information and control systems to help you navigate.
In 2021, the prototype segment had the highest revenue share and is likely to lead the automotive ESO market during the forecast period. This is due to the automobile industry's growing use of 3D printing technology to create a prototype of an assembly, specific pieces, or a whole car model. Manufacturers may use 3D printing technology to swiftly discover flaws in prototypes and implement remedial steps, resulting in a more cost-effective strategy. As ESPs engage in the development of new test centres in an attempt to expand and fulfil the expanding demand for automotive testing, the testing category is predicted to account for the quickest growth, achieving a CAGR throughout the forecasted years.
In 2021, the on-shore category had the most revenue share of the entire market and is predicted to expand the quickest throughout the forecast period. This is due to OEMs' growing desire to work with locally accessible ESPs. This will aid in avoiding the risk, as many nations do not adhere to intellectual property copyright regulations. The obstacles encountered while working with ESPs from a foreign area, such as various time zones, language hurdles, enforced rules and regulations, and others, limit OEMs' preference for outsourcing from other countries, resulting in a considerable rise in demand for the on-shore market. During the projection period, the off-shore segment is predicted to increase significantly. This is due to OEMs' growing preference for outsourcing services to low-cost nations such as India, China, Brazil, Mexico, and Ukraine. With the highest number of engineering graduates and suitable capabilities among all low-cost nations for ESO, India is heavily favored by OEMs, fueling growth in this area.
KEY MARKET SEGMENTS:
On The Basis of Application
Autonomous Driving/ADAS

Body & Chassis

Powertrain and After-treatment

Infotainment & Connectivity

Others
On The Basis of Service
Designing

Prototyping

System Integration

Testing

Others
On The Basis of Location
On The Basis of Vehicle Type
Passenger cars

Commercial vehicles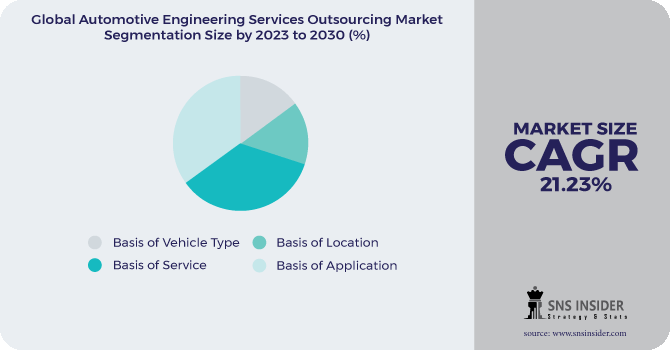 REGIONAL ANALYSIS:
The Asia-Pacific region is expected to dominate the worldwide automotive engineering services market in 2021, followed by Europe, North America, Latin America, the Middle East, and Africa. North America, on the other hand, is predicted to increase rapidly throughout the projection period. North America is one of the world's greatest automotive manufacturing centers, and car manufacturing is an important component of the North American economy. The demand for electric vehicles has increased as the government provides subsidies and promotes the availability of energy-efficient automobiles. Furthermore, the introduction of self-driving vehicles is offering prospects for growth in this industry. The United States is a significant market for automotive engineering services in North America, thanks mostly to the automotive industry's increasing R&D spending.
REGIONAL COVERAGE:
North America

Europe

Germany

UK

France

Italy

Spain

The Netherlands

Rest of Europe

Asia-Pacific

Japan

south Korea

China

India

Australia

Rest of Asia-Pacific

The Middle East & Africa

Latin America

Brazil

Argentina

Rest of Latin America
KEY PLAYERS:
The major key players are Alten Group, Altran, ARRK Product Development Group Ltd., ASAP Holding Gmbh, AVL List GmbH, Bertrandt AG, EDAG Group, ESG Elektroniksystem- und Logistik-GmbH, FEV Group GmbH, and Horiba, LTD.
Automotive Engineering Services Outsourcing Market Report Scope:
Report Attributes
Details
Market Size in 2022
US$ 71.44 Billion
Market Size by 2030
US$ 333.23 Billion
CAGR
CAGR of 21.23% From 2023 to 2030
Base Year
2022
Forecast Period
2023-2030
Historical Data
2020-2021
Report Scope & Coverage
Market Size, Segments Analysis, Competitive Landscape, Regional Analysis, DROC & SWOT Analysis, Forecast Outlook
Key Segments
• by Application (Autonomous Driving/ADAS, Body & Chassis, Powertrain and After-treatment, Infotainment & Connectivity, and Others)
• by Basis of Service (Designing, Prototyping, System Integration, Testing, and Others)
• by Location (On-shore and Off-shore)
• by Vehicle Type (Passenger cars and Commercial vehicles)
Regional Analysis/Coverage
North America (USA, Canada, Mexico), Europe
(Germany, UK, France, Italy, Spain, Netherlands,
Rest of Europe), Asia-Pacific (Japan, South Korea,
China, India, Australia, Rest of Asia-Pacific), The
Middle East & Africa (Israel, UAE, South Africa,
Rest of Middle East & Africa), Latin America (Brazil, Argentina, Rest of Latin America)
Company Profiles
Alten Group, Altran, ARRK Product Development Group Ltd., ASAP Holding Gmbh, AVL List GmbH, Bertrandt AG, EDAG Group, ESG Elektroniksystem- und Logistik-GmbH, FEV Group GmbH, and Horiba, LTD.
Key Drivers
•Sanctioned Protocol Implementation to Comply with Cloud Storage Regulations.

•Increase in the Number of Cloud-Based Services Transitions.

•The spread of video and rich media on social media sites.
RESTRAINTS
Intellectual Property (IP) restriction

Change in business model