Report Scope & Overview:
Baggage Handling System Market size was valued at USD 8.6 billion in 2022 and is expected to grow to USD 14.44 billion by 2030 and grow at a CAGR of 6.7 % over the forecast period of 2023-2030.
The baggage handling system market for airports is expected to account for the greatest market share. Airports account for over 95% of the market. According to preliminary data, the airport segment will continue to dominate the industry for the next 20-30 years. With aggressive government incentives and mandates, India and China have positioned themselves as leaders in the airport industry.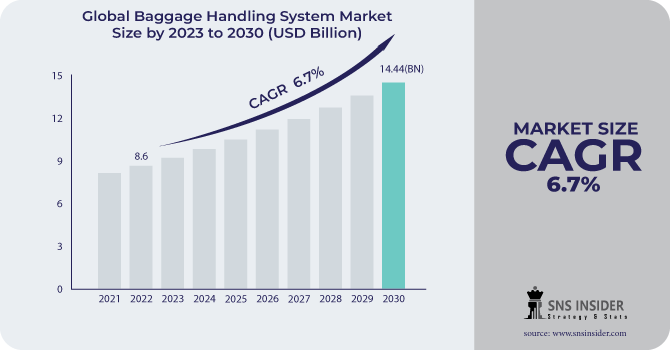 The market is divided into RFID and barcode technologies. The RFID technology market is predicted to develop the fastest due to the technology's low cost and dependability in enhancing the baggage handling process. RFID decreases baggage mistreatment by nearly 20%, resulting in a better passenger experience. It is a simple technique to get baggage mishandling track records in order to comply with IATA Resolution 753. RFID technology is being invested in by major airline corporations in order to provide passengers with a better traveling experience. For example, Delta Airlines invested around USD 50 million in to establish RFID luggage tracking equipment at 344 stations across the country. The market is split into two types: destination-coded vehicles (DCV) and conveyors. Because DCVs work about 4.5 times faster than conveyor baggage handling systems (BHS), the DCV industry is likely to offer significant growth potential. The significant expansion of this segment is attributable to reasons such as an increase in air travelers and airport infrastructure upgrades such as technology development and capacity enhancement.
KEY DRIVERS:
According to the International Air Transport Association (IATA), the number of airline passengers in 2037 will be over 8 billion. Passengers traveling by air have increased in recent years, owing to factors such as sustained economic growth, positive population dynamics, demographic profiles, and higher household incomes. Considering these concerns, airport authorities are heavily investing in baggage handling equipment and contemporary facilities that can improve the consumer experience. For example, in March 2018, the Chicago City Council authorized a USD 8.5 billion expansion plan for airport redevelopment, which included renovating existing terminals and increasing the number of gates.
RESTRAIN:
The high initial investment required owing to the use of conveyor belts, RFID sensors, X-ray screening machines, and other equipment, as well as the inflated cost of a baggage handling system, are impeding market expansion. Furthermore, the BHS's operating and maintenance services add to the system's baseline cost, which includes maintenance, manpower, and electricity. Many developing countries have smaller terminals, which limits the installation of a baggage handling system. Furthermore, labor costs for manual luggage handling are reasonable in developing nations with smaller airports. To some extent, these problems also impede the expansion of the airport baggage handling industry.
OPPORTUNITY:
bags handling robots are projected to aid in the process of loading passenger bags into unit load devices (ULD) and carts in airport operations in the future years. This technology is also being used by some of Europe's busiest airports. For example, SITA Lab's baggage robot, Leo, is a fully automated, self-propelling baggage robot that can do duties such as luggage check-in, printing bag tags, and transporting up to two bags weighing up to 32kg. It also has functions for avoiding obstructions and navigating in densely populated areas. Leo took part in a testing phase at Geneva airport in 2017, where passengers utilized the robot to check-in their bags. As workplace safety standards have become more stringent,
CHALLENGES:
To maximize potential, the aviation sector, like other industries, requires technical updates. During peak travel periods, the check-in process typically takes the majority of the time and is exhausting for the passengers. This procedure can be simplified by using an automated kiosk, a remote queue management system, and remote check-ins. Similarly, other baggage-handling technologies, such as radio-frequency identification (RFID) and near field communication (NFC), are being effectively adopted in a number of airports for automated check-in services. For example, in June 2018, an Italian business announced the development of a new tagging technology incorporating RFID chips for tracking passenger luggage in real time at every stage of transfer, which is projected to reduce the amount of luggage lost.
IMPACT ANALYSIS
IMPACT OF RUSSIAN UKRAINE WAR
The Russian invasion of Ukraine and the restrictions put on the country as it recovers from the crushing effects of the Covid-19 lockdowns. According to GlobalData, the pandemic had a negative influence on global revenue from full-service and low-cost airlines. According to the data, the industry saw consistent growth before to the pandemic, but global sales from full-service and low-cost airlines fell sharply in 2020 before recovering slightly in 2021, falling short of pre-pandemic levels. The battle to recover has been exacerbated by sanctions and flight restrictions imposed both by and against Russia. 'Since the beginning of the invasion of Ukraine, Canada.
The battle to recover has been exacerbated by sanctions and flight restrictions imposed both by and against Russia. 'Since the beginning of the Ukrainian incursion, Canada, the EU, the United Kingdom, the United States, and a number of other nations have barred Russian planes from their airspace. Russia has replied by prohibiting 36 countries from flying over its territory. 'The mutual sanctions and air restrictions have shaken up the aviation sector, resulting in flight cancellations or rerouting, increased air ticket prices, higher fuel costs, and titanium supply concerns, among other things. According to Dylan Alperin, head of professional services at supplies, Russian naval troops have barred transportation in and out of the Sea of Azov, one of Ukraine's few entry points to ocean trade. This has resulted in a significant buildup of vessels awaiting passage through the Kerch Strait." "With 70% of Ukraine's exports distributed by ship, the congestion is getting worse by the hour," he told CNBC.the problems.
IMPACT OF ONGOING RECESSION
The worldwide crisis that has taken its toll on airlines' finances, both for passenger and cargo operations. Although falling demand had been foreseen as part of a cyclical slump for some time, the crisis arrived faster and hit harder than most analysts had predicted. First, increasing gasoline prices ate into earnings made, and then the extensive meltdown of the finance sector dampened demand for air travel, which harmed carriers' bottom lines even with lowering fuel prices. This is rather surprising, given the recession's beginning was less spectacular than the last one, which followed the terrorist (9/11) attacks in the United States. Nonetheless, while the mechanics appear to be distinct, the pains of Travel and tourism are one of the businesses most affected by the Covid-19 pandemic, with a total revenue loss of over US$ 2 trillion in the last few years. Although the industry has rebounded this year, a recession in 2023 is expected to restrict travel demand, impacting the airline and hotel businesses. The travel and tourism business are anticipated to have the lowest consumer spending of any category on this list. Travel spending is one of the first to be slashed as customers minimize non-essential spending. whereas they put food and utilities first.
MARKET SEGMENTATION
By Type
By Solution
By Mode of Transport
By Tracking Technology
Barcode System

RFID System
By Check-in Service Type
Assisted Service

Self-service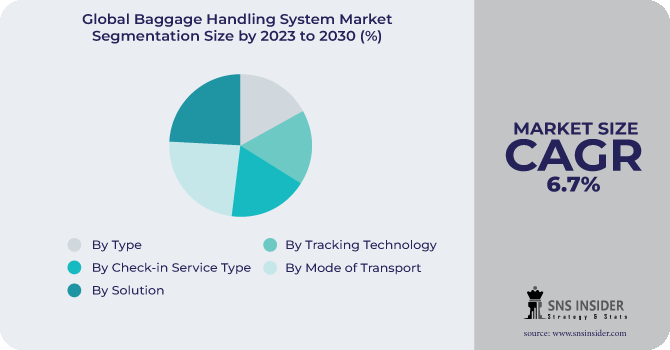 REGIONAL ANALYSIS
Asia-Pacific is best positioned to dominate the baggage handling system industry. This is due to factors such as increasing air passenger traffic, an increase in cruise travelers, and impending airport redevelopment projects.
Furthermore, investments in railway transportation and country economic growth have increased demand for these systems. Furthermore, nations such as India, Singapore, Japan, China, Australia, and New Zealand are seeing an increase in the number of people traveling by sea and air. This is because the government is heavily investing in technological development and forming partnerships to get a competitive advantage in the market. For example, the Airport Authority of India (AAI) bought CTX 9800DSi high-speed explosive detection systems (EDS) for hold baggage. detecting systems (EDS) for hold baggage screening at nine Indian airports. This relationship with Smiths Detection Group Ltd. is valued at approximately USD 50 million.
Because of the numerous airport expansion plans in the United States and Canada, North America is likely to grow rapidly. Because North America leads the world in baggage mishandling instances, government officials have taken steps to invest in luggage handler equipment. Baggage mishandling cases can be reduced by introducing large capacity baggage handling devices, for example, YYC Calgary International Airport in Canada inked a 10-year agreement with Beumer Group for the operation and maintenance of baggage handling systems that include a technologically advanced 10-mile CrisBag, tote-based luggage conveyance, and sortation system.
REGIONAL COVERAGE:
North America
Europe
Eastern Europe

Poland

Romania

Hungary

Turkey

Rest of Eastern Europe

Western Europe

Germany

France

UK

Italy

Spain

Netherlands

Switzerland

Austria

Rest of Western Europe
Asia Pacific
China

India

Japan

South Korea

Vietnam

Singapore

Australia

Rest of Asia Pacific
Middle East & Africa
Middle East

UAE

Egypt

Saudi Arabia

Qatar

Rest of Middle East

Africa

Nigeria

South Africa

Rest of Africa
Latin America
Brazil

Argentina

Colombia

Rest of Latin America
KEY PLAYERS
Some of key players of a Baggage Handling System Market are Vanderlande Industries, Siemens, Daifuku Co., Ltd., BEUMER GROUP, Pteris Global Limited, SITA, Fives, Babcock International Group PLC, Smiths Detection Group Ltd., G&S Airport Conveyor, B2A Group, Logplan, Alstef Group and other players are listed in a final report.
Vanderlande Industries-Company Financial Analysis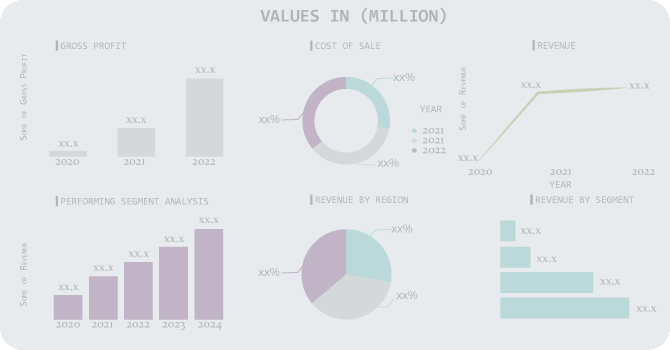 RECENT DEVELOPMENT
Kuala Lampur International Airport in Malaysia announced in December 2022 that they had selected Siemens Logistics and the local company T7 Global to update the baggage handling system (BHS) at Terminal 1. The order calls for the systematic decommissioning of the present system as well as the design, installation, and commissioning of new baggage handling systems. Siemens will provide VarioTray and VarioBelt technology, as well as VarioStore early bag storage and high-performance controlling software. Furthermore, baggage handling systems The VarioBelt conveyor will also be on display during the market.

In August 2022, Alstef announced the launch of a new mobile robot for luggage handling at airports. The BAGXone is a novel machine with a high-speed automated guided vehicle designed to handle individual bags. It can travel small distances, such as from check-in to screening machines or from screening machines to an airport. There was an early bag store, a reconciliation room, and a make-up carousel.

SITA announced a collaboration arrangement with Alstef Group, an established baggage handling specialist, in June 2022 to debut Swift Drop, a new self-bag drop technology that dramatically speeds up the experience of customers checking their bags. The user-friendly interface allows passengers to quickly check their bags. avoiding huge lines at typical check-in locations.
Baggage Handling System Market Report Scope:
Report Attributes
Details

TABLE OF CONTENT

1. Introduction
1.1 Market Definition
1.2 Scope
1.3 Research Assumptions

2. Research Methodology

3. Market Dynamics
3.1 Drivers
3.2 Restraints
3.3 Opportunities
3.4 Challenges

4. Impact Analysis
4.1 Impact of the Russia-Ukraine War
4.2 Impact of Ongoing Recession
4.2.1 Introduction
4.2.2 Impact on major economies
4.2.2.1 US
4.2.2.2 Canada
4.2.2.3 Germany
4.2.2.4 France
4.2.2.5 United Kingdom
4.2.2.6 China
4.2.2.7 Japan
4.2.2.8 South Korea
4.2.2.9 Rest of the World

5. Value Chain Analysis

6. Porter's 5 forces model

7. PEST Analysis
8. Baggage Handling System Market Segmentation, By Type
8.1 Conveyor
8.2 Destination Coded Vehicle (DCV)

9. Baggage Handling System Market Segmentation, By Solution
9.1 Check-in, Screening, and Loading
9.2 Conveying and Sorting
9.3 Unloading and Reclaim

10. Baggage Handling System Market Segmentation, By Mode of Transport
10.1 Airport
10.2 Railway
10.3 Marine

11 Baggage Handling System Market Segmentation, By Tracking Technology
11.1 Barcode System
11.2 RFID System

12. Baggage Handling System Market Segmentation, By Check-in Service Type
12.1 Assisted Service
12.2 Self-service

13. Regional Analysis
13.1 Introduction
13.2 North America
13.2.1 North America Baggage Handling System Market by Country
13.2.2 North America Baggage Handling System Market by Type
13.2.3 North America Baggage Handling System Market by Solution
13.2.4 North America Baggage Handling System Market by Mode of Transport
13.2.5 North America Baggage Handling System Market by Tracking Technology
13.2.6 North America Baggage Handling System Market by Check-in Service Type
13.2.7 USA
13.2.7.1 USA Baggage Handling System Market by Type
13.2.7.2 USA Baggage Handling System Market by Solution
13.2.7.3 USA Baggage Handling System Market by Mode of Transport
13.2.7.4 USA Baggage Handling System Market by Tracking Technology
13.2.7.5 USA Baggage Handling System Market by Check-in Service Type
13.2.8 Canada
13.2.8.1 Canada Baggage Handling System Market by Type
13.2.8.2 Canada Baggage Handling System Market by Solution
13.2.8.3 Canada Baggage Handling System Market by Mode of Transport
13.2.8.4 Canada Baggage Handling System Market by Tracking Technology
13.2.8.5 Canada Baggage Handling System Market by Check-in Service Type
13.2.9 Mexico
13.2.9.1 Mexico Baggage Handling System Market by Type
13.2.9.2 Mexico Baggage Handling System Market by Solution
13.2.9.3 Mexico Baggage Handling System Market by Mode of Transport
13.2.9.4 Mexico Baggage Handling System Market by Tracking Technology
13.2.9.5 Mexico Baggage Handling System Market by Check-in Service Type
13.3 Europe
13.3.1 Eastern Europe
13.3.1.1 Eastern Europe Baggage Handling System Market by Country
13.3.1.2 Eastern Europe Baggage Handling System Market by Type
13.3.1.3 Eastern Europe Baggage Handling System Market by Solution
13.3.1.4 Eastern Europe Baggage Handling System Market by Mode of Transport
13.3.1.5 Eastern Europe Baggage Handling System Market by Tracking Technology
13.3.1.6 Eastern Europe Baggage Handling System Market by Check-in Service Type
13.3.1.7 Poland
13.3.1.7.1 Poland Baggage Handling System Market by Type
13.3.1.7.2 Poland Baggage Handling System Market by Solution
13.3.1.7.3 Poland Baggage Handling System Market by Mode of Transport
13.3.1.7.4 Poland Baggage Handling System Market by Tracking Technology
13.3.1.7.5 Poland Baggage Handling System Market by Check-in Service Type
13.3.1.8 Romania
13.3.1.8.1 Romania Baggage Handling System Market by Type
13.3.1.8.2 Romania Baggage Handling System Market by Solution
13.3.1.8.3 Romania Baggage Handling System Market by Mode of Transport
13.3.1.8.4 Romania Baggage Handling System Market by Tracking Technology
13.3.1.8.5 Romania Baggage Handling System Market by Check-in Service Type
13.3.1.9 Hungary
13.3.1.9.1 Hungary Baggage Handling System Market by Type
13.3.1.9.2 Hungary Baggage Handling System Market by Solution
13.3.1.9.3 Hungary Baggage Handling System Market by Mode of Transport
13.3.1.9.4 Hungary Baggage Handling System Market by Tracking Technology
13.3.1.9.5 Hungary Baggage Handling System Market by Check-in Service Type
13.3.1.10 Turkey
13.3.1.10.1 Turkey Baggage Handling System Market by Type
13.3.1.10.2 Turkey Baggage Handling System Market by Solution
13.3.1.10.3 Turkey Baggage Handling System Market by Mode of Transport
13.3.1.10.4 Turkey Baggage Handling System Market by Tracking Technology
13.3.1.10.5 Turkey Baggage Handling System Market by Check-in Service Type
13.3.1.11 Rest of Eastern Europe
13.3.1.11.1 Rest of Eastern Europe Baggage Handling System Market by Type
13.3.1.11.2 Rest of Eastern Europe Baggage Handling System Market by Solution
13.3.1.11.3 Rest of Eastern Europe Baggage Handling System Market by Mode of Transport
13.3.1.11.4 Rest of Eastern Europe Baggage Handling System Market by Tracking Technology
13.3.1.11.5 Rest of Eastern Europe Baggage Handling System Market by Check-in Service Type
13.3.2 Western Europe
13.3.2.1 Western Europe Baggage Handling System Market by Country
13.3.2.2 Western Europe Baggage Handling System Market by Type
13.3.2.3 Western Europe Baggage Handling System Market by Solution
13.3.2.4 Western Europe Baggage Handling System Market by Mode of Transport
13.3.2.5 Western Europe Baggage Handling System Market by Tracking Technology
13.3.2.6 Western Europe Baggage Handling System Market by Check-in Service Type
13.3.2.7 Germany
13.3.2.7.1 Germany Baggage Handling System Market by Type
13.3.2.7.2 Germany Baggage Handling System Market by Solution
13.3.2.7.3 Germany Baggage Handling System Market by Mode of Transport
13.3.2.7.4 Germany Baggage Handling System Market by Tracking Technology
13.3.2.7.5 Germany Baggage Handling System Market by Check-in Service Type
13.3.2.8 France
13.3.2.8.1 France Baggage Handling System Market by Type
13.3.2.8.2 France Baggage Handling System Market by Solution
13.3.2.8.3 France Baggage Handling System Market by Mode of Transport
13.3.2.8.4 France Baggage Handling System Market by Tracking Technology
13.3.2.8.5 France Baggage Handling System Market by Check-in Service Type
13.3.2.9 UK
13.3.2.9.1 UK Baggage Handling System Market by Type
13.3.2.9.2 UK Baggage Handling System Market by Solution
13.3.2.9.3 UK Baggage Handling System Market by Mode of Transport
13.3.2.9.4 UK Baggage Handling System Market by Tracking Technology
13.3.2.9.5 UK Baggage Handling System Market by Check-in Service Type
13.3.2.10 Italy
13.3.2.10.1 Italy Baggage Handling System Market by Type
13.3.2.10.2 Italy Baggage Handling System Market by Solution
13.3.2.10.3 Italy Baggage Handling System Market by Mode of Transport
13.3.2.10.4 Italy Baggage Handling System Market by Tracking Technology
13.3.2.10.5 Italy Baggage Handling System Market by Check-in Service Type
13.3.2.11 Spain
13.3.2.11.1 Spain Baggage Handling System Market by Type
13.3.2.11.2 Spain Baggage Handling System Market by Solution
13.3.2.11.3 Spain Baggage Handling System Market by Mode of Transport
13.3.2.11.4 Spain Baggage Handling System Market by Tracking Technology
13.3.2.11.5 Spain Baggage Handling System Market by Check-in Service Type
13.3.2.12 The Netherlands
13.3.2.12.1 Netherlands Baggage Handling System Market by Type
13.3.2.12.2 Netherlands Baggage Handling System Market by Solution
13.3.2.12.3 Netherlands Baggage Handling System Market by Mode of Transport
13.3.2.12.4 Netherlands Baggage Handling System Market by Tracking Technology
13.3.2.12.5 Netherlands Baggage Handling System Market by Check-in Service Type
13.3.2.13 Switzerland
13.3.2.13.1 Switzerland Baggage Handling System Market by Type
13.3.2.13.2 Switzerland Baggage Handling System Market by Solution
13.3.2.13.3 Switzerland Baggage Handling System Market by Mode of Transport
13.3.2.13.4 Switzerland Baggage Handling System Market by Tracking Technology
13.3.2.13.5 Switzerland Baggage Handling System Market by Check-in Service Type
13.3.2.14 Austria
13.3.2.14.1 Austria Baggage Handling System Market by Type
13.3.2.14.2 Austria Baggage Handling System Market by Solution
13.3.2.14.3 Austria Baggage Handling System Market by Mode of Transport
13.3.2.14.4 Austria Baggage Handling System Market by Tracking Technology
13.3.2.14.5 Austria Baggage Handling System Market by Check-in Service Type
13.3.2.15 Rest of Western Europe
13.3.2.15.1 Rest of Western Europe Baggage Handling System Market by Type
13.3.2.15.2 Rest of Western Europe Baggage Handling System Market by Solution
13.3.2.15.3 Rest of Western Europe Baggage Handling System Market by Mode of Transport
13.3.2.15.4 Rest of Western Europe Baggage Handling System Market by Tracking Technology
13.3.2.15.5 Rest of Western Europe Baggage Handling System Market by Check-in Service Type
13.4 Asia-Pacific
13.4.1 Asia Pacific Baggage Handling System Market by Country
13.4.2 Asia Pacific Baggage Handling System Market by Type
13.4.3 Asia Pacific Baggage Handling System Market by Solution
13.4.4 Asia Pacific Baggage Handling System Market by Mode of Transport
13.4.5 Asia Pacific Baggage Handling System Market by Tracking Technology
13.4.6 Asia Pacific Baggage Handling System Market by Check-in Service Type
13.4.7 China
13.4.7.1 China Baggage Handling System Market by Type
13.4.7.2 China Baggage Handling System Market by Solution
13.4.7.3 China Baggage Handling System Market by Mode of Transport
13.4.7.4 China Baggage Handling System Market by Tracking Technology
13.4.7.5 China Baggage Handling System Market by Check-in Service Type
13.4.8 India
13.4.8.1 India Baggage Handling System Market by Type
13.4.8.2 India Baggage Handling System Market by Solution
13.4.8.3 India Baggage Handling System Market by Mode of Transport
13.4.8.4 India Baggage Handling System Market by Tracking Technology
13.4.8.5 India Baggage Handling System Market by Check-in Service Type
13.4.9 Japan
13.4.9.1 Japan Baggage Handling System Market by Type
13.4.9.2 Japan Baggage Handling System Market by Solution
13.4.9.3 Japan Baggage Handling System Market by Mode of Transport
13.4.9.4 Japan Baggage Handling System Market by Tracking Technology
13.4.9.5 Japan Baggage Handling System Market by Check-in Service Type
13.4.10 South Korea
13.4.10.1 South Korea Baggage Handling System Market by Type
13.4.10.2 South Korea Baggage Handling System Market by Solution
13.4.10.3 South Korea Baggage Handling System Market by Mode of Transport
13.4.10.4 South Korea Baggage Handling System Market by Tracking Technology
13.4.10.5 South Korea Baggage Handling System Market by Check-in Service Type
13.4.11 Vietnam
13.4.11.1 Vietnam Baggage Handling System Market by Type
13.4.11.2 Vietnam Baggage Handling System Market by Solution
13.4.11.3 Vietnam Baggage Handling System Market by Mode of Transport
13.4.11.4 Vietnam Baggage Handling System Market by Tracking Technology
13.4.11.5 Vietnam Baggage Handling System Market by Check-in Service Type
13.4.12 Singapore
13.4.12.1 Singapore Baggage Handling System Market by Type
13.4.12.2 Singapore Baggage Handling System Market by Solution
13.4.12.3 Singapore Baggage Handling System Market by Mode of Transport
13.4.12.4 Singapore Baggage Handling System Market by Tracking Technology
13.4.12.5 Singapore Baggage Handling System Market by Check-in Service Type
13.4.13 Australia
13.4.13.1 Australia Baggage Handling System Market by Type
13.4.13.2 Australia Baggage Handling System Market by Solution
13.4.13.3 Australia Baggage Handling System Market by Mode of Transport
13.4.13.4 Australia Baggage Handling System Market by Tracking Technology
13.4.13.5 Australia Baggage Handling System Market by Check-in Service Type
13.4.14 Rest of Asia-Pacific
13.4.14.1 APAC Baggage Handling System Market by Type
13.4.14.2 APAC Baggage Handling System Market by Solution
13.4.14.3 APAC Baggage Handling System Market by Mode of Transport
13.4.14.4 APAC Baggage Handling System Market by Tracking Technology
13.4.14.5 APAC Baggage Handling System Market by Check-in Service Type
13.5 The Middle East & Africa
13.5.1 Middle East
13.5.1.1 Middle East Baggage Handling System Market By country
13.5.1.2 Middle East Baggage Handling System Market by Type
13.5.1.3 Middle East Baggage Handling System Market by Solution
13.5.1.4 Middle East Baggage Handling System Market by Mode of Transport
13.5.1.5 Middle East Baggage Handling System Market by Tracking Technology
13.5.1.6 Middle East Baggage Handling System Market by Check-in Service Type
13.5.1.7 UAE
13.5.1.7.1 UAE Baggage Handling System Market by Type
13.5.1.7.2 UAE Baggage Handling System Market by Solution
13.5.1.7.3 UAE Baggage Handling System Market by Mode of Transport
13.5.1.7.4 UAE Baggage Handling System Market by Tracking Technology
13.5.1.7.5 UAE Baggage Handling System Market by Check-in Service Type
13.5.1.8 Egypt
13.5.1.8.1 Egypt Baggage Handling System Market by Type
13.5.1.8.2 Egypt Baggage Handling System Market by Solution
13.5.1.8.3 Egypt Baggage Handling System Market by Mode of Transport
13.5.1.8.4 Egypt Baggage Handling System Market by Tracking Technology
13.5.1.8.5 Egypt Baggage Handling System Market by Check-in Service Type
13.5.1.9 Saudi Arabia
13.5.1.9.1 Saudi Arabia Baggage Handling System Market by Type
13.5.1.9.2 Saudi Arabia Baggage Handling System Market by Solution
13.5.1.9.3 Saudi Arabia Baggage Handling System Market by Mode of Transport
13.5.1.9.4 Saudi Arabia Baggage Handling System Market by Tracking Technology
13.5.1.9.5 Saudi Arabia Baggage Handling System Market by Check-in Service Type
13.5.1.10 Qatar
13.5.1.10.1 Qatar Baggage Handling System Market by Type
13.5.1.10.2 Qatar Baggage Handling System Market by Solution
13.5.1.10.3 Qatar Baggage Handling System Market by Mode of Transport
13.5.1.10.4 Qatar Baggage Handling System Market by Tracking Technology
13.5.1.10.5 Qatar Baggage Handling System Market by Check-in Service Type
13.5.1.11 Rest of Middle East
13.5.1.11.1 Rest of Middle East Baggage Handling System Market by Type
13.5.1.11.2 Rest of Middle East Baggage Handling System Market by Solution
13.5.1.11.3 Rest of Middle East Baggage Handling System Market by Mode of Transport
13.5.1.11.4 Rest of Middle East Baggage Handling System Market by Tracking Technology
13.5.1.11.5 Rest of Middle East Baggage Handling System Market by Check-in Service Type
13.5.2 Africa
13.5.2.1 Africa Baggage Handling System Market by Country
13.5.2.2 Africa Baggage Handling System Market by Type
13.5.2.3 Africa Baggage Handling System Market by Solution
13.5.2.4 Africa Baggage Handling System Market by Mode of Transport
13.5.2.5 Africa Baggage Handling System Market by Tracking Technology
13.5.2.6 Africa Baggage Handling System Market by Check-in Service Type
13.5.2.7 Nigeria
13.5.2.7.1 Nigeria Baggage Handling System Market by Type
13.5.2.7.2 Nigeria Baggage Handling System Market by Solution
13.5.2.7.3 Nigeria Baggage Handling System Market by Mode of Transport
13.5.2.7.4 Nigeria Baggage Handling System Market by Tracking Technology
13.5.2.7.5 Nigeria Baggage Handling System Market by Check-in Service Type
13.5.2.8 South Africa
13.5.2.8.1 South Africa Baggage Handling System Market by Type
13.5.2.8.2 South Africa Baggage Handling System Market by Solution
13.5.2.8.3 South Africa Baggage Handling System Market by Mode of Transport
13.5.2.8.4 South Africa Baggage Handling System Market by Tracking Technology
13.5.2.8.5 South Africa Baggage Handling System Market by Check-in Service Type
13.5.2.9 Rest of Africa
13.5.2.9.1 Rest of Africa Baggage Handling System Market by Type
13.5.2.9.2 Rest of Africa Baggage Handling System Market by Solution
13.5.2.9.3 Rest of Africa Baggage Handling System Market by Mode of Transport
13.5.2.9.4 Rest of Africa Baggage Handling System Market by Tracking Technology
13.5.2.9.5 Rest of Africa Baggage Handling System Market by Check-in Service Type
13.6 Latin America
13.6.1 Latin America Baggage Handling System Market by Country
13.6.2 Latin America Baggage Handling System Market by Type
13.6.3 Latin America Baggage Handling System Market by Solution
13.6.4 Latin America Baggage Handling System Market by Mode of Transport
13.6.5 Latin America Baggage Handling System Market by Tracking Technology
13.6.6 Latin America Baggage Handling System Market by Check-in Service Type
13.6.7 Brazil
13.6.7.1 Brazil Baggage Handling System Market by Type
13.6.7.2 Brazil Africa Baggage Handling System Market by Solution
13.6.7.3Brazil Baggage Handling System Market by Mode of Transport
13.6.7.4 Brazil Baggage Handling System Market by Tracking Technology
13.6.7.5 Brazil Baggage Handling System Market by Check-in Service Type
13.6.8 Argentina
13.6.8.1 Argentina Baggage Handling System Market by Type
13.6.8.2 Argentina Baggage Handling System Market by Solution
13.6.8.3 Argentina Baggage Handling System Market by Mode of Transport
13.6.8.4 Argentina Baggage Handling System Market by Tracking Technology
13.6.8.5 Argentina Baggage Handling System Market by Check-in Service Type
13.6.9 Colombia
13.6.9.1 Colombia Baggage Handling System Market by Type
13.6.9.2 Colombia Baggage Handling System Market by Solution
13.6.9.3 Colombia Baggage Handling System Market by Mode of Transport
13.6.9.4 Colombia Baggage Handling System Market by Tracking Technology
13.6.9.5 Colombia Baggage Handling System Market by Check-in Service Type
13.6.10 Rest of Latin America
13.6.10.1 Rest of Latin America Baggage Handling System Market by Type
13.6.10.2 Rest of Latin America Baggage Handling System Market by Solution
13.6.10.3 Rest of Latin America Baggage Handling System Market by Mode of Transport
13.6.10.4 Rest of Latin America Baggage Handling System Market by Tracking Technology
13.6.10.5 Rest of Latin America Baggage Handling System Market by Check-in Service Type

14 Company Profile
14.1 Vanderlande Industries
14.1.1Company Overview
14.1.2 Financials
14.1.3 Product/Services Offered
14.1.4 SWOT Analysis
14.1.5 The SNS View
14.2 Siemens
14.2.1Company Overview
14.2.2 Financials
14.2.3 Product/Services Offered
14.2.4 SWOT Analysis
14.2.5 The SNS View
14.3 Daifuku Co., Ltd.
14.3.1Company Overview
14.3.2 Financials
14.3.3 Product/Services Offered
14.3.4 SWOT Analysis
14.3.5 The SNS View
14.4 BEUMER GROUP
14.4.1Company Overview
14.4.2 Financials
14.4.3 Product/Services Offered
14.4.4 SWOT Analysis
14.4.5 The SNS View
14.5 Pteris Global Limited
14.5.1Company Overview
14.5.2 Financials
14.5.3 Product/Services Offered
14.5.4 SWOT Analysis
14.5.5 The SNS View
14.6 SITA
14.6.1Company Overview
14.6.2 Financials
14.6.3 Product/Services Offered
14.6.4 SWOT Analysis
14.6.5 The SNS View
14.7 Fives
14.7.1Company Overview
14.7.2 Financials
14.7.3 Product/Services Offered
14.7.4 SWOT Analysis
14.7.5 The SNS View
14.8 Babcock International Group PLC
14.8.1Company Overview
14.8.2 Financials
14.8.3 Product/Services Offered
14.8.4 SWOT Analysis
14.8.5 The SNS View
14.9 Smiths Detection Group Ltd.
14.9.1Company Overview
14.9.2 Financials
14.9.3 Product/Services Offered
14.9.4 SWOT Analysis
14.9.5 The SNS View
14.10 G&S Airport Conveyor
14.10.1Company Overview
14.10.2 Financials
14.10.3 Product/Services Offered
14.10.4 SWOT Analysis
14.10.5 The SNS View
14.11 B2A Group
14.11.1Company Overview
14.11.2 Financials
14.11.3 Product/Services Offered
14.11.4 SWOT Analysis
14.11.5 The SNS View
14.12 Logplan
14.12.1Company Overview
14.12.2 Financials
14.12.3 Product/Services Offered
14.12.4 SWOT Analysis
14.12.5 The SNS View
14.13 Alstef Group
14.13.1Company Overview
14.13.2 Financials
14.13.3 Product/Services Offered
14.13.4 SWOT Analysis
14.13.5 The SNS View

15. Competitive Landscape
15.1 Competitive Bench marking
15.2 Market Share Analysis
15.3 Recent Developments
15.3.1 Industry News
15.3.2 Company News
15.3.3 Mergers & Acquisitions

16. USE Cases and Best Practices

17. Conclusion

Market Size in 2022

US$ 8.6 Bn

Market Size by 2030

US$ 14.44 Bn

CAGR

CAGR of 6.7% From 2023 to 2030

Base Year

2022

Forecast Period

2023-2030

Historical Data

2019-2021

Report Scope & Coverage

Market Size, Segments Analysis, Competitive Landscape, Regional Analysis, DROC & SWOT Analysis, Forecast Outlook

Key Segments

By Type (Conveyor, Destination Coded Vehicle (DCV)), By Solution (Check-in, Screening, and Loading, Conveying and Sorting, Unloading and Reclaim), By Mode of Transport (Airport, Railway, Marine), By Tracking Technology (Barcode System, RFID System), By Check-in Service Type (Assisted Service, Self-service)

Regional Analysis/Coverage

North America (US, Canada, Mexico), Europe (Eastern Europe [Poland, Romania, Hungary, Turkey, Rest of Eastern Europe] Western Europe] Germany, France, UK, Italy, Spain, Netherlands, Switzerland, Austria, Rest of Western Europe]), Asia Pacific (China, India, Japan, South Korea, Vietnam, Singapore, Australia, Rest of Asia Pacific), Middle East & Africa (Middle East [UAE, Egypt, Saudi Arabia, Qatar, Rest of Middle East], Africa [Nigeria, South Africa, Rest of Africa], Latin America (Brazil, Argentina, Colombia Rest of Latin America)

Company Profiles

Vanderlande Industries, Siemens, Daifuku Co., Ltd., BEUMER GROUP, Pteris Global Limited, SITA, Fives, Babcock International Group PLC, Smiths Detection Group Ltd., G&S Airport Conveyor, B2A Group, Logplan, Alstef Group

Market Opportunities

•The use of robotization in airports

Market challenges

•Technological Progress