Report Scope & Overview:
Combat Management System Market Size was valued at US$ 365.5 million in 2022, expected to reach USD 474.85 million by 2030, and grow at a CAGR of 3.61% over the forecast period 2023-2030.
The Combat Management System incorporates the central command and decision-making part of the anti-ship system. The program basically combines computer and software that combines ship sensors, weapons, radars, and data and other equipment into a single system. The program is designed to provide awareness and intelligence to employees so that they can perform combat duties effectively. Key functions of the War Management System include weapon control, threat surveillance, status check, photo integration, among others.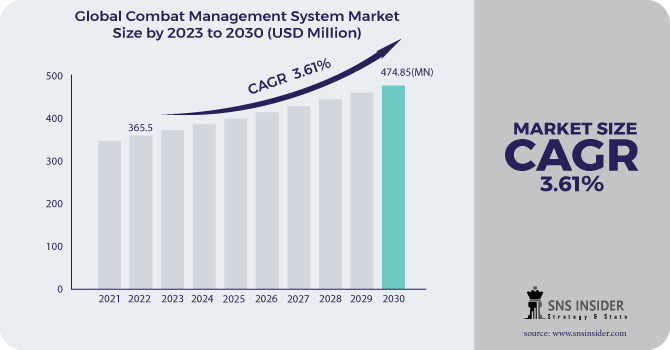 Combat Management Systems collects data around the sensors and radars. Collected data is collected, converted and distributed into usable intelligence. Modern CMS systems are capable of handling large amounts of data and monitoring thousands of positions and are highly automated and include command, control and communication capabilities. Some systems also have electro-optical infrared cameras, short-range missiles, and measuring devices designed to mislead visual systems.
MARKET DYNAMICS:
KEY DRIVERS:
Rising Military Spending in Emerging Markets

Better Situational Awareness
RESTRAINTS:
OPPORTUNITIES:
CHALLENGES:
High Cyber security threats

High Costs Associated with Communication Technology Implementation
THE IMPACT OF COVID-19
The COVID-19 situation has impacted research and development in combat management systems due to announced lockdown and government bans on public meetings.
The COVID-19 effect has caused a slowing in the economies of various countries, which may constrain government expenditure in the defence sector. Such a decrease in investment will have a direct impact on the growth of the battle management system industry. Because of COVID-19 travel restrictions, the battle management system's production pace has been severely damaged.
The combat management system is a huge system comprised of multiple components purchased from various corporations or imported from various nations. The supply chain of such parts has been severely harmed as a result of the global lockdown caused by COVID-19. The production of battle management systems has been halted due to a lack of spare parts.
As travel restrictions lessen around the world, there may be a significant increase in demand for combat management systems in the near future.
The growth of technology and innovation in the battle management system has developed over the years. Combat management systems are currently regarded as one of the top technologies for navy combat operations. However, the threat of anti-ship missiles has grown at the same time. However, such a threat can be mitigated or eliminated by strengthening the capabilities of navy ships. As a result, military ships require combat management systems to deal with such threats, adding to the growth of the combat management system market.
Destroyers Half of the destroyers are expected to respond with a large market share during the forecast. This growth could be due to the destruction of a fast, controllable, long-lasting warship, which could be used to escort larger ships by ship, line, or team and protect it from powerful short-range attackers.
Submarines Part of the submarines dominated the market, due to the growing acceptance of submarines developed by developing countries to strengthen their military capabilities. Half of the frigates are likely to record significant growth in the global market due to the growing demand for combat control systems used to manage, command, and control the Navy.
Shipwrecks Part of the submarines are expected to show significant growth in the global market as submarines are being used to land and support underground forces, such as the navy, in enemy territory during a water attack.
The portion of the corvettes is expected to grow by a very high CAGR during the forecast period as the corvette can be used to guard the coast, fight small battles, support large ships, or take part in flag-raising missions.
Fast Attack Craft This segment is expected to grow at a good rate of growth in the global market due to the growth of modern military systems around the world.
Carriers This segment is expected to reflect the level of continued growth in the global market due to the increasing demand for military aircraft worldwide.
Defense Control Program This component is expected to see significant growth in the global market due to the rapid increase in the purchase of advanced weapons worldwide. Status Awareness Program This component is expected to record significant growth in the global market due to the growing demand for conditional awareness developed by armed forces around the world.
Track Management System: This section is likely to reflect a positive growth rate in the global market as track management systems are used to compile track structure data, data analysis to assist maritime systems, and to monitor quality and accuracy.
Arms Management System This component is expected to testify to the rapid growth in the global market as arms control systems are widely used to identify, detect, monitor and track weapons.
Screening Program This component is expected to record the ongoing growth rate in the global market as these systems are used to assist naval officers and allow maritime authorities to monitor and monitor ship movements.
Uncontrolled Vehicle Control System This segment has dominated the global market and is expected to grow at a very high CAGR at the time of forecasting, due to the increasing demand for vacant motor vehicles.
KEY MARKET SEGMENTS:
by Component
by Sub-System
Self-Defense

Situational Awareness

Track Management

Identification

Unmanned Vehicle

Weapon Management System

Display System
by Platform
Destroyers

Submarines

Frigates

Corvettes

Aircraft Carriers

AFC
REGIONAL ANALYSIS:
The combat management system is the fastest expanding system in the Asia-Pacific area, thanks to increased shipbuilding activity and a growing automotive sector. Economically stable countries such as India and China are encouraging shipbuilding and transportation of combat management systems in the region. The region's government has also raised funds to support the development of future-focused naval technologies. Europe is likely to see lacklustre growth during the forecast period.
REGIONAL COVERAGE:
North America

Europe

Germany

UK

France

Italy

Spain

The Netherlands

Rest of Europe

Asia-Pacific

Japan

south Korea

China

India

Australia

Rest of Asia-Pacific

The Middle East & Africa

Latin America

Brazil

Argentina

Rest of Latin America
KEY PLAYERS:
Lockheed Martin Corporation., Raytheon Technologies Corporatio, Northrop Grumman Corporation., Elbit Systems Ltd., Tata Advanced Systems Limited, Bharat Electronics Limited, Saab AB, Thales Group, BAE Systems., Leonardo S.p.A., KONGSBERG, and other players.
Lockheed Martin Corporation-Company Financial Analysis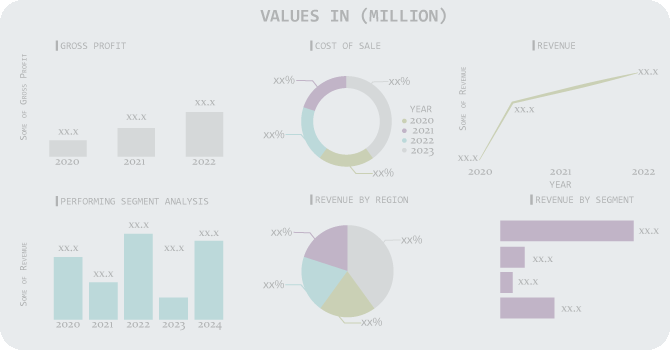 ​​​​​​​
Combat Management System Market Report Scope:
Report Attributes
Details
Market Size in 2022
US$ 365.5 Million
Market Size by 2030
US$ 474.85 Million
CAGR
CAGR of 3.61% From 2023 to 2030
Base Year
2022
Forecast Period
2023-2030
Historical Data
2020-2021
Report Scope & Coverage
Market Size, Segments Analysis, Competitive Landscape, Regional Analysis, DROC & SWOT Analysis, Forecast Outlook
Key Segments
• By Component (Hardware, Software)
• By Sub-System (Self-Defense, Situational Awareness, Track Management, Identification, Unmanned Vehicle,Weapon Management System, Display System)
• By Platform (Destroyers, Submarines, Frigates, Corvettes, AFC, Aircraft Carriers)
Regional Analysis/Coverage
North America (USA, Canada, Mexico), Europe
(Germany, UK, France, Italy, Spain, Netherlands,
Rest of Europe), Asia-Pacific (Japan, South Korea,
China, India, Australia, Rest of Asia-Pacific), The
Middle East & Africa (Israel, UAE, South Africa,
Rest of Middle East & Africa), Latin America (Brazil, Argentina, Rest of Latin America)
Company Profiles
Lockheed Martin Corporation., Raytheon Technologies Corporatio, Northrop Grumman Corporation., Elbit Systems Ltd., Tata Advanced Systems Limited, Bharat Electronics Limited, Saab AB, Thales Group, BAE Systems., Leonardo S.p.A., KONGSBERG, and other players.
DRIVERS
• Rising Military Spending in Emerging Markets
• Better Situational Awareness
RESTRAINTS
• Legacy Systems with Proven Capability and Integrity