Report Scope & Overview:
The Concrete Floor Coating Market size was valued at USD 4.7 billion in 2022. It is expected to grow to USD 7.21 billion by 2030 and grow at a CAGR of 5.5% over the forecast period of 2023-2030.
With the increasing demand for durable and visually appealing flooring solutions, the market for concrete floor coatings has experienced a surge in popularity. Concrete floor coatings are applied to protect and enhance the surface of concrete floors. These coatings provide a protective layer that safeguards the concrete from wear and tear, chemical spills, and other potential damages. The market for concrete floor coatings is driven by the growing construction industry, particularly in developing economies, which has led to an increased demand for durable and aesthetically pleasing flooring solutions. Additionally, the rising awareness about the benefits of concrete floor coatings, such as their ability to improve safety, hygiene, and ease of maintenance, has further fueled market growth. In terms of product types, the concrete floor coating market offers a wide array of options to cater to diverse customer needs. Epoxy coatings, polyurethane coatings, and acrylic coatings are among the most commonly used products in this industry. Each type of coating possesses unique characteristics and benefits, allowing customers to choose the most suitable option based on their specific requirements.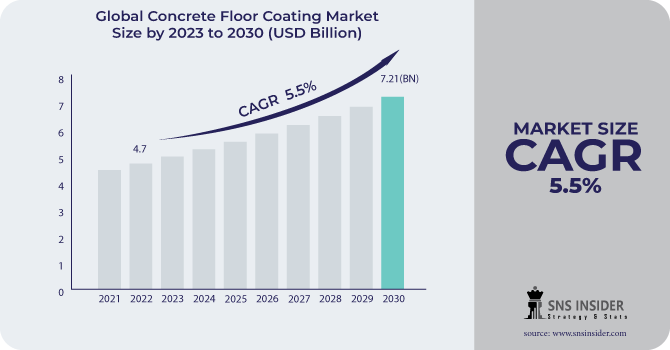 Get E-PDF Sample Report on Concrete Floor Coating Market - Request Sample Report
The epoxy coating segment dominated the concrete floor coating market with the highest revenue share of about 61.5% in 2022. Epoxy coatings have established themselves as the preferred choice for concrete floor protection and enhancement due to their exceptional qualities. These coatings are renowned for their durability, resistance to chemicals, and ability to withstand heavy foot traffic and machinery. Moreover, epoxy coatings offer a glossy finish that enhances the aesthetic appeal of concrete floors, making them an attractive option for various industries and applications. Furthermore, epoxy coatings provide a protective barrier that safeguards concrete floors against wear and tear, moisture, stains, and other forms of damage.
Market Dynamics
Drivers
Increasing popularity of aesthetically appealing and durable flooring solutions

Increasing demand for protective coatings

Rising construction activities worldwide
The surge in construction activities, ranging from residential buildings to commercial complexes and industrial facilities, necessitates the use of durable and aesthetically appealing flooring solutions. Concrete floor coatings provide an ideal solution, as they offer enhanced durability, resistance to wear and tear, and an attractive finish. Moreover, the increasing urbanization and population growth in many countries have led to a higher demand for housing and commercial spaces. As a result, construction companies are actively engaged in constructing new buildings and renovating existing structures to meet these demands. Concrete floor coatings play a crucial role in enhancing the longevity and visual appeal of these spaces, making them more appealing to potential buyers or tenants.
Restrain
High cost associated with the concrete floor coatings

Fluctuating prices of raw materials
Opportunities
Development of advanced coating technologies and the introduction of innovative product

Rising demand for decorative and customized flooring options
In recent years, there has been a noticeable shift in consumer preferences towards decorative and customized flooring solutions. Traditional flooring materials such as tiles, carpets, and hardwood are gradually being replaced by concrete floor coatings. This transition can be attributed to several factors, including the durability, versatility, and cost-effectiveness offered by concrete coatings. One of the primary drivers behind this rising demand is the desire for personalized spaces. Homeowners and businesses alike are seeking unique and visually appealing flooring options that reflect their individual styles and tastes. Concrete floor coatings provide an ideal canvas for customization, allowing for a wide range of colors, patterns, and textures to be applied. This versatility enables customers to create truly one-of-a-kind flooring designs that enhance the overall aesthetics of their spaces.
Challenges
Limited availability of skilled labor for the installation of concrete floor coating

Presence of alternative flooring solutions, such as tiles, carpets, and vinyl
Impact of Russia-Ukraine War:
Construction projects from Bangladesh to the European Union have faced significant disruptions, shortages, and even complete halts. The surge in energy costs, which began with the invasion, affected construction activities. As a result, the prices of energy-intensive materials like bricks and cement are expected to remain high in the short term due to supply shortages. In fact, the German Statistics Office has reported a 5% increase in cement prices in February 2022, while the Spanish Cement Association has noted a 14% surge in cement demand compared to the previous year. Many of the construction projects heavily rely on Russian financing and labor, as well as Ukrainian construction materials. For example, the construction and financing of the Ruppur Nuclear Power Plant in Bangladesh are being carried out by Russian companies, which has consequently affected the concrete floor coating market. Prior to the invasion, construction sites across Ukraine were thriving under the Big Construction program, a much-needed initiative aimed at revamping the country's aging infrastructure. This program generated over 200,000 jobs and received a total investment of $4.5 billion, partially funded by the European Bank for Reconstruction and Development. However, instead of witnessing progress, Ukraine's infrastructure has become a prime target for Russian attacks, resulting in severe damage and the complete destruction of numerous assets. The United Nations Development Program revealed that Ukraine has suffered a staggering $100 billion worth of destruction in its infrastructure, including buildings, roads, bridges, hospitals, schools, and other physical assets. But this war also created opportunities for the concrete floor coating market in the damaged regions to cover the destruction caused by this war.
Impact of Recession:
The construction industry is always adversely affected during recessionary periods in the U.S. economy. When a recession hits, construction is typically the first industry to suffer as companies halt investments in infrastructure and development. According to the PCA, concrete consumption in the private sector is projected to decline by 3.5% by the end of 2023. Similarly, the construction market in Germany is facing the looming threat of a recession, with contractors and developers grappling with a combination of challenges that are putting downward pressure on activity. In the January-May 2023 period, turnover among construction companies with 20 employees or more experienced a decline of 7.3% compared to the previous year. Additionally, the number of building permits for new residential projects saw an overall decline of 30.5% during the same period. Furthermore, German construction companies witnessed a decline of 10.1% in turnover for road construction projects between January and May 2023, which largely contributed to the 4.5% overall decline in the civils segment. As a result, the concrete floor coating market has been adversely affected during this period.
Market Segmentation
By Product
Epoxy

Acrylic

Polyaspartic

Others
By Application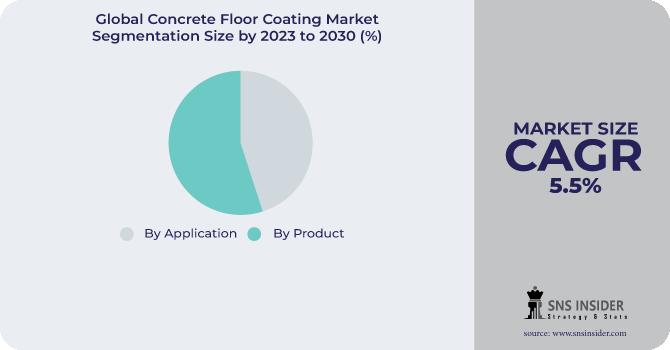 Get Customized Report as Per Your Business Requirement - Request For Customized Report
Regional Analysis
Asia Pacific dominated the concrete floor coating market with the highest revenue share of about 39.2% in 2022. This regional growth can be primarily attributed to the booming construction industry in Asia Pacific. The region is currently experiencing significant growth in construction, driven by factors such as rapid urbanization, population growth, and infrastructure development. According to our research, Asia-Pacific is expected to account for USD 7.5 trillion of global construction output by 2030. Furthermore, the Asia Pacific region is also witnessing substantial industrialization, fueled by the rising demand for consumer goods, increased investments in manufacturing industries, and favorable government policies. This industrialization trend is directly contributing to the growth of the concrete floor coatings market, as industrial floors require coatings to enhance durability and safety. Moreover, there is a growing demand for decorative concrete floor coatings in the Asia Pacific region, driven by the expanding middle-class population and rising disposable incomes. Additionally, there is a strong emphasis on green building practices in the region, motivated by increasing environmental concerns, government regulations, and cost savings. As a result, the adoption of eco-friendly coatings is on the rise, further driving the growth of the market.
North America is the second-largest market for the concrete floor coating market and is expected to grow with a CAGR of about 5.7% during the forecast period. The growth of the market in this region is mainly owing to the thriving construction industry. The construction sector in North America is experiencing remarkable expansion with more than 30% market share, fueled by factors such as population growth, infrastructure development, and increased investments in real estate. Moreover, the region is witnessing a surge in demand for eco-friendly coatings due to environmental concerns, government regulations, and heightened awareness among consumers. Additionally, industrialization is on the rise in North America, driven by the growing demand for consumer goods and substantial investments in the manufacturing industry. Furthermore, there is an increasing demand for decorative concrete floor coatings in the region, as disposable incomes rise, the desire for aesthetically pleasing interiors grows, and awareness about the benefits of decorative coatings spreads.
REGIONAL COVERAGE:
North America
Europe
Eastern Europe

Poland

Romania

Hungary

Turkey

Rest of Eastern Europe

Western Europe

Germany

France

UK

Italy

Spain

Netherlands

Switzerland

Austria

Rest of Western Europe
Asia Pacific
China

India

Japan

South Korea

Vietnam

Singapore

Australia

Rest of Asia Pacific
Middle East & Africa
Middle East

UAE

Egypt

Saudi Arabia

Qatar

Rest of the Middle East

Africa

Nigeria

South Africa

Rest of Africa
Latin America
Brazil

Argentina

Colombia

Rest of Latin America
Key Players
The major key players are Tennant Coatings, Vanguard Concrete Coating, BASF SE, Trucrete Surfacing Systems, PPG Pittsburgh Paints, North American Coating Solution, The Sherwin-Williams Company, Elite Crete Systems, Pratt & Lambert, Florock, Axalta Coating Systems, and other key players mentioned in the final report.
Tennant Coatings-Company Financial Analysis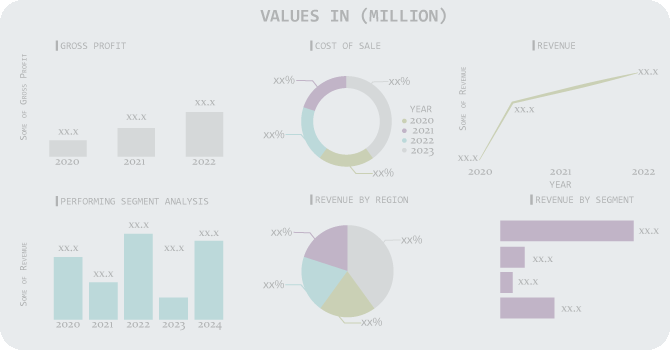 Recent Development:
In June 2023, PPG, a leading manufacturer of paints and coatings, made an exciting announcement regarding the expansion of its PPG FLOORING concrete coatings offering. This expansion includes a comprehensive range of integrated systems consisting of primers, base coats, and topcoats. These systems are specifically designed for environments that require electrostatic protection, ensuring the utmost durability and reliability.

In Jan 2020, Florock® Polymer Flooring, a renowned manufacturer of commercial, industrial, and institutional concrete floor coatings, introduced the FloroStone™ Decorative Flooring System. This system revolutionizes decorative epoxy flooring by combining a sanitary, high-performance traffic surface with modern and upscale aesthetics. Not only does it provide an attractive appearance, but it also offers an economical and quick-turnaround solution.
Concrete Floor Coating Market Report Scope
Report Attributes
Details
Market Size in 2022
US$ 4.7 Bn
Market Size by 2030
US$ 7.21 Bn
CAGR
CAGR of 5.5 % From 2023 to 2030
Base Year
2022
Forecast Period
2023-2030
Historical Data
2019-2021
Report Scope & Coverage
Market Size, Segments Analysis, Competitive Landscape, Regional Analysis, DROC & SWOT Analysis, Forecast Outlook
Key Segments
• By Product (Epoxy, Acrylic, Polyurethanes, Polyaspartic, and Others)
• By Application (Indoor and Outdoor)
Regional Analysis/Coverage
North America (US, Canada, Mexico), Europe (Eastern Europe [Poland, Romania, Hungary, Turkey, Rest of Eastern Europe] Western Europe] Germany, France, UK, Italy, Spain, Netherlands, Switzerland, Austria, Rest of Western Europe]), Asia Pacific (China, India, Japan, South Korea, Vietnam, Singapore, Australia, Rest of Asia Pacific), Middle East & Africa (Middle East [UAE, Egypt, Saudi Arabia, Qatar, Rest of Middle East], Africa [Nigeria, South Africa, Rest of Africa], Latin America (Brazil, Argentina, Colombia Rest of Latin America)
Company Profiles
Tennant Coatings, Vanguard Concrete Coating, BASF SE, Trucrete Surfacing Systems, PPG Pittsburgh Paints, North American Coating Solution, The Sherwin-Williams Company, Elite Crete Systems, Pratt & Lambert, Florock, Axalta Coating Systems,
Key Drivers
• Increasing popularity of aesthetically appealing and durable flooring solutions
• Increasing demand for protective coatings
• Rising construction activities worldwide
Market Restraints
• High cost associated with the concrete floor coatings
• Fluctuating prices of raw materials