Report Scope & Overview:
Polylactic Acid (PLA) Market Size was valued at USD 1.27 billion in 2022, and is expected to reach USD 3.39 billion by 2030, and grow at a CAGR of 13% over the forecast period 2023-2030.
The polymer of polylactic acid (PLA) is different from the thermoplastic polymers that are usually available. It's mostly made of things that grow back, like sugar cane. PLA is a popular material because it is fairly cheap and, compared to other biodegradable polymers, has a number of good mechanical properties. PLA is mostly made from plant materials like sugar cane, cassava, corn, and potatoes. As possible feedstocks, scientists have looked into agricultural waste, cellulosic materials, and greenhouse gases. But the process is still being worked on, and for the foreseeable future, agricultural products are likely to remain the main source of starch blends and PLA.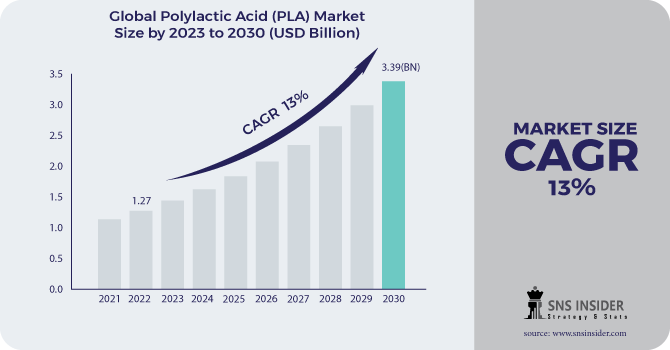 Market Dynamics:
Drivers:
Changing consumer preference toward plastic products that are good for the environment

Demand for biodegradable plastic has gone up a lot, and cities are growing quickly.
Restraints:
PLA costs more than other kinds of plastic.

The high raw material cost
Opportunity:
The making of a new programme

The strict rules that the government has put in place
Challenge:
Impact of Covid-19:
COVID 19 is a global pandemic that has affected a lot of people. Because of this global pandemic, most people have lost their way of making a living. It has changed the way several industries grow and change. Due to a lack of vaccines, everyone is worried about their immunity and tries to keep their distance from others. With more people living alone and doing things without talking to each other, the demand for packaged goods has gone up a lot. Now, people are more likely to buy packaged food to make sure it is safe and clean. Food and beverages also show significant demand when packed, taking all the necessary measures.
The global pandemic of COVID 19 is good for the market share of polylactic acid all over the world. During the period from 2021 to 2028 that is expected, PLA's market share is also expected to grow.
Key Players:
Hitachi Ltd. (Japan), BASF SE (Germany), Musashino Chemical Laboratory, Ltd. (Japan), The DOW Chemical Company (US), Galactic (Belgium), Sulzer Ltd (Switzerland), NatureWorks LLC (US), Synbra Technology BV (the Netherlands), Corbion (the Netherlands), The DOW Chemical Company (US)
Market Segmentation:
By Grades
Thermoforming grade

Injection molding grade

Extrusion grade

Blow molding grade

Others
By Applications
Rigid thermoforms

Films & sheets

Bottles

Others
By End-Use Industries
Packaging

Consumer goods

Agricultural

Textile

Biomedical

Others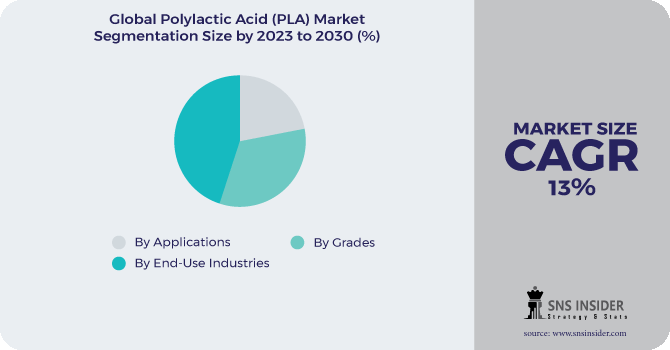 Regional Analysis:
The market has been split into North American, Latin American, Asia-Pacific, European, and Middle East and African regions. The Asia-Pacific region has the biggest share of the global market because it is the fastest-growing region. Also, both the packaging industry and the auto industry have grown steadily in this area. Also, countries in this area, like Japan, South Korea, Singapore, Thailand, Vietnam, India, China, and Malaysia, offer the polylactic acid market a lot of ways to grow.The second-largest share of the market is in the European region. As Germany, the UK, Spain, France, Russia, and Poland are thought to be the biggest consumer markets in this area. The transportation sector has been growing and changing all the time, and strict rules are also pushing this region forward.
The North American region has the third-largest market share because it is growing steadily. Increasing investment in consumer goods and the electronics industry is also a factor. The fact that the US and Canada are there also helps. The Latin American region, which includes countries like Venezuela, Brazil, and Columbia, has the fourth-largest market share. Also, more money is being spent in the auto and electronics industries. Due to the growth of the textile industry, polylactic acid is also on the rise in the Middle East and Africa.
REGIONAL COVERAGE:
North America

Europe

Germany

UK

France

Italy

Spain

The Netherlands

Rest of Europe

Asia-Pacific

Japan

south Korea

China

India

Australia

Rest of Asia-Pacific

The Middle East & Africa

Latin America

Brazil

Argentina

Rest of Latin America
Polylactic Acid (PLA) Market Report Scope:
Report Attributes
Details
Market Size in 2022
US$ 1.27 Billion
Market Size by 2030
US$ 3.39 Billion
CAGR
CAGR of 13% From 2023 to 2030
Base Year
2022
Forecast Period
2023-2030
Historical Data
2020-2021
Report Scope & Coverage
Market Size, Segments Analysis, Competitive Landscape, Regional Analysis, DROC & SWOT Analysis, Forecast Outlook
Key Segments
• By grades (Thermoforming grade, Injection molding grade, Extrusion grade, Blow molding grade, Others)
• By applications (Rigid thermoforms, Films & sheets, Bottles, Others)
• By end-use industries (Packaging, Consumer goods, Agricultural, Textile, Biomedical, Others)
Regional Analysis/Coverage
North America (USA, Canada, Mexico), Europe
(Germany, UK, France, Italy, Spain, Netherlands,
Rest of Europe), Asia-Pacific (Japan, South Korea,
China, India, Australia, Rest of Asia-Pacific), The
Middle East & Africa (Israel, UAE, South Africa,
Rest of Middle East & Africa), Latin America (Brazil, Argentina, Rest of Latin America)
Company Profiles
Hitachi Ltd. (Japan), BASF SE (Germany), Musashino Chemical Laboratory, Ltd. (Japan), The DOW Chemical Company (US), Galactic (Belgium), Sulzer Ltd (Switzerland), NatureWorks LLC (US), Synbra Technology BV (the Netherlands), Corbion (the Netherlands), The DOW Chemical Company (US)
DRIVERS
• Changing consumer preference toward plastic products that are good for the environment
• Demand for biodegradable plastic has gone up a lot, and cities are growing quickly.
Restraints
• PLA costs more than other kinds of plastic.
• The high raw material cost