Report Scope & Overview:
The Data Analytics Outsourcing Market size was valued at USD 7.84 Billion in 2022 and is expected to grow to USD 81.40 Billion by 2030 and grow at a CAGR of 33.98% over the forecast period of 2023-2030.
Data analytics outsourcing refers to the practice of utilizing third-party applications and organizations to analyze data. These services are invaluable for extracting actionable insights from vast amounts of data generated by artificial intelligence (AI), robotics process automation (RPA), connected devices, and big data repositories. By employing data science, data visualization, and statistical research tools, these insights are derived from analyzing data patterns. Ultimately, these insights are leveraged to enhance operational efficiency and drive revenue growth.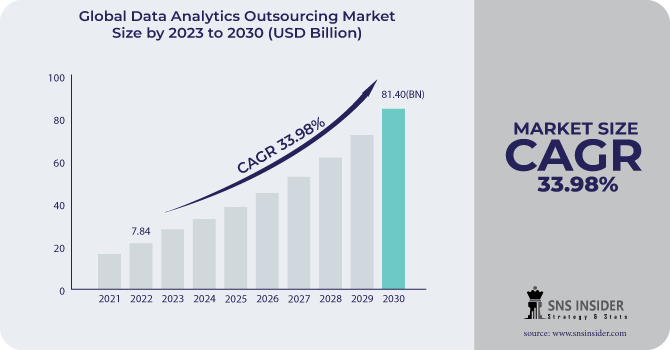 Outsourcing data analytics services provides organizations with increased flexibility, allowing them to leverage the latest tools and services for their data analysis needs. Consequently, these services have found widespread adoption across various industries, including banking, financial services and insurance (BFSI), automotive, healthcare, retail, manufacturing, and IT & telecommunications.
Market Dynamics
Drivers
The ever-increasing complexity of consumer information and data has emerged as a driving force behind market growth

The Market is Driven by the Increasing Adoption of Data Analytics Outsourcing in the BFSI Sector
Data analytics plays a crucial role in the banking sector, serving various purposes ranging from bolstering cybersecurity to reducing customer attrition. Banks now have the ability to tap into a wealth of external data sources, including trade, regulatory, and social media data, which can be processed and evaluated to enhance their operations. A prime example of this is the case of Redwood Credit Union in Santa Rosa, California, which recognized the significance of social data in providing auto loans. Previously, the credit union relied on factors such as a member's credit score and auto purchase history to determine preapproval for loans every two years. However, it soon discovered a more reliable indicator and subsequently adjusted the frequency of preapprovals.
The adoption of data analytics outsourcing in the banking, financial services, and insurance (BFSI) sector has witnessed a significant surge. This trend can be attributed to the multitude of benefits it offers. By outsourcing data analytics, banks can leverage specialized expertise and cutting-edge technologies to gain valuable insights from their vast data repositories. This, in turn, enables them to make informed decisions, improve operational efficiency, and enhance customer experiences.
Restrains
When companies decide to outsource their data analytics solutions, there is always a looming threat of losing control over the data or experiencing a data breach. It is crucial to prioritize data protection and privacy in order to mitigate these risks. However, this raises significant concerns for companies regarding the storage and location of their data, and whether it aligns with their organization's needs. Outsourcing partners may prioritize the cheapest or most convenient option for themselves, potentially compromising security policies and data protection. This puts sensitive data at risk and can result in a loss of control over the company's valuable information. Consequently, the need for data analytics outsourcing may decrease due to the potential consequences of outsourcing.
Opportunities
Challenges
Impact of Russia Ukraine war
The war in Ukraine could disrupt global supply chains, affecting the availability of hardware and software required for data analytics. This could lead to delays in project execution and increased costs. Ukraine has been known for its strong technical talent pool, and many data analytics outsourcing companies have set up offices or partnered with Ukrainian firms. The war could disrupt the availability of skilled data analysts and data scientists, potentially leading to talent shortages.
Data analytics often involve handling sensitive and confidential data. The war may raise concerns about data security and potential data breaches, as political instability can impact a country's cybersecurity posture. Companies may become more cautious about entrusting their data to outsourcing partners in regions affected by conflict. The economic repercussions of the conflict can affect the cost-effectiveness of outsourcing services. Exchange rate fluctuations and inflation in the region could lead to increased costs for outsourcing services. To mitigate risks associated with geopolitical instability, companies may diversify their outsourcing partnerships by considering alternative countries or regions for their data analytics outsourcing needs. Depending on the nature of the businesses involved, there may be a shift in demand for specific data analytics services. For example, industries related to defense, security, or risk analysis may see increased demand, while other sectors may reduce their outsourcing activities due to uncertainty.
Impact of recession
The recession has undoubtedly posed challenges for the data analytics outsourcing market. As businesses face financial constraints, they are compelled to reevaluate their spending priorities. Consequently, many organizations have reduced their outsourcing budgets, leading to a decline in demand for data analytics services. The recession has prompted companies to adopt a more cautious approach towards outsourcing. They are now seeking cost-effective solutions that can deliver tangible results and help them navigate through these uncertain times. This shift in mindset has forced data analytics service providers to reposition themselves and offer more value-driven propositions to attract clients. Despite these challenges, the data analytics outsourcing market has also witnessed some positive developments during the recession. As businesses strive to optimize their operations and make informed decisions, the demand for data analytics services remains strong. Organizations recognize the importance of leveraging data to gain a competitive edge, even in times of economic downturn.
Moreover, the recession has accelerated the adoption of advanced technologies in the data analytics outsourcing industry. Companies are increasingly relying on automation, artificial intelligence, and machine learning to streamline their processes and enhance the efficiency of data analysis. This technological transformation has opened up new opportunities for service providers to offer innovative solutions and stay ahead of the competition.
Key Market Segmentation
By Type
Descriptive

Predictive

Prescriptive
By End-use
BFSI

Telecom

Retail

Healthcare

Media & Entertainment

Manufacturing

Others
By Application
Sales Analytics

Marketing Analytics

Finance & Risk Analytics

Supply Chain Analytics

Others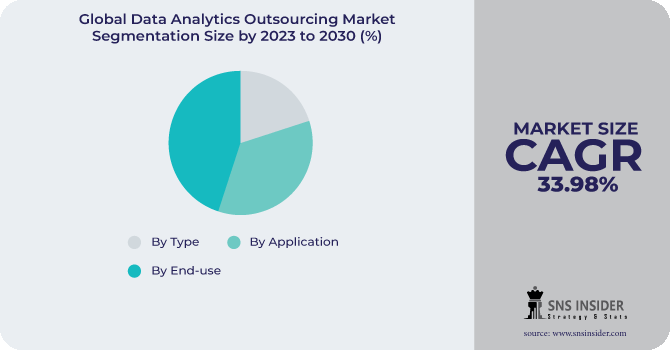 Regional Analysis
North America emerged as the dominant force in the market, generating a staggering revenue share of 38%. This remarkable growth can be attributed to the region's increasing adoption of advanced digital technologies, which has resulted in the generation of massive amounts of data. Moreover, the rising influx of data from various departments such as production, procurement, sales & marketing, and human resources is expected to further fuel the demand for data analytics outsourcing in North America.
The Asia Pacific region is poised to experience significant growth in the data analytics outsourcing market in the coming years. Asia Pacific has long been recognized as a global hub for data analytics outsourcing due to its abundance of skilled labor, robust technology infrastructure, cost-effective labor, and efficient telecom infrastructure. Furthermore, the region's extensive implementation of IT on a large scale, the globalization of processes and operational improvements, and access to expert resources are all expected to drive the market's growth in this region.
REGIONAL COVERAGE:
North America
Europe
Eastern Europe

Poland

Romania

Hungary

Turkey

Rest of Eastern Europe

Western Europe

Germany

France

UK

Italy

Spain

Netherlands

Switzerland

Austria

Rest of Western Europe
Asia Pacific
China

India

Japan

South Korea

Vietnam

Singapore

Australia

Rest of Asia Pacific
Middle East & Africa
Middle East

UAE

Egypt

Saudi Arabia

Qatar

Rest of Middle East

Africa

Nigeria

South Africa

Rest of Africa
Latin America
Brazil

Argentina

Colombia
Rest of Latin America
Key Players:
The major players in the market are Genpact Ltd., Capgemini, Accenture, International Business Machine Corporation., ZS Associates Inc., Trianz, Tata Consultancy Services Ltd., Fractal Analytics Inc., Opera Solutions, LLC, Associates, Inc., and others in final Report.
Genpact Ltd-Company Financial Analysis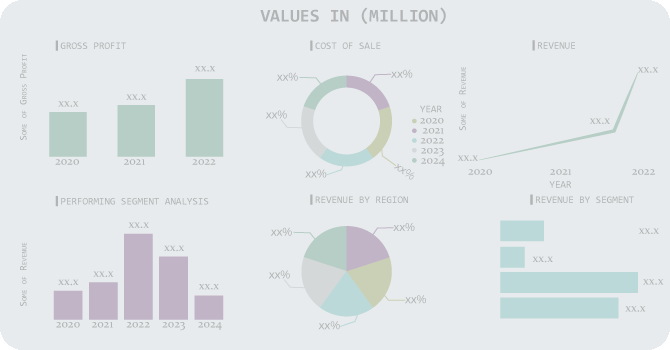 Recent development
In October 2022, Capgemini made an announcement regarding its agreement to acquire Braincourt, a company specializing in data science and business intelligence services. This strategic move by Capgemini aimed to bolster its data and analytics capabilities in Germany and Northern Europe, meeting the growing demand in the market.
In April 2022, Accenture successfully acquired Ergo, a data-centric business based in Argentina. Ergo played a crucial role in assisting companies in fostering a data-driven decision-making culture through the utilization of big data, analytics, and artificial intelligence (AI).
Global Analytics Outsourcing Market Report Scope
Report Attributes
Details
Market Size in 2022
US$ 7.84 Bn
Market Size by 2030
US$ 81.40 Bn
CAGR
CAGR of 33.98 % From 2023 to 2030
Base Year
2022
Forecast Period
2023-2030
Historical Data
2019-2021
Report Scope & Coverage
Market Size, Segments Analysis, Competitive Landscape, Regional Analysis, DROC & SWOT Analysis, Forecast Outlook
Key Segments
• By Type (Descriptive, Predictive, Prescriptive)
• By End-use (BFSI, Telecom, Retail, Healthcare, Media & Entertainment, Manufacturing, Others)
• By Application (Sales Analytics, Marketing Analytics, Finance & Risk Analytics, Supply Chain Analytics, Others)
Regional Analysis/Coverage
North America (US, Canada, Mexico), Europe (Eastern Europe [Poland, Romania, Hungary, Turkey, Rest of Eastern Europe] Western Europe] Germany, France, UK, Italy, Spain, Netherlands, Switzerland, Austria, Rest of Western Europe]), Asia Pacific (China, India, Japan, South Korea, Vietnam, Singapore, Australia, Rest of Asia Pacific), Middle East & Africa (Middle East [UAE, Egypt, Saudi Arabia, Qatar, Rest of Middle East], Africa [Nigeria, South Africa, Rest of Africa], Latin America (Brazil, Argentina, Colombia Rest of Latin America)
Company Profiles
Genpact Ltd., Capgemini, Accenture, International Business Machine Corporation., ZS Associates Inc., Trianz, Tata Consultancy Services Ltd., Fractal Analytics Inc., Opera Solutions, LLC, Associates, Inc.
Key Drivers
• The ever-increasing complexity of consumer information and data has emerged as a driving force behind market growth
• The Market is Driven by the Increasing Adoption of Data Analytics Outsourcing in the BFSI Sector
Market Restraints
• Issue related to losing control of Data Control Restrict Market Growth