Report Scope & Overview:
The Digital Vault Market size was valued at USD 785.3 million in 2022 and is expected to grow to USD 2176.4 million By 2030 and grow at a CAGR of 13.59 % over the forecast period of 2023-2030.
A digital vault is a cutting-edge platform designed to protect a system's data from unauthorized access by utilizing advanced encryption and access control technologies. This innovative technology stores an enterprise's data centralized credentials and offers customized dashboards for real-time tracking and repository protection. By implementing a digital vault, businesses can rest assured that their sensitive information is secure and protected from potential fraudsters. This technology provides a secure and centralized location for storing data, making it easily accessible to authorized personnel while keeping it out of the hands of unauthorized individuals. Furthermore, digital vaults offer a range of customizable features, allowing businesses to tailor their security measures to their specific needs. With real-time tracking and repository protection, businesses can monitor their data and ensure that it remains secure at all times. a digital vault is a powerful tool that businesses can use to safeguard their data and protect themselves from potential security breaches. By utilizing this technology, businesses can rest assured that their sensitive information is secure and protected from unauthorized access.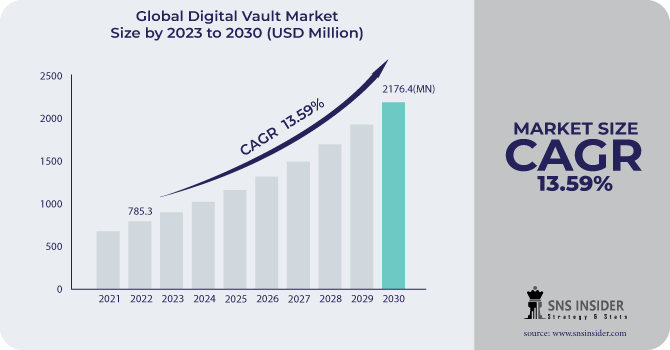 To get more information on Digital Vault Market - Request Free Sample Report
Market Dynamics
Drivers
One significant advantage of a digital vault is its high level of security. Each service provided by a digital vault has its unique set of rules and methods for guaranteeing the confidentiality of private information, but they all employ various types of authentications and encryption to ensure safety. Digital vaults, by providing a high degree of data safety and security, can be a viable alternative for securing personal information online.
Because of rising data theft and cyber-attacks, the BFSI industry is likely to gain a significant market share. According to estimates, more than 2.9 lakh cyber security incidents involving digital banking were recorded in 2020. The rise can also be ascribed to a greater emphasis on the proper organization of extremely sensitive financial data, as well as the rapid use of automation in banking processes. The rapid digitization of financial services, along with a rising number of problems related to security needs and stringent regulatory requirements, will boost market development.
Restrains
Lack of specialists, trained labor, and professionals are some of the primary reasons that will impede market growth. Another significant difficulty that may hinder market growth is selecting the appropriate information technology security solution since not every digital vault service provider employs the finest technology. Choosing and installing one at random may endanger crucial information.
Opportunities
urging government data protection programs

Growing Internet penetration and economic transformation
Challenges
Impact of the Russia-Ukraine War
The war between Russia and Ukraine can have several potential impacts on the Digital Vault market. During times of conflict and geopolitical instability, individuals, organizations, and governments may seek enhanced security measures for their digital assets and sensitive data. This could lead to an increased demand for Digital Vaults, which provide secure storage and encryption capabilities. The conflict may prompt governments and businesses in both Russia and Ukraine to prioritize data sovereignty. Concerns about potential data breaches, cyber-attacks, or foreign access to critical information could lead to a greater emphasis on domestic Digital Vault solutions, fostering the growth of local providers. The war could disrupt supply chains for Digital Vault providers, especially those with operations or dependencies in Russia or Ukraine. If infrastructure, data centers, or key technology components are affected, it could lead to delays in product development, deployment, or maintenance. The geopolitical tensions resulting from the war can influence international business relationships and partnerships. Digital Vault providers may face challenges in expanding their services across borders, establishing strategic alliances, or securing investments due to the uncertain political landscape. In response to the conflict and heightened security concerns, governments may introduce or revise regulations related to data protection, privacy, and cybersecurity. Such changes can impact Digital Vault providers by imposing stricter compliance requirements, affecting data transfer across borders, or influencing the design and functionality of the solutions.
Impact of the Recession
During a recession, businesses and individuals may be more cautious with their spending and prioritize essential needs. As a result, the adoption of digital vault solutions, which are considered non-essential by some, may experience a slowdown. Companies might delay or reduce their investments in digital vault technologies, leading to a slower growth rate for the market. In times of economic downturn, organizations often face budget constraints and cost-cutting measures. This can impact their ability to allocate funds toward new technology implementations, including digital vault solutions. As a result, there might be reduced demand for digital vault services, as organizations prioritize other critical areas. On the other hand, during a recession, the risk of security threats and cyberattacks might increase. Economic downturns can lead to an uptick in fraudulent activities, data breaches, and unauthorized access attempts. This heightened risk can create an increased demand for secure storage and data protection solutions, including digital vaults. Organizations may recognize the importance of safeguarding their critical data and invest in digital vault technologies to enhance their security posture. Recessionary periods can also drive innovation and cost optimization efforts. As organizations face tighter budgets, they may seek more cost-effective and efficient solutions. Digital vault providers may respond by innovating and offering more competitive pricing models, improved features, and enhanced integration capabilities to attract customers.
Key Market Segmentation
By Component
By Organization Size
By Services
By Industry
BFSI

Government

IT and Telecommunication

Real Estate

Defense

Others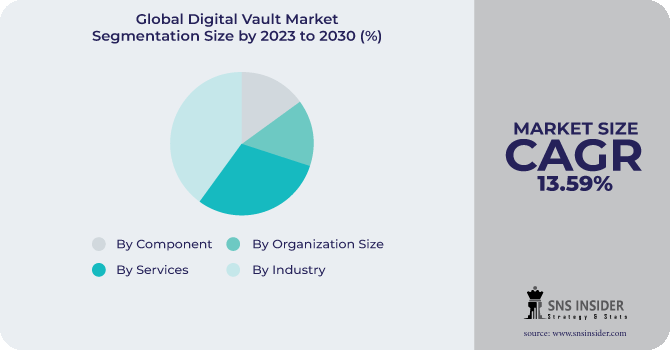 Need any customization research on Digital Vault Market - Enquiry Now
Regional Analysis
Asia-Pacific led the digital vault market. This expansion is mostly due to the existence of emerging nations with fast-expanding IT and telecom and industrial industries. This area is projected to generate tremendous development potential for market participants due to the rising need for safe repositories for the long-term preservation of sensitive information. In addition, the BFSI industry in this region is quickly evolving. Banks and financial organizations have continuing business activities that demand the keeping of important documents. These factors are expected to increase the growth of the Asia-Pacific digital vault market in the future years.
REGIONAL COVERAGE:
North America
Europe
Germany

UK

France

Italy

Spain

The Netherlands

Rest of Europe
Asia-Pacific
Japan

South Korea

China

India

Australia

Rest of Asia-Pacific
The Middle East & Africa
Latin America
Brazil

Argentina

Rest of Latin America
Key Players:
The major players are Microsoft, Johnson Controls, Logic Choice, CyberArk, Insoft Infotel Solutions, IBM, Oracle, Daxtech IT Solutions, Safe4 Information Management, Hitachi, Accruit, Micro Focus, Fiserv, Symantec, Multicert, Keeper Security, HarshiCorp, DSwiss, TokenEx, Eclypses, eOriginal, OPSWAT, FutureVault, LexTrado, and others in final report.
Insoft Infotel Solutions,-Company Financial Analysis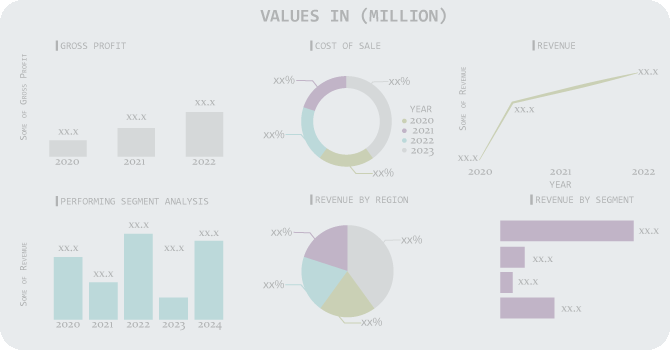 Recent Development
CyberArk announced the expansion of its CyberArk Identity Security Platform in June 2021. These developments contribute to the security of high-risk access and the broadening of protection across hybrid and cloud contexts. CyberArk's cloud-based solution is used to safeguard both human and machine identities.
Digital Vault Market Report Scope:
Report Attributes
Details
Market Size in 2022
US$ 785.3 Mn
Market Size by 2030
US$ 2176.4 Mn
CAGR
CAGR of 13.59% From 2023 to 2030
Base Year
2022
Forecast Period
2023-2030
Historical Data
2020-2021
Report Scope & Coverage
Market Size, Segments Analysis, Competitive Landscape, Regional Analysis, DROC & SWOT Analysis, Forecast Outlook
Key Segments
• By Component (Solutions, Services)
• By Organization Size (Large enterprises, Small & medium enterprises)
• By Services (Consulting, Design and Implementation, Support and maintenance, Managed Services)
• By Industry (BFSI, Government, IT and Telecommunication, Real Estate, Defense, Others)
Regional Analysis/Coverage
North America (USA, Canada, Mexico), Europe
(Germany, UK, France, Italy, Spain, Netherlands,
Rest of Europe), Asia-Pacific (Japan, South Korea,
China, India, Australia, Rest of Asia-Pacific), The
Middle East & Africa (Israel, UAE, South Africa,
Rest of Middle East & Africa), Latin America (Brazil, Argentina, Rest of Latin America)
Company Profiles
Microsoft, Johnson Controls, Logic Choice, CyberArk, Insoft Infotel Solutions, IBM, Oracle, Daxtech IT Solutions, Safe4 Information Management, Hitachi, Accruit, Micro Focus, Fiserv, Symantec, Multicert, Keeper Security, HarshiCorp, DSwiss, TokenEx, Eclypses, eOriginal, OPSWAT, FutureVault, LexTrado
Key Drivers
• Growing need for digital vaults for protection and security
Market Opportunities
• urging government data protection programs
• Growing Internet penetration and economic transformation