Report Scope & Overview:
The Cloud Encryption Market is anticipated to develop at a CAGR of 30.92% from 2023 to 2030, from a value of USD 2.41 billion in 2022 to USD 20.8 billion in 2030.
Cloud encryption is a valuable service offered by cloud security organizations that specialize in studying various algorithms used to convert data or text into encrypted code. Encryption is widely recognized as one of the most effective methods for ensuring data security. It involves transforming the content of a system, database, or file in such a way that it becomes extremely difficult to decipher without the appropriate decryption key. By implementing encryption and effectively managing the encryption process, companies can guarantee that only authorized users have access to sensitive data.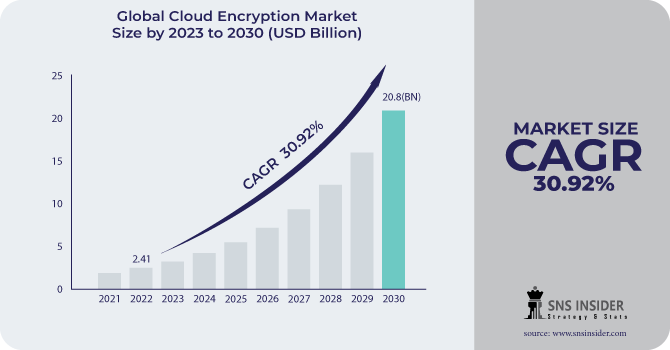 The encryption lies in its ability to render stolen, accessed, or lost data useless to unauthorized individuals. Encrypted data appears as a jumbled mess of code, making it virtually impossible to extract any meaningful information without the corresponding decryption key. This encrypted data is then securely transmitted to the cloud, where it remains protected. The security of cloud data encryption is further enhanced by the fact that the encryption code can only be decrypted using a specific data encryption key.
Market Dynamics
Drivers
Expansion of cloud usage and virtualization

Risks associated with cloud computing settings and big data analytics

Regulations to promote the use of cloud encryption technologies

The market growth is being driven by a growing concern over data security.
As more and more data are being created and stored in the cloud, there is a heightened worry about the safety of this information. Personal information, financial data, and intellectual property are all examples of sensitive data that can be vulnerable to cyber-attacks, theft, or accidental exposure.
To address this concern, cloud encryption has emerged as a secure solution to protect sensitive data from unauthorized access. By implementing cloud encryption, businesses can ensure that only authorized users with the right credentials can access their data. This not only provides peace of mind but also helps to safeguard against potential threats. The demand for cloud encryption solutions is expected to grow as businesses recognize the need to secure their data in the cloud. With the adoption of bring-your-own-device (BYOD) policies and the Internet of Things (IoT), the volume of sensitive data being stored in the cloud has increased significantly. Cloud encryption plays a crucial role in protecting data on these devices, ensuring that sensitive information remains uncompromised.
Restrains
Lack of funding to implement the finest cloud encryption technology

Enterprises' lack of knowledge regarding cloud encryption and performance issues
Opportunities
Demand for integrated, cloud-based encryption solutions in SMEs is growing.

Demand for cloud-based services is rising in the healthcare sector
Challenges
Challenges in Encryption Key Management

Insufficient Technical Expertise within Enterprise Workforce

Organizational Dynamism and IT Infrastructure Complexity
Encryption key management poses several challenges that organizations must address to ensure the security and integrity of their data. One of the primary challenges in encryption key management is the secure generation and storage of keys. Generating strong and unique encryption keys is crucial to prevent unauthorized access to sensitive information. Additionally, organizations must establish robust mechanisms for securely storing these keys, as any compromise in key storage can lead to a breach in data security. lies in the distribution and sharing of encryption keys. In a complex organizational structure, where multiple users and systems require access to encrypted data, ensuring the secure distribution and sharing of keys becomes a daunting task. Organizations must implement secure protocols and mechanisms to facilitate the controlled sharing of keys, while also maintaining strict access controls to prevent unauthorized key distribution.
Impact of the Russia-Ukraine
Geopolitical tensions and cyber threats often lead to increased concerns about data security by 8%. Organizations may become more cautious and invest more in securing their data, including encrypting data stored in the cloud. This could drive greater demand for cloud encryption solutions. In times of geopolitical instability, organizations may reevaluate where they store their data. They might reconsider using cloud providers located in regions affected by conflict, such as Russia or Ukraine. This could result in a shift towards providers in more politically stable regions, potentially boosting the cloud encryption market for these providers. Geopolitical events can prompt changes in regulations related to data protection and cybersecurity. Governments may introduce new laws or regulations that require stricter encryption and security measures for data stored in the cloud. This could lead to increased adoption of encryption technologies. During times of geopolitical conflict, there is often an increase in cyber threats and attacks. As a result, organizations may be more motivated to enhance their cybersecurity measures, including encryption, to protect their data from state-sponsored or cybercriminal threats. Geopolitical tensions can have broader economic consequences, which may affect organizations' budgets and IT spending. If there is a global economic downturn, it could impact the willingness of businesses to invest in encryption technologies. Geopolitical events can heighten concerns about data sovereignty, prompting organizations to seek solutions that allow them to maintain greater control over their data. Encryption can play a role in addressing these concerns.
Impact of Recession
During a recession, organizations may become more concerned about protecting their sensitive data and intellectual property. This can lead to an increased focus on cybersecurity, including encryption. As a result, the demand for cloud encryption solutions may rise. Organizations may seek cost-effective alternatives during a recession. This could lead to a preference for cloud encryption solutions that offer competitive pricing and value for money. Different industries are affected differently during a recession. For example, industries like finance and healthcare may continue to invest in encryption solutions due to stringent regulatory requirements and the critical nature of their data. Conversely, sectors heavily impacted by the recession may delay or cancel encryption projects. Companies in the cloud encryption market may innovate and adapt to the changing economic conditions. This could involve offering new features, pricing models, or packaging to meet the evolving needs of customers. Government regulations related to data privacy and security may remain stringent or even become more so during a recession. This could drive organizations to invest in encryption to comply with legal requirements. Recessions can accelerate cloud adoption as organizations seek cost savings and operational efficiencies. Cloud encryption becomes a critical component of cloud security strategies, further fueling demand.
Key Market Segmentation
By Component
By Organization Size
By Service Model
By Industry Vertical
Banking, Financial Services, and Insurance (BFSI)

Healthcare

Government and Public Utilities

Telecom and IT

Retail

Aerospace and Defense

Others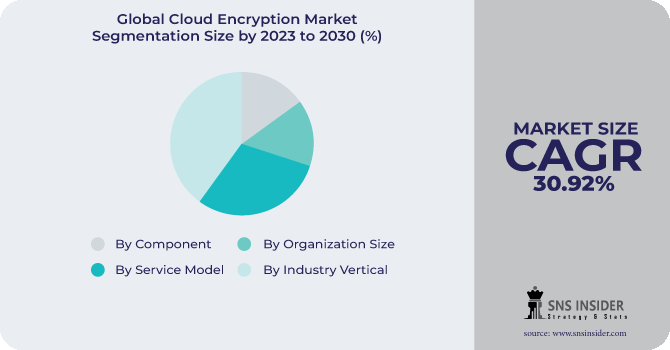 The BFSI industry emerged as the dominant force in the market, capturing the highest share of approximately 24%. This sector, which encompasses banking, financial services, and insurance, faces stringent data security requirements due to its handling of sensitive and private information belonging to account holders. To address these concerns, banks have made significant investments in bolstering their cybersecurity infrastructure, particularly in the realm of cloud encryption. Cloud data encryption solutions play a pivotal role in safeguarding the BFSI sector by ensuring the security and confidentiality of customer records and information. These solutions provide robust protection against threats or hazards that may compromise the integrity of data, while also preventing unauthorized access. Furthermore, the surge in digital payments has amplified the risk of cyberattacks, thereby driving the demand for cloud encryption solutions within this segment. This trend is expected to continue driving sales in the foreseeable future.
Regional Analysis
In 2022, North America dominated the market with the largest market share 31%. Furthermore, it is projected that the regional market will experience a Compound Annual Growth Rate (CAGR). This region stands out as the top revenue generator in the global market. The demand for highly efficient cloud services has surged due to recent data breaches that compromised user data. Notably, high-profile data breaches over the past decade have fueled this demand. For instance, when numerous iCloud accounts of prominent individuals were compromised, Apple faced widespread public outcry. Consequently, Apple was compelled to fortify its cloud security measures and implement enhanced encryption in its services. Similarly, companies have been compelled to invest significantly in encryption as a response to similar attacks. Additionally, regulations in the region have contributed to the increased demand for cloud security, with all industry verticals required to adhere to these regulations. Europe secured the second-largest market share in 2022. Meanwhile, the Asia-Pacific region has emerged as the fastest-growing market for cloud encryption. The IT and healthcare sectors in China and Japan, along with India's expansive service economy and other emerging Asian nations, are driving the growth of the cloud encryption market in the Asia-Pacific region.
REGIONAL COVERAGE:
North America
Europe
Eastern Europe

Poland

Romania

Hungary

Turkey

Rest of Eastern Europe

Western Europe

Germany

France

UK

Italy

Spain

Netherlands

Switzerland

Austria

Rest of Western Europe
Asia Pacific
China

India

Japan

South Korea

Vietnam

Singapore

Australia

Rest of Asia Pacific
Middle East & Africa
Middle East

UAE

Egypt

Saudi Arabia

Qatar

Rest of Middle East

Africa

Nigeria

South Africa

Rest of Africa
Latin America
Brazil

Argentina

Colombia

Rest of Latin America
Key Players:
The prominent players in the market are Thales Group, Hitachi Solutions, Ltd, Hewlett Packard Enterprise, Sophos Group plc, IBM, Skyhigh Security, Netskope Inc., Microsoft, Micro Focus International plc, Dell Technologies, Cisco Systems, Inc, TWD Industries, Atos, WinMagic, and others in the final report.
Thales Group-Company Financial Analysis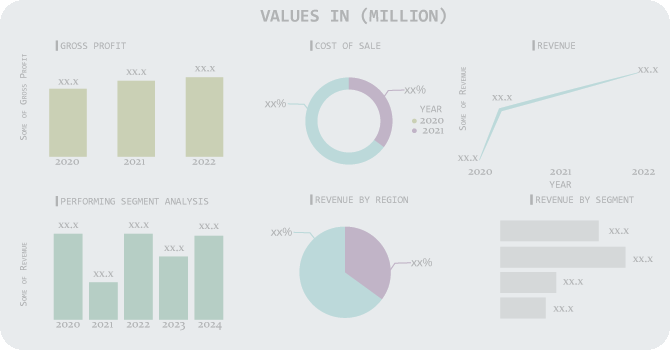 Recent development
In March 2022, IBM unveiled a groundbreaking cloud service, revolutionizing the industry by offering key management capabilities to safeguard data across multiple clouds. This innovative solution empowers businesses to effectively mitigate the ever-increasing risk of cyber-attacks, bolstering their security measures.
June 20, 2023, Hewlett Packard Enterprise (NYSE: HPE), made a groundbreaking announcement. They revealed a remarkable expansion of their offerings and innovations across various domains, including the HPE GreenLake edge-to-cloud platform, hybrid cloud services, private cloud portfolio, and partner ecosystem.
This expansion signifies HPE's commitment to delivering cutting-edge solutions and enhancing its already impressive range of services.
In April 2020, Accenture acquired Symantec's cybersecurity services business from Broadcom Inc. This acquisition has significantly bolstered Accenture Security, enhancing its ability to assist organizations in detecting, anticipating, and responding to cyber threats.
In September 2020, IBM made an exciting announcement regarding the introduction of IBM Cloud Hyper Protect Crypto Services. This innovative cloud encryption service offers exceptionally secure key management and data encryption capabilities, ensuring the utmost protection for sensitive information.
In October 2020, Fortinet unveiled its latest offering, the FortiGate 2600F firewalls. These cutting-edge firewalls come equipped with advanced security features, including cloud encryption and zero-trust access control. With these enhancements, Fortinet empowers organizations to safeguard their networks and data from potential threats.
Cloud Encryption Market Report Scope:
Report Attributes
Details
Market Size in 2022
US$ 2.41 Billion
Market Size by 2030
US$ 20.8 Billion
CAGR
CAGR of 30.92 % From 2023 to 2030
Base Year
2022
Forecast Period
2023-2030
Historical Data
2019-2021
Report Scope & Coverage
Market Size, Segments Analysis, Competitive Landscape, Regional Analysis, DROC & SWOT Analysis, Forecast Outlook
Key Segments
• By Component (Solutions, Services)
• By Organization Size (Large Enterprises, Small and Medium-sized Enterprises (SMEs))
• By Service Model (Infrastructure-as-a-Service, Software-as-a-Service, Platform-as-a-Service)
• By Industry Vertical (Banking, Financial Services, and Insurance (BFSI), Healthcare, Government and Public Utilities, Telecom and IT, Retail, Aerospace and Defense, Others)
Regional Analysis/Coverage
North America (US, Canada, Mexico), Europe (Eastern Europe [Poland, Romania, Hungary, Turkey, Rest of Eastern Europe] Western Europe] Germany, France, UK, Italy, Spain, Netherlands, Switzerland, Austria, Rest of Western Europe]), Asia Pacific (China, India, Japan, South Korea, Vietnam, Singapore, Australia, Rest of Asia Pacific), Middle East & Africa (Middle East [UAE, Egypt, Saudi Arabia, Qatar, Rest of Middle East], Africa [Nigeria, South Africa, Rest of Africa], Latin America (Brazil, Argentina, Colombia Rest of Latin America)
Company Profiles
Thales Group, Hitachi Solutions, Ltd, Hewlett Packard Enterprise, Sophos Group plc, IBM, Skyhigh Security, Netskope Inc., Microsoft, Micro Focus International plc, Dell Technologies, Cisco Systems, Inc, TWD Industries, Atos, WinMagic
Key Drivers
• Expansion of cloud usage and virtualization
• Risks associated with cloud computing settings and big data analytics
• Regulations to promote the use of cloud encryption technologies
• The market growth is being driven by a growing concern over data security.
Market Opportunity
• Demand for integrated, cloud-based encryption solutions in SMEs is growing.
• Demand for cloud-based services is rising in the healthcare sector