REPORT SCOPE & OVERVIEW:
The Display Technology Market size was valued at USD 125.5 Billion in 2022 and is expected to grow to USD 212.42897 Billion by 2030 and grow at a CAGR Of 6.8 % over the forecast period of 2023-2030.
Panel screens called displays are used to show a variety of multimedia content to viewers. One of the benefits of displays, which has propelled them to become a superior method of communication, is their ability to display a broad variety of multimedia formats, such as images and video. Technology advancements have led to displays' output quality improvements and price reductions over time, which has been a key factor in their popularity. Consumer interest in cutting-edge display technologies has been rising recently. The leading players in the display market are developing new ways to design their display devices as a result of numerous technical breakthroughs. This might be explained by the entertainment sector's and virtual advertising's growing importance.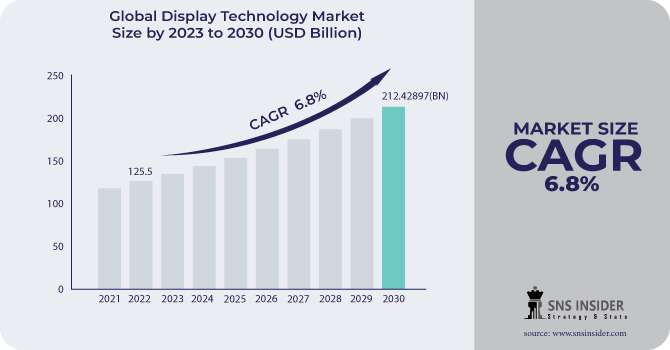 To get more information on Display Technology Market - Request Free Sample Report
The display typically consists of a screen, a computer output surface, and a projection surface that uses cathode ray tubes, light-emitting diodes, liquid crystal displays, or other technologies to display text and graphic images. It can be used in a variety of industries, including television, mobile devices, tablets, computers, cars, and public transportation.
MARKET DYNAMICS
KEY DRIVERS:
Demand for digitalized promotion

4K digital sign display demand
The market's expansion is accelerated by the increase in demand for 4K digital sign displays with embedded software and media players. These signs provide consumers with a cost-effective Ultra HD digital signage solution, which benefits the market.
RESTRAIN:
Development Of Screenless Display

Fall In Demand For Displays
On the other hand, it is anticipated that the availability of widescreen alternatives, such as projectors and screenless displays, as well as the fall in demand for displays from the retail sector due to a shift towards online advertising, will restrain the market growth.
OPPORTUNITY:
The market players would have lucrative prospects due to the adoption of AMOLED displays, particularly due to the advent of 5G and use cases for displays, during the forecast period of 2022 to 2029. The market will also grow as foldable and flexible displays become more popular, and as demand for Micro-LED and mini-LED technologies rises.
CHALLENGES:
The display market is expected to face challenges in the forecast period of 2022-2029 due to the high costs associated with new products based on display technology and the advent of new display concepts.
IMPACT ANALYSIS
IMPACT OF RUSSIA-UKRAINE WAR
The biggest tech businesses suffered significant losses in 2022 as their market value shrunk by trillions of dollars, which was a significant development in the technology sector. The disruption, Russia's invasion of Ukraine, and growing inflation that resulted in higher interest rates are just a few of the issues that were blamed for this collapse and worried investors.
Companies in a variety of industries, including semiconductors, social media, and cloud computing, cut their growth forecasts, announced weak performance, and saw a drop in stock prices. Seven significant internet firms, including Facebook, Apple, Amazon, Netflix, Google, and Tesla, had together lost more than $3 trillion in market value by the end of October. A combined $700 billion was lost by Google, Microsoft, and Facebook, now known as Meta. Amazon, who is not just a tech company but also a public company, became the first to lose a trillion dollars in market value, making the situation even worse. On November 12, Bloomberg reported that Microsoft's market worth had reduced to $889 billion and that Amazon's market value had fallen from $1.88 trillion to $879 billion.
IMPACT OF ONGOING RECESSION
During a recession, people frequently limit their discretionary spending, which includes buying goods like televisions, computers, and cell phones. Manufacturers and merchants of display technology may see a fall in sales and revenue as a result of this decline in consumer demand. Consumers may be less likely to upgrade their current devices or adopt newer technologies as a result of economic instability and diminished purchasing power. Technology companies across a variety of industries have been rapidly laying off workers. Over 150,000 jobs were lost in the faltering tech industry in 2022, according to forecasts. This covers both larger corporations like Amazon and Facebook's parent company Meta Platforms, which slashed over 18,000 positions in November, as well as smaller enterprises in the US and other nations. The organized sector's largest employers are Indian IT service providers, and any changes in the world economy are likely to have an impact on their growth forecasts. With almost 15,700 employees let go in 2022, Inc42 said that layoffs in Indian start-ups were also on the rise.
KEY MARKET SEGMENTS
By Display Type
By Industry Vertical
Healthcare

Consumer Electronics

BFSI

Retail

Military And Defense

Automotive

Others
By Technology
OLED

LED

LCD

E-Paper

Others
By Application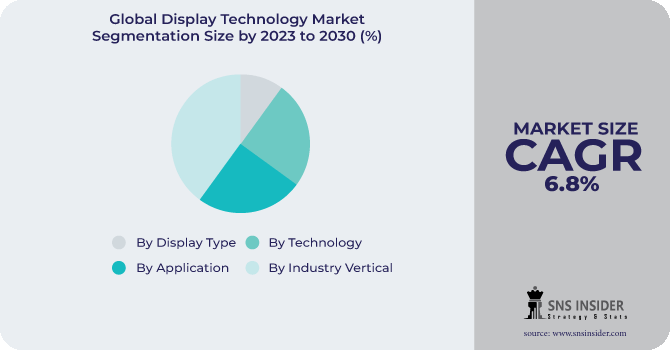 Need any customization research on Display Technology Market - Enquiry Now
REGIONAL ANALYSIS
North America currently controls the majority of the global display market. Due to the presence of committed providers of the product and rising demand for these displays in the local retail sector.

Asia-Pacific is predicted to experience significant development from 2022 to 2029. Due to the increased knowledge of displays' advantages in the region.
REGIONAL COVERAGE:
North America
Europe
Germany

UK

France

Italy

Spain

The Netherlands

Rest of Europe
Asia-Pacific
Japan

South Korea

China

India

Australia

Rest of Asia-Pacific
The Middle East & Africa
Latin America
Brazil

Argentina

Rest of Latin American
KEY PLAYERS
The major players are Leyard Optoelectronic Co., Ltd, AUO Corporation, Sharp Corporation, Innolux Corporation, Japan Display Inc, Panasonic Corporation, Sony Corporation, NEC CORPORATION, Samsung Electronics Co Ltd, BOE Technology Group Co., Ltd., LG Display Co Ltd and others are listed in the final report.
RECENT DEVELOPMENT
AUO Corporation debuted the first 34-inch AMOLED curved gaming display panel with a widescreen resolution in May 2022. At SID Display Week 2022, a 165Hz ultra-high refresh rate and a widescreen IC will be used.

In November 2020, Sharp unveiled its brand-new, enormous 8K Ultra-HD professional LCD. This display uses a wide color gamut color filter along with optimized LED backlight phosphors and has 33 million pixels.

In July 2020, LG introduced the LSAA LED signage series, one of the most cutting-edge LED signage systems. This new series offers design, performance on a huge screen, and integration with cable-free block assembly technology.
Display Technology Market Report Scope:
Report Attributes
Details
Market Size in 2022
US$ 125.5 Bn
Market Size by 2030
US$ 212.4 Bn
CAGR
CAGR of 6.8 % From 2023 to 2030
Base Year
2022
Forecast Period
2023-2030
Historical Data
2020-2021
Report Scope & Coverage
Market Size, Segments Analysis, Competitive Landscape, Regional Analysis, DROC & SWOT Analysis, Forecast Outlook
Key Segments
• By Display Type (Flat Panel Display, Flexible Panel Display, Transparent Panel Display)
• By Industry Vertical (Healthcare, Consumer Electronics, BFSI, Retail, Military, And Defense, Automotive, Others)
• By Technology (OLED, Quantum Dot, LED, LCD, E-Paper, Others)
• By Application (Vehicle Display, Smartphone And Tablet, Smart Wearable, Television, And Digital Signage, Pc And Laptop, Others)
Regional Analysis/Coverage
North America (USA, Canada, Mexico), Europe
(Germany, UK, France, Italy, Spain, Netherlands,
Rest of Europe), Asia-Pacific (Japan, South Korea,
China, India, Australia, Rest of Asia-Pacific), The
Middle East & Africa (Israel, UAE, South Africa,
Rest of Middle East & Africa), Latin America (Brazil, Argentina, Rest of Latin America)
Company Profiles
Leyard Optoelectronic Co., Ltd, AUO Corporation, Sharp Corporation, Innolux Corporation, Japan Display Inc, Panasonic Corporation, Sony Corporation, NEC CORPORATION, Samsung Electronics Co Ltd, BOE Technology Group Co., Ltd., LG Display Co Ltd
Key Drivers
• Demand for digitalized promotion
• 4K digital sign display demand
Market Opportunities
• Surging Digital Advertising Industry
• The Advent Of 5G