REPORT SCOPE & OVERVIEW:
The Dual Chamber Prefilled Syringes Market size was USD 154.21 million in 2022 and is expected to Reach USD 268.56 million by 2030 and grow at a CAGR of 7.08 % over the forecast period of 2023-2030.
In recent years, the market for dual-chamber prefilled syringes has grown and changed significantly. Healthcare professionals and patients will find these innovative syringes to be very practical and effective because they are built with two compartments that can store and deliver two different medications or components in a single injection.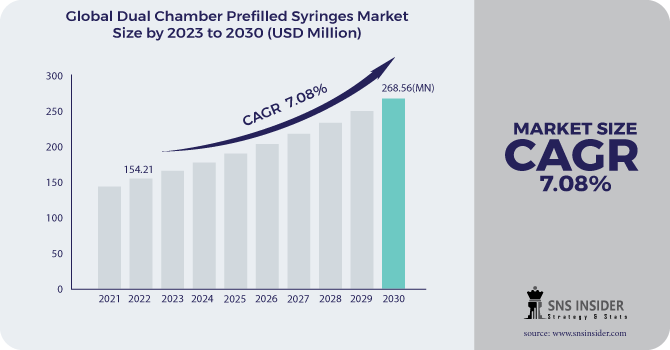 The rise in chronic diseases and the demand for precise and practical drug administration are two major factors driving the market for dual-chamber prefilled syringes. These syringes make it possible to combine and administer two medications that must be administered together at the same time, doing away with the need for manual mixing or separate injections. In addition to saving time, this lowers the possibility of medication errors, making them especially useful in critical care settings.
Dual chamber prefilled syringes have a number of advantages over conventional syringes. They guarantee the potency and effectiveness of sensitive medications by maintaining the two components separate up until the point of administration. Additionally, they facilitate patient compliance by streamlining complicated dosing regimens and minimizing the number of required injections.
Geographically, the market is expanding in many areas, with North America and Europe taking the lead. These areas have well-established healthcare systems, benevolent reimbursement practices, and a high rate of uptake of cutting-edge medical technologies. However, due to rising healthcare costs and increased awareness of dual-chamber prefilled syringes, emerging economies in the Asia Pacific and Latin America are also anticipated to experience rapid market growth.
MARKET DYNAMICS
KEY DRIVERS:
Drug administration needs to be done frequently and accurately due to the rise in chronic diseases like diabetes, cardiovascular problems, and autoimmune diseases. In order to meet the needs of patients with complex treatment regimens, dual-chamber prefilled syringes offer a practical way to deliver multiple medications or components in a single injection.
RESTRAIN:
There are chances of cross-contamination of two different medicine which can cause dangerous effects. Due to manufacturing defects, this can happen. For safety purposes, high-quality safety equipment needs to be used.
OPPORTUNITY:
The raw material used for the production at present is costly. Using plastic and glass as substitute reduce the cost of production. This will help make a cost-effective product and also plastic can be recycled.
CHALLENGES:
Many pharmaceutical products are getting counterfeited, which is creating a major challenge for the growth of the industry. There is a delay in the coming of new products into the market because it has to go through many health tests and regulations. Till that time falsified products can be seen in the market.
IMPACT OF RUSSIAN UKRAINE WAR
Russia and Ukraine are major suppliers of crude oil, natural gas, and specific metals used to manufacture hospital equipment. As U. S relies on the supply of common raw materials for the healthcare industry, an increase in the cost of medical supplies is conceivable. 11.5 % of the world's oil and 16 % of its natural gas supply are produced by Russia. There may be production hiccups, which could have a direct impact on the plastics supply chain and price globally.
Europe will have to scramble to find new suppliers once the invasion disrupts the supply chain. In turn, this will have a greater impact on natural gas prices. Producers who purchase the raw materials will be able to increase their prices to cover the costs. The impact will nevertheless be felt by healthcare facilities as well as their patients.
IMPACT OF COVID-19
The COVID-19 pandemic is projected to increase the size of the global pharmaceutical packaging market from USD 900.2 billion in 2019 to USD 1000.6 billion by 2021, with a Compound Annual Growth Rate (CAGR) of 5.2% as the most likely outcome during the estimated time frame and the worst-case scenario reflecting a 2.1 % CAGR growth. The increased interest in packaging for FMCG and pharmaceutical products, as well as rising web-based business sales as a result of the lockdown, are major drivers for the packaging industry. Every segment of the packaging industry is affected by the coronavirus, which has both benefits and drawbacks.
However, the supply chain was the major problem during the covid-19. There was a 40 % rise in global prefilled syringe market due to vaccination happening globally.
Overall, Covid-19 gave boost to the global Dual Chamber Prefilled Syringes.
KEY MARKET SEGMENTS
By Raw Material
By Application
Industrial Pharmacy

Hospital Pharmacy
REGIONAL ANALYSIS
Due to factors like the high preference of healthcare professionals for prefilled injectable devices in order to reduce needle-related injuries, Europe held the largest share of the prefilled syringes market in 2021 with a share of 36.51 %.
Due to the development of rapidly expanding economies and the existence of a sizable untapped market, Asia Pacific is anticipated to experience the highest CAGR during the forecast period. The region's market is anticipated to grow as a result of favorable demographic factors like the large population and rising prevalence of different chronic diseases. The developed prefilled syringes market is represented by nations like China. Ischemic heart disease, stroke, chronic obstructive pulmonary disease (COPD), and type 2 diabetes are the most common chronic NCDs in China among adults aged 60, according to Front Public Health in 2020.
On the other hand, nations like Japan and India offer significant growth potential by luring key market participants with rising foreign direct investment (FDI) as well as product demand.
REGIONAL COVERAGE:
North America
Europe
Germany

UK

France

Italy

Spain

The Netherlands

Rest of Europe
Asia-Pacific
Japan

South Korea

China

India

Australia

Rest of Asia-Pacific
The Middle East & Africa
Latin America
Brazil

Argentina

Rest of Latin American
Key players List-
Some major key players in the Dual Chamber Prefilled Syringes Market are Nipro Corporation, Pfizer Inc, Credence MedSystems Inc, Biosciences Inc, SCHOTT AG, Arte Corporation, Otsuka America Pharmaceutical Inc, AstraZeneca plc, AbbVie Inc, Ypsomed AG, and other players.
Nipro Corporation-Company Financial Analysis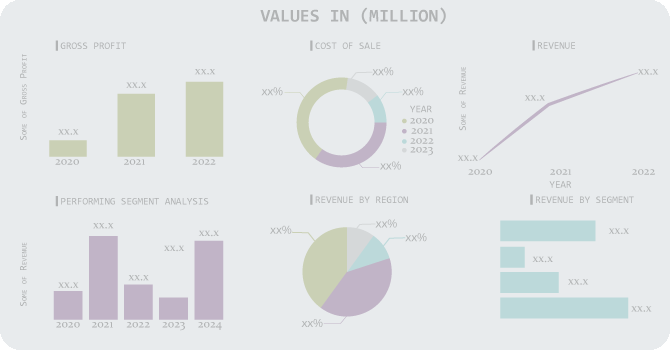 ​​​​​​​
RECENT DEVELOPMENT
A Gx RTF ClearJect COP needle syringe, 1.0-mL luer lock, has been added to Gerresheimer's lineup of prefill able polymer syringes for sensitive biologics, biosimilars, and bio betters.

One silicone-free option combines ImproJect plungers from W.L. Gore & Associates with syriQ BioPure silicone-free syringes from SCHOTT.
Dual Chamber Prefilled Syringes Market Report Scope:
Report Attributes
Details
Market Size in 2022
US$ 154.21 Mn
Market Size by 2030
US$ 268.56 Mn
CAGR
CAGR of 7.08 % From 2023 to 2030
Base Year
2022
Forecast Period
2023-2030
Historical Data
2020-2021
Report Scope & Coverage
Market Size, Segments Analysis, Competitive Landscape, Regional Analysis, DROC & SWOT Analysis, Forecast Outlook
Key Segments
• By Raw Material (Plastic, Glass)
• By Application (Industrial Pharmacy, Hospital Pharmacy)
Regional Analysis/Coverage
North America (USA, Canada, Mexico), Europe
(Germany, UK, France, Italy, Spain, Netherlands,
Rest of Europe), Asia-Pacific (Japan, South Korea,
China, India, Australia, Rest of Asia-Pacific), The
Middle East & Africa (Israel, UAE, South Africa,
Rest of Middle East & Africa), Latin America (Brazil, Argentina, Rest of Latin America)
Company Profiles
Nipro Corporation, Pfizer Inc, Credence MedSystems Inc, Biosciences Inc, SCHOTT AG, Arte Corporation, Otsuka America Pharmaceutical Inc, AstraZeneca plc, AbbVie Inc, Ypsomed AG, and other players.
Key Drivers
• Increasing Prevalence of Chronic Diseases
• Increasing Healthcare Expenditure in Emerging Economies.
Market Opportunities
• Making cost-effective dual-chamber prefilled syringes
• Growing Geriatric Population