Report Scope & Overview:
The Endpoint Security Market size was valued at USD 15.74 billion in 2022 and is expected to grow to USD 28.96 billion by 2030 and grow at a CAGR of 7.92 % over the forecast period of 2023-2030.
Endpoint security is a crucial measure in safeguarding endpoint devices, such as laptops, desktop computers, and mobile devices, which serve as gateways to any organized network. Endpoint security solutions offer a range of benefits, including shielding vulnerable services, securing networks for cloud security, and internet security, and enhancing data privacy and policy enforcement. In recent years, endpoint security has gained significant importance and has become an integral part of the lives of individuals who use smartphones, computers, and smart gadgets. Endpoint security is a critical aspect of cybersecurity that focuses on protecting endpoints, which are devices that connect to a network. These devices are often the first point of entry for cybercriminals, making them vulnerable to attacks. Endpoint security solutions provide a comprehensive approach to protecting these devices, ensuring that they are secure from any potential threats.
These services are often targeted by cybercriminals, making them vulnerable to attacks. Endpoint security solutions provide a layer of protection that shields these services from any potential threats, ensuring that they remain secure. Endpoint security solutions also play a crucial role in securing networks for cloud security, and internet security, and enhancing data privacy and policy enforcement. With the increasing use of cloud services and the internet, endpoint security has become more critical than ever. Endpoint security solutions provide a comprehensive approach to securing networks, ensuring that they are protected from any potential threats.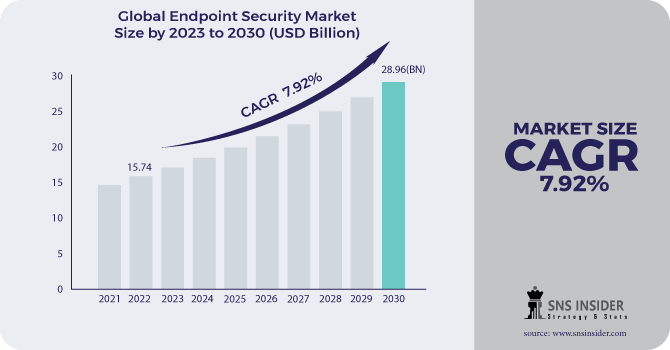 To get more information on Endpoint Security Market - Request Sample Report
Market Dynamics
Drivers
Increasing Use of Bring Your Own Devices to Accelerate Growth

The growing number of connected devices will drive up demand for endpoint security solutions.
Network assaults are becoming more common across industries as a result of increased digitization and linked devices. Attackers select endpoints to get access to a company's protected network. These attackers can breach the protected company network by using laptops, cellphones, wearable devices, and other similar devices. Similarly, the increasing use of technologies like the Internet of Things, industrial control systems, and smart sensors is expected to draw endpoint threats.
Restrains
Even while endpoint solutions protect organizations from numerous assaults, a few obstacles continue to limit market development. Many organizations are struggling to find experienced technical people to manage their security systems. As technology evolves, offering constant training to technical workers is becoming prohibitively expensive, particularly for SMEs. Employers find it difficult to hire dedicated cybersecurity workers, according to the 2018 McAfee Cybersecurity Talent Report. According to Gartner's research, the growing skills gap is also attributed to quickly emerging digital solutions. As a result, the adoption of endpoint protection solutions is likely to be hampered. To overcome such impediments, organizations must provide periodic digital skills training.
Opportunities
Endpoint security is being used by organizations to better understand

Increased adherence to rigorous laws and demands
Challenges
The high cost of innovation and budget restrictions, as well as the usage of free or pirated endpoint security solutions, stymie industry development.
Impact Of covid-19
The increase in the number of industry verticals adopting endpoint security products during the COVID-19 outbreak had a beneficial influence on the endpoint security market. Many businesses, particularly banking, financial services, and insurance (BFSI), as well as telecommunications and IT, were introducing endpoint security to protect customer data. Endpoint security is predicted to develop rapidly in the post-pandemic context, owing to increased knowledge of the potential benefits of endpoint security and increased usage of BYOD.
Impact of the Russia-Ukraine War
The war has led to an increase in cyber-attacks, particularly against Ukrainian businesses and government agencies. This has resulted in a greater demand for endpoint security solutions to protect against these attacks. This market refers to the protection of computer networks and devices from cyber threats such as malware, viruses, and hacking attempts. To counter evolving cyber threats, organizations may seek advanced endpoint security technologies that go beyond traditional antivirus software. These technologies may include behavioral analysis, machine learning, artificial intelligence, and threat intelligence integration. The Russia-Ukraine war could accelerate the adoption of such technologies as organizations look for more sophisticated solutions to protect their endpoints. In conflicts involving nations, critical infrastructure such as power grids, communication networks, and transportation systems become potential targets for disruption. Protecting these vital systems requires robust endpoint security measures to prevent unauthorized access and potential sabotage. The Russia-Ukraine war may lead to increased investment in endpoint security solutions specifically tailored for critical infrastructure protection.
Impact of the Recession
The recession led to a number of challenges for companies that provide endpoint security solutions. For one thing, there has been increased competition in the market as companies fight for a smaller pool of customers. Additionally, many businesses have been forced to rely on outdated or inadequate security measures, leaving them vulnerable to cyber-attacks and other threats. Despite these challenges, there are still opportunities for companies in the endpoint security market. By focusing on providing cost-effective solutions that meet the needs of businesses in a challenging economic environment, companies can differentiate themselves from their competitors and build a loyal customer base. Ultimately, the impact of the recession on the endpoint security market has been significant, but it has also created opportunities for companies that are willing to adapt and innovate. By staying ahead of the curve and providing solutions that meet the evolving needs of businesses, companies can thrive in this challenging market.
Key Market Segmentation
The Endpoint Security Market is segmented into five two types on the basis of By Component, By Deployment, By Solution Type, By End-user, and By Industry.
By Component
By Deployment
By Solution Type
Endpoint Protection Platform

Endpoint Detection and Response
By End-user
By Industry
BFSI

IT and Telecommunications,

Retail,

Healthcare

Government & Public Sector

Transportation

Others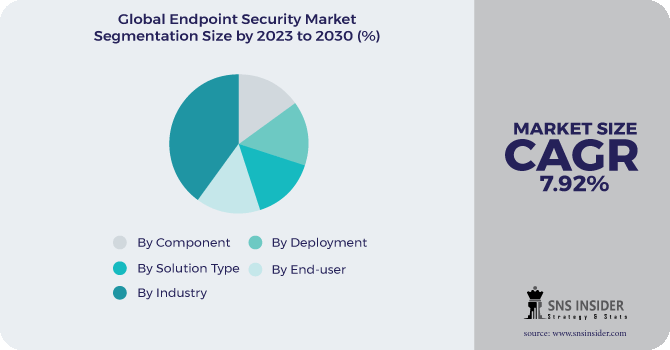 Need any customization research on Endpoint Security Market - Enquiry Now
Regional Analysis
During the projection period, North America is predicted to have the largest market share. The region's growing usage of linked devices and the Internet of Things across a variety of industries is driving up demand for security solutions. Because of the existence of various security solution providers, the US is expected to gain traction throughout the projected period.
Similarly, Europe is expected to have considerable market growth throughout the forecast period as nations focus more on enhancing cybersecurity infrastructure.
Due to increased IT investment across businesses, Asia Pacific is expected to rise rapidly throughout the projected period. AI, the Internet of Things, linked devices, cloud services, and other technologies that require strong endpoint device protection are being widely adopted by industries. China is likely to lead the Asia Pacific market. The rapidly expanding 5G infrastructure in this country is increasing the usage of endpoint solutions. Because of increased national security concerns, the Indian government is now concentrating on data protection.
REGIONAL COVERAGE:
North America
Europe
Germany

UK

France

Italy

Spain

The Netherlands

Rest of Europe
Asia-Pacific
Japan

South Korea

China

India

Australia

Rest of Asia-Pacific
The Middle East & Africa
Latin America
Brazil

Argentina

Rest of Latin America
Recent development
AO - June 2020 Kaspersky Lab has released integrated endpoint security solutions for medium and large companies. The endpoint solution has been linked with a cloud management dashboard, Kaspersky Sandbox, and Kaspersky Endpoint Detection and Response Optimum. As endpoint threats become more common, the firm is providing enhanced solutions for businesses.
In January 2020, BlackBerry Limited Cylance teamed up with SafeBreach to deliver automated endpoint protection. The company's goal is to give appropriate advice to its consumers while minimizing business risks.
Key Players:
The major players in the market are Broadcom, CrowdStrike, Check Point Software Technologies Ltd., BlackBerry Limited, Comodo Security Solutions, Inc., AO Kaspersky Lab, SentinelOne, Trend Micro Incorporated, McAfee, LLC, Microsoft Corporation, Cisco Systems Inc., FireEye, Inc., CurrentWare, Cybereason, Inc., Druva Inc., Fidelis Cybersecurity, Forcepoint LLC, and others in the final report.
Endpoint Security Market Report Scope:
Report Attributes
Details
Market Size in 2022
US$ 15.74 Bn
Market Size by 2030
US$ 28.96 Bn
CAGR
CAGR of 7.92% From 2023 to 2030
Base Year
2022
Forecast Period
2023-2030
Historical Data
2020-2021
Report Scope & Coverage
Market Size, Segments Analysis, Competitive Landscape, Regional Analysis, DROC & SWOT Analysis, Forecast Outlook
Key Segments
• By Component, (Software, Services)
• By Deployment (Cloud, On-Premises)
• By Solution Type (Endpoint Protection Platform, Endpoint Detection and Response)
• By End-user (Commercial, Consumer)
• By Industry (BFSI, IT and Telecommunications, Retail, Healthcare, Government & Public Sector, Transportation, Others)
Regional Analysis/Coverage
North America (USA, Canada, Mexico), Europe
(Germany, UK, France, Italy, Spain, Netherlands,
Rest of Europe), Asia-Pacific (Japan, South Korea,
China, India, Australia, Rest of Asia-Pacific), The
Middle East & Africa (Israel, UAE, South Africa,
Rest of Middle East & Africa), Latin America (Brazil, Argentina, Rest of Latin America)
Company Profiles
Broadcom, CrowdStrike, Check Point Software Technologies Ltd., BlackBerry Limited, Comodo Security Solutions, Inc., AO Kaspersky Lab, SentinelOne, Trend Micro Incorporated, McAfee, LLC, Microsoft Corporation, Cisco Systems Inc., FireEye, Inc., CurrentWare, Cybereason, Inc., Druva Inc., Fidelis Cybersecurity, Forcepoint LLC
Key Drivers
• Increasing Use of Bring Your Own Devices to Accelerate Growth
• The growing number of connected devices will drive up demand for endpoint security solutions.
Market Opportunities
• Endpoint security is being used by organizations to better understand
• Increased adherence to rigorous laws and demands