Report Scope & Overview:
The Enterprise Networking Market is anticipated to increase at a CAGR of 5.92% from 2023 to 2030, from a value of USD 187.9 billion in 2022 to USD 297.68 billion in 2030.
Enterprise networking refers to the infrastructure and systems that connect different devices within a company, facilitating seamless data transfer and communication across various departments and locations. This enables employees to access centralized data, applications, and services, ensuring safe and reliable connectivity. To achieve this, enterprise networking utilizes a range of technologies, including local area networks (LANs), wide area networks (WANs), virtual private networks (VPNs), and cloud-based networks. These networks connect devices such as PCs, servers, routers, switches, and wireless access points, creating a cohesive and efficient system. By implementing enterprise networking, organizations can enhance their operational efficiency, optimize resource utilization, and support digital transformation initiatives. This technology plays a crucial role in enabling businesses to streamline their processes, improve collaboration, and maximize productivity. enterprise networking provides a secure and dependable platform for employees to access critical information and resources. It ensures that data remains protected and confidential, safeguarding against potential threats and unauthorized access. In today's fast-paced and interconnected business landscape, enterprise networking has become an indispensable tool for organizations of all sizes. It empowers companies to stay competitive, adapt to evolving technologies, and meet the demands of a digital-driven world.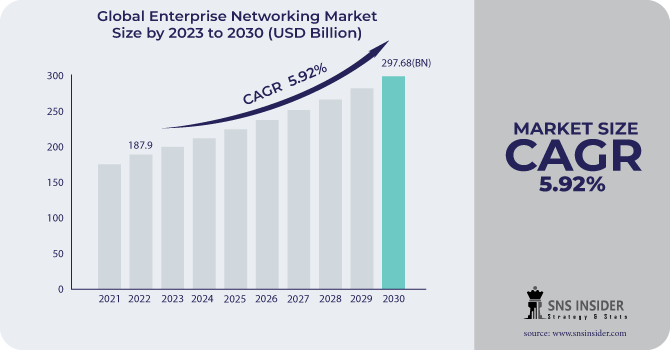 To get more information on Enterprise Networking Market - Request Free Sample Report
Market Dynamics
Drivers
The demand for enterprise networking solutions to share data between computers is predicted to be driven by work from home, this is also anticipated to boost market expansion.

The expanding adoption of digital technologies across several enterprises has increased the demand for cutting-edge networking infrastructure, which is essentially fueling market expansion.

Enterprise mobility and remote work are two new trends.
The surge in popularity of laptops, cellphones, tablets, and other wireless devices in the office has fueled a desire for enterprise networking solutions that can support lots of devices while providing dependable connectivity. Another important growth-inducing aspect is the rising demand for wireless devices, which give workers the freedom to work from wherever within the network coverage region. In addition, the growing BYOD trend, in which workers utilize personal devices for work reasons, is enhancing the market picture. Additionally, as wireless devices, cloud computing, and edge computing have come together, new networking requirements have emerged that can allow smooth integration with cloud services and edge devices, facilitating effective data processing and storage.
Restrains
A comprehensive networking infrastructure's implementation and upkeep come at a cost, including the purchase of hardware parts, software licensing, and expert installation and setup services. Budgetary restrictions are a common problem for small and medium-sized businesses (SMEs), which might restrict their capacity to spend money on cutting-edge networking technologies. Additionally, continuous operating expenses for network management, maintenance, and upgrades may increase the financial burden.
Opportunities
Government initiatives aimed at accelerating digital transformation have led to a surge in demand for routers, switches, and wireless LAN networks. This creates an opportunity for the Market in the future.

Bring-your-own-device (BYOD), hybrid, and remote work are becoming increasingly popular, and these developing trends are offering the market significant growth potential.
Challenges
Growing concerns about cybersecurity are a major challenge for the Enterprise networking market

The rise in network complexity has become a significant concern in recent times
Impact of the Russia-Ukraine
The conflict could disrupt supply chains for networking equipment and components, particularly if they are sourced from the region or pass through areas affected by the conflict. This could lead to delays in manufacturing, shipping, and delivery of networking products, impacting businesses' ability to upgrade or expand their networks. Businesses in regions directly affected by the conflict may prioritize security and data protection in their networking strategies. This could lead to an increased demand for networking solutions that offer robust encryption, intrusion detection and prevention, and other security features.
Political instability and military conflict can create economic uncertainty. Businesses may become hesitant to invest in networking infrastructure due to concerns about the geopolitical situation and its potential impact on their operations. This uncertainty could lead to a slowdown in new networking projects.
If the conflict disrupts physical infrastructure and causes displacement of people, businesses may rely more heavily on remote work. This could lead to an increased demand for networking solutions that support remote connectivity, video conferencing, and secure access to corporate resources from various locations. The conflict might prompt businesses to reevaluate the location of their data centers and server facilities. They could opt for data centers in more stable regions to mitigate risks associated with potential disruptions caused by the conflict.
During times of conflict, there's an increased risk of cyberattacks and hacking attempts. Businesses may need to invest more in cybersecurity solutions to protect their networks and data from potential threats that could arise as a result of the conflict.
Impact of Recession
During a recession, many businesses experience financial strain, Enterprises might delay or scale back their networking projects and upgrades, leading to decreased demand for networking products and services. Enterprises may postpone planned network upgrades, expansions, and technology investments due to uncertainty about their financial outlook. This can lead to a slowdown in the adoption of new networking technologies and solutions, impacting the revenue of networking vendors. In an effort to cut costs, businesses might consolidate their IT operations, including networking functions. This could involve streamlining network infrastructure, reducing the number of vendors, and opting for more cost-effective solutions. During a recession, enterprises are likely to prioritize operational efficiency and optimization. Networking solutions that promise better resource utilization, improved performance, and reduced operational costs might be more appealing to businesses looking to maximize their existing investments.
While network security remains a priority, budget constraints during a recession might lead to compromises in security spending. This could potentially expose enterprises to greater security risks if they are unable to invest in robust security solutions. While overall spending might decrease, certain networking segments might see increased demand. For example, remote work solutions, video conferencing tools, and collaboration platforms could experience a boost as businesses adapt to remote work environments. Recession-driven budget cuts could impact research and development spending by networking vendors, potentially slowing down the introduction of new and innovative networking technologies in the market. Networking vendors might face challenges as their customers negotiate for lower prices, extended payment terms, or delayed payments. Smaller vendors might be at greater risk of business disruptions.
Key Market Segmentation
By Equipment
Ethernet Switch

Enterprise Routers

WLAN
By Infrastructure Type
By Deployment Mode
By Organization Size
Large enterprises

Small and medium-sized
By End User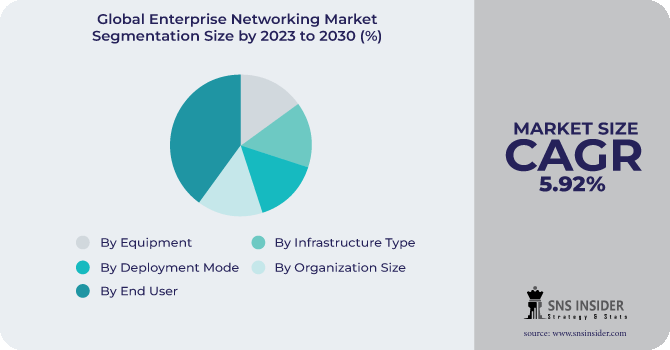 Need any customization research on Enterprise Networking Market - Enquiry Now
Regional Analysis
North America is expected to dominate the market share due to its cutting-edge ICT infrastructure. Regional providers are continuously enhancing the capabilities of their products, which is likely to drive the adoption of corporate networking solutions among enterprises in North America. This adoption is expected to be influenced by the emergence of technologies such as cloud networking, DevOps, network analytics, and virtualization.
In the Asia Pacific (APAC) region, the enterprise networking market is projected to be fueled by the increasing usage of cloud services. Furthermore, the growth of local companies in the enterprise networking sector is anticipated to boost the demand for networking products and solutions in APAC. As a result, APAC is predicted to experience the highest growth in the enterprise networking industry in the near future.
REGIONAL COVERAGE:
North America
Europe
Eastern Europe

Poland

Romania

Hungary

Turkey

Rest of Eastern Europe

Western Europe

Germany

France

UK

Italy

Spain

Netherlands

Switzerland

Austria

Rest of Western Europe
Asia Pacific
China

India

Japan

South Korea

Vietnam

Singapore

Australia

Rest of Asia Pacific
Middle East & Africa
Middle East

UAE

Egypt

Saudi Arabia

Qatar

Rest of Middle East

Africa

Nigeria

South Africa

Rest of Africa
Latin America
Brazil

Argentina

Colombia
Rest of Latin America
Key Players:
The major players in the market are Dell Technologies, ALE International, Cisco Systems, Broadcom Inc., Huawei Technologies, Hewlett Packard Enterprises Developments, Nokia, Arista, Juniper, VMware, Extreme, NVIDIA, Aruba, Riverbed Technology, Inc., Nutanix, A10 Networks Alation Inc., ZTE Corporation, and others in the final report.
Huawei Technologies-Company Financial Analysis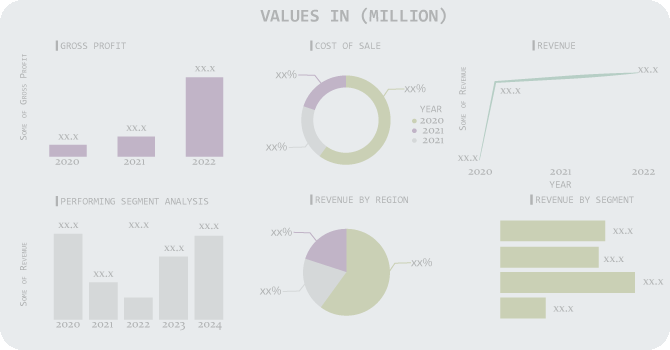 Recent Developments
Cisco Systems and NEC Corporation announced in February 2020 that they would offer networking equipment that would improve supply chain management. It would even improve network system monitoring, authentication, and verification.
In May 2020, Nvidia bought Cumulus Network, an American company with headquarters in Atlanta, Georgia, that aided businesses in optimizing their data center networking. Cumulus is a Linux distribution for network switches and also provides tools for managing network operations.
Enterprise Networking Market Report Scope:
Report Attributes
Details
Market Size in 2022
US$ 187.9 Bn
Market Size by 2030
US$ 297.68 Bn
CAGR
CAGR of 5.92 % From 2023 to 2030
Base Year
2022
Forecast Period
2023-2030
Historical Data
2020-2021
Report Scope & Coverage
Market Size, Segments Analysis, Competitive Landscape, Regional Analysis, DROC & SWOT Analysis, Forecast Outlook
Key Segments
• By Equipment (Ethernet Switch, Enterprise Routers, WLAN, Network security)
• By Infrastructure Type (In-House, Outsourced)
• By Deployment Mode (Cloud-based, On-premises)
• By Organization Size (Large enterprises, Small and medium-sized)
• By End User (Aerospace and Defense, Education, Media and Communication, Healthcare, BFSI, Transportation and Logistics, Others)
Regional Analysis/Coverage
North America (US, Canada, Mexico), Europe (Eastern Europe [Poland, Romania, Hungary, Turkey, Rest of Eastern Europe] Western Europe] Germany, France, UK, Italy, Spain, Netherlands, Switzerland, Austria, Rest of Western Europe]). Asia Pacific (China, India, Japan, South Korea, Vietnam, Singapore, Australia, Rest of Asia Pacific), Middle East & Africa (Middle East [UAE, Egypt, Saudi Arabia, Qatar, Rest of Middle East], Africa [Nigeria, South Africa, Rest of Africa], Latin America (Brazil, Argentina, Colombia Rest of Latin America)
Company Profiles
Dell Technologies, ALE International, Cisco Systems, Broadcom Inc., Huawei Technologies, Hewlett Packard Enterprises Developments, Nokia, Arista, Juniper, VMware, Extreme, NVIDIA, Aruba, Riverbed Technology, Inc., Nutanix, A10 Networks Alation Inc., ZTE Corporation
Key Drivers
• The demand for enterprise networking solutions to share data between computers is predicted to be driven by work from home, this is also anticipated to boost market expansion.
• Enterprise mobility and remote work are two new trends.
Market Restraints
• High Operational Costs and Initial Investment
• A rise in data traffic