Report Scope & Overview:
Epoxy Resins Market is excepted to reach USD 42.28 billion by 2030, with a CAGR of 7% during the forecast period 2023 to 2030, The market was valued at USD 24.61 billion in 2022.
Epoxy resins has been increasingly popular among businesses and individuals in recent years. Epoxy resins does not corrode when exposed to most substances, which is one of the reasons behind this. When it's exposed to the elements, the same thing happens. Most other materials on Earth show regular wear and tear, but it doesn't.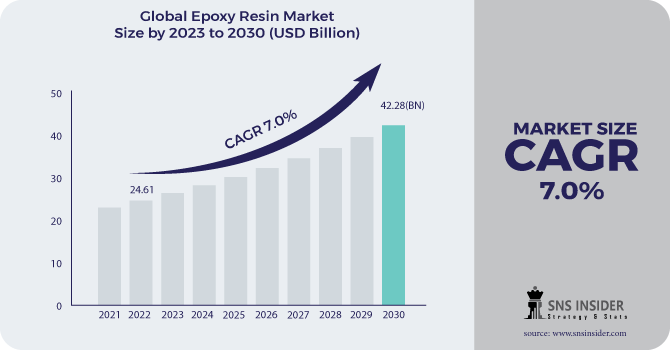 To get more information on Epoxy Resins Market - Request Sample Report
Epoxy resins is also extremely malleable and adaptable. These are some of the reasons why epoxy resins is used in transportation and other industries. Epoxy resins is a thermosetting polymer that is made by copolymerizing an epoxide with a molecule that has two hydroxyl groups. High thermal stability, Corrosion resistance, superior mechanical strength, prolonged durability, remarkable toughness, chemical and moisture resistance, and exceptional adhesion are some of the features that make these resins stand out in a variety of industrial applications. Epoxy resins are used in a variety of sectors, including paints and coatings, adhesives, composites, and electronic encapsulation.
Drivers
Most paints contain epoxy resins as a key component. This is what thickens it so that it adheres to the instrument being used to paint a surface. Paints, on the other hand, aren't so thick that they can't be smeared over surfaces! Epoxy resins also makes the paints stronger, more lasting, and less susceptible to corrosion.
Epoxy resins can also be used as priming, topcoat, and topcoat. This is due to two key factors. The first is that epoxy resins protect items from UV radiation from the Sun. The second benefit is that they improve the appearance of the objects and materials they coat.
RESTRAINTS
Epoxy resins is made from essentially commodity-grade raw materials. The prices of these goods fluctuate widely and on a daily basis. As a result, the cost of producing epoxy resins rises, as does the final price of these items.
OPPORTUNITIES
One of the most pressing issues confronting the worldwide epoxy resins business is the need to continue developing lightweight, low-cost products. Manufacturers of defence planes, vehicles, and equipment all across the world can already employ a variety of alternative resins. The majority of these are just as effective as epoxy resins, but at a fraction of the cost.
CHALLENGES
One of the most significant difficulties facing the worldwide epoxy resins business is continuing to produce lightweight, low-cost products. Alternative resins are already available for use by defence aviation and vehicle/equipment makers all over the world. The majority of these are just as effective as epoxy resins at a fraction of the cost.
IMPACT OF COVID-19 Analysis
Due to stopped production activity, supply and transportation restrictions, and an economic slowdown around the globe in 2020, the COVID-19 pandemic had a detrimental influence on epoxy resins demand in a variety of applications, including paints and coatings, adhesives, wind turbines, and others. The resumption of industrial operations, on the other hand, is expected to have a favourable impact on product demand in the future years. All over world and governments realise it. They find to impose lockdown and quarantines because of this. These were only temporary because they weren't effective in stopping the virus from spreading. Many enterprises across a wide range of industries were forced to close or substantially curtail their output. The epoxy resins business around the world was no exception. In fact, less epoxy resins is being produced as the cost of the raw materials used to make epoxy resins has climbed dramatically. This has an effect on the firm's overall CAGR.
Market Segmentation:
By Physical Form
By Type
DGBEA (bisphenol A & ECH)

DGBEF (bisphenol F &ECH)

Novolac (formaldehyde & phenols)

Aliphatic (aliphatic alcohols)

Glycidylamine (aromatic amines & ECH)

Others
By Application
By End Use Industry
Building &construction

Transportation

General industrial

Consumer goods

Wind energy

Aerospace

Marine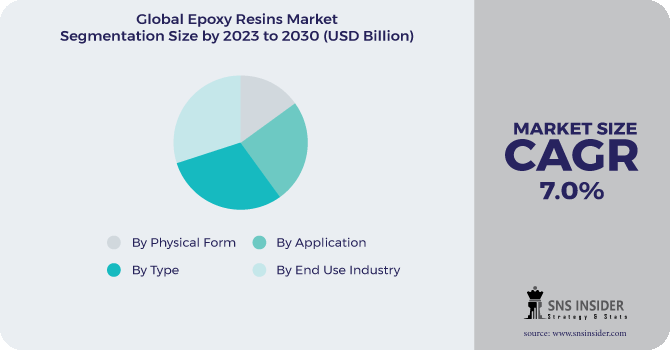 To Get Customized Report as per your Business Requirement - Request For Customized Report
Regional analysis:
Epoxy resins is mostly utilized in the North American region to produce second-hand cars and to improve the appearance and functionality of used cars. For these reasons, the North American region has the largest market share. Many automobile and other motor vehicle manufacturers, particularly in the United States and Canada, wish to employ epoxy resins as a topcoat to make them look brighter, more appealing, more robust, stronger, last longer, and work better. The end result is a stylish and safe automobile.
REGIONAL COVERAGE:
North America

Europe

Germany

UK

France

Italy

Spain

The Netherlands

Rest of Europe

Asia-Pacific

Japan

south Korea

China

India

Australia

Rest of Asia-Pacific

The Middle East & Africa

Latin America

Brazil

Argentina

Rest of Latin America
Key-Players
The Key Players are Kukdo Chemical Co., Ltd, Inc, Atul Ltd, Ciech S.A., Huntsman International Llc, China Petrochemical Corporation, Hexion, Chang Chun Group, Spolchemie, Macro Polymers, Dow, Aditya Birla Chemical, Kolon Industries, Olin Corporation, & Other Players
Epoxy Resins Market Report Scope:

Report Attributes
Details
Market Size in 2022
US$ 24.61 Billion
Market Size by 2030
US$ 42.28 Billion
CAGR
CAGR of 7% From 2023 to 2030
Base Year
2022
Forecast Period
2023-2030
Historical Data
2020-2021
Report Scope & Coverage
Market Size, Segments Analysis, Competitive Landscape, Regional Analysis, DROC & SWOT Analysis, Forecast Outlook
Key Segments
• By physical Form (Solid, Liquid, Solution)
• By Type (DGBEA , DGBEF, Novolac, Aliphatic, Glycidylamine, Others)
• By Application (Paints & Coatings, Adhesives & sealants, Composites, Electronic Encapsulation & Others)
• By End Use Industry (Building &construction, Transportation, General industrial, Consumer goods, Wind energy, Aerospace, Marine)
Regional Analysis/Coverage
North America (USA, Canada, Mexico), Europe
(Germany, UK, France, Italy, Spain, Netherlands,
Rest of Europe), Asia-Pacific (Japan, South Korea,
China, India, Australia, Rest of Asia-Pacific), The
Middle East & Africa (Israel, UAE, South Africa,
Rest of Middle East & Africa), Latin America (Brazil, Argentina, Rest of Latin America)
Company Profiles
Kukdo Chemical Co., Ltd, Inc, Atul Ltd, Ciech S.A., Huntsman International Llc, China Petrochemical Corporation, Hexion, Chang Chun Group, Spolchemie, Macro Polymers, Dow, Aditya Birla Chemical, Kolon Industries, Olin Corporation