Report Scope & Overview:
The eSports Market size was valued at USD 2490.3 million in 2022 and is expected to grow to USD 11983.3 million by 2030 and grow at a CAGR of 21.7% over the forecast period of 2023-2030.
The eSports Market is a unique form of online sport where two or more competitors engage in multiplayer video games. It functions similarly to traditional sports, with a focus on competition and skill. Professionalism is key in the eSports Market, as players at this level possess a deep understanding of the games they play, much like professional athletes in their respective fields. eSports Market players can compete one-on-one or as part of a team. The eSports Market has rapidly gained popularity in recent years, with millions of fans tuning in to watch tournaments and matches. The level of skill and strategy required to succeed in the eSports Market is on par with traditional sports, and the dedication and training required to become a professional eSports Market player are no less rigorous. The eSports Market offers a unique opportunity for players to showcase their talents and compete on a global stage. With the rise of online gaming and the increasing accessibility of the eSports Market, it is no surprise that this form of competition has become a major player in the world of sports. Whether you are a fan or a player, the eSports Market is a thrilling and exciting world that is sure to captivate and inspire.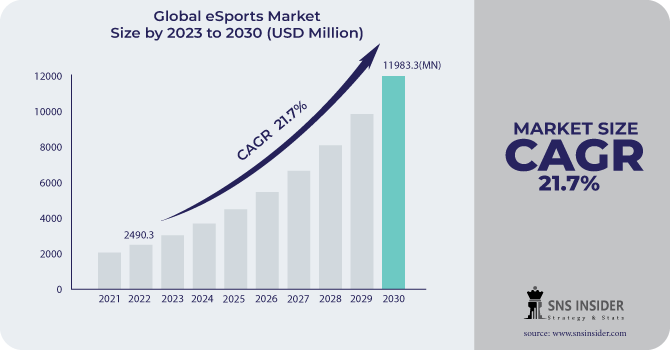 To get more information on eSports Market - Request Sample Report
Market Dynamics
Drivers
Rising Video Game Popularity to Fuel Market Growth

Continuous increasing people's preference towards technology-friendly games.
People are now obliged to rely on cell phones, other high-tech devices, and the internet due to the constant advancements in technology around the world. Due to the widespread popularity of video games, providers recently shifted to a recurring income model. Due to ongoing technological advancements, video game tournaments, virtual reality goods, and consumer spending on video content are all growing rapidly across the globe. The market for online gaming is expanding as a result of things including rising acceptance of cutting-edge gaming technologies, diverse consumer entertainment choices, and rising interest in mobile gaming. The quantity of players has rapidly increased as a result of the widespread use of smartphones and improved internet connectivity.
One of the key factors driving the market's growth is the rising global popularity of online video games. The market is expanding faster due to the emergence of electronic sports as a professional career because of the lucrative international prize pools, streaming revenue, and individual sponsorships.
Restrains:
Gamers may suffer from psychological issues related to gambling addiction and social behavior disorders, as well as metabolic ailments brought on by light-emitting diode computer monitors. Injuries to the back, neck, and upper extremities are more likely to occur in electronic sports players, according to a recent study by Zwiebel et al. on the health impacts of these athletes. In addition, metabolic issues might result from spending too much time in front of a computer screen. The majority of these problems are brought on by these players' typical sedentary lifestyles and bad posture.
Another issue is the emergence of college scholarships for electronic sports, which allows kids to rationalize their excessive game playing even though their chances of becoming the next big thing in the field are slim.
Therefore, it is anticipated that the aforementioned issues will restrain market expansion.
Opportunities:
A growing number of competitions with big prize pools

Investment opportunity over the long term
Challenges
Impact Of covid-19:
Despite the coronavirus-related worldwide economic slump, the eSports Market is booming. Gaming offers a fun diversion for those looking for social engagement at home while the practice of social distancing drastically reduces consumer and company activity. A global lockdown brought on by a surge of COVID-19-positive cases compelled people to stay indoors for an extended period, which promoted internet gaming as a form of entertainment. E-sports solution adoption has expanded dramatically as a result of this. resulting in increased end-user demand for these solutions. However, the COVID-19 pandemic has prompted a rise in the use of cloud technology, which will aid consumers in every sector in their fight against the pandemic. In addition, many nations are offering free and open-source E-sports platforms for a limited time to aid the public in resolving the COVID-19 dilemma.
Impact of Russia Ukraine War:
However, the Russia-Ukraine war has disrupted the e-sports market. One of the main impacts of the war on the e-sports market is the disruption of international tournaments and events. Many e-sports events are held in different countries, and the conflict has made it difficult for players and teams to travel to certain regions. This has resulted in the cancellation or postponement of several major e-sports events, which has had a significant impact on the industry. Additionally, the economic sanctions imposed on Russia have affected the e-sports market. Russia is a significant player in the e-sports industry, with many talented players and teams. However, the sanctions have made it difficult for Russian players and teams to participate in international events and access the latest gaming technology. This has resulted in a decline in the performance of Russian e-sports teams and a decrease in their overall competitiveness. Furthermore, the political tensions between Russia and Ukraine have also affected the e-sports market. Many e-sports fans and players have taken sides in the conflict, which has led to a divide in the community. This has resulted in a decrease in the number of players and spectators, as well as a decline in the overall popularity of e-sports in the region. In conclusion, the Russia-Ukraine war has had a significant impact on the e-sports market.
Impact of recession:
However, the recession has caused a decline in the e-sports market. Many companies that sponsor e-sports events have reduced their budgets, resulting in fewer tournaments and lower prize pools. This has led to a decrease in the number of professional players and teams, as well as a decline in the overall popularity of e-sports.
Despite these challenges, the e-sports industry has shown resilience and adaptability. Many companies have shifted their focus to online events and streaming platforms, which have become increasingly popular during the pandemic. This has allowed e-sports to continue to grow and attract new fans, even in the face of economic uncertainty. In conclusion, the recession has hurt the e-sports market.
Key Market Segmentation
The eSports Market is segmented into four types based on, by Device Type, by Streaming type, by Application, by type, by Technology, and by Revenue Stream.
By Device Type:
Smartphone

Smart TV

Desktop -laptop-tablets

Gaming console
By Streaming type:
By Application:
By Revenue Stream:
Media rights

Game publisher fee

Sponsorship

Tickets and merchandise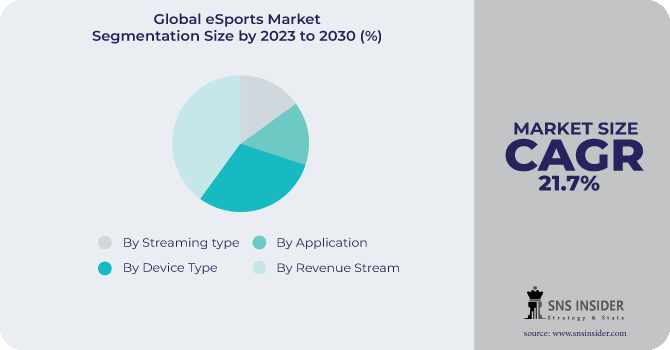 Need any customization research study on eSports Market - Enquiry Now
Regional Analysis:
North America held the largest market share. Online gamers from this region make up a sizable portion of the market, which is likely to fuel industry expansion. Activision Blizzard, Inc., Riot Games, Inc., and other leading businesses in the area are heavily funding R&D efforts to gain a competitive edge and meet consumer demands.
Over the predicted term, Asia Pacific is probably going to have a noticeable increase. Given the swift transition to digital platforms for entertainment through sporting events, countries like China, Japan, and India are predicted to enjoy strong demand. The Asia Pacific region's extensive gaming and entertainment prospects have increased interest in electronic sports. The market potential for suppliers of electronic sports platforms is anticipated to increase due to the robust sports markets present across European nations. New gaming platforms have sparked an interest among many fans. Similarly, to this, numerous stakeholders are making sizable investments in this European industry due to the market's promisingly expanding audience and higher expected return on investment.
REGIONAL COVERAGE:
North America
Europe
Germany

UK

France

Italy

Spain

The Netherlands

Rest of Europe
Asia-Pacific
Japan

South Korea

China

India

Australia

Rest of Asia-Pacific
The Middle East & Africa
Latin America
Brazil

Argentina

Rest of Latin America
Recent DevelopmentS:
The International Olympic Committee and Intel collaborated in July 2021 to increase the emphasis on having one of the biggest virtual competitions serve as the opening ceremony for the Games. The main location of the electronic sports competition was supposed to be Katowice, a city in Poland with a population of roughly 3,000,000, a month before the Olympic Games.
To provide a series of archives with a racing theme for the mobile racing game Asphalt 9, Gameloft partnered up with Epik Prime, an NFT platform that works with AAA gaming businesses as well as significant entertainment IPs and brands, in June 2021.
Key Players:
The major players in the market are Gameloft SE, Intel Corporation, Tencent Holding Limited, Activision Blizzard, Inc., Electronic Arts Inc., NVIDIA Corporation, HTC Corporation, Nintendo of America Inc., Modern Times Group (MTG), Valve Corporation Entertainment Ltd., FACEIT, and others in the final report.
eSports Market Report Scope:
Report Attributes
Details
Market Size in 2022
US$ 2490.3 Mn
Market Size by 2030
US$ 11983.3 Mn
CAGR
CAGR of 21.7% From 2023 to 2030
Base Year
2022
Forecast Period
2023-2030
Historical Data
2020-2021
Report Scope & Coverage
Market Size, Segments Analysis, Competitive Landscape, Regional Analysis, DROC & SWOT Analysis, Forecast Outlook
Key Segments
• By Device Type (Smartphone, Smart TV, Desktop -laptop-tablets, Gaming console)
• By Streaming Type (On-demand, Live)
• By Application (Platform, Service)
• By Revenue Stream (Media rights, Game publisher fee, Sponsorship, Digital advertisement, Tickets, and merchandise)
Regional Analysis/Coverage
North America (USA, Canada, Mexico), Europe
(Germany, UK, France, Italy, Spain, Netherlands,
Rest of Europe), Asia-Pacific (Japan, South Korea,
China, India, Australia, Rest of Asia-Pacific), The
Middle East & Africa (Israel, UAE, South Africa,
Rest of Middle East & Africa), Latin America (Brazil, Argentina, Rest of Latin America)
Company Profiles
Gameloft SE, Intel Corporation, Tencent Holding Limited, Activision Blizzard, Inc., Electronic Arts Inc., NVIDIA Corporation, HTC Corporation, Nintendo of America Inc., Modern Times Group (MTG), Valve Corporation Entertainment Ltd., FACEIT
Key Drivers
• Rising Video Game Popularity to Fuel Market Growth
• Continuous increasing people's preference towards technology-friendly games.
Market Opportunities
• A growing number of competitions with big prize pools
• Investment opportunity over the long term