Report Scope & Overview:
The Food Grade Alcohol Market size was valued at USD 2.4 billion in 2022. It is estimated to hit USD 3.44 billion by 2030 and grow at a CAGR of 4.6% over the forecast period of 2023-2030.
The Food Grade Alcohol Market refers to the industry that deals with the production and distribution of alcohol specifically intended for use in the food and beverage sector. This market segment has gained significant growth in recent years due to the growing demand for high-quality and safe alcohol products in various food applications. Food-grade alcohol, also known as culinary alcohol or food-safe alcohol, is produced through a meticulous process that ensures its purity and suitability for consumption. It is primarily used as an ingredient in the production of food and beverages, such as flavorings, extracts, and tinctures. Additionally, it finds application in the manufacturing of food additives, preservatives, and even as a solvent for certain food processing techniques.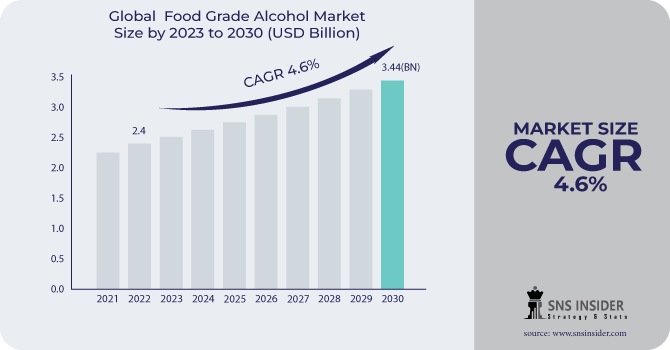 Get E-PDF Sample Report on Food Grade Alcohol Market - Request Sample Report
The increasing consumer preference for natural and organic food products has driven the demand for alcohol derived from natural sources, such as fruits and grains. This trend has led to the development of innovative production methods that focus on extracting alcohol from these sources while maintaining their nutritional value. Furthermore, the stringent regulations and quality standards imposed by regulatory bodies, such as the Food and Drug Administration (FDA), have played a crucial role in shaping the food-grade alcohol market. These regulations ensure that the alcohol used in food and beverage production meets specific safety and quality criteria, thereby assuring consumers of the product's reliability.
The market for food-grade alcohol is also influenced by the evolving culinary landscape and the increasing popularity of gourmet and artisanal food products. As consumers become more adventurous in their food choices, the demand for unique flavors and ingredients has surged. Food-grade alcohol, with its ability to enhance flavors and create unique taste profiles, has become an essential component in the creation of these innovative food products.
Market Dynamics
Drivers
Increasing demand for alcoholic beverages

Growing trend towards craft breweries and distilleries

Shift towards clean-label products in the food and beverage industry
The shift towards clean-label products in the food and beverage industry is a significant driving factor for the growth of the food-grade alcohol market. This is due to the increasing consumer demand for transparency and healthier food options. Clean-label products are those that contain minimal or no artificial additives, preservatives, or chemicals. Instead, they are made using natural and recognizable ingredients. Consumers are becoming more conscious about the ingredients they consume and are actively seeking products that align with their health and wellness goals. They are increasingly concerned about the potential negative effects of consuming products with synthetic additives and are opting for cleaner alternatives. As a result, food and beverage manufacturers are under pressure to reformulate their products to meet these changing consumer preferences.
Restrain
Stringent government regulations and policies regarding the production and sale of alcohol

Fluctuating raw material prices
The prices of grains, fruits, and other raw materials used in alcohol production can vary greatly due to factors such as weather conditions and global supply and demand. These price fluctuations directly impact the cost of production, making it challenging for companies to maintain stable pricing and profitability.
Opportunities
The pharmaceutical industry has witnessed a significant rise in the demand for food-grade alcohol. This is primarily due to its suitability for various applications in the production of pharmaceutical products. Food-grade alcohol, which is derived from natural sources such as grains, fruits, and vegetables, possesses a high level of purity and meets the stringent quality standards required by the pharmaceutical sector. One of the key reasons behind the increasing use of food-grade alcohol in the pharmaceutical industry is its ability to act as a solvent. It serves as a crucial component in the formulation of medications, facilitating the dissolution of active pharmaceutical ingredients (APIs) and ensuring their effective delivery within the human body. Moreover, food-grade alcohol also acts as a preservative, enhancing the stability and shelf life of pharmaceutical products. Furthermore, the pharmaceutical industry places great emphasis on maintaining the safety and quality of its products. Food-grade alcohol, being free from harmful impurities and contaminants, aligns perfectly with these requirements. Its purity ensures that pharmaceutical products remain free from any potential contamination, safeguarding the health and well-being of consumers.
Challenges
Impact of Russia-Ukraine War:
The Russia-Ukraine war has disrupted the supply chain of food-grade alcohol, leading to shortages in the market. Consequently, this has caused a surge in prices and a strain on the availability of food-grade alcohol. The war has impacted food-grade wine significantly. The International Organization of Vine and Wine (OIV) has highlighted that the $300 billion global wine industry is facing significant challenges due to climate change and the Russia-Ukraine war. These factors are further squeezing global sales and production, adding to the industry's ongoing recovery from the pandemic. One distressing incident that exemplifies the impact of the war on the wine industry occurred when a warehouse, housing approximately $16 million worth of wine inventory, was tragically bombed and destroyed. It is worth noting that this facility not only stored wine but also played a crucial role in preparing and dispatching meals to hospitals, territorial defense, and Ukraine's Armed Forces. The war has also resulted in trade restrictions and embargoes between Russia and Ukraine. These limitations have further hindered the flow of food-grade alcohol, impacting both import and export activities. As a result, market players have had to seek alternative sources or face significant disruptions in their supply chains.
Impact of Recession:
The recession has led to a decline in the production of food-grade alcohol. The reduction in output has resulted in a scarcity of food-grade alcohol, leading to increased prices and limited availability. Consequently, manufacturers are forced to streamline their operations and seek cost-effective alternatives to maintain profitability. The recession has also influenced the consumption patterns of food-grade alcohol. With disposable incomes shrinking, consumers are becoming more cautious about their spending habits. As a result, the demand for food-grade alcohol has decreased, impacting the overall market size.
Market segmentation
By Product
By Source
Fruits

Sugarcane & Molasses

Grains

Others
By Function
By Application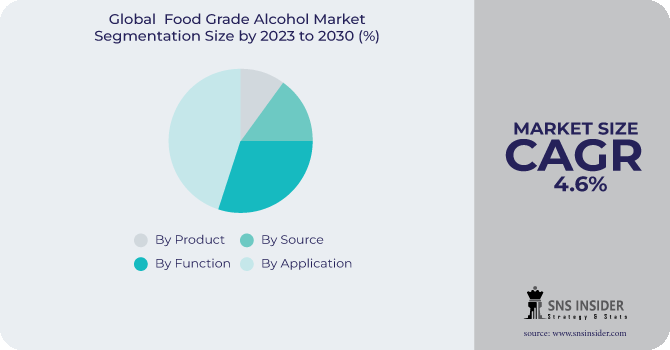 Regional Analysis
Europe dominated the food-grade alcohol market with the highest revenue share of about 36.2% in 2022. Europe's ascendancy in the food-grade alcohol market is due to the region's rich history and tradition of alcohol production have fostered a deep-rooted expertise in crafting high-quality products. European countries have long been renowned for their mastery in distilling spirits, brewing beer, and producing wine, which has established a solid foundation for the food-grade alcohol industry. Furthermore, Europe's stringent regulations and standards pertaining to food safety and quality have played a pivotal role in bolstering consumer confidence. The implementation of rigorous quality control measures ensures that food-grade alcohol produced in Europe adheres to the highest standards, meeting the expectations of discerning consumers worldwide.
North America is projected to experience the highest Compound Annual Growth Rate CAGR of about 4.8% in the food-grade alcohol market during the forecast period of 2023-2030. North America is home to a large and diverse population, with a strong demand for food and beverages. This region boasts a thriving culinary culture, with a penchant for experimenting with new flavors and ingredients. As a result, the demand for food-grade alcohol is expected to rise steadily in the coming years. Furthermore, North America has witnessed a growing trend towards organic and natural food products. Consumers are increasingly seeking healthier and more sustainable options, which has led to a surge in the demand for organic and natural food-grade alcohol. This shift in consumer preferences is likely to contribute to the projected growth of the food-grade alcohol market in North America. Additionally, the region's robust economy and high disposable income levels play a crucial role in driving market growth. With greater purchasing power, consumers are more inclined to indulge in premium food and beverage products, including those that incorporate food-grade alcohol. This factor further fuels the demand for food-grade alcohol in North America.
REGIONAL COVERAGE:
North America
Europe
Eastern Europe

Poland

Romania

Hungary

Turkey

Rest of Eastern Europe

Western Europe

Germany

France

UK

Italy

Spain

Netherlands

Switzerland

Austria

Rest of Western Europe
Asia Pacific
China

India

Japan

South Korea

Vietnam

Singapore

Australia

Rest of Asia Pacific
Middle East & Africa
Middle East

UAE

Egypt

Saudi Arabia

Qatar

Rest of Middle East

Africa

Nigeria

South Africa

Rest of Africa
Latin America
Brazil

Argentina

Colombia

Rest of Latin America
Key Players
The major key players are Cargill Incorporated, MGP, ADM, Cistalco, Fonterra Co-operative, Archer Daniels Midland Company, Wilmar International Ltd., Extractohol, Pure Alcohol Solutions, Grain Processing Corporation, and other key players mentioned in the final report.
Cargill Incorporated-Company Financial Analysis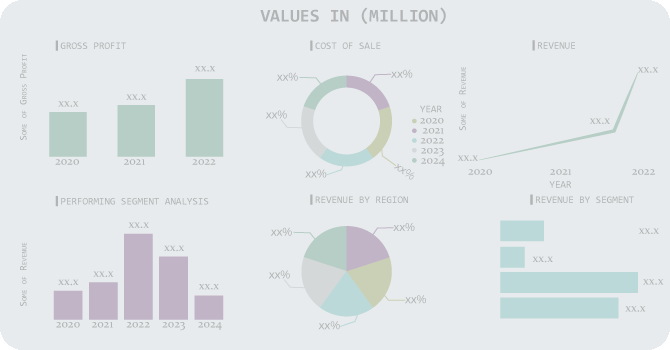 Recent Development:
In March 2021, Grain Processing Corporation, a member of the Kent Corporation family of companies, launched a distillery. This impressive facility is designed to meet the growing demand for ethyl alcohol, which is essential for the production of various products such as hand sanitizers, disinfectants, mouthwash, cough, and cold medicines, as well as active pharmaceutical ingredients, vaccine components, and COVID-19 testing reagents.
Food Grade Alcohol Market Report Scope:
Report Attributes
Details
Market Size in 2022
US$ 2.4 Bn
Market Size by 2030
US$ 3.44 Bn
CAGR
CAGR of 4.6 % From 2023 to 2030
Base Year
2022
Forecast Period
2023-2030
Historical Data
2019-2021
Report Scope & Coverage
Market Size, Segments Analysis, Competitive Landscape, Regional Analysis, DROC & SWOT Analysis, Forecast Outlook
Key Segments
• By Product (Ethanol and Polyols)
• By Source (Fruits, Sugarcane & Molasses, Grains, and Others)
• By Function (Coloring & Flavoring Agent, Preservative, Coatings, and Other)
• By Application (Healthcare & Pharmaceutical, Beverages, Food, Personal Care, and Others)
Regional Analysis/Coverage
North America (US, Canada, Mexico), Europe (Eastern Europe [Poland, Romania, Hungary, Turkey, Rest of Eastern Europe] Western Europe] Germany, France, UK, Italy, Spain, Netherlands, Switzerland, Austria, Rest of Western Europe]), Asia Pacific (China, India, Japan, South Korea, Vietnam, Singapore, Australia, Rest of Asia Pacific), Middle East & Africa (Middle East [UAE, Egypt, Saudi Arabia, Qatar, Rest of Middle East], Africa [Nigeria, South Africa, Rest of Africa], Latin America (Brazil, Argentina, Colombia Rest of Latin America)
Company Profiles
Cargill Incorporated, MGP, ADM, Cistalco, Fonterra Co-operative, Archer Daniels Midland Company, Wilmar International Ltd., Extractohol, Pure Alcohol Solutions, Grain Processing Corporation
Key Drivers
• Increasing demand for alcoholic beverages
• Growing trend towards craft breweries and distilleries
• Shift towards clean-label products in the food and beverage industry
Market Challenges
• Availability of alternative ingredients and substitutes for food-grade alcohol