REPORT SCOPE & OVERVIEW
Polyethylene Terephthalate (PET) Market size was USD 39.20 billion in 2022 and is expected to Reach USD 60.15 billion by 2030 and grow at a CAGR of 5.5 % over the forecast period of 2023-2030.
Polyethylene Terephthalate (PET) is an amorphous, semi-crystalline thermoplastic. It belongs to the polyester family. It is a thermoplastic synthetic polymer that can be moulded into practically any shape. It is produced by the polymerization of terephthalic acid with ethylene glycol. PET is a non-hazardous flexible, and lightweight polymer that can easily be recycled and reused. It can also be treated three to four times without losing any of its chemical features. Because of these properties, polyethylene Terephthalate is an ideal choice for use in a range of industries, including electronics, and textiles. PET is also widely utilised in the automobile industry and textiles, where it is used in fibre form and is more popularly known as polyester.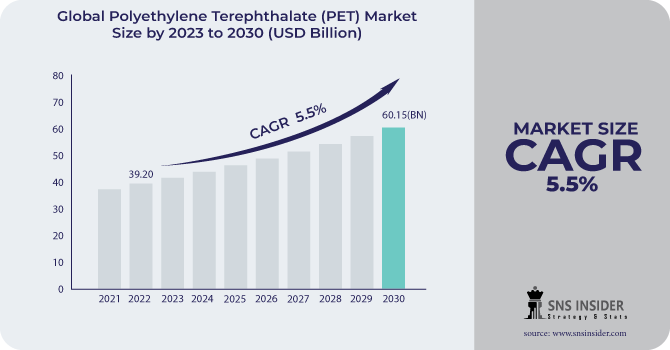 The most extensively recycled plastic is PET. Used PET containers and bottles are frequently melted and processed into fiberfill or carpet fibres. PET can be recycled into its original applications if retrieved in a highly pure state, and procedures for breaking the polymer down into its chemical components for resynthesizing it into PET have been discovered.
PET has been found to leach trioxide and phthalates when exposed to antimony. They are all hazardous to one's health. Although antimony can cause cancer, skin disorders, menstruation, and pregnancy issues, endocrine disruptors are phthalates. This explains why polyethylene Terephthalate is harmful.
MARKET DYNAMICS
KEY DRIVERS
Expansion of the healthcare and cosmetics industries is also expected to drive growth.

PET has also gained popularity in the pipes and fittings business.

Growing demand for packaging needs in various industry are expected to drive market demand.
PET packaging is ideal for food and beverage packaging because it is safe, reduces food waste, extends shelf life, and reduces the considerable environmental effect of food manufacturing. Polyethylene Terephthalate packaging is an excellent form of packaging that passes high food safety regulations.
RESTRAIN
Stringent government laws and regulations imposed on the consumption of plastics.

Fluctuating prices of raw materials used to manufacture plastics.
Major Type Types used in plastic compounds are dependent on petrochemicals. Geopolitical instability, import-export mismatches, and seasonal changes all may lead to fluctuation in petrochemical pricing. crude oil is a source of petrochemicals. The volatile prices of materials can hamper the growth of the Polyethylene Terephthalate market.
OPPORTUNITY
Improving living conditions and rising personal income are also expected to drive demand for PET in packaging applications.

PET is raising demand in building and infrastructure applications which includes siding, fences, windows, and decks.
PET can be used in a variety of construction Types, including asphalt blends, concrete, mortars, and paving. PET fibres generated from recycled PET bottles proved effective for concrete reinforcement. The addition of fibres to concrete improves its tensile strength, ductility, and impact strength, as well as its resistance to cracks and wear and tear. PET fiber-reinforced concrete outperforms regular concrete. Also, it can replace traditional glass and wood materials.
CHALLENGES
Urbanisation contributes to the increase in solid waste generation, resulting in increased environmental consequences and failures in solid waste management. Plastics had an adverse impact on the environment. However, they are a crucial component of modern life, which is why scientists have been concentrating on non-renewable petroleum-based plastic substitutes. Polyethylene furanoate (PEF) is a completely bio-based alternative to petroleum-based polyethylene Terephthalate (PET), which is used to manufacture roughly 500 billion plastic bottles each year.
IMPACT OF RUSSIAN UKRAINE WAR
The Russia-Ukraine war had a significant impact on global economic and geopolitical conditions. Unfortunately, resin prices, notably thermoplastic polymer prices, are projected to rise. Russia is a big exporter of petroleum, but due to the invasion of Ukraine, most nations have cut their imports and sanctioned Russia. The longer sanctions against Russia remain in place, and the fewer oil supplies from Russia we accept, the more likely it is that product prices will spike, leading to a shortage of plastics and polymers. The good news is that due to our reliance on natural gas and local oil, the United States can readily ramp up polyethylene manufacturing, keeping the price low. However, we do not have the capacity to boost polypropylene production by the same amount, therefore we might anticipate seeing a decrease in production.
IMPACT OF ONGOING RECESSION
Rising inflation, worsening financial conditions in most countries, and Russia's invasion of Ukraine caused energy prices to spike in 2022. The uncertainty of a war situation has caused a disruption worldwide energy supply chain. Energy price increases spurred an increase in retail prices, resulting in substantial inflation in several nations throughout the world. A major use of PET is fuelled by disposable consumer spending, which is a major driver of PET pricing. With many countries throughout the world on the verge of recession, there is likely to be a substantial fall in consumer spending, reducing demand for PET and, as a result, prices.
MARKET SEGMENTATION
By Type
By Application
Sheets & Films

Food Packaging

Beverages

Consumer Goods

Others
By End-User
Food & Beverage

Automotive

Electrical & Electronics

Healthcare

Consumer Goods

Others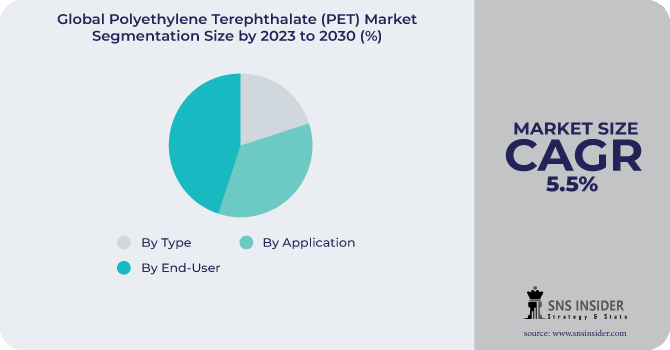 REGIONAL ANALYSIS
Asia Pacific is the dominating region in the Polyethylene Terephthalate market. Demand for PET is predicted to be driven by consuming packaged food, recycling plastic, research & development activities, and rising demand for car films in the Automotive sector. China is the fastest-growing country in case of Population, and with increasing GDP per capita income, packaged food offer growth potential to PET End Users.
North America and Europe are more developed markets than Asia Pacific. Stringent laws in both previous regions have compelled firms to relocate their production landscape to the Asia Pacific growing economies such as China and India. These countries provide land and trained labour at a reduced cost. The US has significant demand from various end-use industries like automotive, packaging, construction, electronics, and others.
Latin American pet market is expected to grow steadily due to the raising use of PET Straps. Increasing Population, fast economic growth, and raising purchasing power in various economies are expected to stimulate consumer goods sales, thereby driving the PET industry.
REGIONAL COVERAGE
North America
Europe
Eastern Europe

Poland

Romania

Hungary

Turkey

Rest of Eastern Europe

Western Europe

Germany

France

UK

Italy

Spain

Netherlands

Switzerland

Austria

Rest of Western Europe
Asia Pacific
China

India

Japan

South Korea

Vietnam

Singapore

Australia

Rest of Asia Pacific
Middle East & Africa
Middle East

UAE

Egypt

Saudi Arabia

Qatar

Rest of Middle East

Africa

Nigeria

South Africa

Rest of Africa
Latin America
Brazil

Argentina

Colombia

Rest of Latin America
RECENT DEVELOPMENTS
In 2023 Indorama Ventures Co Ltd and Carbios signed an (MOU) for the construction of the world's first PET bio recycling plant as a Joint Venture in France
In 2023 Indorama Ventures Co Ltd and Evertis, an expert in green PET barrier films, is working to make PET film appropriate for food packaging trays using flake from recycled PET trays. The collaboration is a crucial step towards diverting PET trays from trash or incineration, which will help the EU meet its recycling ambitions and build a circular economy for PET trays.
In 2023 SABIC developed the SABIC Material Finder website to provide customers with the convenience of searching, comparing, and controlling the selection of our specialty thermoplastic materials for a variety of applications.
Key players
Indorama Ventures Public Co Ltd, SABIC, Far Eastern New Century Corporation, LyondellBasell Industries Holdings B.V., LOTTE Chemical CORPORATION, BASF SE, LANXESS, DuPont, NAN YA PLASTICS CORPORATION, Eastman Chemical Company, and other key players mentioned in the final report.