Report Scope & Overview:
The Fungicides Market size accounted for USD 21.1 billion in 2022. It is expected to hit USD 33.38 billion by 2030 and grow at a CAGR of 5.9% over the forecast period of 2023-2030.
The fungicides market has witnessed significant growth in recent years, driven by the increasing demand for food security and the need to combat crop losses caused by fungal infections. Fungicides are chemical compounds specifically designed to control and prevent the growth of fungi in plants. With the global population on the rise, the importance of protecting crops from these destructive diseases cannot be overstated.
More than 19,000 fungi have been identified as the reason behind crop diseases across the globe. These fungi have the ability to lie dormant, yet remain alive, on both living and deceased plant matter until the conditions become favorable for their rapid growth and spread. Approximately one-third of agricultural products rely on the application of pesticides. Without the utilization of these chemical agents, fruit production would suffer a staggering 78% decline, vegetable production would experience a significant 54% decrease, and cereal production would be compromised by a notable 32% reduction.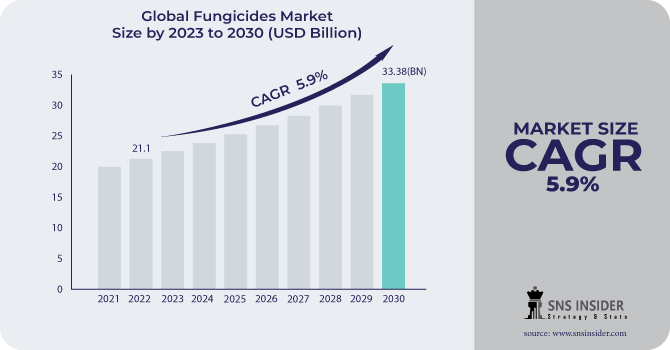 The market for fungicides is characterized by a wide range of products, each tailored to combat specific fungal infections. These products can be classified into different categories based on their chemical composition, mode of action, and target crops. Some common types of fungicides include contact fungicides, systemic fungicides, and translaminar fungicides. In recent years, there has been a growing trend toward the use of environmentally friendly and sustainable fungicides. This shift is driven by increasing consumer awareness and regulatory pressure to reduce the use of harmful chemicals in agriculture. As a result, manufacturers are investing in research and development to create innovative and eco-friendly fungicides that are equally effective in disease control.
North America holds a significant revenue share of the global fungicides market, primarily driven by the United States and Canada. The region's advanced agricultural practices, coupled with a high demand for crop protection products, contribute to its dominance. The Asia Pacific region is witnessing the highest growth in the fungicides market, primarily due to the expanding agricultural sector in countries like China and India. The rising population, increasing food demand, and the need to enhance crop productivity drive the adoption of fungicides in this region.
Market Dynamics:
Drivers
Rising awareness among farmers regarding the benefits of fungicides

Increasing demand for food production
The Fungicides Market is primarily driven by the increasing demand for food production, which is a direct result of the growing global population. This demand surge necessitates the use of fungicides to protect crops from fungal diseases and ensure optimal yields. The global population is projected to grow by approximately 2 billion individuals over the next three decades, surging from the current 8 billion to 9.7 billion by 2050. Furthermore, it is anticipated that the population could reach a peak of nearly 10.4 billion around the mid-2080s. The world's population is expanding at an unprecedented rate, and with it comes the need to produce more food to sustain this growing populace. As more mouths to feed emerge, the pressure on agricultural systems intensifies, leading to a higher risk of crop diseases caused by fungi. These fungal infections can devastate entire harvests, resulting in significant economic losses and food scarcity. This factor has propelled the growth of the fungicides market.
Restrain
The Federal Insecticide, Fungicide, and Rodenticide Act (FIFRA) is a crucial federal statute that regulates the registration, distribution, sale, and usage of pesticides within the United States. This act plays a pivotal role in ensuring the safe and effective management of these chemical substances. These regulations aim to ensure the safety of consumers and the environment by limiting the use of potentially harmful chemicals. Compliance with these regulations can pose challenges for the fungicide market.
Opportunities
IPM emphasizes the use of multiple pest control methods, including fungicides, to minimize the reliance on chemical inputs. This approach aligns with the growing consumer demand for sustainable and environmentally friendly agricultural practices, creating a favorable market environment for fungicides.
Challenges
Over time, fungi have developed mechanisms to withstand the effects of certain fungicides, rendering them less effective. This resistance poses a significant threat to the efficacy of fungicides and necessitates the development of new, innovative solutions.
Impact of Russia-Ukraine War:
The Russian Federation and Ukraine hold significant positions as major producers of agricultural commodities worldwide. Both countries are net exporters of agricultural products and play crucial roles in supplying food products and fungicides globally. These markets often rely on a limited number of countries for their exportable supplies. Consequently, many nations, particularly those classified as Least Developed Countries (LDC) and Low-Income Food-Deficit Countries (LIFDC), heavily depend on Ukrainian and Russian food supplies to meet their consumption needs. Unfortunately, even before the conflict, these countries were already grappling with the adverse effects of soaring international food and fungicide prices. The ongoing Russia-Ukraine war has had a profound impact on the agricultural sector of both nations. This conflict has not only disrupted the production and export capabilities of these countries but has also caused significant economic and social consequences for the global food market.
Firstly, the war has severely hampered agricultural production in both Russia and Ukraine. The destruction of farmlands, infrastructure, and machinery has resulted in a significant decrease in output. This decline in production has led to a reduction in the availability of foodstuffs and fungicides for both domestic consumption and export. Moreover, the conflict has disrupted the supply chains and transportation networks that connect these countries to the global market. This disruption has caused delays and increased costs in the delivery of agricultural products, further exacerbating the scarcity of food and fungicides in the international market.
Impact of Recession:
During periods of economic recession, the fungicides market experiences a decline in demand. This is attributed to various factors, such as reduced agricultural activities, decreased consumer spending, and a general slowdown in the global economy. Furthermore, recessions often result in a shift in consumer preferences towards cheaper alternatives or organic farming practices. This shift poses a significant challenge for fungicide manufacturers, as they must adapt their product offerings to meet changing market demands. Additionally, the reduced availability of credit and financing options during recessions can hinder the research and development efforts of fungicide companies, limiting their ability to innovate and introduce new products.
Market segmentation
By Type
By Form
By Crop Type
Cereals & Grains

Fruits & Vegetables

Oilseeds & Pulses

Others
By Mode of Action
Translaminar

Systematic

Contact
By Mode of Application
Seed Treatment

Foliar Spray

Soil Treatment

Chemigation

Post-Harvest

Others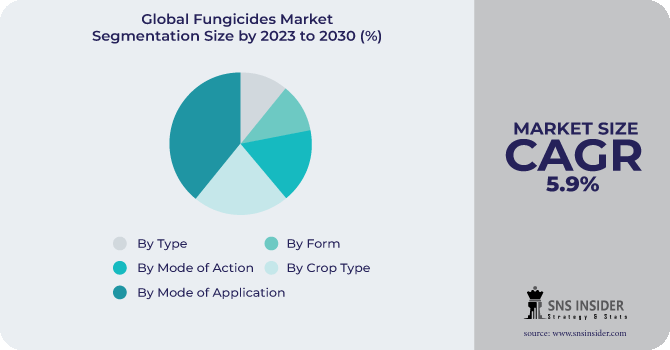 Regional Analysis
Asia Pacific dominated the fungicides market with the highest revenue share of about 40% in 2022 and is expected to grow significantly during the forecast period. This growth is mainly attributed to the presence of a vast agricultural landscape, with numerous countries heavily reliant on crop production. As a result, the demand for effective fungicides to combat various fungal diseases that pose a threat to crops is consistently high. Moreover, the Asia Pacific region has witnessed significant advancements in agricultural practices and technologies. This has led to increased awareness among farmers regarding the importance of protecting their crops from fungal infections. Consequently, there has been a surge in the adoption of fungicides as a preventive measure, further bolstering the market's growth.
Furthermore, the Asia Pacific region is witnessing rapid urbanization and population growth, leading to an increased demand for food products. By 2030, India is projected to become the most populous country in the world, accounting for approximately one-third of the Asian population and 17% of the global population. To meet the increasing demand for food products due to population growth, farmers are compelled to enhance their crop yields, necessitating the use of fungicides to safeguard their harvests. This dynamic has further fueled the growth of the fungicides market in the region.
Europe has wide scope to experience significant growth in the fungicides market during the forecast period of 2023-2030. With the increasing demand for high-quality and disease-free agricultural products, the need for effective fungicides has become paramount. One of the key factors driving the growth of the fungicides market in Europe is the rising awareness among farmers and agricultural stakeholders regarding the importance of crop protection. As the agricultural industry strives to meet the ever-growing demands of a growing population, the significance of safeguarding crops against fungal diseases cannot be overstated. This awareness has led to increased adoption of fungicides as an essential tool in crop management strategies. Furthermore, Europe's favorable climatic conditions, characterized by moderate temperatures and humidity, create an ideal environment for the proliferation of fungal diseases. This, in turn, necessitates the use of fungicides to combat these threats effectively. As a result, the demand for fungicides is expected to witness a substantial surge in the coming years.
REGIONAL COVERAGE:
North America
Europe
Eastern Europe

Poland

Romania

Hungary

Turkey

Rest of Eastern Europe

Western Europe

Germany

France

UK

Italy

Spain

Netherlands

Switzerland

Austria

Rest of Western Europe
Asia Pacific
China

India

Japan

South Korea

Vietnam

Singapore

Australia

Rest of Asia Pacific
Middle East & Africa
Middle East

UAE

Egypt

Saudi Arabia

Qatar

Rest of Middle East

Africa

Nigeria

South Africa

Rest of Africa
Latin America
Brazil

Argentina

Colombia

Rest of Latin America
Key Players
The major key players are Bayer CropScience, Nufarm Ltd, BASF SE, Dow AgroSciences, FMC Corporation, DuPont, Adama Agricultural Solutions, Lanxess AG, Cheminova A/S, Syngenta AG, Monsanto, Simonis B.V., and other key players mentioned in the final report.
Recent Development:
In August 2023, ADAMA Ltd registered its global bio-control product, ACTAVAN®, in collaboration with the New Zealand company Waikaitu Ltd., in Peru.

Responding to customer demand, Nufarm launched Tourney® EZ Fungicide in April 2023. This new liquid formulation will provide a much-needed tool for managing fungicide resistance during the spring 2023 season.

Feb 2023, Bayer CropScience launched the new innovative fungicide, Isoflucypram.

In Oct 2021, FMC revolutionized foliar disease protection with the introduction of Xyway™ brand fungicides, including Xyway 3D fungicide and Xyway LFR® fungicide.

In May 2020, BASF launched its innovative Melyra® fungicide for China's customer base. This product is the first of three planned new offerings based on BASF's fungicide Revysol, specifically tailored for the Chinese market.
Fungicides Market Report Scope:
Report Attributes
Details
Market Size in 2022
US$ 21.1 Bn
Market Size by 2030
US$ 33.38 Bn
CAGR
CAGR of 5.9 % From 2023 to 2030
Base Year
2022
Forecast Period
2023-2030
Historical Data
2020-2021
Report Scope & Coverage
Market Size, Segments Analysis, Competitive Landscape, Regional Analysis, DROC & SWOT Analysis, Forecast Outlook
Key Segments
• By Type (Biological and Chemical)
• By Form (Dry and Liquid)
• By Crop Type (Cereals & Grains, Fruits & Vegetables, Oilseeds & Pulses, and Others)
• By Mode of Action (Translaminar, Systematic, and Contact)
• By Mode of Application (Seed Treatment, Foliar Spray, Soil Treatment, Chemigation, Post-Harvest, and Others)
Regional Analysis/Coverage
North America (US, Canada, Mexico), Europe (Eastern Europe [Poland, Romania, Hungary, Turkey, Rest of Eastern Europe] Western Europe] Germany, France, UK, Italy, Spain, Netherlands, Switzerland, Austria, Rest of Western Europe]), Asia Pacific (China, India, Japan, South Korea, Vietnam, Singapore, Australia, Rest of Asia Pacific), Middle East & Africa (Middle East [UAE, Egypt, Saudi Arabia, Qatar, Rest of Middle East], Africa [Nigeria, South Africa, Rest of Africa], Latin America (Brazil, Argentina, Colombia Rest of Latin America)
Company Profiles
Bayer CropScience, Nufarm Ltd, BASF SE, Dow AgroSciences, FMC Corporation, DuPont, Adama Agricultural Solutions, Lanxess AG, Cheminova A/S, Syngenta AG, Monsanto, Simonis B.V.
Key Drivers
• Rising awareness among farmers regarding the benefits of fungicides
• Increasing demand for food production
Market Restraints
• Stringent regulations imposed by various governing bodies on the usage of fungicides