Report Scope & Overview:
The Biostimulants Market size was valued at USD 3.4 billion in 2022. It is estimated to hit USD 8.2 billion by 2030 and grow at a CAGR of 11.6% over the forecast period of 2023-2030.
Biostimulants are substances that enhance plant growth, improve nutrient uptake, and increase tolerance to abiotic stressors. These products are gaining significant attention in the agricultural industry due to their potential to enhance crop productivity and sustainability. The growth of the biostimulants market is driven by the increasing demand for sustainable agricultural practices and the need to reduce chemical inputs. Biostimulant products offer a promising alternative to traditional fertilizers and pesticides, as they are derived from natural sources and have minimal environmental impact.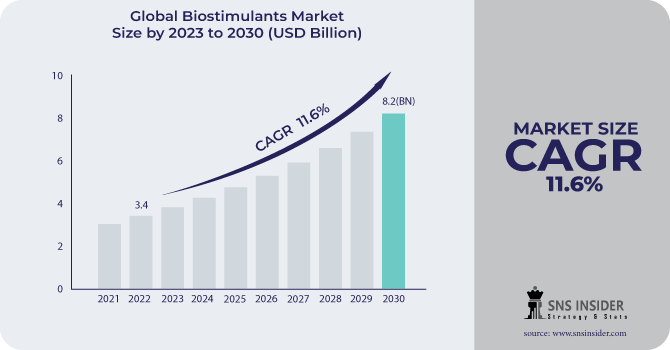 The market for biostimulants is characterized by a wide range of products, including humic substances, seaweed extracts, microbial inoculants, and plant growth-promoting substances. These products are applied to crops through various methods, such as foliar sprays, seed treatments, and soil applications. Each product category offers unique benefits, targeting specific plant growth processes and stress responses.
The biostimulants market is driven by several factors, including the increasing global population, which necessitates higher agricultural productivity, and the growing awareness of the environmental impact of conventional farming practices. Additionally, stringent regulations on chemical inputs in agriculture have further fueled the demand for biostimulant products. However, despite the market's potential, there are challenges that need to be addressed. One major challenge is the lack of standardized regulations and definitions for biostimulants, which can lead to confusion among consumers and hinder market growth.
Market Dynamics
Drivers
Increasing demand for sustainable agricultural practices

Growing awareness among farmers about the environmental impact of conventional farming practices
Growing awareness among farmers about the environmental impact of conventional farming practices is a significant driving factor for the biostimulant market. This is mainly attributed to the increasing recognition of the detrimental effects that conventional farming methods have on the environment. Farmers are becoming more conscious of the negative consequences such as soil degradation, water pollution, and biodiversity loss associated with the use of synthetic fertilizers and pesticides. As this awareness spreads, farmers are seeking alternative solutions that can mitigate these environmental concerns while still ensuring optimal crop yields. Biostimulants have emerged as a promising solution in this regard.
The shift towards biostimulants is driven by the desire to adopt sustainable agricultural practices that minimize the ecological footprint of farming activities. By utilizing biostimulants, farmers can reduce their reliance on synthetic chemicals, thereby reducing the risk of soil and water contamination. Additionally, biostimulants promote soil health and fertility, leading to improved long-term sustainability of agricultural systems. Furthermore, the adoption of biostimulants aligns with the growing consumer demand for environmentally friendly and sustainable food production. Consumers are increasingly concerned about the quality and safety of the food they consume, as well as the environmental impact of its production. By incorporating biostimulants into their farming practices, farmers can meet these evolving consumer preferences, thereby enhancing market competitiveness and profitability.
Restrain
Opportunities
The increasing demand for organic food presents a significant opportunity for the biostimulant market. This growing trend is attributed to various factors, including concerns about health and the environment. Consumers are becoming more conscious of the potential risks associated with conventional farming practices, such as the use of synthetic fertilizers and pesticides. As a result, they are actively seeking out organic alternatives that are produced using natural and sustainable methods.
This shift in consumer behavior has created a favorable environment for the biostimulant market to thrive. One of the key advantages of biostimulants is their ability to enhance nutrient uptake in plants. They improve the efficiency of nutrient absorption, allowing crops to obtain essential elements more effectively. This not only leads to healthier plants but also increases their resistance to diseases and pests. As a result, farmers can achieve higher yields and better-quality produce, meeting the stringent requirements of the organic food market.
Challenges
Impact of Russia-Ukraine War:
The war has disrupted the supply chain of biostimulants, leading to shortages and increased prices. Ukraine, known for its vast agricultural resources, has been a significant producer of biostimulants. However, due to the conflict, many agricultural areas have been affected, resulting in a decline in the production and availability of these products. The war has also impacted the demand for biostimulants. With the ongoing conflict, farmers in the affected regions have faced numerous challenges, including limited access to resources, damaged infrastructure, and increased insecurity. As a result, the demand for biostimulants has decreased significantly, affecting the overall market.
Impact of Recession:
The recession has posed numerous challenges for biostimulant manufacturers. Firstly, the decrease in consumer spending power has led to a decline in demand for these products. As individuals tighten their budgets, they prioritize essential goods over biostimulants, resulting in reduced sales and revenue for manufacturers. Furthermore, the recession has also affected the availability of capital for biostimulant companies. With financial institutions becoming more cautious in lending, manufacturers face difficulties in securing loans for research and development, expansion, and marketing initiatives. This lack of funding hampers their ability to innovate and compete effectively in the market.
Market Segmentation
By Active Ingredients
Seaweed Extract

Acid Based

Humic Substances

Microbial

Others
By Crop Type
Fruits & Vegetables

Row Crops & Cereals

Oilseeds & Pulses

Turf & Ornamentals

Others
By Formulation
By Mode of Application
Foliar Treatment

Seed Treatment

Soil Treatment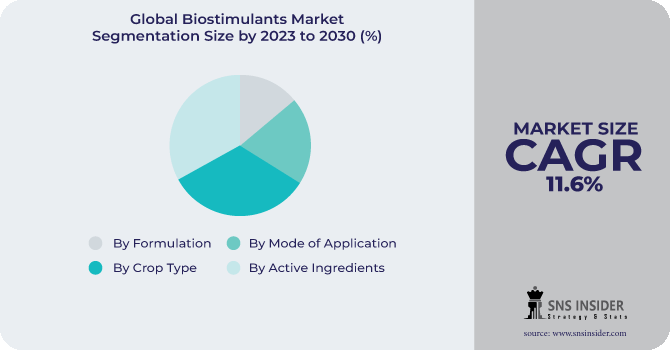 Regional Analysis
Europe currently dominates the biostimulants market, boasting the largest market share. Firstly, Europe's strong market presence is attributed to its robust agricultural sector. The region has a long-standing tradition of advanced farming practices, coupled with a deep-rooted commitment to sustainable agriculture. European farmers have embraced biostimulants as a means to enhance crop productivity, improve soil health, and mitigate environmental impact. This proactive approach has propelled Europe to the forefront of the biostimulants market. Furthermore, Europe's stringent regulatory framework has played a pivotal role in fostering the growth of the biostimulants industry. The European Union has implemented comprehensive regulations to ensure the safety and efficacy of agricultural inputs, including biostimulants. This commitment to quality control and consumer protection has instilled confidence in both farmers and consumers, driving the demand for biostimulants across the continent.
Moreover, Europe's favorable climate conditions and diverse agricultural landscapes provide an ideal environment for the adoption of biostimulants. The continent's varied climates and soil types offer a wide range of agricultural opportunities, allowing farmers to tailor their biostimulant usage to specific crops and regions. This adaptability has contributed to the widespread adoption of biostimulants throughout Europe, further solidifying its market leadership.
The Asia Pacific region is projected to experience the highest Compound Annual Growth Rate (CAGR) in the biostimulants market during the forecast period. The biostimulants market, which encompasses products that enhance plant growth and development, is anticipated to witness significant growth in the Asia Pacific region. This region, consisting of countries such as China, India, Japan, and Australia, holds immense potential for the biostimulants industry.
Several factors contribute to the expected growth of the biostimulants market in the Asia Pacific region. Firstly, the increasing population in this region has led to a surge in food demand. To meet these growing needs, farmers are seeking innovative solutions to enhance crop productivity and quality. Biostimulants offer a sustainable and environmentally friendly approach to achieving these goals. Furthermore, the Asia Pacific region is characterized by a diverse range of climates and agricultural practices. Biostimulants can be tailored to suit specific environmental conditions, making them highly adaptable and effective in this region. This versatility allows farmers to optimize crop yields and mitigate the impact of adverse weather conditions, such as drought or excessive rainfall. Moreover, the presence of a large number of agricultural land and a significant proportion of the population engaged in farming activities provide a vast market potential for biostimulant manufacturers. The accessibility to agricultural resources and the willingness of farmers to adopt new technologies contribute to the region's growth prospects.
REGIONAL COVERAGE:
North America
Europe
Eastern Europe

Poland

Romania

Hungary

Turkey

Rest of Eastern Europe

Western Europe

Germany

France

UK

Italy

Spain

Netherlands

Switzerland

Austria

Rest of Western Europe
Asia Pacific
China

India

Japan

South Korea

Vietnam

Singapore

Australia

Rest of Asia Pacific
Middle East & Africa
Middle East

UAE

Egypt

Saudi Arabia

Qatar

Rest of Middle East

Africa

Nigeria

South Africa

Rest of Africa
Latin America
Brazil

Argentina

Colombia

Rest of Latin America
Key Players
The major key players are BASF SE, Koppert B.V., Sapec Agro S.A., FMC Corporation, Isagro Group, Biolchim S.P.A., Novozymes A/S, Platform Specialty Products Corporation, Valagro SpA, Italpollina SAP, Biostadt India Limited, UPL Limited, Koppert, and other key players mentioned in the final report.
Recent Development:
In June 2022, FMC Corporation unveiled a fresh brand identity for its Plant Health division.

In June 2022, FMC Corporation, a leading agricultural sciences company, received the prestigious Best Biostimulant Product award at the 2022 World BioProtection Awards for its groundbreaking Accudo® biostimulant.

In May 2022, UPL announced a strategic partnership with Kimitec's MAAVi Innovation Center, aimed at commercializing BioSolutions in North America.

In Dec 2021, Koppert Biological Systems utilize Kaumera as a powerful biostimulant by entering into an agreement with Royal HaskoningDHV and ChainCraft.
Biostimulants Market Report Scope:
Report Attributes
Details
Market Size in 2022
US$ 3.4 Bn
Market Size by 2030
US$ 8.2 Bn
CAGR
CAGR of 11.6% From 2023 to 2030
Base Year
2022
Forecast Period
2023-2030
Historical Data
2020-2021
Report Scope & Coverage
Market Size, Segments Analysis, Competitive Landscape, Regional Analysis, DROC & SWOT Analysis, Forecast Outlook
Key Segments
• By Active Ingredients (Seaweed Extract, Acid Based, Humic Substances, Microbial, and Others)
• By Crop Type (Fruits & Vegetables, Row Crops & Cereals, Oilseeds & Pulses, Turf & Ornamentals, and Others)
• By Formulation (Dry and Liquid)
• By Mode of Application (Foliar Treatment, Seed Treatment, and Soil Treatment)
Regional Analysis/Coverage
North America (US, Canada, Mexico), Europe (Eastern Europe [Poland, Romania, Hungary, Turkey, Rest of Eastern Europe] Western Europe] Germany, France, UK, Italy, Spain, Netherlands, Switzerland, Austria, Rest of Western Europe]). Asia Pacific (China, India, Japan, South Korea, Vietnam, Singapore, Australia, Rest of Asia Pacific), Middle East & Africa (Middle East [UAE, Egypt, Saudi Arabia, Qatar, Rest of Middle East], Africa [Nigeria, South Africa, Rest of Africa], Latin America (Brazil, Argentina, Colombia Rest of Latin America)
Company Profiles
BASF SE, Koppert B.V., Sapec Agro S.A., FMC Corporation, Isagro Group, Biolchim S.P.A., Novozymes A/S, Platform Specialty Products Corporation, Valagro SpA, Italpollina SAP, Biostadt India Limited, UPL Limited, Koppert
Key Drivers
• Increasing demand for sustainable agricultural practices
• Growing awareness among farmers about the environmental impact of conventional farming practices
Market Restraints
• Limited awareness and understanding of biostimulants