Report Scope & Overview:
Gas Turbine MRO Market size was valued at USD 14.32 billion in 2022 and is expected to grow to USD 18.71 billion by 2030 and grow at a CAGR of 3.4% over the forecast period of 2023-2030.
Gas turbine maintenance, repair, and overhaul (MRO) is a critical aspect of ensuring the efficient and safe operation of gas turbines. MRO involves a range of activities, including inspections, repairs, and replacements of components, as well as testing and monitoring of performance. Gas turbines are used in a variety of applications, including power generation, aviation, and industrial processes. As such, the MRO requirements for gas turbines can vary depending on the specific application and operating conditions. Effective gas turbine MRO requires a combination of technical expertise, specialized equipment, and rigorous quality control processes. This ensures that gas turbines are maintained to the highest standards of safety and reliability, while also maximizing their operational efficiency and lifespan.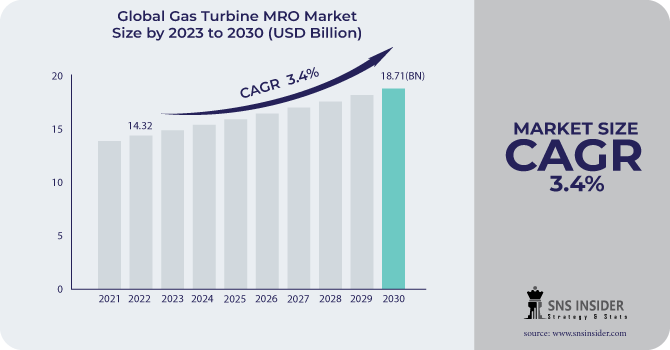 At its core, gas turbine MRO is about ensuring that these complex machines are operating at their best so that they can continue to provide the power and performance that is essential to modern industry and society. The market for gas turbine MRO is driven by the need to ensure the reliability and efficiency of gas turbines, which are critical components of many energy systems. Gas turbine MRO services are essential to ensure the safe and efficient operation of gas turbines, which can be subject to wear and tear over time. The market is also driven by the need to comply with regulatory requirements, which mandate regular maintenance and inspection of gas turbines. The gas turbine MRO market is highly competitive, with many companies offering a range of services to customers. These companies include OEMs (Original Equipment Manufacturers), independent service providers, and in-house maintenance teams. The market is also characterized by a high degree of specialization, with companies focusing on specific types of gas turbines or specific regions.
Market Dynamics:
Drivers
Growing need for efficient and reliable power generation

Rise in industrialization across the globe

Growing demand for energy due to the rise in the population
The demand for energy is on the rise, and this is directly linked to the growing global population. As a result, the market for gas turbine MRO is experiencing a surge. According to the International Energy Agency, global energy consumption is expected to grow by 1.3% in 2023, despite a slowing economy and high energy prices. This demand has created a need for maintenance, repair, and overhaul services for gas turbines. Gas turbines are a crucial component of power generation, and they require regular maintenance to ensure they operate efficiently and effectively. As the demand for energy continues to rise, the need for gas turbine MRO services will only increase.
Restrain
High cost associated with the maintenance and repair services

Complexity of gas turbine technology
The complexity of gas turbine technology poses a significant challenge for the gas turbine MRO market. This complexity can be attributed to the intricate design and operation of gas turbines, which require specialized knowledge and expertise to maintain and repair. Gas turbines are highly sophisticated machines that consist of numerous intricate components, including blades, rotors, and combustion chambers. These components must work together seamlessly to ensure optimal performance and efficiency. However, even minor issues with one component can have a significant impact on the overall performance of the turbine. Furthermore, gas turbines operate under extreme conditions, including high temperatures and pressures, which can cause wear and tear on the components over time. As a result, the maintenance and repair of gas turbines require specialized skills and knowledge, as well as access to advanced equipment and technology.
Opportunities
Increasing adoption of digital technologies

Increasing development of innovative and new repair techniques
Challenges
Increasing competition from alternative energy sources.

Increasing need for regulatory compliance
Impact of Russia-Ukraine War:
The Russian invasion of Ukraine has had a profound impact on the gas turbine MRO market. The market has experienced a significant decline in demand due to the disruption of gas supplies from Russia to Ukraine. Russia's share of European gas demand dropped from 23% in 2022 to below 10% in January 2023. This has resulted in a decrease in the number of gas turbines in operation, which in turn has led to a decrease in the need for maintenance, repair, and overhaul (MRO) services.
The aviation industry has also been significantly impacted by the Russia-Ukraine war, further reducing the demand for gas turbine MRO services in the aviation sector. As per International Air Transport Association, In March 2022, 36 countries, including EU countries, the UK, and the US, closed their airspace to Russian airlines. Russia has banned airlines from most of those countries from entering or flying over Russia. Even airlines from countries that are not directly affected by sanctions have temporarily reduced their flights to and from Russia. This includes airlines from Japan and South Korea. In 2021, international traffic between Russia and the rest of the world accounted for only 1.3% of global total traffic, despite accounting for 5.2% of global international traffic. Moreover, the sanctions imposed on Russia by the international community have also affected the gas turbine MRO market. Many Russian companies that were previously major players in the market have been forced to withdraw due to the restrictions placed on them. This has created a gap in the market that has yet to be filled by other companies.
Impact of Recession:
The gas turbine MRO market has been hit hard by the recent economic recession. This downturn has led to a significant decrease in demand for gas turbine maintenance, repair, and overhaul services. The decrease in demand can be attributed to the recession's impact on the prices of gas, which have decreased significantly, affecting the profitability of the market. For example, the average gallon of gas in the U.S. is projected to decrease by almost 50% in 2023 compared to 2022. As a result, many companies in the gas turbine MRO market have experienced a decline in revenue and profitability. A more detailed analysis is comprised in the final report.
Market segmentation
By Technology
Heavy Duty

Aero-derivative

Light Industrial
By End-User
Oil & Gas

Manufacturing

Aviation

Power Utilities

Others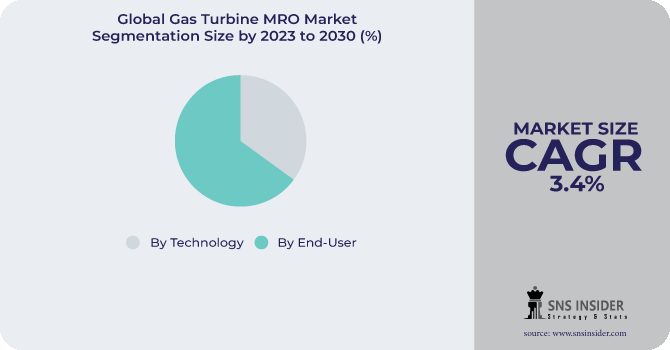 Regional Analysis
North America is a leading region in the gas turbine MRO market with the U.S. as the major contributing country to this dominance. Advanced technological infrastructure, skilled workforce, and favorable government policies. The United States, in particular, has a robust gas turbine MRO industry, with a significant number of companies specializing in this field. For Example, GE, Baker Hughes, Solar Turbines, etc. These companies have access to cutting-edge technology and equipment, allowing them to provide high-quality services to clients. Additionally, the country's favorable business environment and regulatory framework have created a conducive atmosphere for the growth of the gas turbine MRO market. Furthermore, North America's strategic location and well-developed transportation infrastructure make it an ideal hub for the gas turbine MRO industry. This has enabled companies in the region to efficiently serve clients across the globe, further contributing to the region's dominance in the market.
Asia Pacific is expected to grow with the highest CAGR during the forecast period in the gas turbine MRO market owing to the increasing demand for energy and the growing number of gas turbine installations in the region. Gas turbine MRO, or maintenance, repair, and overhaul, is a critical aspect of ensuring the longevity and efficiency of gas turbines. As the demand for energy continues to rise in the Asia Pacific region due to the increasing population in the emerging countries of the Asia Pacific like India, the need for reliable and efficient gas turbines becomes increasingly important. This has led to a surge in gas turbine installations, which in turn has created a significant demand for MRO services. Furthermore, the Asia Pacific region is home to several emerging economies, such as China and India, which are experiencing rapid industrialization and urbanization. This has resulted in a growing demand for energy to power factories, buildings, and transportation systems. As a result, the gas turbine MRO market in the region is expected to experience substantial growth in the coming years.
REGIONAL COVERAGE:
North America

Europe

Germany

UK

France

Italy

Spain

The Netherlands

Rest of Europe

Asia-Pacific

Japan

South Korea

China

India

Australia

Rest of Asia-Pacific

The Middle East & Africa

Latin America

Brazil

Argentina

Rest of Latin America
Key Players:
The major key players are Baker Hughes, Siemens, GE, Mitsubishi Heavy Industries, Solar Turbines, Bharat Heavy Electrical Ltd., OPRA Turbines, Kawasaki Heavy Industries, Ansaldo Energia, Sulzer Ltd, and other key players mentioned in the final report.
GE-Company Analysis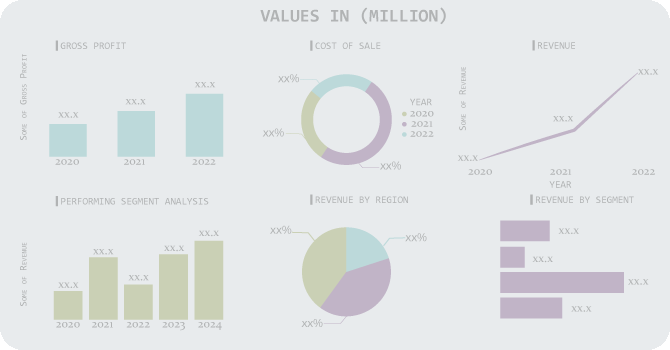 Recent Development:
In April of 2023, Baker Hughes, a leading energy technology company, announced that it had been awarded a lucrative order to be booked in the first quarter of the same year. The order was granted by Black & Veatch, a subcontractor to the JGC and Samsung Heavy Industries consortium, and it was for the delivery of two LM9000-driven compressor trains. These compressor trains were to be used for the PETRONAS nearshore liquefied natural gas facility in Sabah, Malaysia.

Mitsubishi Power, a power solution brand of Mitsubishi Heavy Industries, Ltd. (MHI), has been making waves in the global gas turbine market. According to McCoy Power Reports data, the company captured the top market share by megawatts in 2022, with a global gas turbine market share of 33%. Additionally, Mitsubishi Power has secured an impressive 49% market share in the Advanced Class gas turbine market, thanks to the success of its latest model JAC (J-Series Air-Cooled) gas turbines.
Gas Turbine MRO Market Report Scope:
Report Attributes
Details
Market Size in 2022
US$ 14.32 Bn
Market Size by 2030
US$ 18.71 Bn
CAGR
CAGR of 3.4% From 2023 to 2030
Base Year
2022
Forecast Period
2023-2030
Historical Data
2020-2021
Report Scope & Coverage
Market Size, Segments Analysis, Competitive Landscape, Regional Analysis, DROC & SWOT Analysis, Forecast Outlook
Key Segments
• By Technology (Heavy Duty, Aero-derivative, and Light Industrial)
• By End-user (Oil & Gas, Manufacturing, Aviation, Power Utilities, and Others)
Regional Analysis/Coverage
North America (USA, Canada, Mexico), Europe
(Germany, UK, France, Italy, Spain, Netherlands,
Rest of Europe), Asia-Pacific (Japan, South Korea,
China, India, Australia, Rest of Asia-Pacific), The
Middle East & Africa (Israel, UAE, South Africa,
Rest of Middle East & Africa), Latin America (Brazil, Argentina, Rest of Latin America)
Company Profiles
Baker Hughes, Siemens, GE, Mitsubishi Heavy Industries, Solar Turbines, Bharat Heavy Electrical Ltd., OPRA Turbines, Kawasaki Heavy Industries, Ansaldo Energia, Sulzer Ltd
Key Drivers
• Growing need for efficient and reliable power generation
• Rise in industrialization across the globe
Market Opportunities
• Increasing adoption of digital technologies
• Increasing development of innovative and new repair techniques